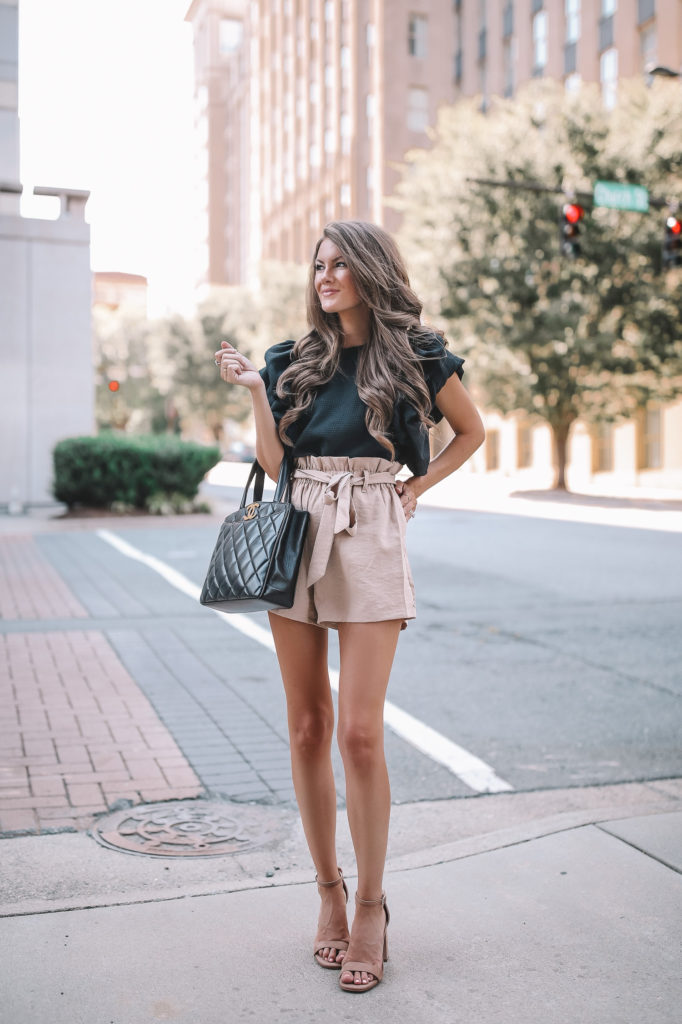 Where to Stay
THE KIMPTON CARDINAL HOTEL: The Kimpton is a lovely hotel located right in downtown Winston-Salem. The historic building was built in 1929 and it was the inspiration for the NYC Empire State Building. It is beautifully decorated throughout with a classic and southern charm. They even offer a sweet tea hour every evening!
THE HISTORIC BROOKSTOWN INN: This inn is located right outside of downtown near the historic Moravian community of Old Salem. It was built in 1837 and the architecture and grounds are gorgeous! Many of the rooms have exposed brick and beams as well as cozy fireplaces. They also serve coffee and breakfast every morning!
Where to Eat
BREAKFAST/LUNCH
CAMINO BAKERY: You know those cozy little bakeries that make you want to wear your coziest sweater and sit down with a cup of coffee and get a lot of work done or dive into a good book?! Well that's Camino Bakery! On top of the perfect bakery atmosphere and super friendly staff, their coffee, baked goods and lunch items are delicious. They also have the best sourdough bread that I always pick up at the farmer's market!
VILLAGE JUICE COMPANY: Ok I've always loved Village Juice Co., but recently I have been obsessed with it! I've been craving it for breakfast and lunch almost every day! They probably have one of the freshest/healthiest menus in Winston-Salem including everything from smoothies to salads to bowls to speciality toasts to sandwiches and wraps. It's all so good! I'm can't get enough of their cold pressed juices, especially the watermelon juices!
KRANKIES COFFEE: This is one of the coolest coffee/breakfast spots I've ever been to… they actually roast and sell their own coffee beans in house! Krankies also serves amazing breakfast food. My favorite is their Krankies Classic chicken biscuit. It's sweet and spicy with honey and Texas Pete and it's ginormous so I usually have Chris help me finish it!
LAVENDER & HONEY KITCHEN: This is the newest place on the list! Lavender & Honey is a mother and daughter owned bakery in Winston-Salem. The mother daughter duo bake everything from scratch using locally milled organic flour. Their menu is a mix of nostalgic cakes, cookies and pies and more modern confections like energy bites. My favorite treat on their menu is their Amish Cinnamon Rolls, they are dreamy and pair great with a warm latte. I also have to mention how beautiful this cafe is, you'll want to spend all morning soaking up the morning light that pours in through the floor to ceiling windows!
KETCHIE CREEK BAKERY: When I was in college I made some friends from Davie County that would rave about this small town bakery! I recently found out what all the hype was about because they just opened up a second location in Clemmons. As soon as you walk through the door, you are welcomed with the sweet fragrance of baked goods and friendly smiling faces from all the employees. If you're there at lunch, I recommend trying a sandwich and soup combo. And of course you have to get a sweet treat (I love the five layer pound cake and the cream cheese brownie)!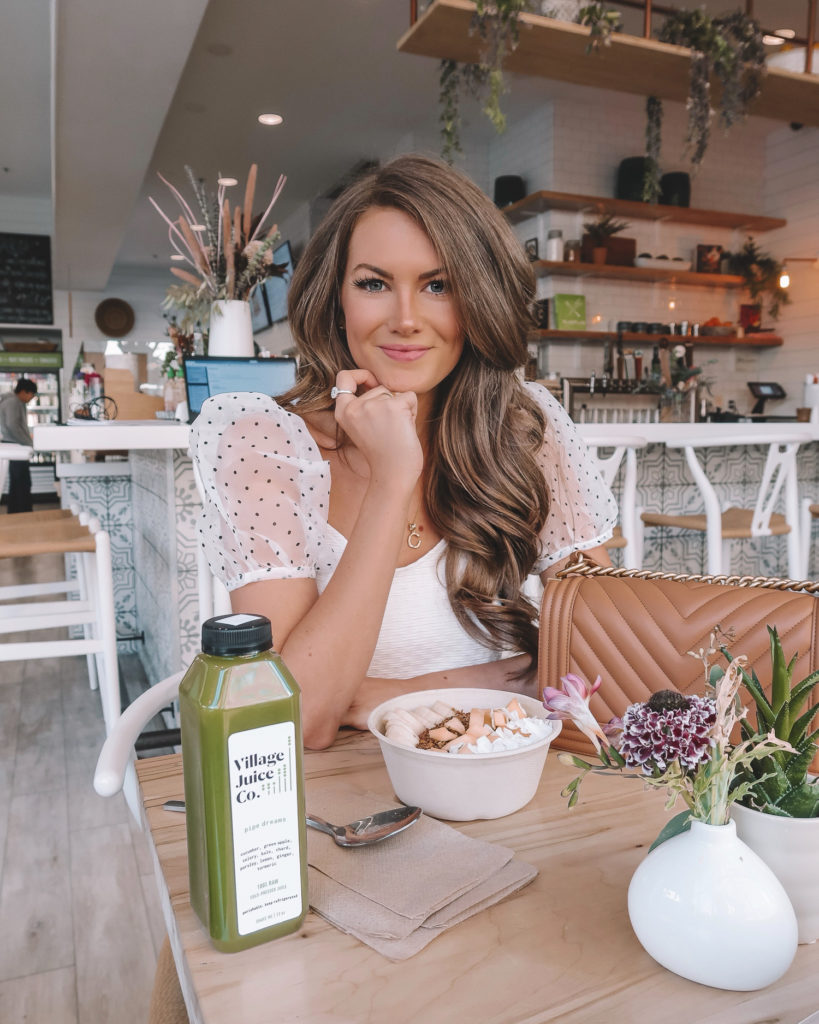 DINNER
THE PORCH KITCHEN & CANTINA: This is our favorite Mexican restaurant in Winston-Salem! They have the freshest tacos and bowls and the best margaritas around. We also love to get an order of avocado fries as an appetizer for the table when we're here. Like the name suggests, there is also a pretty porch and courtyard to eat outside on nice days… and they are pet friendly!
THE DIAMONDBACK GRILL: We love the farm-to-table concept at The Diamondback Grill. Their menu changes regularly because it is truly based on fresh, locally-sourced produce. The art on the walls also frequently changes because they like to feature a variety of work from different local artists. My favorite thing on the menu is the the vegan burrito bowl!
MOZELLES: This is our go-to place when we want fresh southern food! I love to sit outside in the evenings with a glass of wine – in the fall, they even offer blankets in case the weather gets cool. Their menu has everything from fried chicken to torched caprese, and my personal favorite fried goat cheese salad.
CUGINO FORNO: If you are in the mood for pizza like we often are, Cugino Forno Pizzeria is a must while you're in Winston-Salem. They serve Neapolitan style pizza made with the freshest ingredients. Their first location in Winston was next to one of our favorite breweries, and they just opened another location in Clemmons. Our favorite pizza to order from here is the Margerita D.O.P.!
JEFFREY ADAMS: This restaurant is located in the heart of downtown Winston-Salem. They offer modern American cuisine with a large variety of steaks to choose from and great salads too. They also have a lot of hand-crafted cocktails to enjoy while looking out the windows to a great view of downtown.
MISSION PIZZA: I had to add another pizza place for you guys because we love pizza so much, lol! Mission Pizza is located in the Arts District of Downtown Winston-Salem. I'm pretty sure the owners are from Napoly – the pizza tastes JUST like the ones I had in Positano. They have also been recognized in many food magazines as being some of the best pizza in the country! Not only is their pizza incredible but they also have great pasta, salads and veggies… and you HAVE to get the fried donuts for dessert. They come in a brown paper bag and you have to shake them up to distribute the powdered sugar.
DRINKS
FOOTHILLS BREWING COMPANY: Foothills actually has three locations in Winston – The Pub, Footnote and our personal favorite, The Tasting Room. The Pub serves yummy food all day, while Footnote serves coffee and pastries in the morning and switches to beer and cocktails later in the day. The Tasting Room is located at the brewery's warehouse… it has a very laidback vibe and it's kid and dog friendly! They all have great craft and seasonal beers and often have live music.
VINTAGE SOFA BAR: Vintage Sofa Bar is a great place to get a glass of wine with your friends! It has such a relaxing atmosphere with comfy sofas and a cute patio. They don't have a full food menu, but they do offer charcuterie boards and appetizers for sharing. I love to go on Thursdays when they have half price rosé and champagne!
INCENDIARY BREWING COMPANY: This is one of Chris's favorite places to go get a beer on the weekends! It's located in an old, renovated power plant so the industrial construction is really cool. We love that they have a huge outdoor area with plenty of seating. They have a great beer and cider selection and a few wines available too! They don't offer food, but Cugino Forno is right next to Incendiary and everyone is enjoying their yummy pizza in the shared outdoor space.
THE BOARD BABE: This is a newer spot in Winston-Salem and it nothing less than amazing! The Board Babe is a charcuterie cafe and lounge located in a beautiful historic home in West End. They are a cafe by day offering lunch, sweet treats and grab & go charcuterie boxes. Then they transform into a lounge in evenings offering beer, wine and special dining events. And of course The Board Babe builds beautiful, custom charcuterie boards and they even offer workshops and catering! Plus it's a woman (under 25) owned business that I love supporting!
THE TASTING ROOM: Calling all wine lovers! This is like a little piece of Sonoma and Napa Valleys right in downtown Winston-Salem. The Tasting Room is a cozy place that offers smaller production wines that focus on organic and biodynamic growing and winemaking styles. This is the perfect place to get a glass of wine before dinner on date night or get a few friends together for a wine tasting event!
RADAR BREWING COMPANY: Radar is another great brewery in Winston! The inside has a very clean and modern atmosphere that's unique to the area. They also have a cute patio outside to enjoy your drinks on when the weather is nice. They offer a variety of beer and wine on tap and they often have food trucks parked by the patio.
WISE MAN'S BREWING: Right down the street from Radar, is another popular Winston-Salem brewery, Wise Man's. It has such a welcoming environment that make you feel part of the community as soon as you walk in. During the day, there are normally kids playing games outside while their parents enjoy drinks nearby. In the evening, they often have games, such as music bingo, and a variety of food trucks for a good dinner option!
What To Do
PARKS: One thing I love about Winston-Salem is its abundance of beautiful parks. There are so many places to go for a walk, bike ride or run! One of our favorite parks is Tanglewood because it's close by in Clemmons. But we also love Reynolda Gardens & Trails for their beautiful flowers, Salem Lake for the pretty water views and Long Branch Trail for more of an urban scene.
YOGA(MMUNITY): Winston-Salem has a lot of studios offering great yoga classes, but one of the coolest ways to get your workout in is with Yoga(mmunity). Yoga(mmunity) offers yoga and movement classes through collaborations with local breweries. You don't even have to pre-register, you just show up with your yoga mat and $10 for a yoga class plus a drink!
COBBLESTONE FARMER'S MARKET: Going to Cobblestone Farmer's Market is one of my most favorite things to do on Saturday mornings! I just love walking around, seeing all the local vendors and going home with the freshest foods! Cobblestone Farmer's Market is open two days a week all year long. So no matter what time of year you visit Winston-Salem, you you can go to the farmer's market!
CONCERTS & OUTDOOR MOVIES: If you're visiting Winston-Salem in the summer months, there is no shortage of outdoor entertainment! Many of the local breweries often have live music on their patios in the summertime or you could enjoy the summer concert series on Liberty Street. You can also catch an outdoor movie during the spring, summer and fall months at Bailey Park. They have food and drinks available so all you have to bring is a chair or blanket to sit on.
SHOP: I have a few different favorite places to shop in Winston. For everything home related, I love going to Fiddle & Fig! I want to buy everything in the store every time that I go in there and they have the best Christmas decorations if you're visiting during the holidays. For clothing, I really like to go to Reynolda Village and Thruway Center because they both have really cute boutique shops as well as brand name shops like J.Crew and Lululemon. When I'm looking for a great gift, I head to HipChics Boutique. They always have the cutest and trendiest pieces!
DASH BASEBALL GAME: I think going to a baseball game is such a classic summer thing to do! The Winston-Salem Dash is our local minor league baseball team and their games are something the whole family can enjoy. You can even bring you pup to the game on Thursdays and they have a firework show after the game every Friday night!
WAKE FOREST FOOTBALL GAME: College football is huge in North Carolina, and Winston-Salem in home to one of the most popular ACC teams, The Wake Forest University Demon Deacons! Chris went to Wake Forest for grad school, and we still really enjoy going to WFU football games in the fall.
TWIN CITY PICNIC: This is one of the cutest things Winston-Salem has to offer! Twin City Picnics is a luxury picnic set up service. You can pick any spot within 30 miles of Winston-Salem and they will set up the most precious picnic spot for up to four guests! Each setup includes all the picnic necessities inside a picnic basket, such as a portable fan for extra hot days, paper towels and Shout for spills, and trash bags for easy clean up!  All you have to do is bring your food and drinks. It's the perfect date night and/or girls night out!
ART GALLERY WALK: Winston-Salem is referred to as "The City of Arts & Innovation!" Not only is the North Carolina School Of The Arts located here, but there are so many creatives that live, work and play here. One thing that's really cool to do is go on a gallery walk in the Downtown Arts District (aka DADA). You'll be amazed by all the talent as you stroll through the galleries and shops.
VISIT A VINEYARD: If you have time to get away from the city for a little bit, there are so many vineyards less than 30 minutes away from downtown Winston-Salem! Many of which offer daily tastings, tours, tasty food options and live music. Some of our favorites include Childress, RayLen and JOLO.
What To Pack
Winston-Salem is such a special place because it truly experiences all four seasons! In the summer it can be really hot and humid, so I recommend packing light and breezy sundresses and casual shorts outfits. Contrastingly, it can get really cold in the winter, so be sure to pack a warm coat, jeans and cute boots. The fall and spring are pretty mild, so I'm normally comfortable wearing my favorite seasonal pieces. Lastly, I would say most restaurants in Winston-Salem are pretty casual, but who doesn't love to get dressed up for a fun dinner out!?
Let me know if you've ever been to Winston-Salem and if you have any favorites!