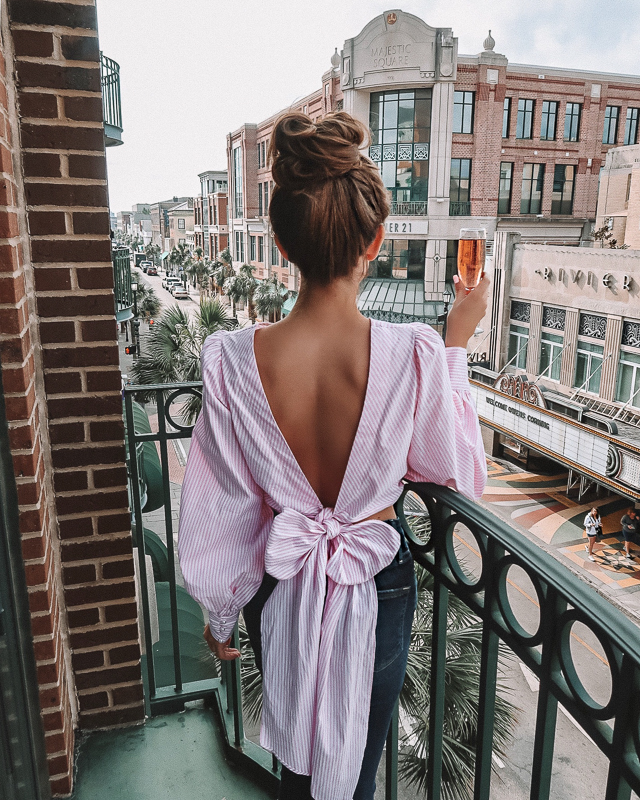 bow back top
//
Paige Hoxton jeans
Happy Monday, everyone!! Chris and I spent all of last weekend in Charleston, SC, squaring away some details for our wedding, so I thought it was time for a little update on wedding planning 🙂 I want to begin this post by saying that I'm not very good at wedding planning – haha – seriously! Many of my friends had dreamt about their weddings since they were young and had every detail picked out before they even met their now-husbands, but I was not one of those girls. I honestly had no idea what I wanted – no idea on the color palette, flower arrangements, or even what I wanted my dress to look like! So I was initially VERY stressed out at the thought of planning a wedding! Thankfully, our first decision was hiring wedding planners – they have kept us on track and taken a lot of the stress off our shoulders! The first thing they did was tell us a general timeline of when decisions needed to be made. Here's a similar one I found online: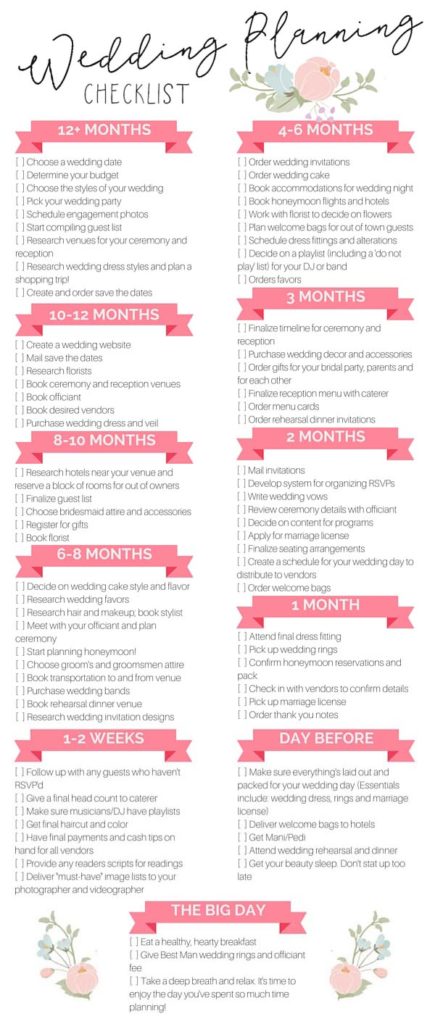 Our first big decision that needed to be made was picking out a venue! You pretty much have to decide on a venue before you can pick a wedding date, since most of the venues in Charleston get booked up really quickly and we didn't know which weekends would still be available. Our wedding planners gave us suggestions based off of our budget, and we then took a trip to Charleston to tour three different venues. Chris and I both immediately fell in love with our venue with we saw it. They had a weekend open this spring, so we jumped on the opportunity! I can't wait for you guys to see it 🙂
Once we had a venue and a date set, we needed to book all of our vendors. Back in the summer, we went ahead and booked the caterer, florist, and the band (surprisingly, Chris was very vocal about what band he wanted! We went with his choice for that one :). It took me a bit longer to find a photographer that I really loved. Since photography is such a huge part of my career, I was SUPER picky when it came to photographers! Eventually I discovered Bethany Small on Instagram and was smitten with her work. Her photos are so crisp and clear and she captures such intense emotion in every picture. Even though she lives all the way out in Portland, we booked her immediately! She took our engagement photos back in November (click here for all the pictures!) and we can't WAIT to see her again in June. On another note, Chris and I haven't booked a videographer yet, and we really aren't sure if we're going to. (How bad is this – I'd rather spend the money on flowers! Ahh! Please give us your advice if you have it!)
Last Monday, my mom and I sat down with our wedding planners in Charleston to talk about the design and style of the wedding. I showed them a bunch of inspiration photos that I had been saving on my phone – I'm going to share them here too. Here's a little bit of info to keep in mind about our venue: it's outdoors, and we will have a large white tent to keep it a little cooler (June in Charleston can be HOT!). I want it to have an elegant fairytale garden type of feel – lots of fairy lights and chandeliers!
Here are some of my inspiration pictures…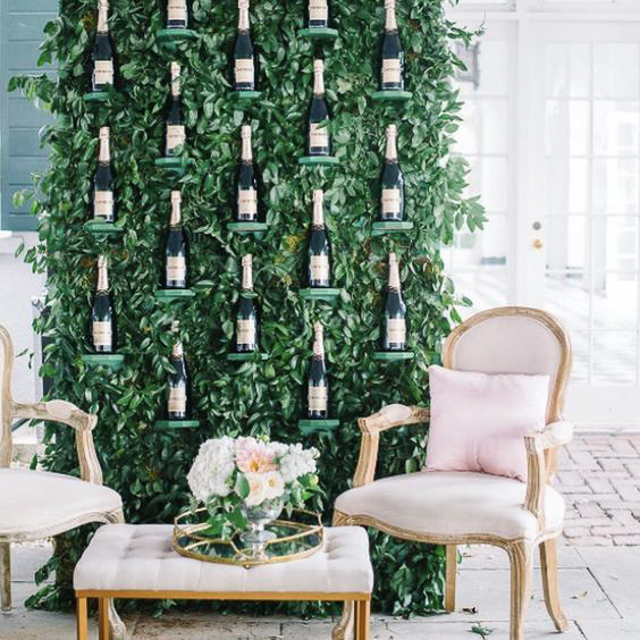 I'm thinking a champagne wall is a must-have! Look how amazing this is! Here's another example. I really love the pink background in this one!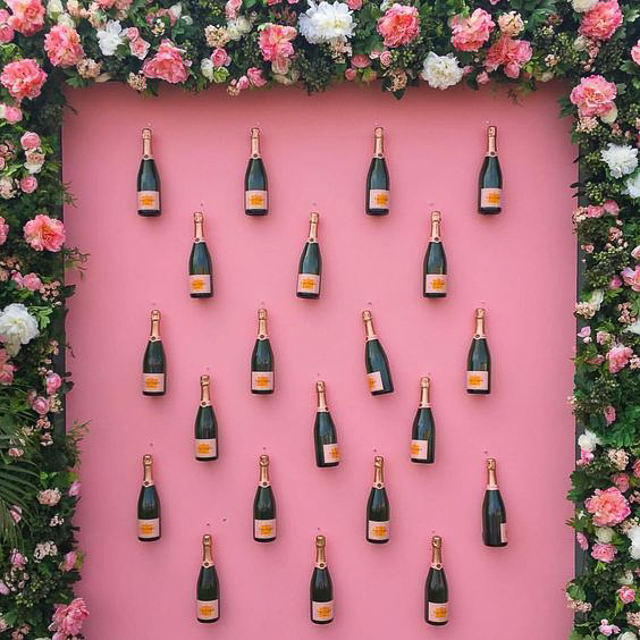 For flower arrangements, I would LOVE to have huge arrangements like this on the tables! These are probably way out of our budget, so we plan to do a smaller version with pink roses, peonies and ranunculus – ranunculus flowers look VERY similar to peonies but they aren't as expensive. 🙂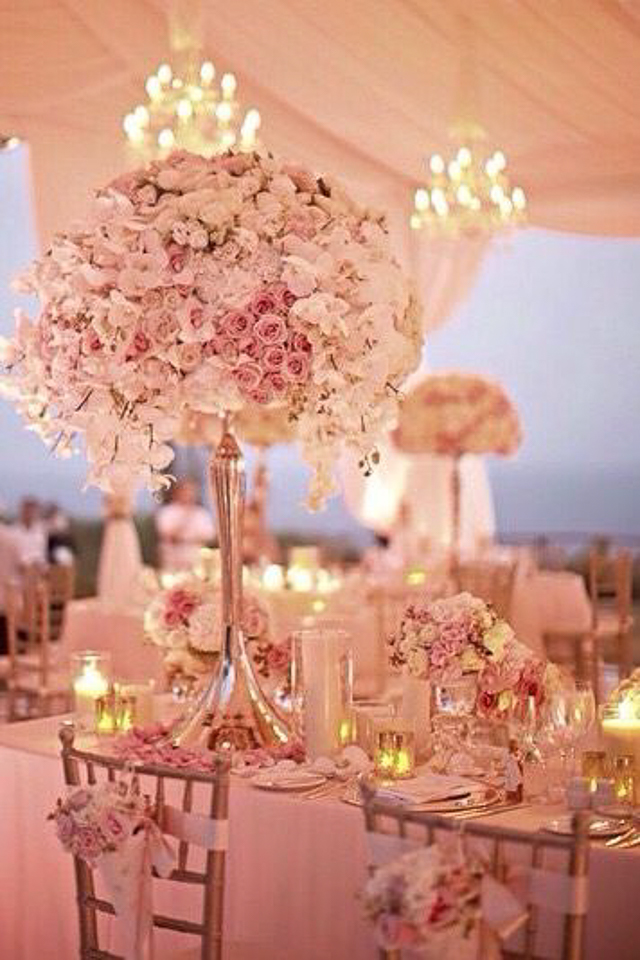 There are a lot of large trees at our venue, how beautiful would it be to have chandeliers hanging from the trees at night?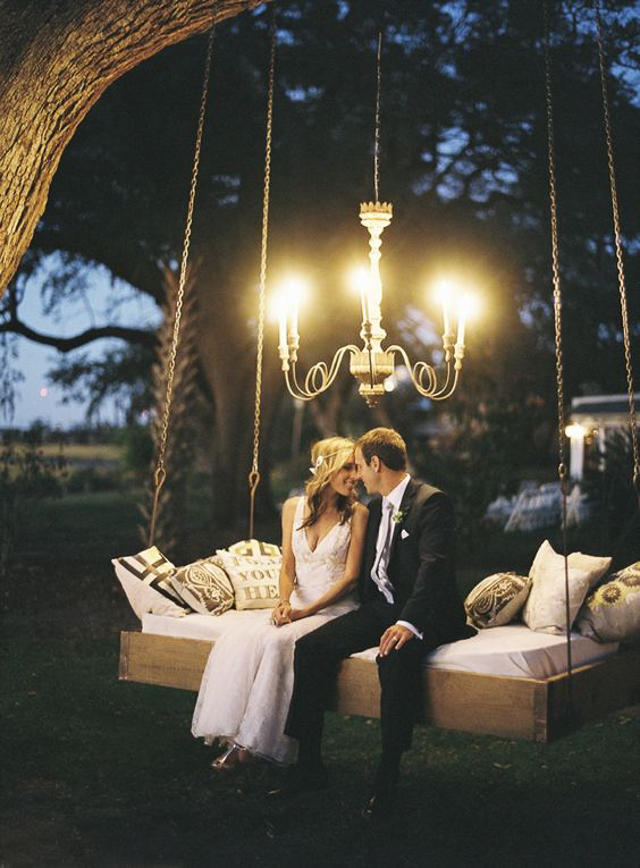 I just love the romantic feel of this set-up! Give me all the fairy lights!!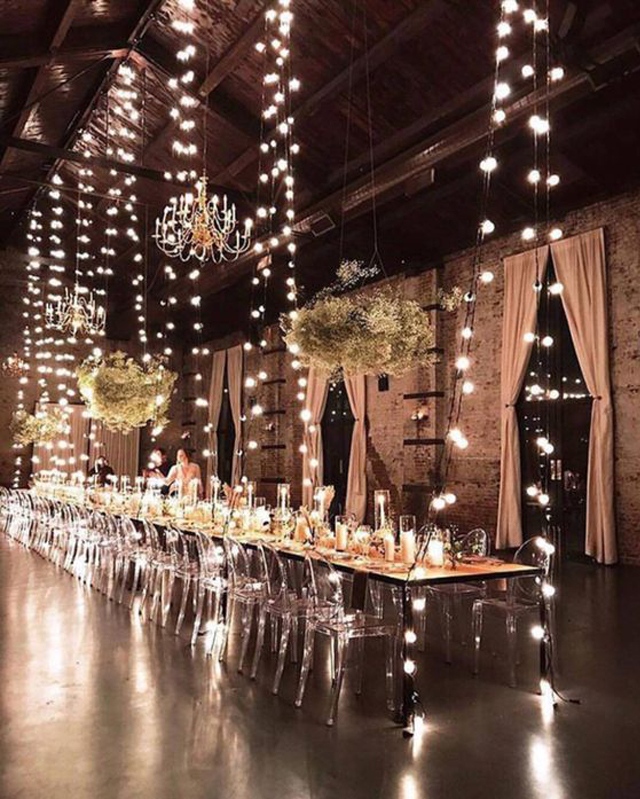 Another great inspiration image – I seriously can't get enough of those chandeliers. I also love the incorporation of greenery and the very "natural" feel of the tables and chairs.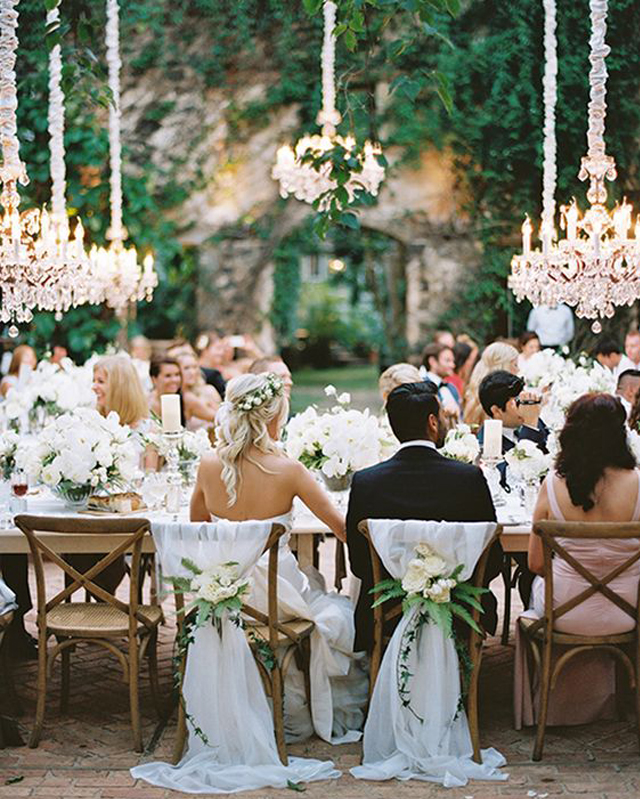 And finally, this image is just so DREAMY I had to include it! If this doesn't scream "fairytale garden" to me, then I don't know what does 🙂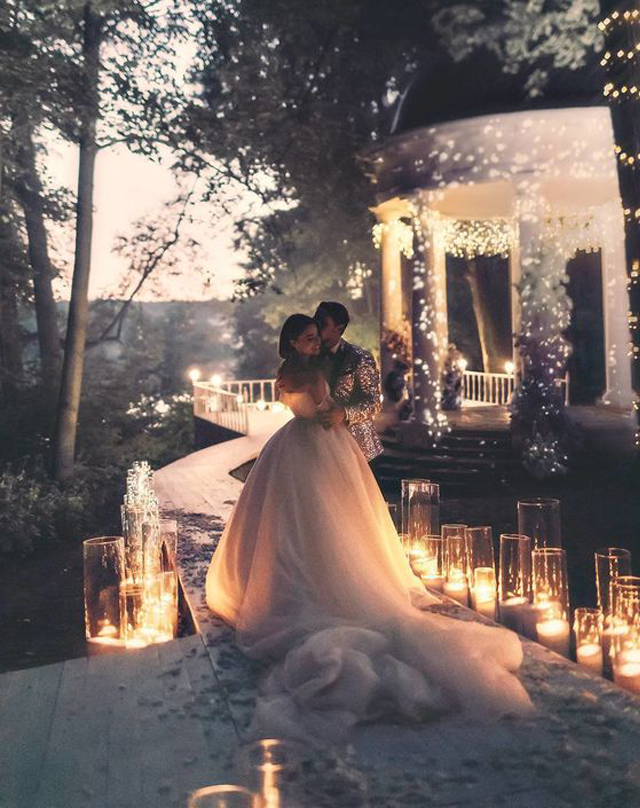 We still have some major decisions left to make – like the hair stylist and the bridesmaid dresses – but overall I'm feeling pretty good about where we are in the wedding planning process. In the beginning I felt a lot of pressure because I wanted the wedding to be "perfect" – but a lot of you guys left me some really good advice (I read every single one of your comments, by the way!) – when things begin to get stressful, remind yourself of the reason you're planning this wedding to begin with – because you've met your soulmate and get to spend your lives together! Chris and I try to limit our talk about the wedding – when we go on our Friday night "date nights" we made a pact that we won't talk about it (since I tend to get stressed out, haha!). It's easy to get caught up in small wedding details, but in the end, all of those small details don't really matter! It will still be the happiest day of my life because I get to marry my best friend and soulmate. 🙂
Stay tuned because I still have some more wedding content coming up!
Oh and like I said earlier I would love your advice on whether or not a videographer is worth it!
xoxo
Cait