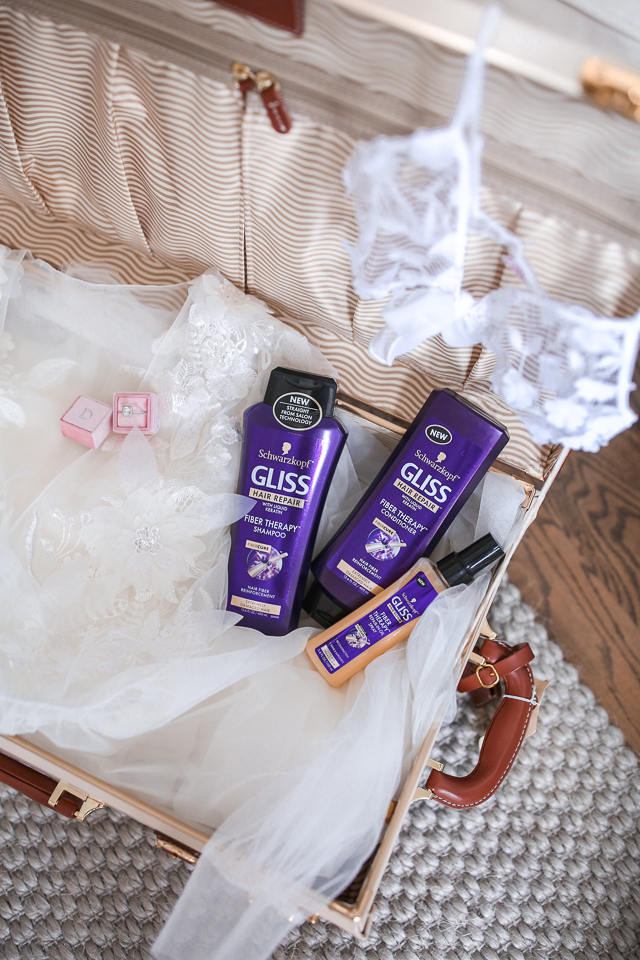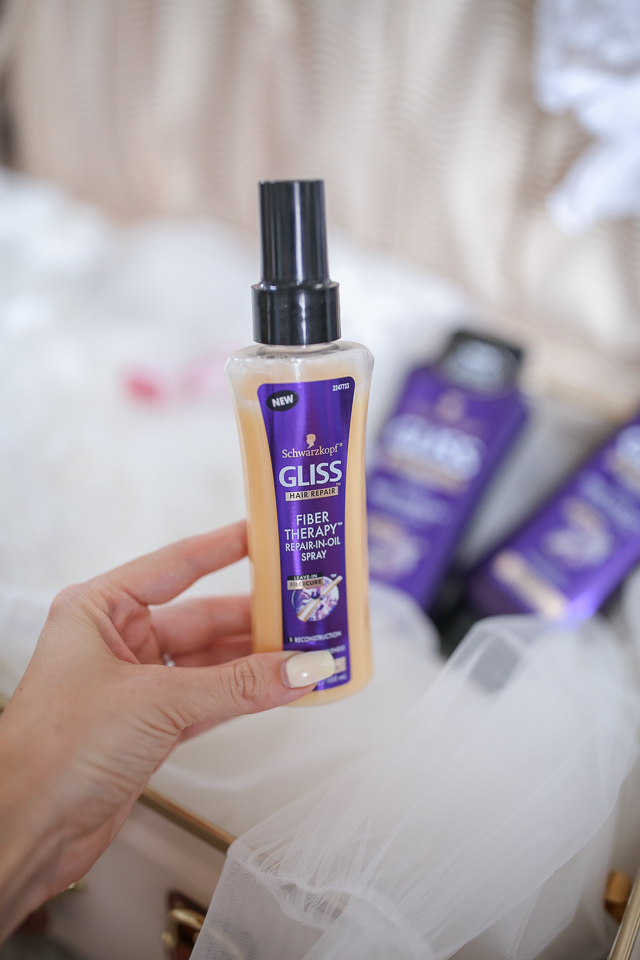 This blog post has been compensated by Collective Bias, Inc.and Schwarzkopf Gliss™. All opinions are mine alone. #BlissOfGliss #HairIdenticalKeratin #CollectiveBias
Happy almost WEEKEND, everyone!! I'm so excited to share some behind-the-scenes photos of my wedding hair in today's blog post. I wrote an
entire blog post on beauty treatments
I had done before the wedding, but I left out something major: my hair! The wedding hairstyle that I wanted called for thick, voluminous and HEALTHY hair, so I wanted to do everything in my power to make my hair as healthy as possible on the big day. The three products that I've been using faithfully are from
Schwarzkopf Gliss
™- their line of hair products has patented technology to repair your hair up to 10 layers deep. For several months leading up to the wedding, I did several things to try to reverse the damage my hair has accumulated over the years:
2. I applied
Gliss Fiber Therapy Repair-In-Oil Spray
to my hair after getting out of the shower a few times per month. If I knew I was going to wash my hair in the morning, sometimes I would spray my hair and put it in a bun right before getting into bed.
3. I tried to go as long as I could in-between washes. If I could get away with only washing my hair once per week, then yep, you bet that's what I did! (Don't worry, I took baths to wash my body hahaha)
4. During workouts, I braided my hair so that it didn't get damaged from a tight ponytail.
5. When I could, I let my hair dry naturally, and used my curling wand as little as possible.
Now for my wedding hairstyle!
I knew I wanted a different wedding hairstyle… something romantic and a little boho. I envisioned lots of curls and loose tendrils, I didn't want a hairstyle that was "perfect" with every hair in place. I also knew that I wanted a partial updo – the Charleston heat and humidity can be pretty fierce, so I wanted a hairstyle that kept me cool, but also still looked like "me" (and I normally wear my hair down!). I gathered a ton of inspiration from
Ulyana Aster's Instagram page
, and asked my stylist (
Charlotte Belk
) to create something similar.
She started by curling my entire head with a curling wand, seen below (
Lindsey
was doing my makeup at the same time! 🙂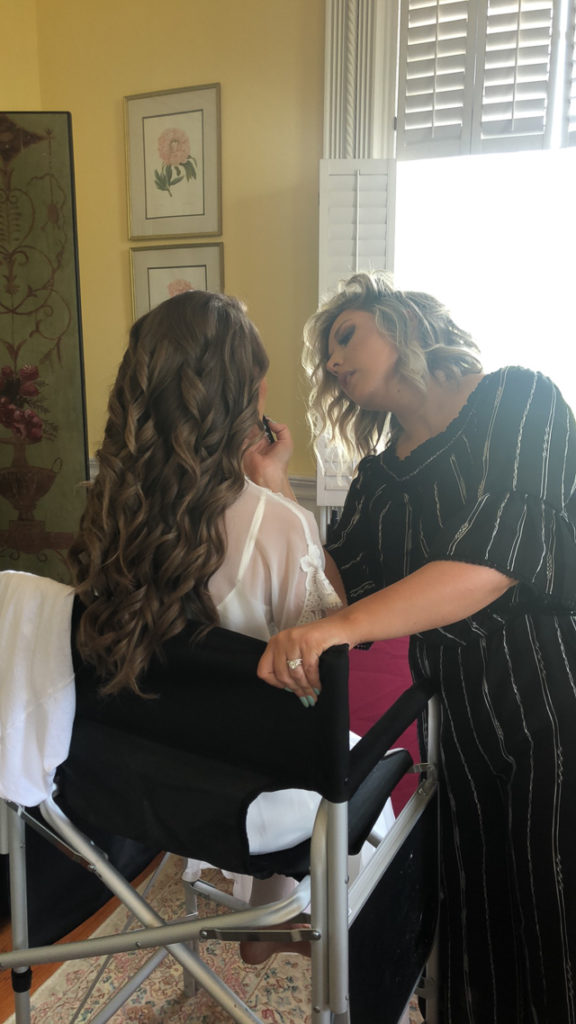 She then ran her fingers through the curls to create loose waves. P.S. I love this picture because of all my pretty bridesmaids in the back!!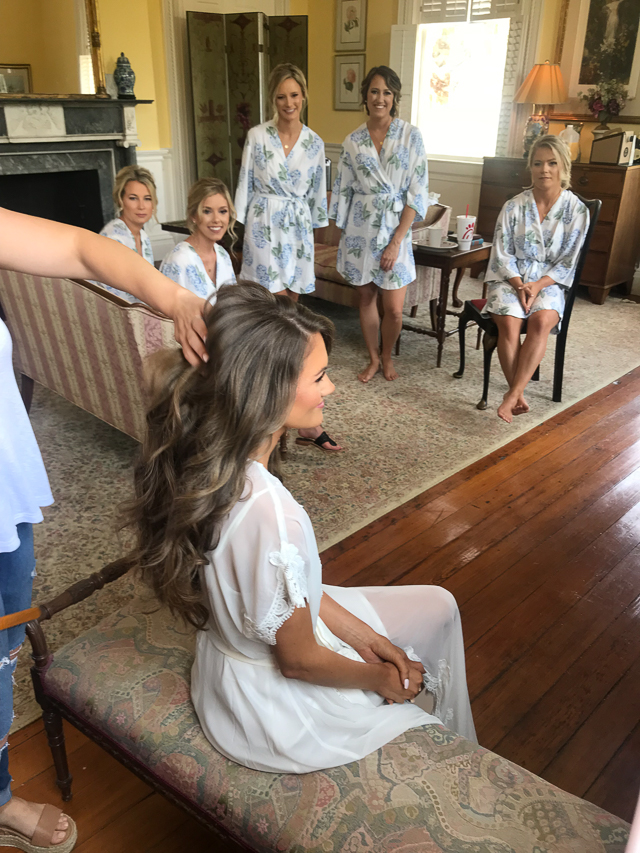 Using tons and tons of bobby pins, Charlotte pinned small sections of hair to create this beautiful boho-style look. Before we started, I had given her a few instructions: I wanted lots of volume on top, and I wanted my hair to still look thick at the bottom, rather than looking like a braid where it thins out at the bottom. I think she did an amazing job capturing my vision!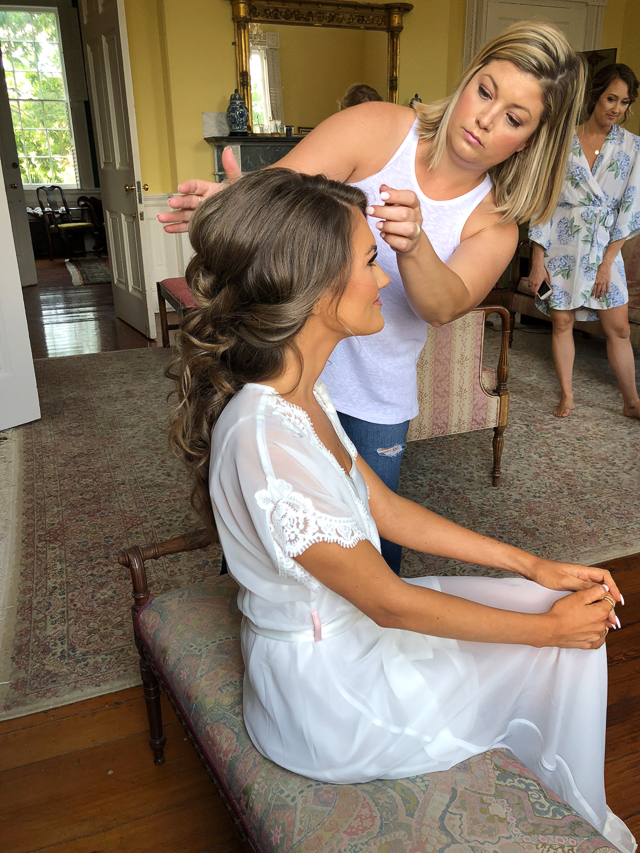 Next, she secured the headpiece (I had bought
this one
from Ulyana's site six months in advance). She wrapped it around my temple and wove it through the hairstyle, securing it with bobby pins along the way.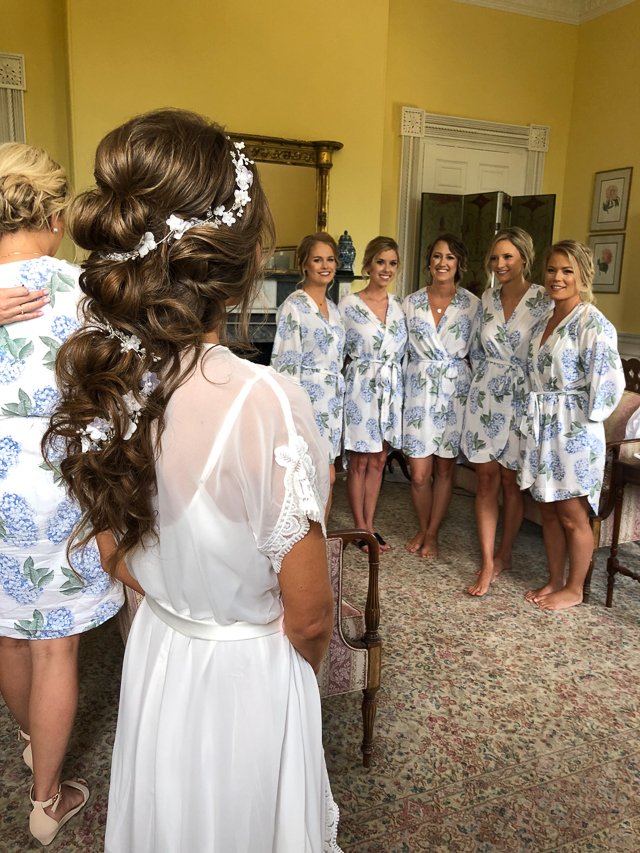 And THIS was the final product! I actually had more videos than pictures on my phone, if you guys want me to share them on Instastories or compile them into a YouTube video, let me know in the comments. The videos help to show the process of how Charlotte achieved this hairstyle.
One piece of advice I have for future brides is to DEFINITELY have a hair trial a few months before your wedding day! I actually had a different hairstyle picked out at first, and that's the one I had done at my trial. My mom and I took a BUNCH of photos of the hairstyle so that I could see how it looked from all angles. During the moment, I thought I really liked it, but once I looked back at pictures I realized that I actually didn't like it and wanted to change a lot about it! So please, please have a hair trial beforehand because you might end up changing your mind 🙂
Overall, I am so so so happy with how my hair turned out! It was everything I had ever dreamed of, and on top of that, it stayed put the ENTIRE night! Even after a solid two hours of dancing, haha! If you're getting married in the Charleston area, I highly recommend Charlotte Belk. AND if you're looking to whip your hair into shape, I highly recommend Gliss products! I truly credit them for transforming my hair and making it healthier and shinier than it ever has been for my wedding day.
I think that's about it, let me know if you have any questions in the comments! I'll leave you with these two sneak peek wedding photos 😉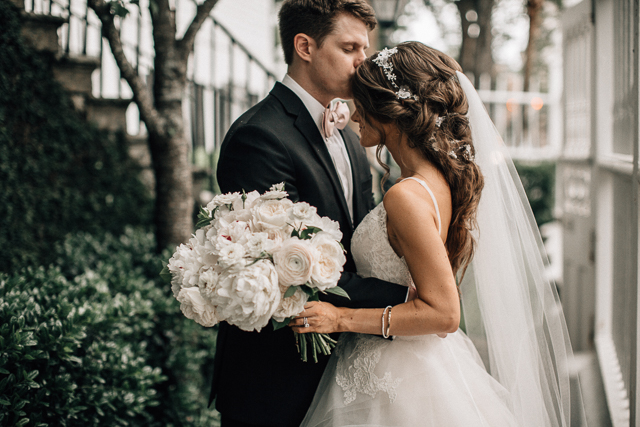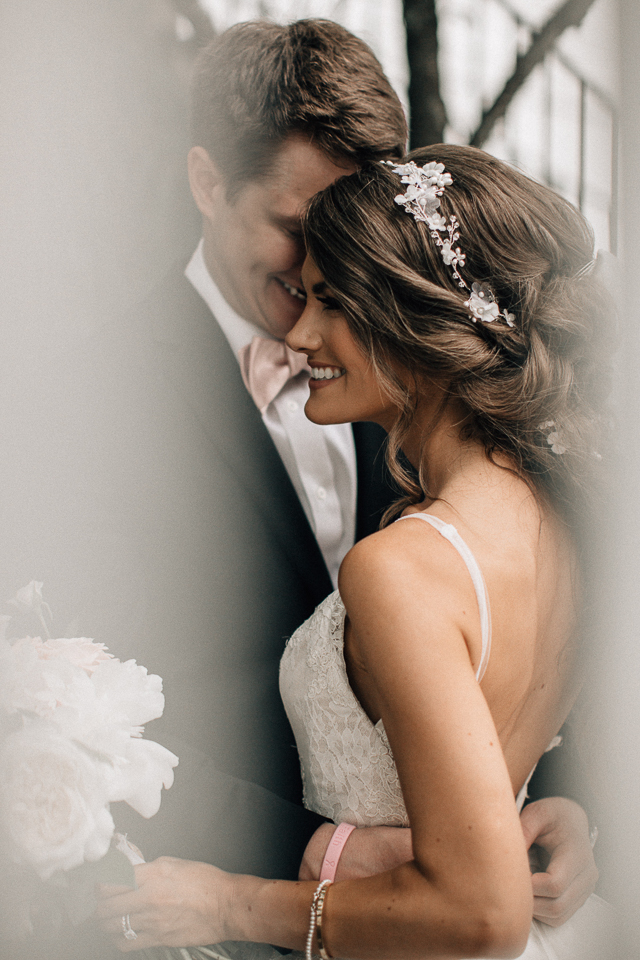 xoxo,
Caitlin
SHOP THE POST:

JavaScript is currently disabled in this browser. Reactivate it to view this content.