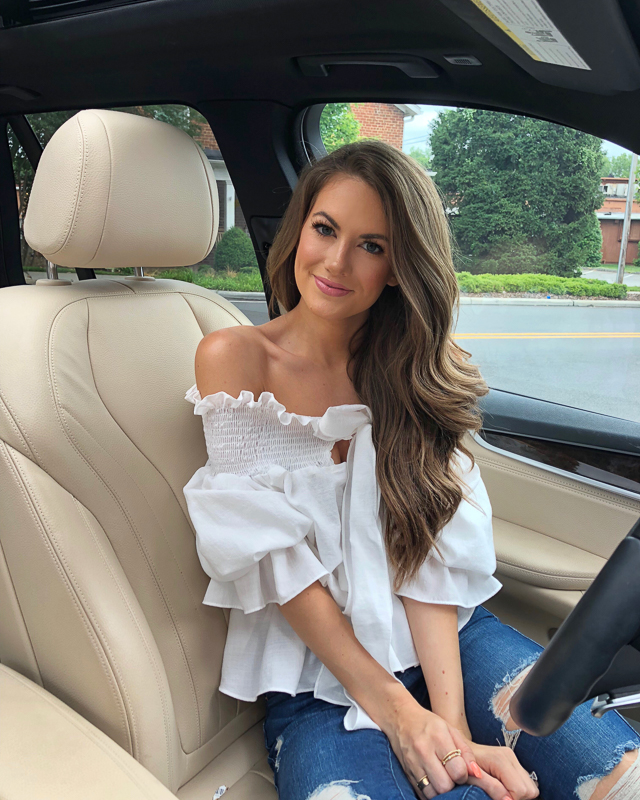 Hey guys, I'm so sorry I meant to get this post up last week! It has been an absolutely crazy busy month… and the wedding is only SIX DAYS AWAY, can you believe it?!?! I have another fun wedding-themed post coming later this week, but today I wanted to share with you all of the beauty prep I did for the wedding! I think every girl can agree that they want to look their absolute best on their wedding day… with beautiful skin, hair and nails! I particularly wanted my skin to look clear and glowing because I think that's my "problem area," if you will. I'm sharing this in a timeline format, because I think that makes the most sense. If you have any questions, let me know in the comments and I'll be happy to answer them! 🙂
By the way, this post is NOT SPONSORED at all!
SIX MONTHS:
Six months ago (on January 1st) I started a new workout program and really focused on eating clean. I think what you put in your body has a huge impact on your hair and skin, so I really made it a priority to eliminate processed foods and eat mostly whole foods – especially veggies – I've been eating LOTS and lots of veggies! I try to eat the colors of the rainbow every day – as many red, green, orange, yellow and blue fruits and vegetables as I can. I made
this green smoothie
(and variations of it) a TON over the past six months. It's packed with skin-boosting nutrients and tastes delicious too. In addition to eating clean, I also upped my daily intake of water, even if I had to trick myself into drinking it by buying sparkling beverages (
this one
is my fave).
I'm going to do a whole blog post on my workout routine leading up to the wedding, but I do think that it made a difference in my skin, too. Working out helps your body produce collagen, which is a protein that helps to keep your skin firm and elastic. I also noticed that on days I work out, I get a lot better sleep at night – which is also great for your skin because it repairs itself while you sleep!
As far as topical skin products go, six months out I made sure that I was using my retinal every single night (I use
this one
and blogged about it in
this post
) and a good moisturizer (my favorites are
this one
and
this one
). I also began foregoing makeup whenever I could to give my skin a chance to breathe – on days when I wasn't taking blog photos, you could find me in workout clothes and makeup-free.
THREE MONTHS:
Three months out from the wedding, I started a series of
Clear + Brilliant
skin laser treatments recommended by my dermatologist in Charlotte. Clear + Brilliant treatments are a step above a chemical peel, and a step below heavier resurfacing lasers like Fraxel. My dermatologist said this laser was a good choice for someone getting married because it's pretty gentle, but leaves your skin looking smoother, younger and with a "radiant glow" after a couple of sessions. It was ultimately the promise of the "radiant glow" that nudged me to begin the treatments. Starting in March, I had one treatment every month, with my third and final treatment just last week.
This was my first experience ever having a skin laser, so I wasn't quite sure what to expect! When I arrived for my first laser treatment, they had me wash my makeup off and then they applied a numbing cream all over my face. I waited for 30 minutes for the numbing cream to take effect before they started the actual treatment. The laser didn't hurt at all – in fact it was kind of relaxing! – but afterward, my skin was SO red and felt like it had been badly sunburned (don't worry, they reassured me that this is normal!). The below photo is how my skin looked right after my first laser treatment. Although it was red, my dermatologist told me I was allowed to put on makeup right away if I wanted to (that's another nice thing about this laser treatment – there's no downtime!).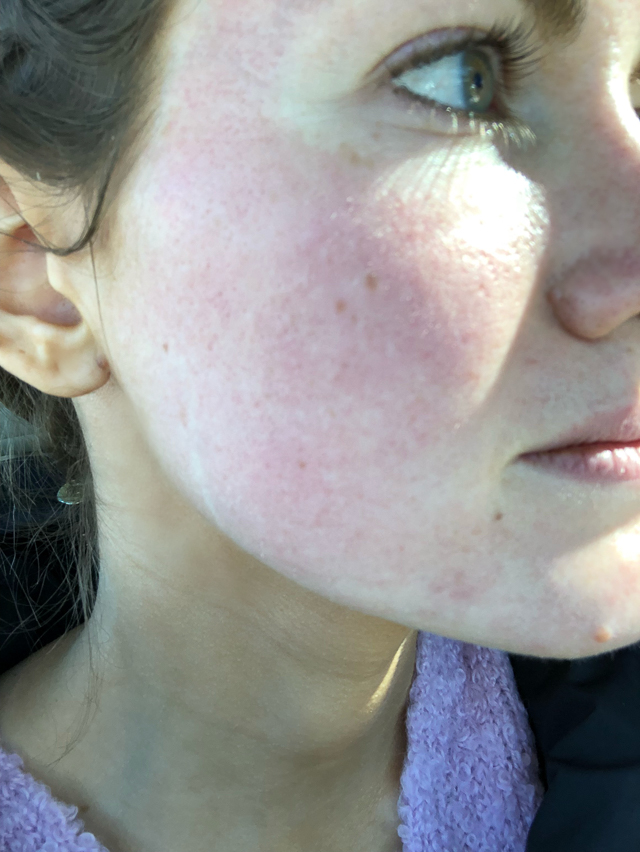 The weirdest part, though, was what happened a few days after the treatment – my skin had a strange rough texture, like SANDPAPER. Yes, my skin felt exactly like sandpaper! It really freaked me out at first, but after a quick Google search I realized that this was normal, too. My dermatologist had advised me to use gentle products on my skin for the first couple of days after the treatment, and to skip my retinal for a full three days. After five days of feeling rough and sandpapery, my skin went back to it's normal texture and to my surprise, was a a lot softer than before the treatment.
After having the three treatments, I don't know if I would say that I'm "radiantly glowing" (lol I wish), however I do notice quite a big difference in my skin tone, the size of my pores (they're smaller!) and the texture of my skin. I'm even considering keeping up the laser treatments after the wedding for maintenance – it also is a great preventative measure if you're worried about your skin aging. If you're interested, I would recommend asking your doctor if it's a good fit for you!
ONE MONTH:
One month out from the wedding – cue a couple of panic attacks – and the realization that I need to start whitening my teeth! Chris and I both started using these
Crest Whitestrips
(shown below) at night for 30 minutes. Both of us saw a noticeable difference in our teeth after a couple weeks of using them, and we'll continue to use them up until the big day.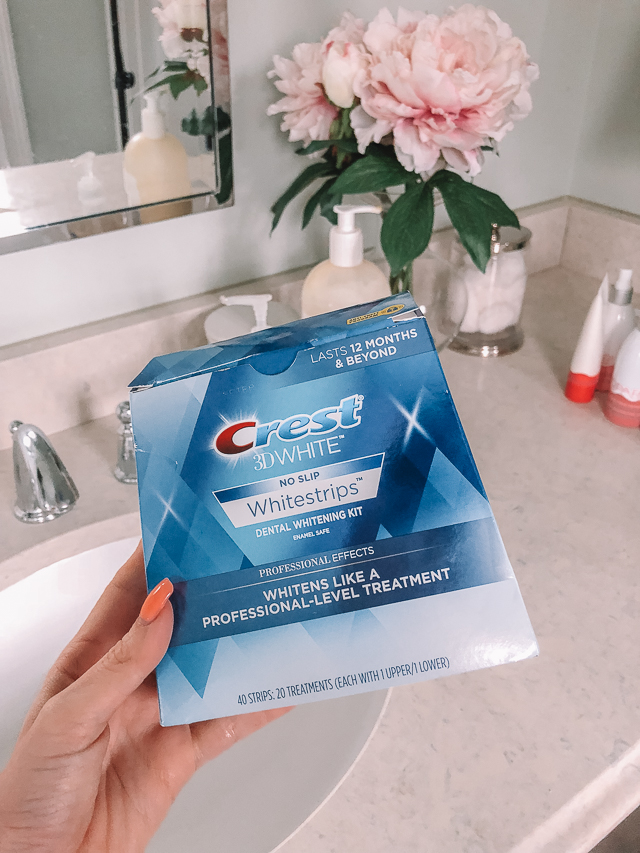 Another thing I did a month out was schedule my wedding makeup trial! I discovered my makeup artist
Lindsey Burchfield
on Instagram and was seriously in awe of her talent – I knew I had to have her on my wedding day!! Thank goodness she was available on June 2nd, and I booked her right away. (Seriously, just scroll through her Instagram feed, she is CRAZY talented!)
I met Lindsey at her salon in McAdenville a couple of weeks ago for my makeup trial. I was so excited to meet her – she's an absolute doll and made me feel comfortable right away. Not to mention that I absolutely LOVE how she did my makeup!! She found the perfect balance between keeping my makeup natural (so that I still looked like myself) but also making feel like a bride. I am dying to learn all of her tips and tricks!!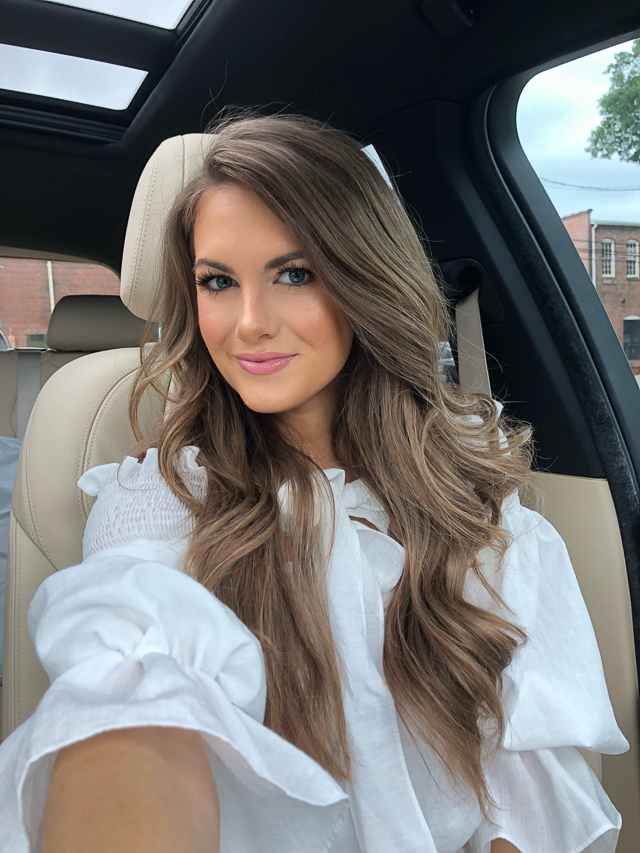 unedited photo
Here's a list of the products she used on me!
I can't wait to see Lindsey again in six days for the REAL thing!!!! Definitely check her out on Instagram (@
lindseyjburchfield
) for some amazing before-and-after photos too!
ONE WEEK:
One week away from the wedding – that's THIS WEEK! This week I'm concentrating on eating really clean, and drinking lots of tea and hot lemon water to help with any bloating. I'm also continuing to whiten my teeth, use my retinal at night and a good moisturizer.
I am getting a calming, relaxing facial on Thursday (nothing irritating or harsh!) to hopefully get a glow right before the big day. I will also get a spray tan on Thursday night so that I'll be tan for the wedding on Saturday. I always feel drastically better with a tan!
And that's pretty much it you guys! If you have any questions feel free to leave them in the comments and I'll get back to you! This is definitely going to be a crazy week, but like I said, I have another fun wedding post planned so stay tuned! I'M SO EXCITED TO MARRY MY BEST FRIEND!!!!!!
XOXO
SHOP THE POST:
JavaScript is currently disabled in this browser. Reactivate it to view this content.