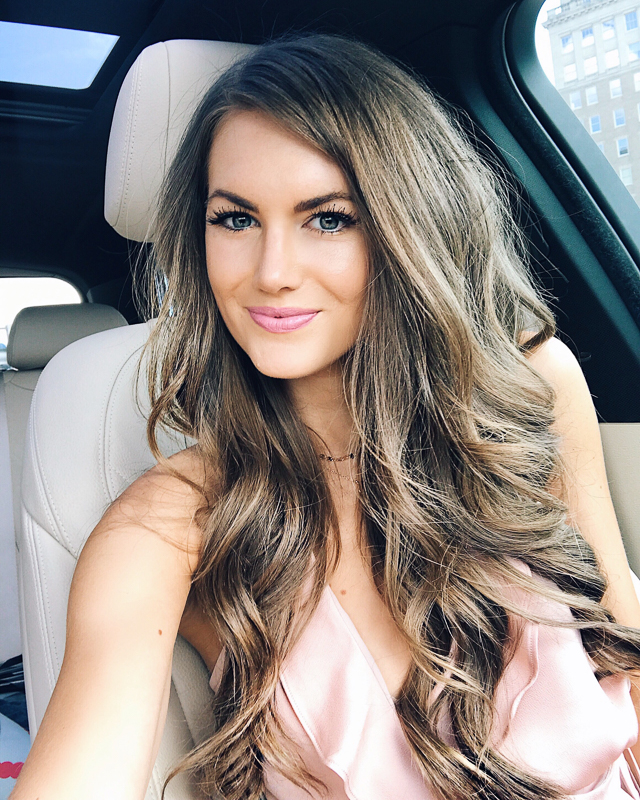 Happy Wednesday, loves! I've had a lot of request for this post via email so here ya go, my updated makeup routine! 🙂
1. Primer
I recently started using
this face primer
and love it – my skin has been feeling dry lately so this is incredibly moisturizing (and anti-aging!). You can even use it on your hair to seal split ends and tame fly-aways.
2. Foundation
My skin is in the "in between" stages of summer and fall right now, where my skin isn't tan enough for my summer foundation, and not pale enough for my fall foundation. So I've been mixing them! I apply
this foundation
in #107 and
this one
in #307 right on my face, then use
this foundation brush
to blend it all together. One of the reasons I like these two products together is that they're very matte so your face doesn't get shiny during the day.
3. Under Eyes
I actually stopped using under-eye concealer at the beginning of the summer, and haven't used it since! I think under eye concealer can sometimes look aging if it's too bright or too light of a color… and it can cake into the crinkles beside your eyes. I've been liking my makeup better without it!
4. Contour
I've used
this bronzer
for years and swear by it – one of the main reasons I love it is the brush it comes with! It's also the PERFECT shade of bronze! I apply it around my hairline, underneath my cheekbones, and down the sides of my nose. Just make sure to blend it all in afterwards.
5. Blush
I recently discovered
this iconic blush
while I was packing for my move (it was way back in my makeup drawer) and remembered why I used to love it so much! It's the perfect universal pink shade and manages to look good on every skin type. I've been wearing it in all my photos recently!
6. Highlight
I've been using
this liquid highlighter
this summer and for the start of fall – I'm obsessed. I actually used to use this back in high school (but before I actually knew how to wear highlighter haha). I put just the tiniest bit onto my fingertips and dab it into the tops of my cheekbones.
7. Mascara
This might be boring but my mascara routine hasn't changed in YEARS! I start with L'Oreal Double Extend primer from the drugstore and then top it with
this mascara
. I SWEAR by this combination!!!
8. Eyebrows
My mom told me I was drawing my brows in too dark (leave it to your mom to be brutally honest about your makeup haha!) so I recently started using
this powder
in #02 and really love it! It does a great job of filling in my brows and matches them perfectly.
9. Finishing Powder
This is my favorite part of my makeup routine (not sure why!). I love this
Bye Bye Pores
powder and save it for last to "set" my makeup. I swirl the powder onto a fluffy brush and blend it into my skin in circular motions… while I'm setting my makeup, it also mattefies by skin, preventing shine, blurring imperfections and decreasing the sizes of my pores. It's a literal miracle product!
10. Lips
I apply this lip balm every single night before bed (I keep it on my nightstand) because I hate waking up in the middle of the night with dry lips! With this balm I wake up and my lips feel soft and moisturized. You probably can tell by my latest blog posts but as for lipstick, I'm O-B-S-E-S-S-E-D with MAC "creme cup." It's the perfect pale pink/nude color and manages to go with every single outfit. It looks equally as good running errands as it does when I'm dressed up for a date night. Seriously try it for yourself and you won't be disappointed! 🙂
Let me know if you have any questions!
xoxo
SHOP THE POST:

JavaScript is currently disabled in this browser. Reactivate it to view this content.