We recently had a great family vacation at WaterSound Beach in 30A, Florida! My family rented a house there last year for the first time, and we loved it so much we knew we wanted to visit again this year. (In fact, you can read last year's review here!) I wanted to write an updated version of last year's blog post, since we discovered a few new spots on our most recent trip.
And if you're wondering what 30A is, it's a collection of small, unique, beautiful Florida beach towns nestled quietly between the much busier areas of Panama City and Destin along Florida's Scenic Highway 30A. Within this area, you'll find the beach communities of Rosemary Beach, Alys Beach, WaterSound, and several more! If you're looking for a vacation destination that has beautiful oceans, pools, restaurants and is kid-friendly, you pretty much hit the jackpot with 30A! 
I'm linking up the outfits we wore on our trip, but scroll all the way down for my full review of our vacation in 30A!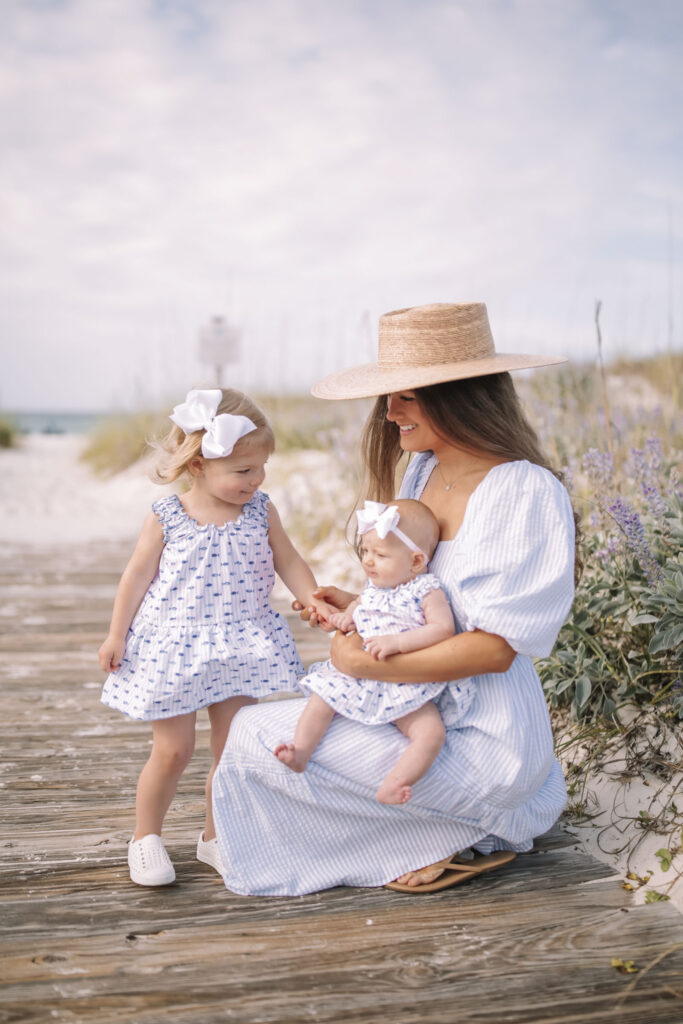 MinkPink Milani Tiered Midi Dress // TKEES sandals // Lack of Color straw hat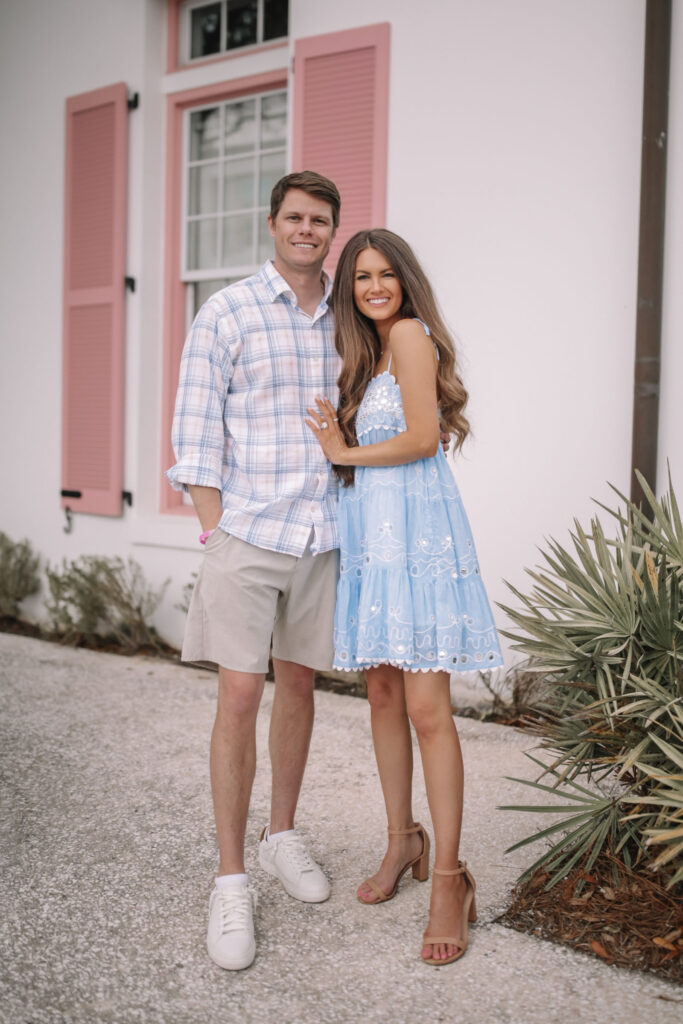 on me: Juliet Dunn Trapeze Dress // neutral heeled sandals // on Chris: Peter Millar plaid button-up shirt // Vuori Aim Shorts
Amazon blue stripe cover-up // Onia Dalia bikini top // Onia Sabrina bikini bottom // Lack of Color straw hat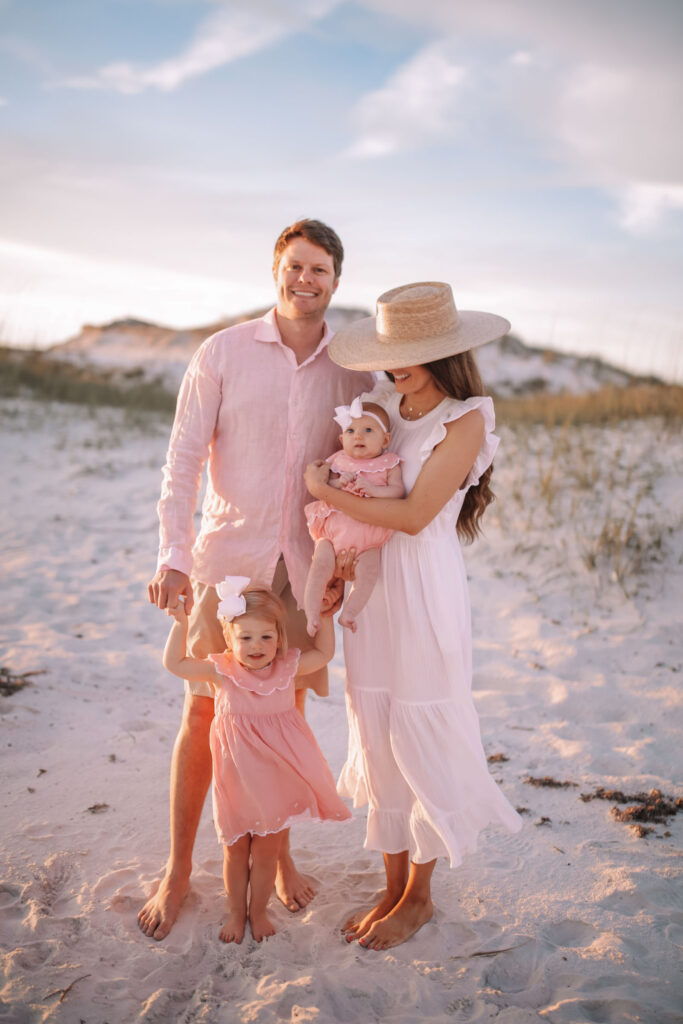 on me: Target white gauze flutter sleeve dress // Lack of Color straw hat // on Chris: pink linen shirt // khaki shorts // on Kenny: Dondolo Daisy Girl dress // on Collins: Dondolo Daisy Girl bubble // white bow headband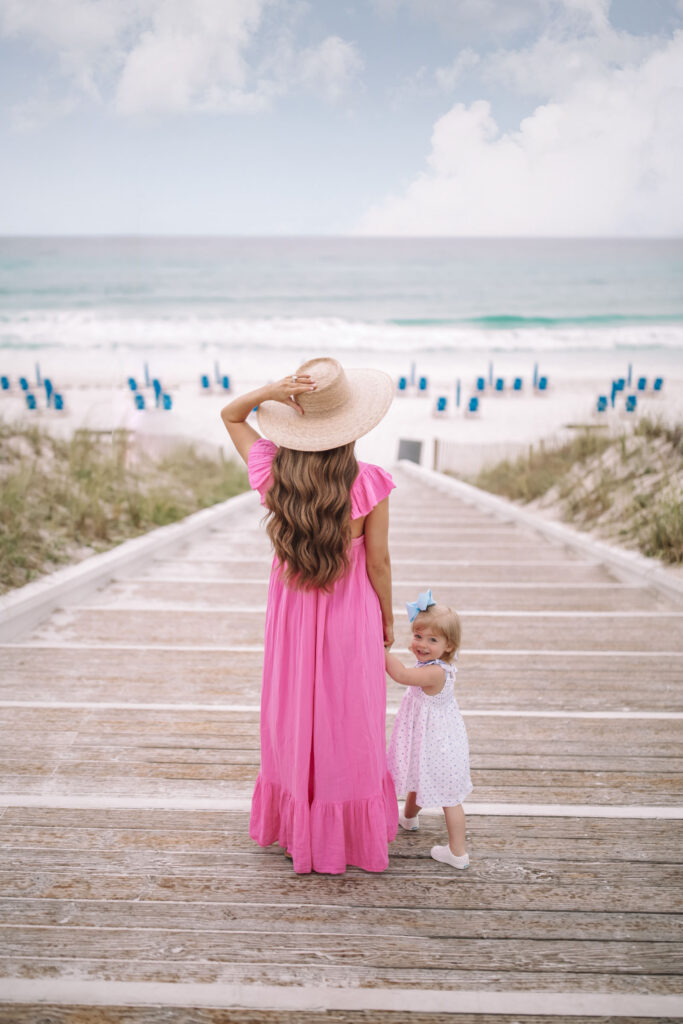 on me: 9 Seed Tuscany dress // Lack of Color straw hat // TKEES sandals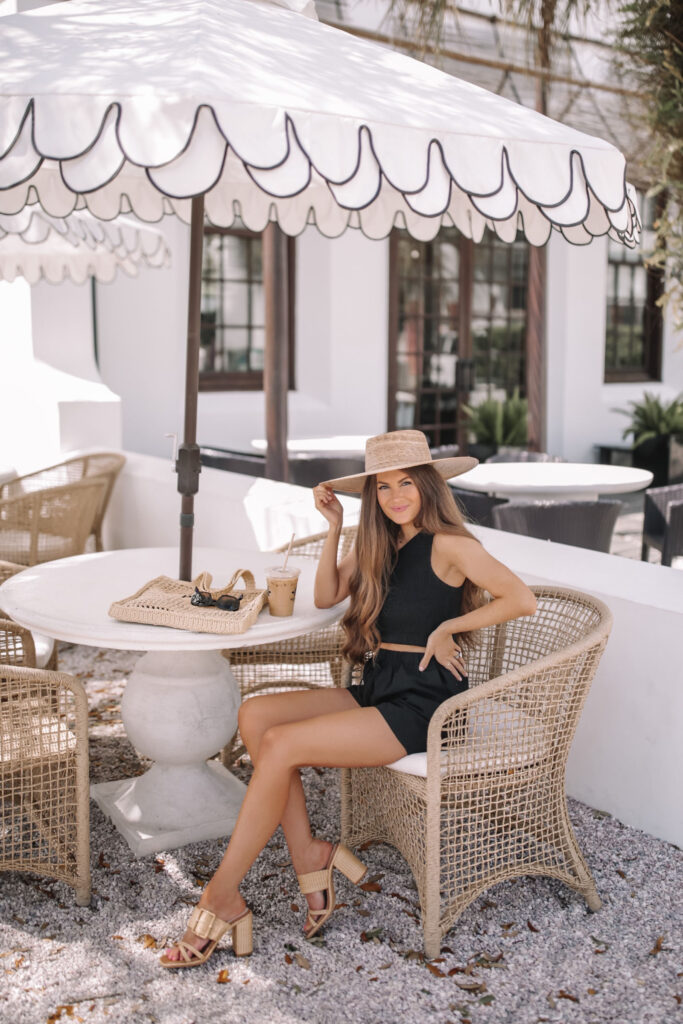 Lack of Color straw hat // Amazon one-shoulder set // Dolce Vita Onnie sandals
How to Get to 30A
To get to the beaches of 30A, we took a direct flight from Charlotte, NC, to Northwest Florida Beaches International Airport (ECP). This airport sits in Panama City, FL, just a short drive from the coast. Flight options include Delta, Southwest, United, and American Airlines. Once we arrived at ECP, we picked up our rental car and then it was about a 30 minute drive from the airport to our rental house in WaterSound.
Where to Stay
First off, there are several different beach communities within 30A! It's home to Rosemary Beach, Seacrest, Alys Beach, Seagrove, Seaside, Watercolor and Grayton Beach – to name a few. The entire highway stretches 28.5 miles, so no matter where you stay, you can easily check out the other beaches since they are close by. ALL of the beach communities are stunning, but since we stayed in WaterSound, that's what I'm going to focus on for the purpose of this review!
WATERSOUND: We stayed in WaterSound for the past two years now. WaterSound is a small, private 1,400 acre community just off of Scenic Highway 30A in-between Seacrest Beach to the east and Seagrove Beach to the west. Whether you are driving, walking or biking, you will need a gate code to access WaterSound. All of the houses are absolutely stunning and look brand new, and many of them come with golf carts and bicycles for your family to enjoy throughout the week. The beach in WaterSound is absolutely beautiful, with creamy, white sand and clear, blue water. One thing that sets WaterSound a part from the other communities is its beautiful sand dunes! There are multiple boardwalks to the beach, all criss-crossing over the gorgeous sand dunes (beware, though, there is a fine for climbing or stepping on the dunes!). Because of the sand dunes, none of the houses in WaterSound are right on the water, but you can get pretty close. One thing that we really enjoyed about WaterSound is the community pools. There are several community pools for you to enjoy while vacationing there, and they were never crowded! There is also a small pizza shop right inside WaterSound, so you don't have to travel very far if you're craving pizza. Bruno's Pizza is a quick skip, hop and jump away from all of the houses in the WaterSound community. Otherwise, you will need to leave WaterSound and drive around 5 minutes or more to get to a restaurant or grocery store. Overall, we really loved the privacy and quiet of WaterSound – we did not have to worry about safety, hoards of people, or crowded pools and beaches.
How do you find a house? There are a ton of different ways to track down a rental property. There aren't many hotels to speak of (The Pearl is beautiful but adults-only), so a vacation rental home or condo is the way to go. You can search via VRBO, Home Away, Airbnb, 30a LuxuryVacations, Cottage Rental Agency of Seaside, 360 Blue Properties, 30A Escapes, or 30A Vacation Rentals.
Where to Eat
There are tons and tons of great restaurants in the 30A area! Here are the ones that we tried and loved:
GEORGE'S AT ALYS BEACH: George's is located in Alys Beach right off of Highway 30A and is an upscale restaurant with a casual feel. They're known for their locally sourced, high-quality produce and fresh seafood. For lunch, our family absolutely loved the blackened grouper and fish tacos. For dinner, we enjoyed the Mexican Street Corn Salad, the Salt and Pepper Shrimp, and the Caprese Pasta. Literally EVERYTHING we ordered was delicious – I am still dreaming about that Blackened Grouper!!! Quick tip: George's does not take reservations. So if you're like us and have kids and want to eat dinner early, I suggest getting there as soon as they open (5:00 pm) or even a few minutes before. We got there at 5:00pm and we had to wait in a line to put our name on the list and then wait another fifteen minutes for a table. They have a nice outdoor waiting area with a little bar and corn hole set up.
OLD FLORIDA FISH HOUSE: The atmosphere at this restaurant is simply incredible – most of the seating is outdoors, under twinkle lights and right next to a beautiful lake. The view at sunset can't be beat! The food here was also amazing, whether you're looking for sushi or a traditional Old Florida fresh seafood dinner. This place is also super kid-friendly. They have a sandy play area with a boat that a lot of kids liked playing on. There is also live music, an ice-cream shop and a cute little store with T-shirts and lots of toys to shop around in before or after dinner.
PESCADO: Pescado is not kid-friendly, but if you get an adults-only night, head to Pescado! It's a rooftop bar and restaurant located in Rosemary Beach, and the perfect date night spot. I'm pretty sure it's the only rooftop restaurant in the area. They're known for their seafood, hence the name of the establishment!
BUD AND ALLEY'S: Bud and Alley's is one of 30A's oldest restaurants. It's known for great food, great fun and Seaside's finest sunsets! Located right on on the beach overlooking the Gulf of Mexico, this restaurant has won numerous awards for their food and wine. We made a reservation to dine inside on the first level, but upon arrival we decided to eat upstairs on the porch, where there's a fabulous view of the ocean! The food here is pretty casual – think burgers, fried fish and french fries – but everything we had was very good.
BUD AND ALLEY'S TACO BAR: We stopped here for lunch one day while we were in Seaside. It's located right across the street from the food trucks at Airstream Row (which also has some great options). But we wanted a quick lunch with a place to sit down since we had both the girls with us. Bud and Alley's Taco bar was just what we needed. We found an open table right on the sidewalk, sat down and went to placed our order at the bar. They quickly brought out our food and it was delicious. I highly recommend the Mahi tacos, but Chris got the burrito and he said it was great too!
THE HUB (now called THE BIG CHILL): The Hub (now known as The Big Chill) is not a restaurant, but more like a gathering and entertainment area for families located right in WaterSound. There's a large green area for kids to run around, a stage for live music and entertainment, all surrounded by six different restaurants, two full bars and several shops, including a candy shop! This area was within biking distance of our house, so we biked here multiple times throughout the week to hang out. It's a great spot if you have kids, because the parents can sit at a picnic table with a drink while the kids run around in the grass!
BRUNO'S PIZZA: If you're staying in WaterSound, Bruno's Pizza is a great option if you want a low-key, casual dinner one night. We rode the golf cart to Bruno's and picked up pizza on our first night in town, since everyone was tired from traveling. The pizzas were massive and very good!
CHARLIE'S DELIGHTS: Formally known as Charlie's Donut Truck, Charlie's Delights has the best donuts in 30a! I NEVERRRR eat donuts, but on vacation it is simply a must. We loved these donuts so much that we came back three times during our first trip to WaterSound! This time we just got a giant box filled with an assortment of donuts to keep at the house for everyone. We loved the chocolate covered, chocolate covered creme-filled, bear claw, and custard-filled eclairs. Their new storefront is located right in the heart of Alys Beach with a few beach shops and parking nearby.
FONVILLE PRESS: Okay so 30A is full of cute restaurants, but this one just may be the cutest! The outdoor seating area is shaded by the prettiest pink and white umbrellas and the inside is just as beautiful with pink, green and gold details. And their food and drinks are just as delicious as their restaurant is cute! Seriously, we got both breakfast and drinks here and it was all incredible! They are open from 7am-8pm and they also have a little market inside if you want to grab a few healthy snacks to have on hand while you're at the beach.
RAW & JUICY: This is another cute place with pretty umbrellas in Alys Beach! Their menu is filled with tasty and healthy options like açaí bowls and cold pressed juices, and their coffees and cocktails are amazing too. It has mostly outdoor seating shaded by white and black umbrellas, and the pretty string lights and fire pit really add to the inviting atmosphere. But the real reason I love this place is because it's an actual parent's dream – right past the patio tables, you'll find a fun playground for kids! We took Kenny here one morning and she had so much fun playing on the slide while we finished our coffees.
What to Do
VISIT THE BEACH: 30A is unique in that most houses come with beach chair and umbrella rentals! Our house came with a rental for the week. All we had to do was bring a beach bag, head down to the beach and there was an umbrella and set of chairs already set up with our names on it.
RENT A BIKE: Some of the rental houses come with bikes, but if not, you'll definitely want to rent one for the week! 30A is a very bikable community, and you can bike from one beach to the next. There are wide sidewalks in between each of the little towns that double as bike paths. One of our favorite activities was biking from our house to the Hub, but there are also plenty of cute shops, delish restaurants and pools to keep everyone more than happy for a week.
GO SHOPPING: There are tons of shops along 30A, and you'll definitely want to reserve a few hours to visit them. Alys Beach has several great shops, but our favorite day was the day we went into Seaside! While you're shopping, you can pick up a frosé or a snack from one of Seaside's many food trucks. You'll definitely want to stop into The Seaside Style, which is known for its corded pullovers and preppy classics. We had a blast and I came home with quite a few shopping bags and a heavier suitcase for the flight home – haha! If you go shopping in Seaside the week before or after Easter, I suggest going in the morning because there may be a lot of spring breakers there if you go later in the day.
VISIT THE SUGAR SHAK: You'll definitely want to take a trip into Rosemary Beach specifically for The Sugar Shak! It's a beloved Rosemary Beach staple serving ice cream and a plethora of candy and sweet treats. Their website says it's, "the closest thing to Willy Wonka's Chocolate Factory as you'll get in this life," and I agree! They have every type of candy you can imagine, from floor to ceiling.
Let me know if you have any questions about 30A or WaterSound, specifically, and I'll be happy to answer them!