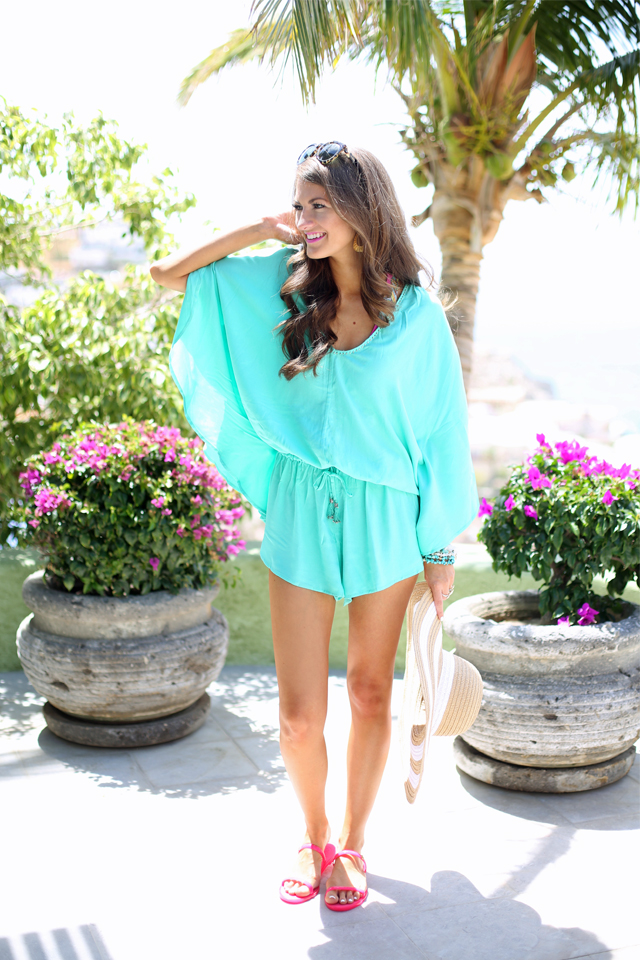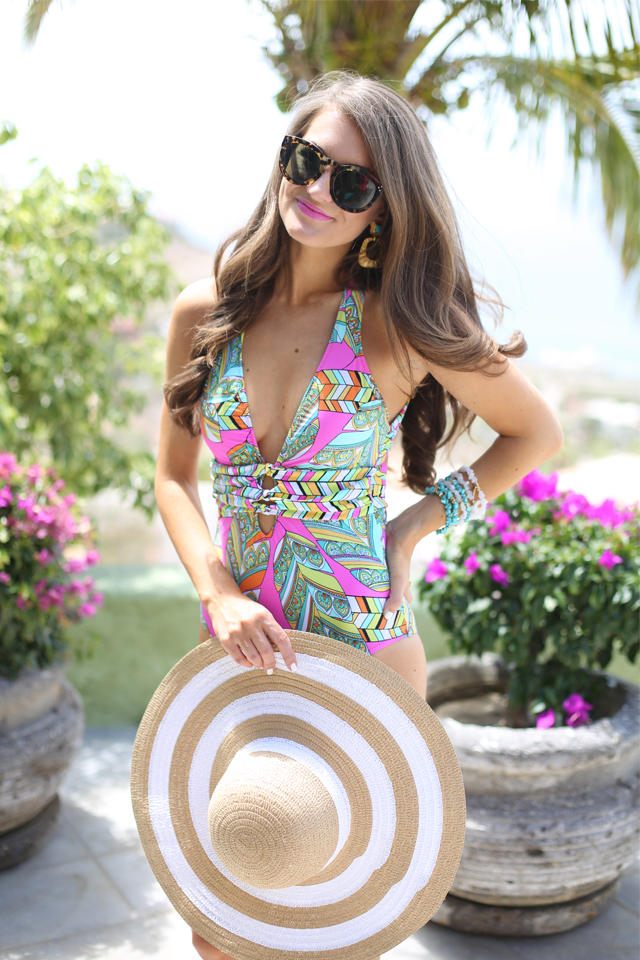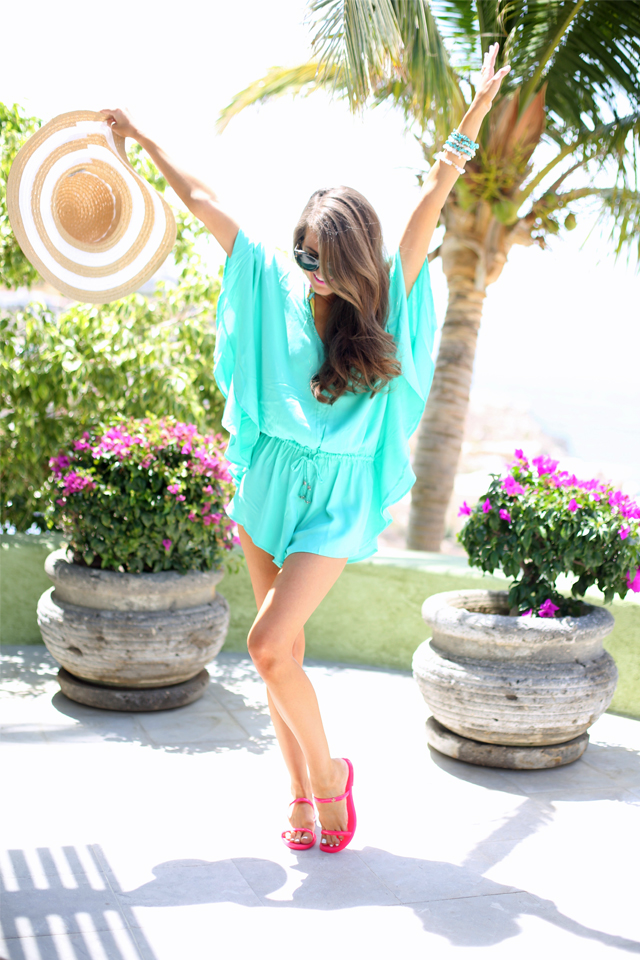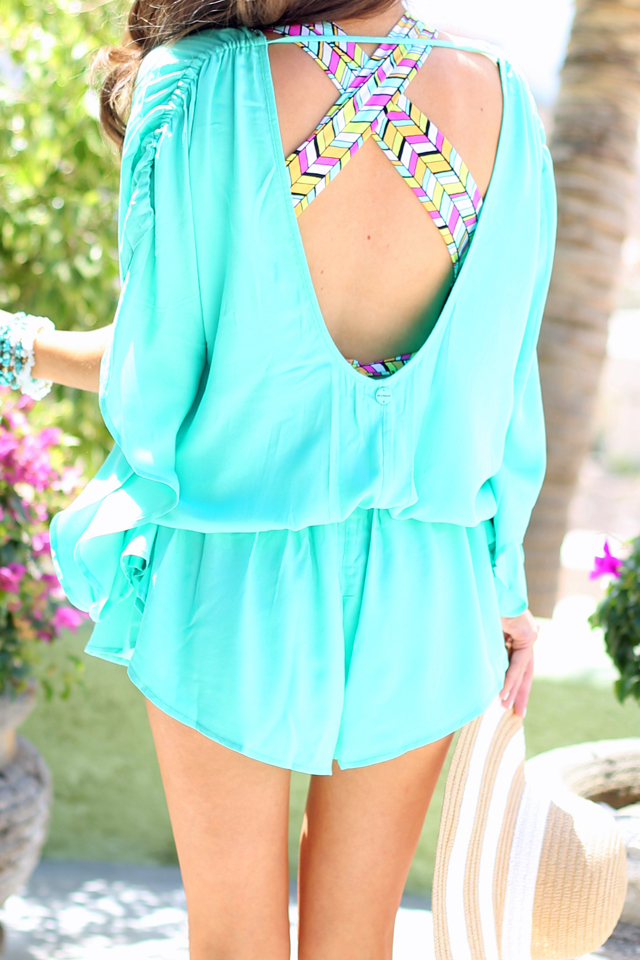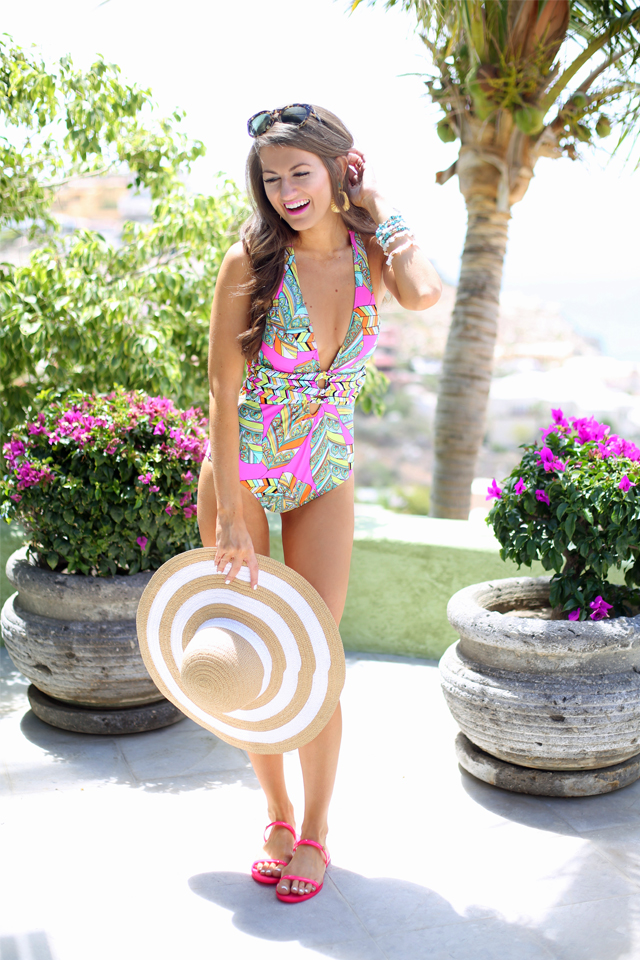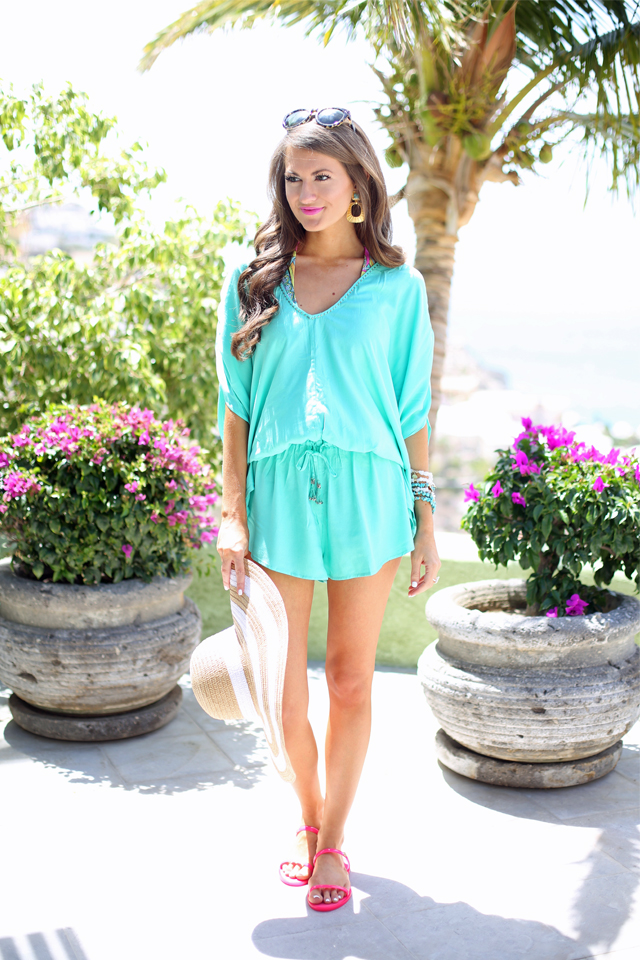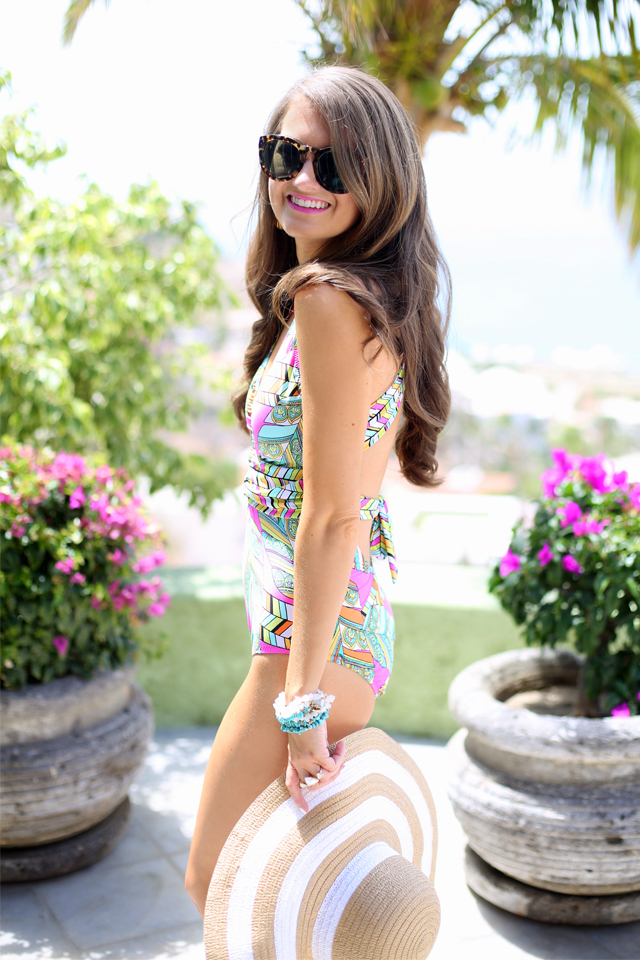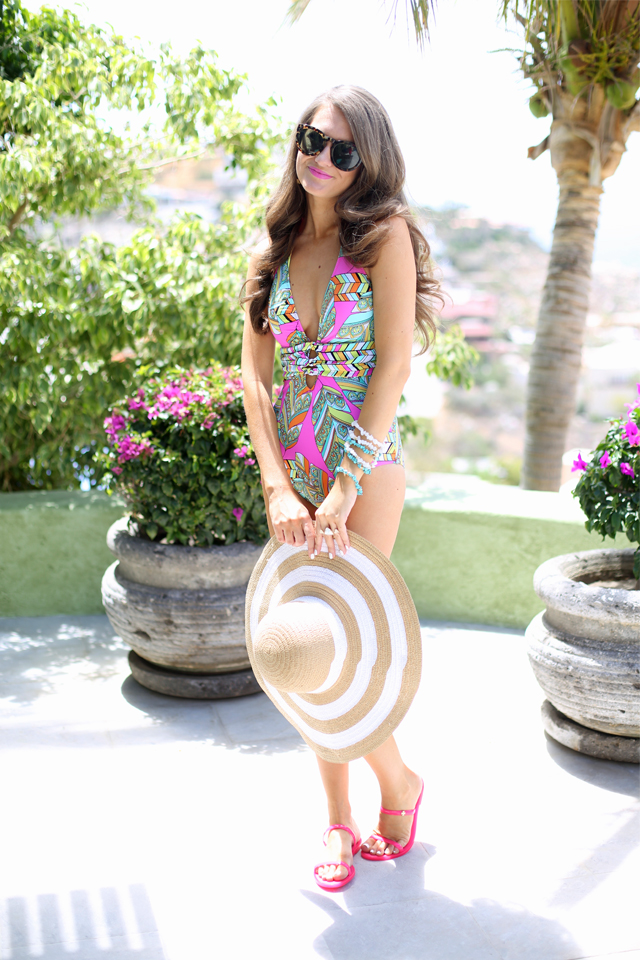 I love love love bright pops of color on vacation, so I can't get enough of
this Trina Turk one piece
swimsuit. I know one pieces may seem a little "old school" but I think they are so classy and beautiful. This particular one is a favorite because of the bright pattern… Trina Turk can seriously do no wrong! (Sizing tip – order up! I'm wearing a size 4, which is the equivalent of an XS.) The romper is one of my favorites as well – it is incredibly comfortable, it almost feels like pajamas. And the back is really cute too!
Okay – I get a lot of questions about my tan (which is definitely a spray tan!) so today I wanted to explain my fake tan process and how to get the most natural looking tan as possible. (I'm not a fan of baking in the sun… especially because I've had skin cancer scares in the past.)
1. Exfoliate
First, before I get a spray tan I shave my legs and exfoliate my entire body… this will make the spray tan go on as easily and smoothly as possible. Don't forget your face! Use a gentle scrub on your face as well. When you head to the spray tan booth, make sure you're not wearing any lotion or makeup.
2. Spray Tan
I go to the Mystic Tan Booth – most tanning bed salons have a few of these spray tan booths. There are a couple different kinds – the Versa Spray Tan and the Mystic Spray Tan – I prefer the Mystic, but they both do the same job. When I come in the salon, I ask for the "dark" spray tan, then I add in a few boosters: two scents (I like the scent "summer dream") and the "accelerator" which balances your skin's pH level. First-time users may want to try the "light" or "medium" color first to see how they like it.
3. Wash Your Hands
Immediately after the spray tan, I use the restroom at the salon to wash my hands. Yes, this sounds weird, but it washes off the very top layer of spray tan from your hands so that they don't end up orange and streaky (this always happens to my hands if I don't do this!).
4. Sleep on It
I always get my spray tans at night so that I can immediately go to sleep and wake up with a tan. The important thing is to not shower or sweat for eight hours after your tan because it will wash off!
5. Extend the Spray Tan
To extend the life of your spray tan, there's a couple things you can do. Make sure to keep moisturized – apply lotion every time you get out of the shower or if your skin feels dry. The second thing is to apply a gradual self-tanner to keep your tan looking fresh – I've been using
Jergen's Natural Glow
in the "medium to tan"color every time I get out of the shower and it has really made a difference – my tan hasn't faded at all! This is especially helpful if you are going on a long vacation where your spray tan may fade over time.
Anyways, I really love getting spray tans because they look natural but they aren't damaging to your skin! I get them anytime before a big trip or vacation and seriously love them. If you have any more questions leave them in the comments below! xoxo
SHOP THE POST:

JavaScript is currently disabled in this browser. Reactivate it to view this content.