If you follow me on Instagram then you may know we traveled to Stowe, Vermont, last week! It was SUCH a fun trip, most of all because my daughter got to join me. It was her first fall trip and her first airplane ride – and it was honestly SO cool to see the world through her eyes – like I was seeing it for the first time! We did all of the fall things (like visiting the cider mill, driving scenic mountain roads and sipping on maple lattes). The purpose of our trip was to catch the leaves in their peak foliage, although it wasn't super successful, haha. We went the last week in September and the leaves had *just* started to change. It's hard to time it perfectly, because every year is a little different! It was still beautiful, though.
I'll start by rounding up some of the outfits I wore on our trip… scroll down to the bottom for the full travel guide!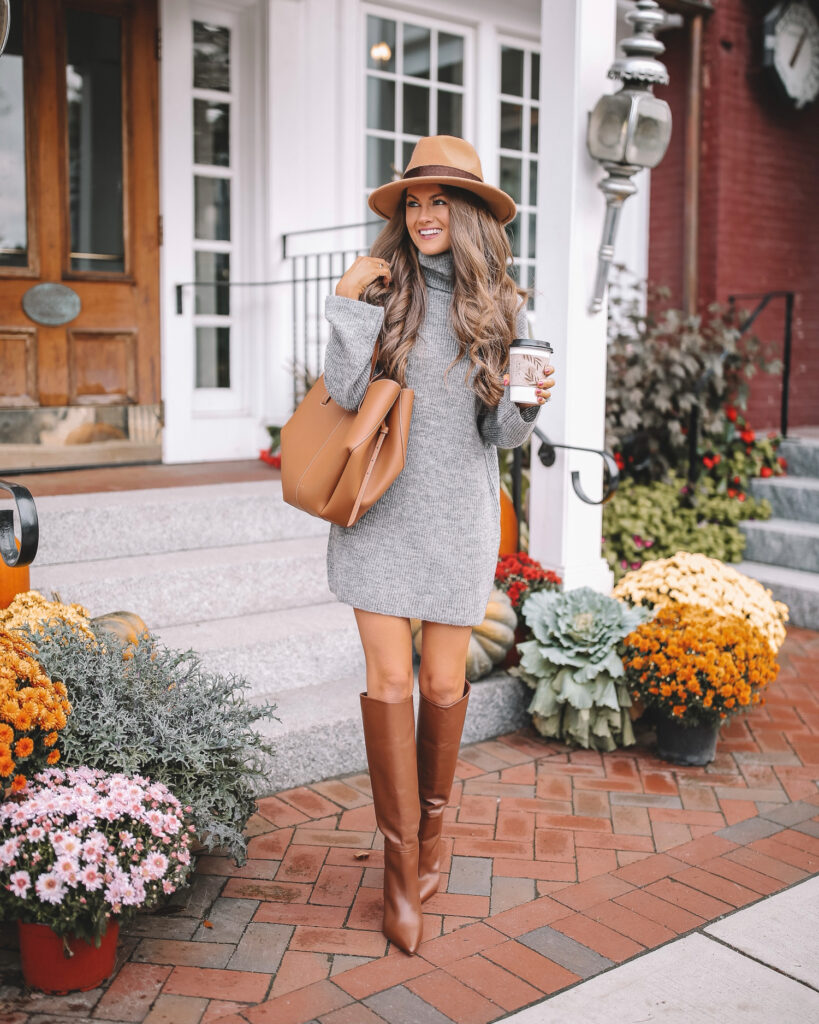 grey sweater dress // wool felt hat // Polène bag, similar here // Steve Madden leather boots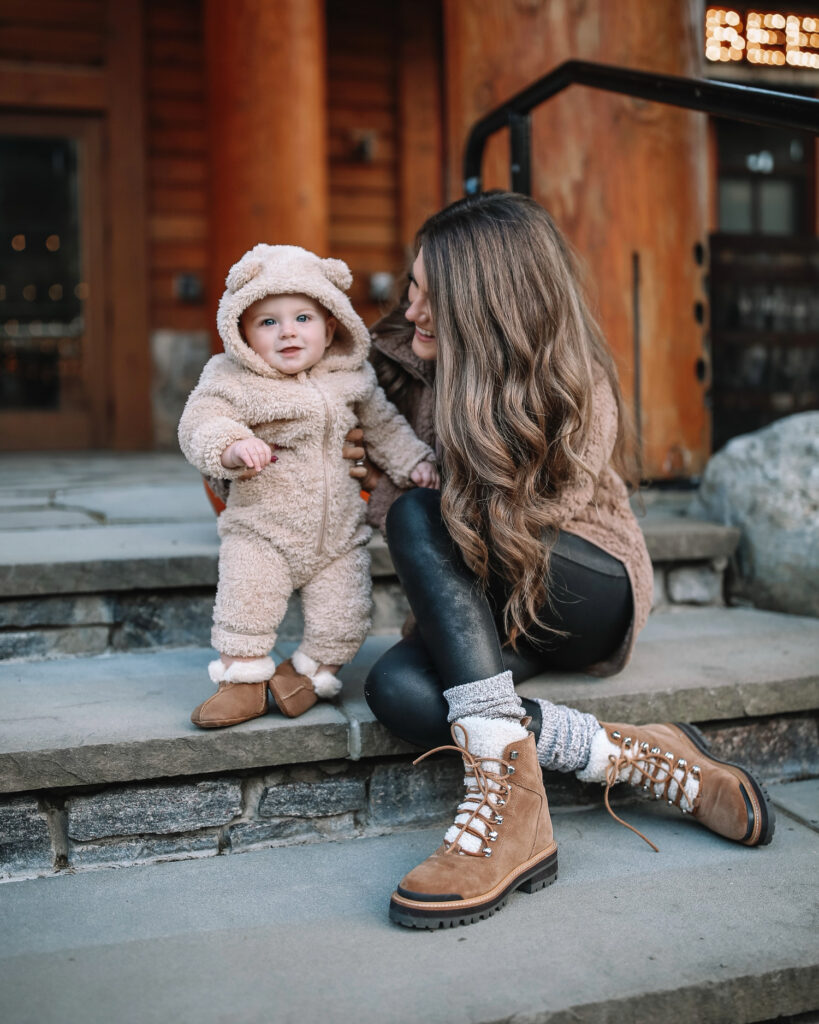 Kennedy's bear suit // Kennedy's UGGs // Abercrombie pullover // Spanx faux leather leggings // camp socks // Marc Fisher Izzie boots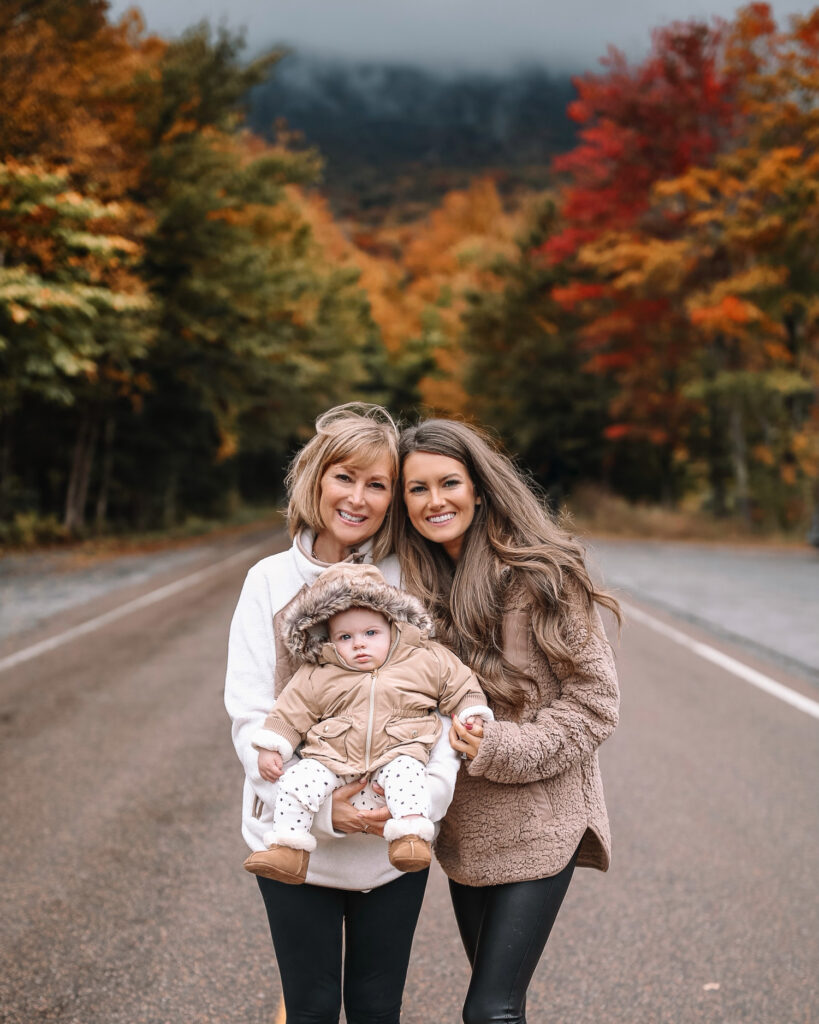 Kennedy's coat // Kennedy's UGGs // Abercrombie pullover // Spanx faux leather leggings // camp socks // Marc Fisher Izzie boots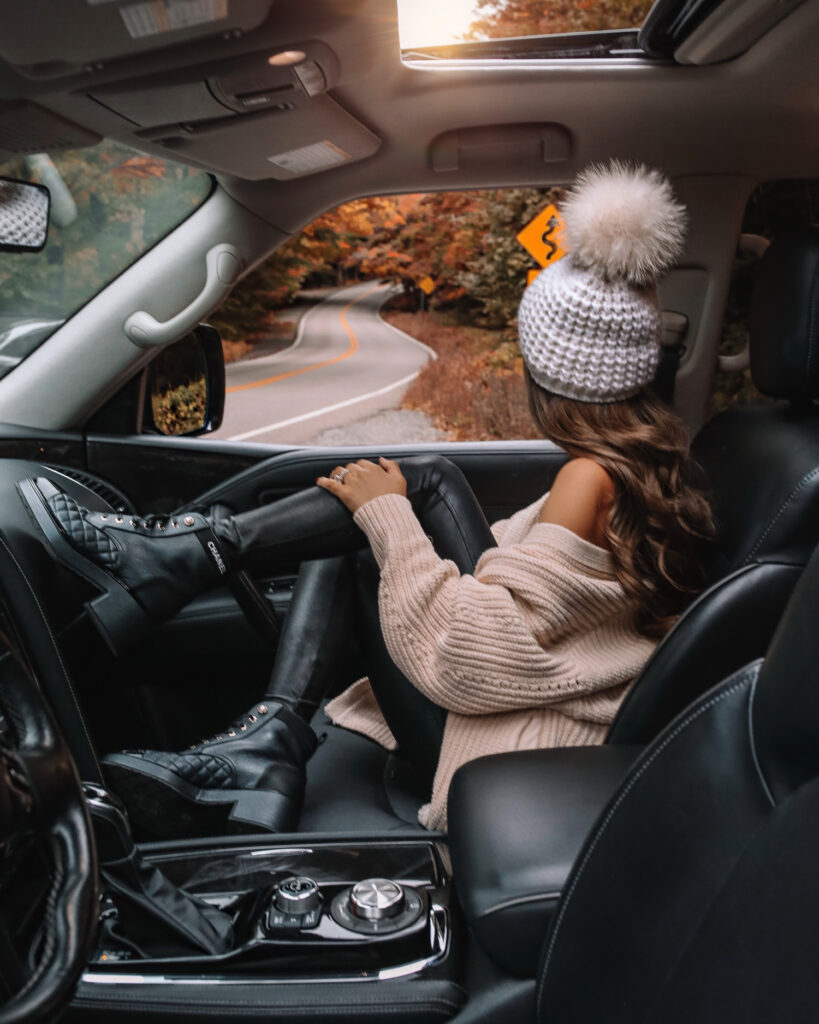 Free People cardigan // Spanx faux leather leggings // similar beanie // similar combat boot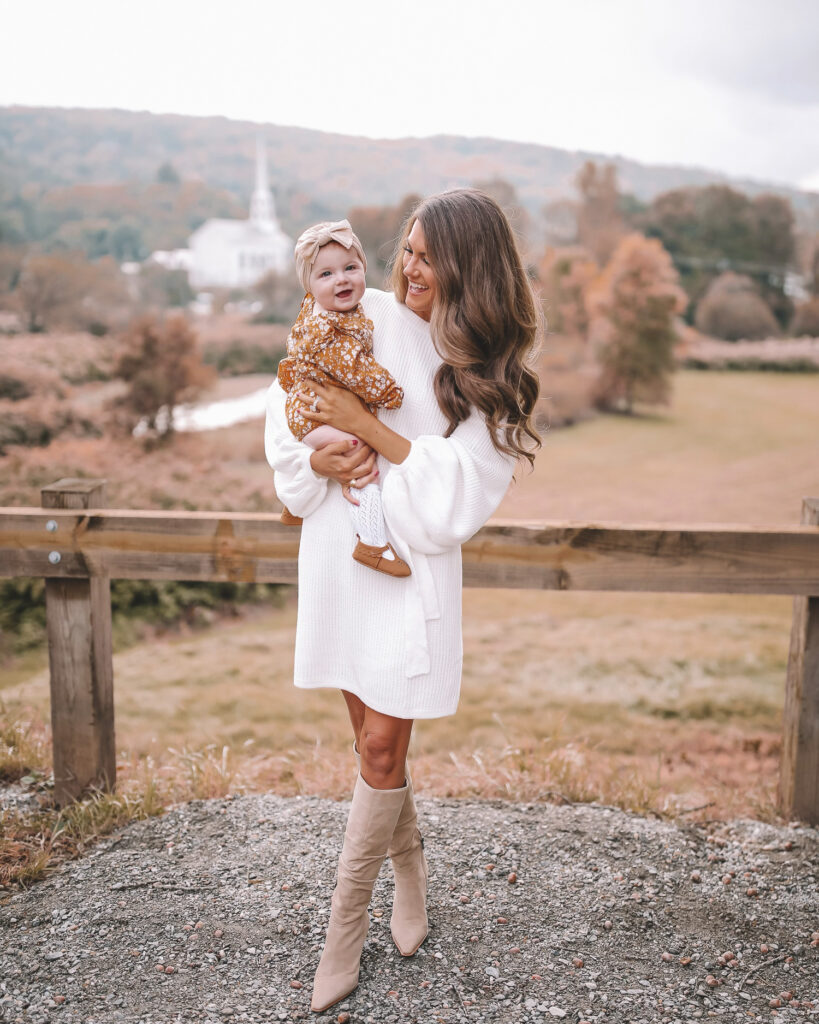 Pink Lily sweater dress // similar Vince Camuto boots // Kennedy's floral romper // Kennedy's socks // Kennedy's faux leather shoes // Kennedy's headband
How to Get There
We flew into the Burlington airport (there's a direct flight from Charlotte and it was only two hours). From the Burlington airport, we were able to rent a car and then make the hour drive to Stowe. If you have the time, definitely spend a few days in Burlington, too! I have an entire Travel Guide dedicated to Burlington here.
Where to Stay
THE LODGE AT SPRUCE PEAK: The Lodge at Spruce Peak is a GORGEOUS ski lodge with spacious rooms and beautiful views. I stayed here back in 2016 and loved it then, so that's where we chose to stay this past week! It has changed a little since 2016 (in a good way), with more restaurants and shops and even a small convenience store on the property. We chose to stay in a two-bedroom suite and there was plenty of room for three adults and a baby. We had two private decks with sweeping mountain views, a fireplace, two bath tubs, and even a full kitchen in our room with a refrigerator, stove, oven and toaster (plus all the utensils you would need to cook a meal). We grabbed coffee and breakfast from the Beanery Cafe, and enjoyed dinner one night at the resort's fine dining restaurant, Solstice. If you enjoy skiing, then definitely book a trip for the winter, as the Lodge at Spruce Peak is Stowe's only slopeside ski-in ski-out destination.
CABIN: There are some really cool cabins in and around Stowe. The benefit of a cabin is that it provides lots of privacy and typically a full kitchen and multiple bedrooms and bathrooms. If you're interested in staying in a cabin, I would look at VRBO or Airbnb and put in some dates to see what pops up. I looked for a few minutes and found this adorable modern farmhouse just two miles from Stowe Village!
Where to Eat
CAFE ON MAIN: We ate at Cafe on Main several times during our stay in Stowe. It is a grab-and-go spot with a variety of fresh sandwiches, soups and coffee drinks, and is often very crowded (because it's so good!). Even if there's a line, it's worth the wait! We grabbed breakfast here one day as well as lunch, and both times we agreed it was some of the best food we had our entire trip.
THE SKINNY PANCAKE: Whenever I visit Vermont, I have to eat at least one breakfast here! The Skinny Pancake is a breakfast restaurant that serves a million different types of crepes – both sweet and savory – they are the best crepes you've ever tasted! I love the nutella with banana one. And their coffee is pretty good, too!
BUTLER'S PANTRY: Clearly, Stowe has a thing for great breakfast spots! But seriously, this one is not to be missed. With everything from Cheddar Jalapeño Pancakes to Acai Bowls, there's something for everyone and you won't be disappointed. This place has hundreds of reviews all raving that it's the best breakfast restaurant in Stowe!
COLD HOLLOW'S LUNCHEONETTE: You'll definitely want to stop by Cold Hollow Cider Mill on your trip to Stowe. Carve out a few hours and eat lunch at the Luncheonette, the little building right across from the cider mill. The Luncheonette offers hard cider (and hard cider tastings!), and a variety of salads, wraps and sandwiches. I always get the grilled panini with cheddar, apple slices and cider jelly – it's mouthwateringly delicious. This year we also tried the hard cider and – WOW – the cider was so good, I wanted to bring some home with me!
BISTRO AT TEN ACRES: We dined here for dinner one night and thoroughly enjoyed the entire experience. The Bistro at Ten Acres is a restaurant inside of the cutest little New England house, right across from a picturesque red barn. If the weather is nice, definitely dine outside on their charming patio. They have a wonderful wine selection, and for dinner I enjoyed a perfectly cooked piece of salmon atop a delicious goat cheese salad.
IDLETYME BREWING: This was one place that was on our list for dinner, but we ran out of days! This is a more casual spot, but reviewers say that the food is incredible and they offer an expansive list of house and local craft beer. There's also a large outdoor area with a pretty apple tree, and they serve up local treats like cheese fritters filled with delicious Vermont cheese.
What To Do
COLD HOLLOW CIDER MILL: Like I said above, you'll want to carve out a few hours to visit Cold Hollow Cider Mill – it's definitely a whole experience! There's a nice big store with lots of Vermont goodies (including coffee mugs, kitchen gadgets and baking mixes), as well as a counter to buy freshly-made cider donuts, warm apple cider and even cider slushies. Don't forget to walk to the back of the building, because you can watch the apple cider being made (and even get a free sample). If you walk across the street from Cold Hollow Cider Mill, you'll find the Luncheonette that serves delicious lunch and hard cider. Walk to the back of the property, and from there you'll see a beautiful view of the Vermont mountains and some really neat old cars!
VON TRAPP BIERHALL & BREWERY: Remember the Sound of Music? Well, it's based off of a true story, and when the von Trapp family escaped Austria in the 1940s they actually settled in Stowe! The family built a beautiful lodge with sweeping mountain vistas and opened it up to guests in 1950. Today, the Trapp Family Lodge has expanded to include a brewery and you MUST stop in for some fresh lager beers and small bites, like Austrian pretzels and cheese.
BEN & JERRY'S FACTORY: Umm name one person who isn't a fan of Ben & Jerry's ice cream! I can go through a whole pint in one sitting. 🙂 The Ben & Jerry's factory is located in Waterbury and is only a quick drive away from Stowe. You can tour the factory and then grab an ice cream at their flagship store. There's even a "Flavor Graveyard" that warrants a visit – featuring granite headstones for all of their retired ice cream flavors with witty poems about why these flavors ended up six feet under.
HIKE: If we didn't have my eight-month old daughter with us, we definitely would have gone for a hike! Stowe is mountainous and an excellent destination for those who enjoy hiking. There are a range of trails that suit various levels of experience, and some pretty waterfalls, too.
TAKE A STROLL DOWNTOWN: You'll definitely want to park and take a stroll down Main Street. With a picturesque white church, coffee shops and touristy shops (including a General Store), you'll find plenty to do for a few hours. Pick up some real maple syrup and a cute Vermont coffee mug at Stowe Mercantile and then head next door to Bear Pond Books for an vast selection books. I'm not going to lie, I picked up five or six books for Kennedy here because they had the BEST selection of kids' fall and Halloween books I've ever seen!
TAKE A DRIVE: The roads in Stowe are beautiful, and you can find a lot of photo spots just through the car window! We particularly loved driving through Smuggler's Notch State Park. If you take a right out of the parking lot of the Lodge at Spruce Peak, you'll find yourself on a BEAUTIFUL winding road that goes up to the top of the mountains. We were there right before the leaves peaked, I can't imagine how beautiful it would be at peak!
If you've been to Stowe and have any favorites, definitely list them in the comments so that we all can see! 🙂