Good morning and happy ALMOST Friday, friends! I'm back today with my Travel Guide to OAHU, Hawaii! My family visited Oahu over Christmas – I'm rounding up the outfits I wore first, but scroll down to the bottom for my full review!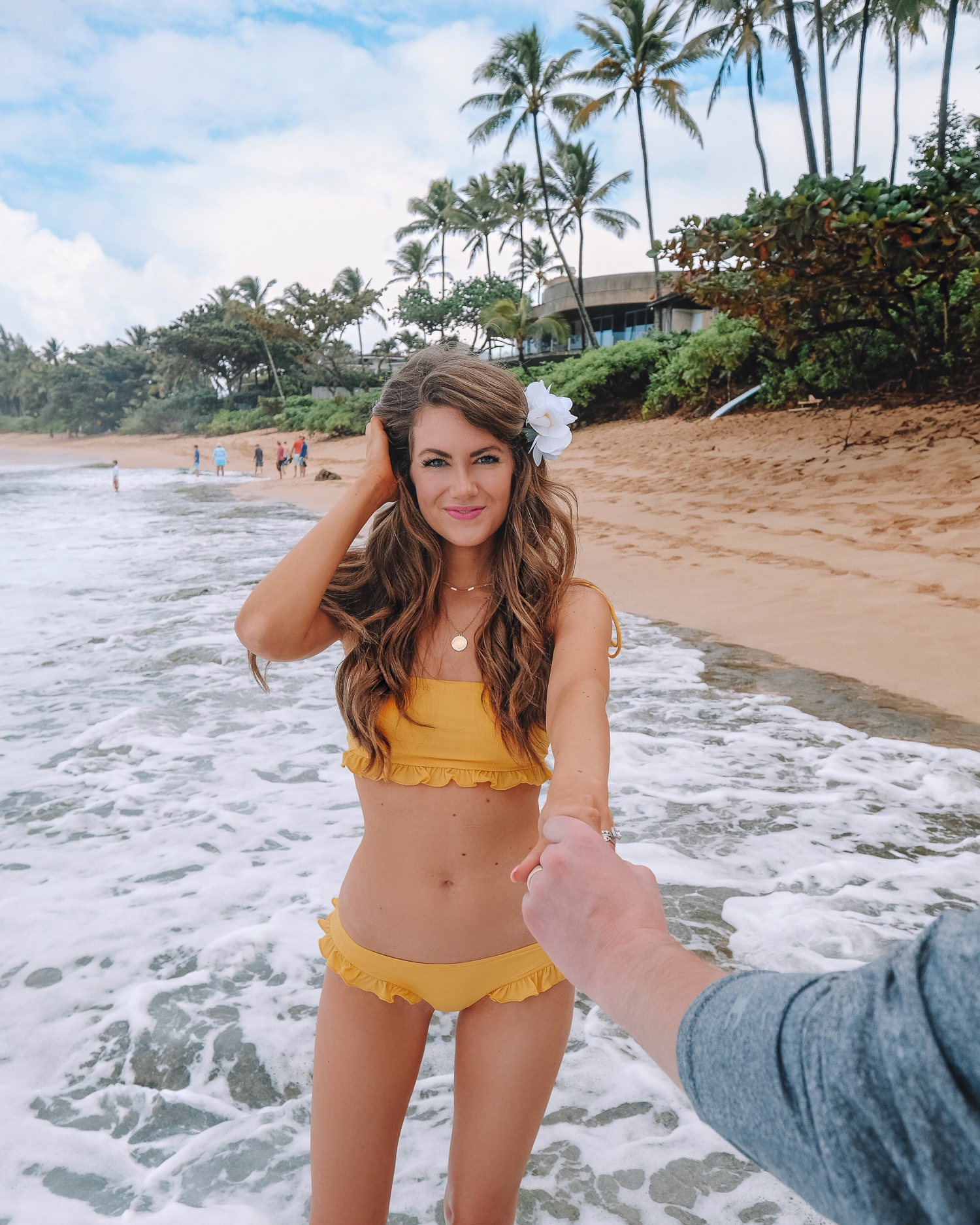 Tularosa bikini top // bikini bottoms // gold necklaces // self-tanner (in "dark)
The below photo was taken at our hotel, the Royal Hawaiian. I just loved all the pink umbrellas and beach towels dotting the landscape!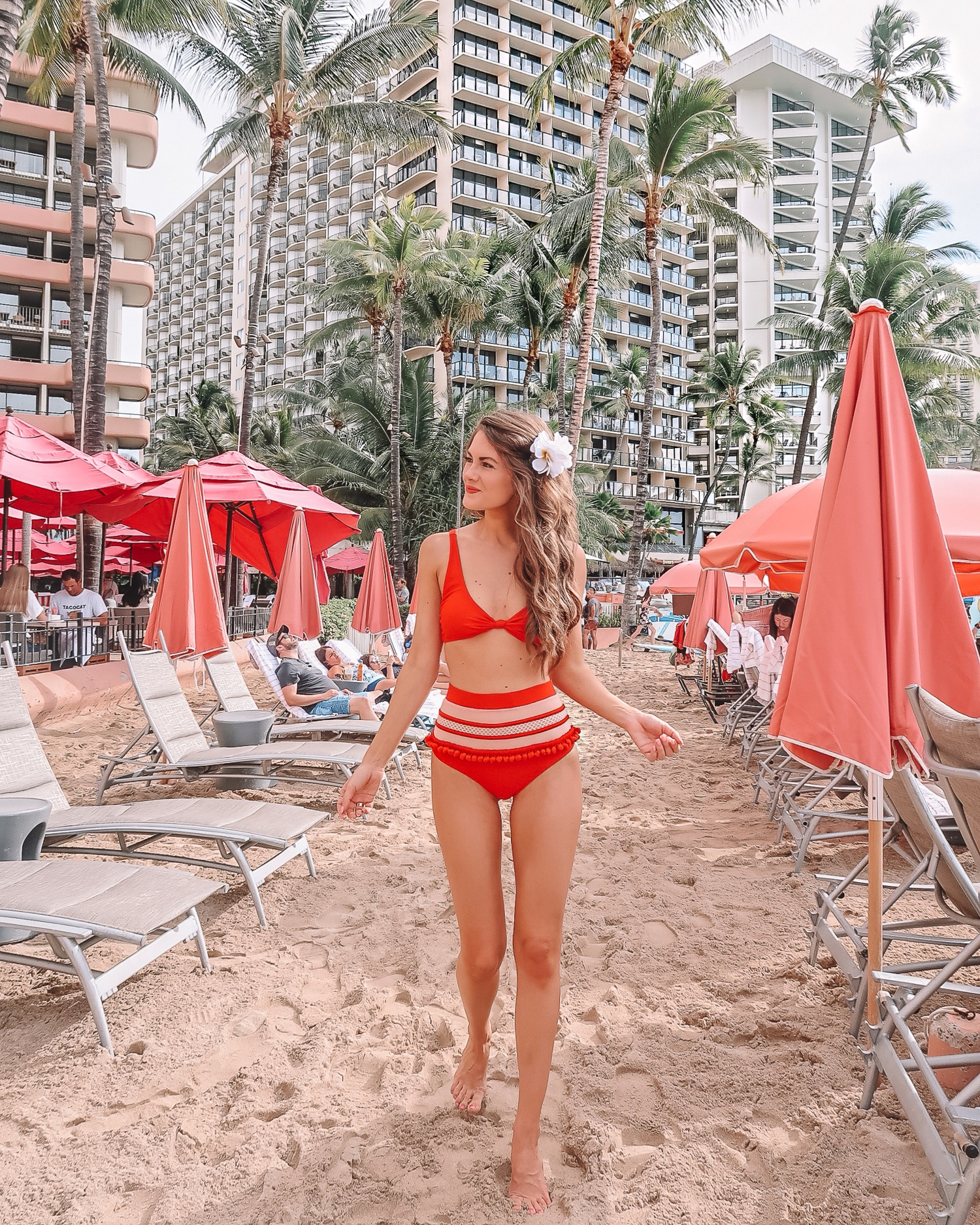 Nina bikini top // Thessy bottom (this bikini comes in a bunch more colors! See more here)
The view from our hotel pool. We had to save beach chairs at 6 a.m. every morning because they're first-come, first-serve!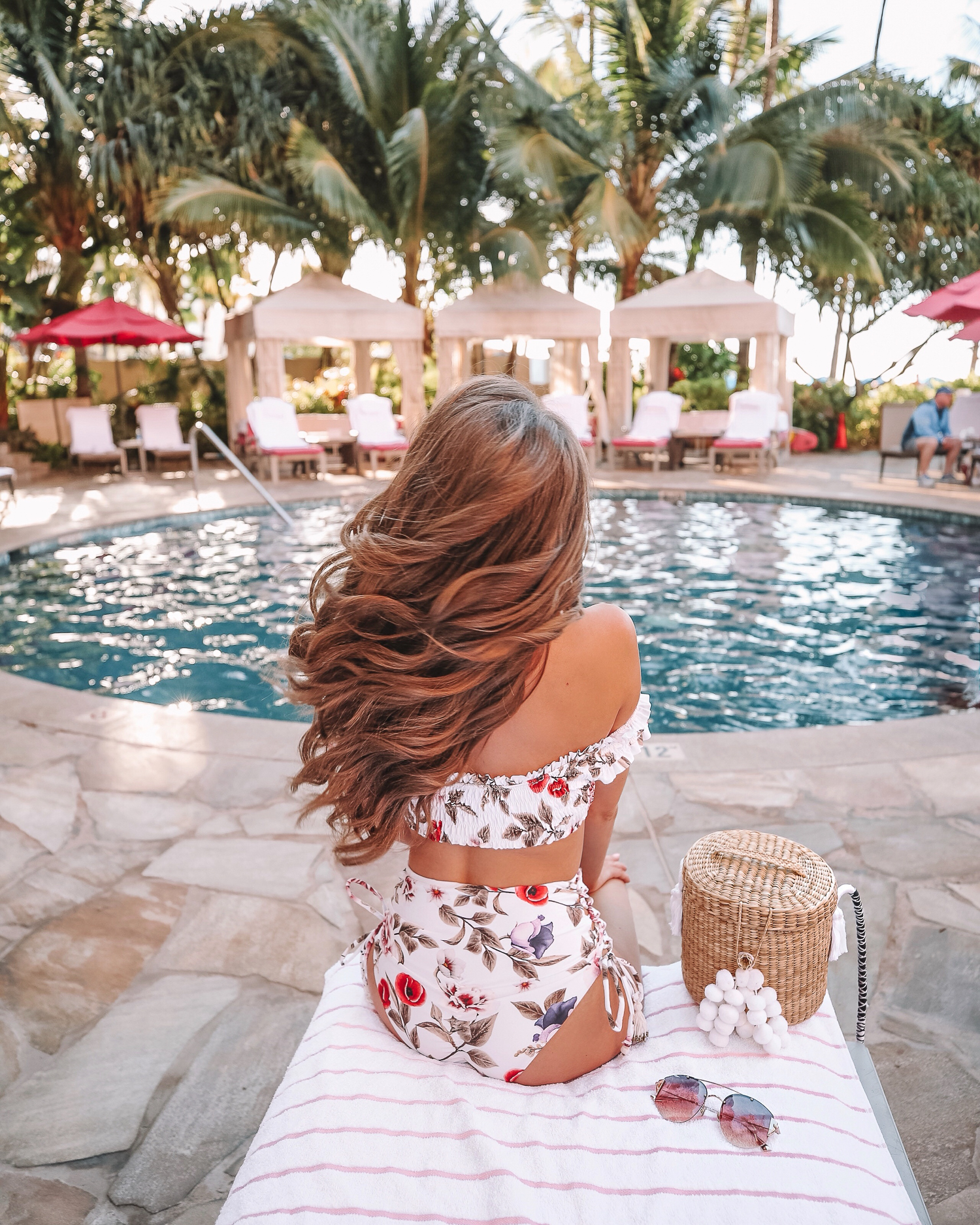 floral print bikini top // bikini bottoms // pom pom bag // Dior sunglasses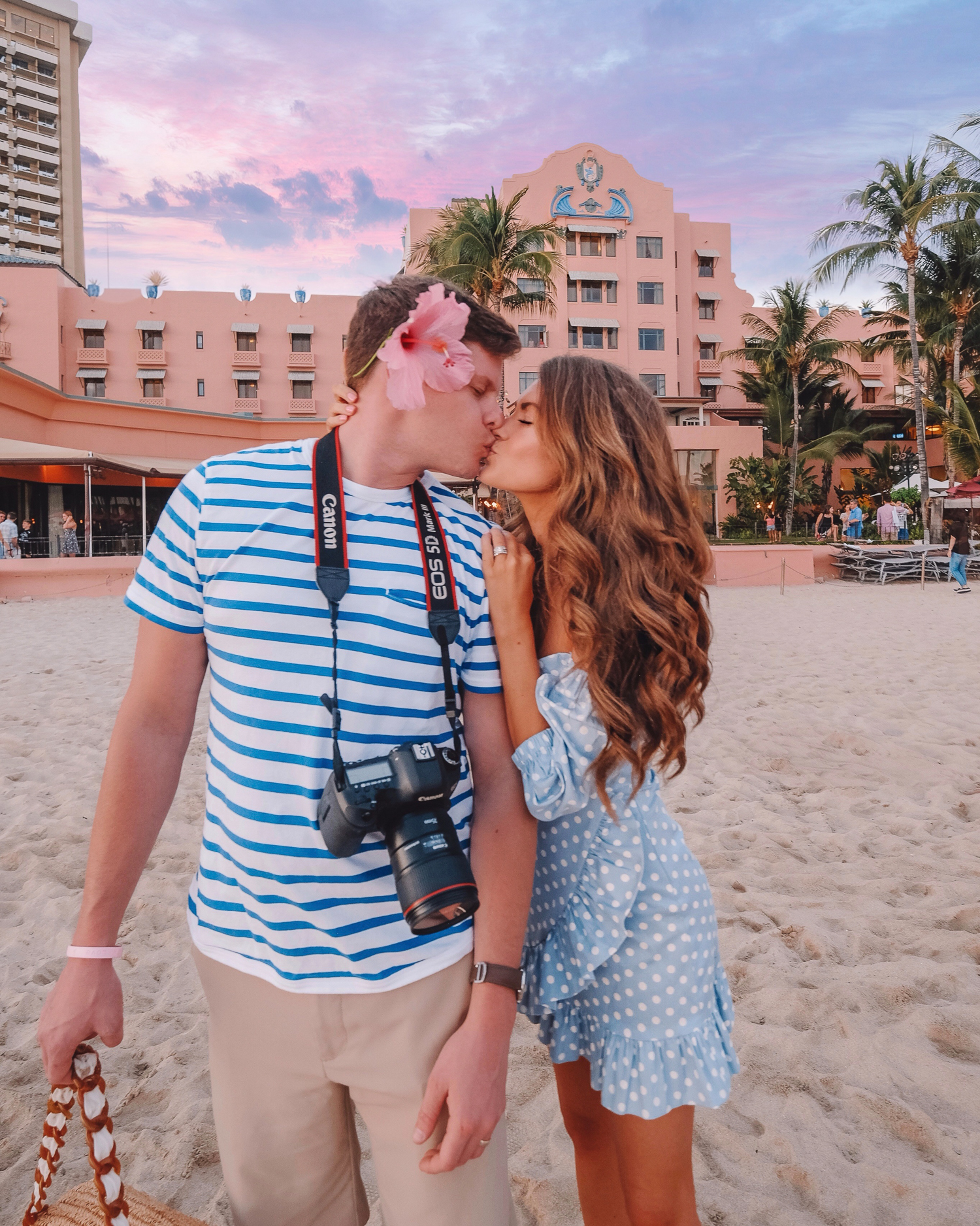 My mom and I with are floats 🙂 As you can see, Waikiki Beach does get a bit crowded!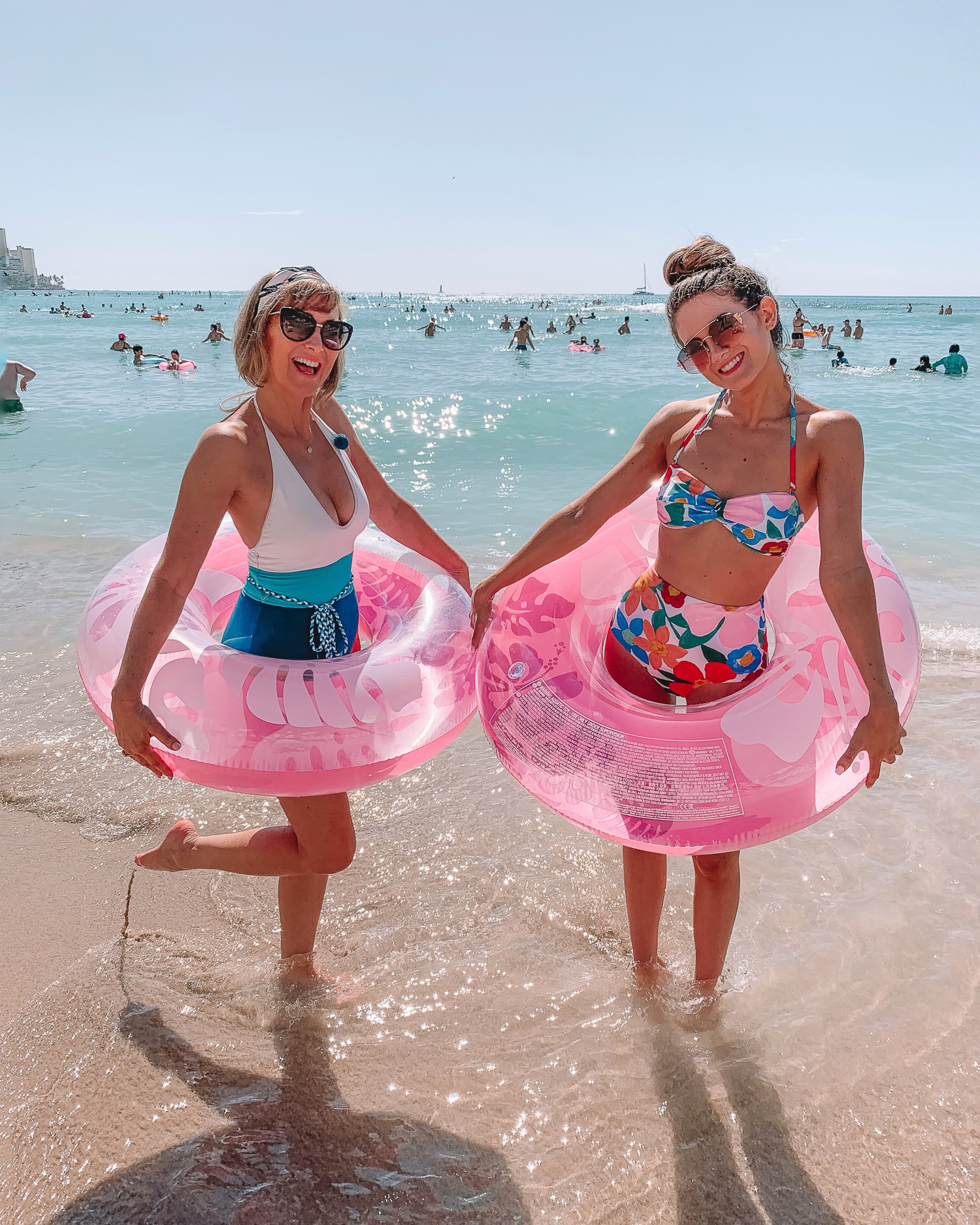 on my mom: Vince Camuto swimsuit // on me: bikini top // bikini bottoms // Dior sunglasses
My new sandals that I brought with me on the trip!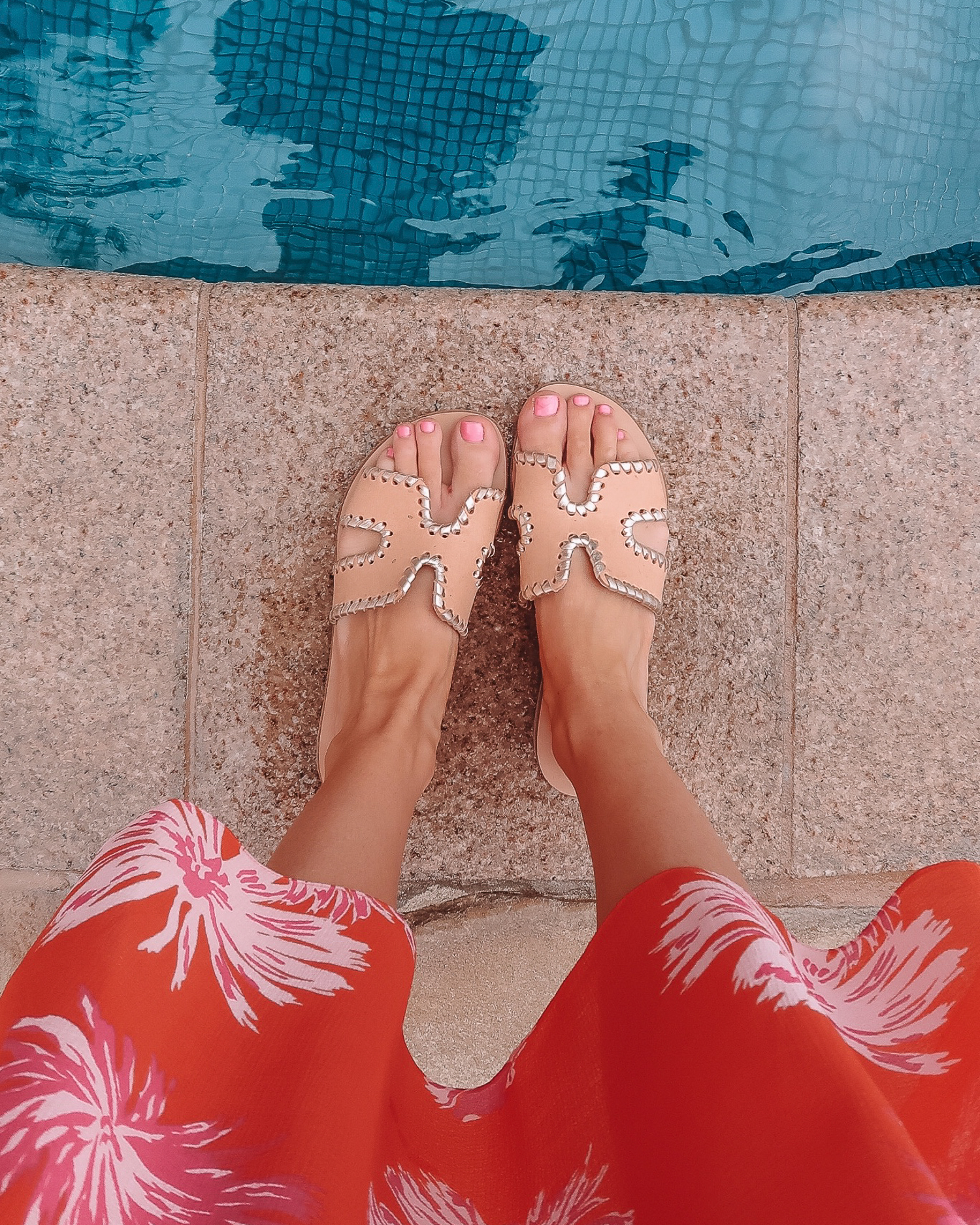 floral print cover-up // "Greece" sandals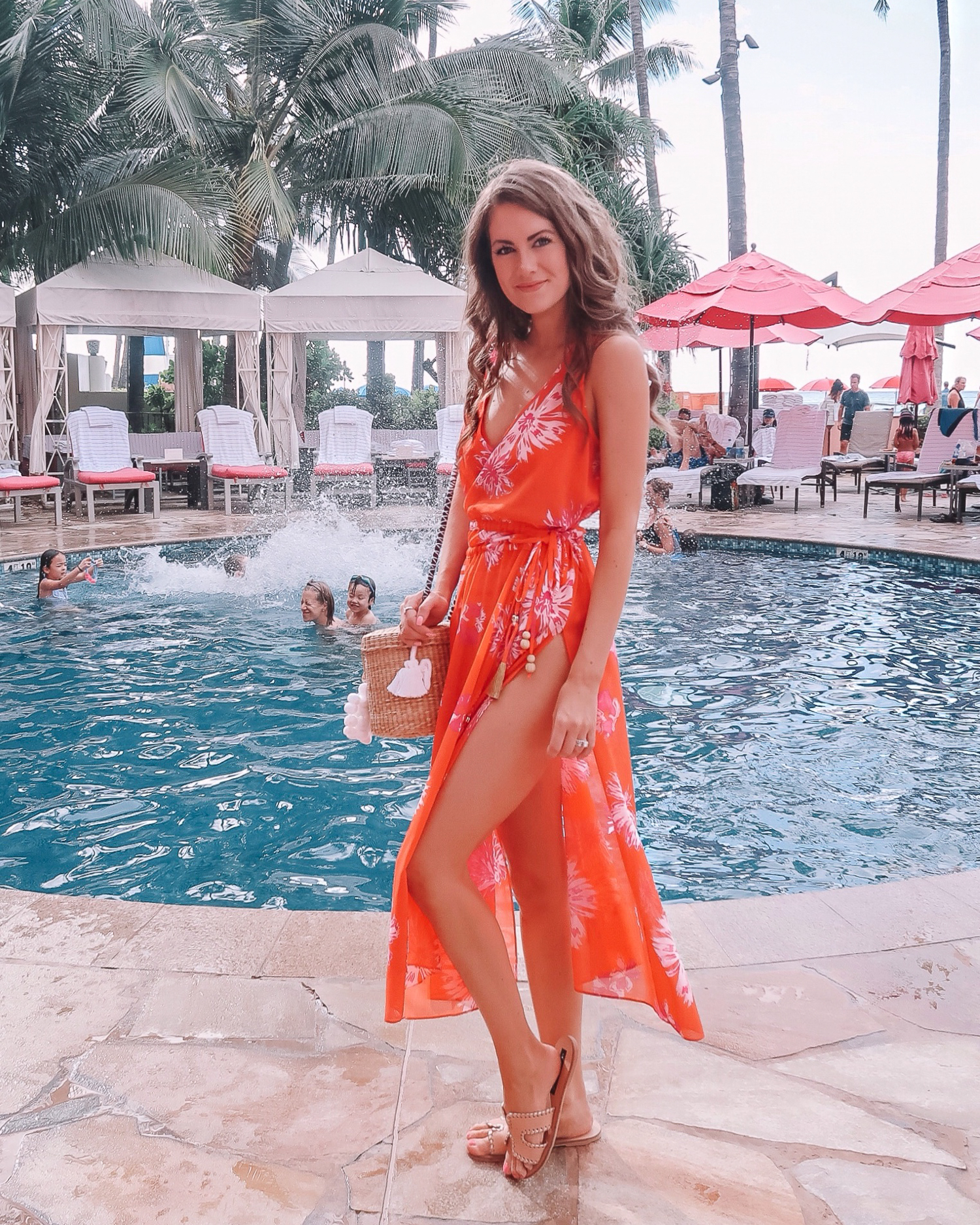 floral print cover-up // "Greece" sandals
The view from Lanikai Pillbox Hike – it was INCREDIBLE, however it was a pretty scary climb!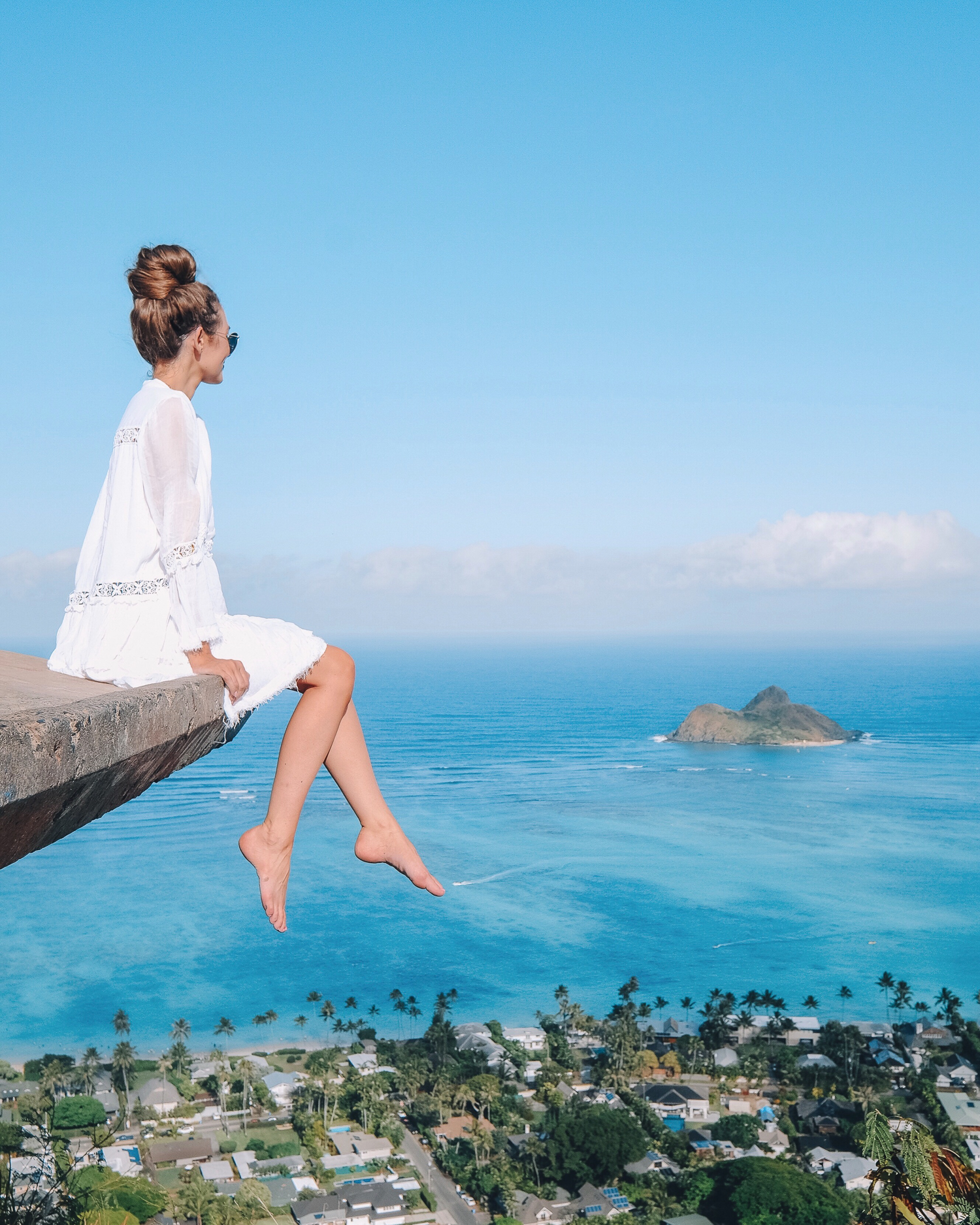 Lunch at ARVO – we were dying to find some avocado toast on the island!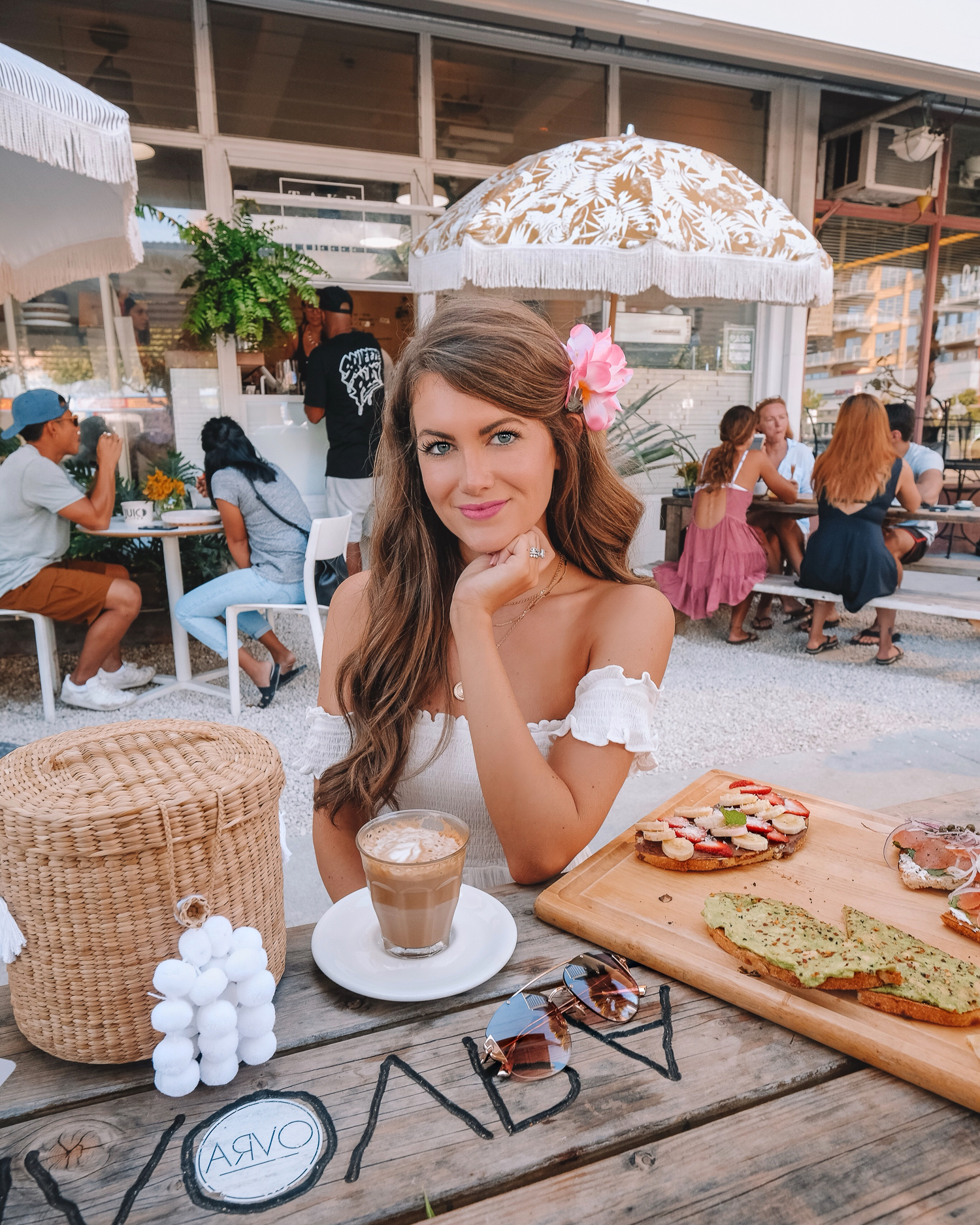 PilyQ white dress // pom pom bag // Dior sunglasses
My whole family usually goes somewhere fun for Christmas, and the past couple of years we went to Lake Tahoe (a winter wonderland!). This year we wanted to stay somewhere a little warmer, and Hawaii seemed like the natural choice: it had been on our bucket list forever, it's always warm, and you don't even need your passport! I did a ton of research to figure out which island we should stay on, and finally ended up with Oahu! It seemed like there was the most to do in Oahu, and you can explore pretty much the entire island by car since it's only a couple hours drive from top to bottom.
Where to Stay
THE ROYAL HAWAIIAN: We stayed at the Royal Hawaiian and LOVED it! Just a short drive from the airport and located in the heart of Waikiki, this historic hotel is also known as the "Pink Palace of the Pacific." It literally is a huge pink palace, with tall ceilings and elegant decor, plus the wafting smell of gardenia wherever you go and a common "pink" theme throughout (even our hotel robes were pink!). We stayed in the Historic Building – the rooms were spacious, comfortable and decorated with beautiful Hawaiian prints. If we go back, we would probably choose to stay in the "Tower" since those rooms offer a beautiful view of the ocean and Diamondhead (and our rooms offered a garden view). One of our favorite parts about the hotel was breakfast! The breakfast buffet at Surf Lanai was out of this world, with all kinds of breakfast favorites mixed in with traditional Japanese food. My husband said that the breakfast was better than any trip we've ever gone on, even our honeymoon! The Royal Hawaiian also had a nice pool (the chairs are first come first serve, so we alternated waking up at 6 a.m. to go save our pool chairs). You can also pay to reserve beach chairs for the day, but you'll want to book them in advance because the spots fill up quickly! Although we did drive around and explore Oahu, we spent three really lazy days at our hotel just lounging at the pool or by the beach. My husband and brother rented surfboards one day and attempted to surf, while I floated in the ocean or read my book. Overall, we really loved our hotel, we found it charming and elegant, while the service was amazing. The only downside, I would say, is not a critique of the hotel itself but rather Waikiki – and that is, the entire area is SUPER crowded and touristy. Whenever we wanted something to eat, our options were to eat at our hotel, or go to one of the many chain restaurants nearby. While the Royal Hawaiian felt very authentic to Hawaii, the surrounding stores, restaurant chains and crowds of tourists did not.
AN AIRBNB: Now that I know more about Oahu and have visited once, I would probably choose to stay in an Airbnb if I returned to Hawaii. My very favorite part about Oahu was actually the North Shore – the beaches are breathtaking, it's a lot less crowded, and there are no huge high-rises dotting the landscape. Instead, there are neighborhoods and cute little beach houses, mixed in with food trucks selling delicious cups of coffee along with acai bowls made with real acai. You could also rent an Airbnb at Lanikai Beach, names one of the top three prettiest beaches in the world. My brother and I went one morning to check it out, and it is gorgeous, with soft white sand, clear water and a couple of visible islands in the distance. It's also a residential area, so it's free of hotels and the throngs of tourists.
What To Do
Visit the Botanical Gardens: The Ho'omaluhia Botanical Gardens are only a 30-minute drive from Waikiki, and absolutely beautiful. There are 400 acres of tropical plants along with a man-made freshwater lake, hiking trails and a campground, all for free. Definitely bring your camera! You've probably already seen pictures of the gardens on Instagram without realizing it.
Visit the North Shore: The North Shore is absolutely gorgeous and definitely worth seeing. During the winter, the biggest waves are at the North Shore, so of course, it's where all the surfers hang out! We set up camp on one of the beaches and then watched surfers catch waves. Be sure to visit the Sunrise Shack while you're there, as well as head into Haleiwa for more food trucks and little shops. We heard the best shaved ice on the entire island is in Haleiwa, called Matsumoto. Nearby is a little cluster of food trucks including Crispy Grindz, where I had the best acai bowl of my entire life!
Lanikai Beach: Lanikai Beach has been voted one of the top beaches in the world, and I can definitely see why! If you want to visit the beach, you'll have to park along the street in a neighborhood, so I would recommend going early in the morning (and be prepared to parallel park!). It seemed like a great place to rent an Airbnb, too – it's a residential area but there are some little shops and restaurants nearby, even a Whole Foods!
Try surfing: Pretty much every hotel in Waikiki offers surfing lessons, or you can rent a surfboard and try it out on your own. There were plenty of people surfing right outside of our hotel, and some of them were pretty talented! My husband and brother tried it, and said it was much harder than it looks, although both of them did manage to get up on the board and catch a wave!
Hike: There are tons of hikes to do in Oahu. We did the Lanikai Pillbox hike – there's an old WWII bunker at the top with an amazing view. Overall, it's a pretty short hike, but it is pretty strenuous. It was a little frightening on the way back – you are climbing down a really steep incline and the mud was slippery. All of us almost fell at least once! (Definitely don't hike any of the mountains if there's a chance of rain.) The other hike we really wanted to do was Crouching Lion – but that one is even more intense!
Shop: Although I did complain a bit about how touristy the Waikiki area, it is home to some amazing shopping. Gucci, Dior, Louis Vuitton, Chanel and other high-end stores line the streets, along with more affordable beach stores and boutiques. One store we went to over and over again was the ABC Store, which was more like a general store in Hawaii. There was one right next to the hotel, so we went a lot to pick up bottled water, bandaids, and other random stuff.
Explore! There is SO much to do in Oahu, you could keep busy for a month! The North, West, South and East side of the island are all pretty different and each boast their own beautiful beaches, hikes and attractions. You could hike Diamondhead (a dormant volcano), visit Pearl Harbor, hit up Hanauma Bay (a nature preserve with a beach and turtles), zipline at Kualoa Ranch, or simply spend all day at your hotel soaking up rays by the pool. The cool part is that you can tailor your Hawaii vacation to you and your family's needs/wants. We chose to relax half of the time, and explore the other half!
One last thing, is that I would definitely recommend renting a car if you come to Oahu. You will probably want to get around the island while you're there. You could rely on Uber, but that would be a lot more expensive! I used this website to find a jeep rental in Oahu – nothing feels cooler than riding around Hawaii in a jeep, hhaha! We didn't take the top off of ours, but it was still really fun. Overall, I would 100% recommend Oahu for your next vacation!
If you have any questions about Oahu, let me know in the comments! You can check out my other travel guides HERE. xoxo