This was my third fall in Manchester, Vermont, and I swear it gets better every year! Mid- to late-October is the best time to go because the leaves are just brilliant – the vibrant shades of yellow, orange and red will blow your mind! I'm rounding up some of the outfits I wore on the trip, but at the bottom of this post you'll find a full review of our resort and what to do & see in Manchester.
I wore this outfit for a morning spent in downtown Manchester (the downtown is so cute!!). I don't think this sweater is meant to be worn as a dress, but it was long on me (I'm 5'3) so it went perfectly with over-the-knee boots!
My friends Jessica (@hapatime) and Nichole (@nicholeciotti) were in Vermont the same time as me – you have to follow them!! They're the cutest girls. We found the cutest little house just a few yards down from our hotel – just look at those leaves!
What I wore the first night in Manchester – I was actually freezing even in a cardigan and scarf!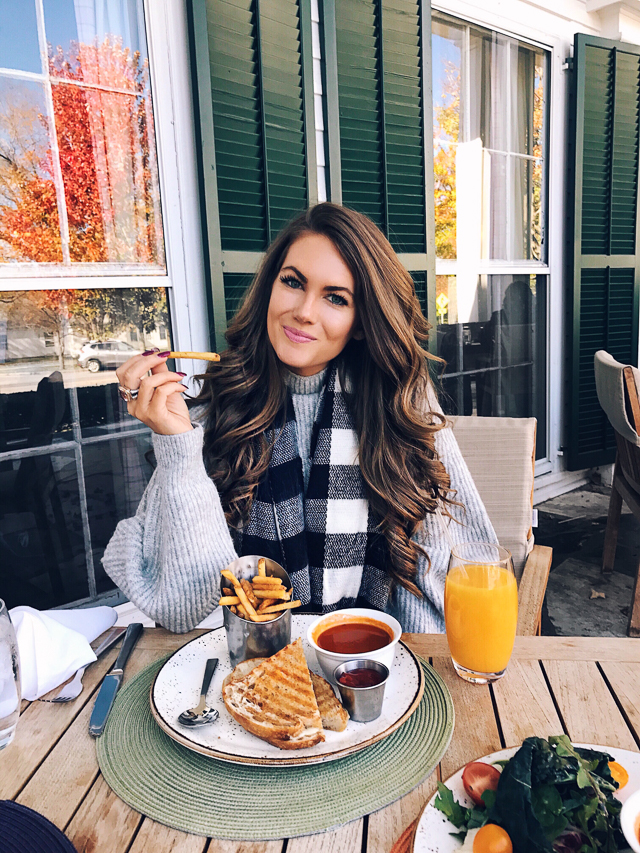 One thing you definitely have to do while in Manchester is check out Equinox Pond! Its so beautiful, especially the reflection of the leaves on the pond.
If you can't tell from my photos lately, I'm addicted to over-the-knee boots. I can't stop wearing them! They are perfect for Vermont because they kept my legs warm, too!
Lastly, I am obsesssssed with this tassel poncho! We took Winnie on a walk one morning and this is what I wore for the morning/lunch.