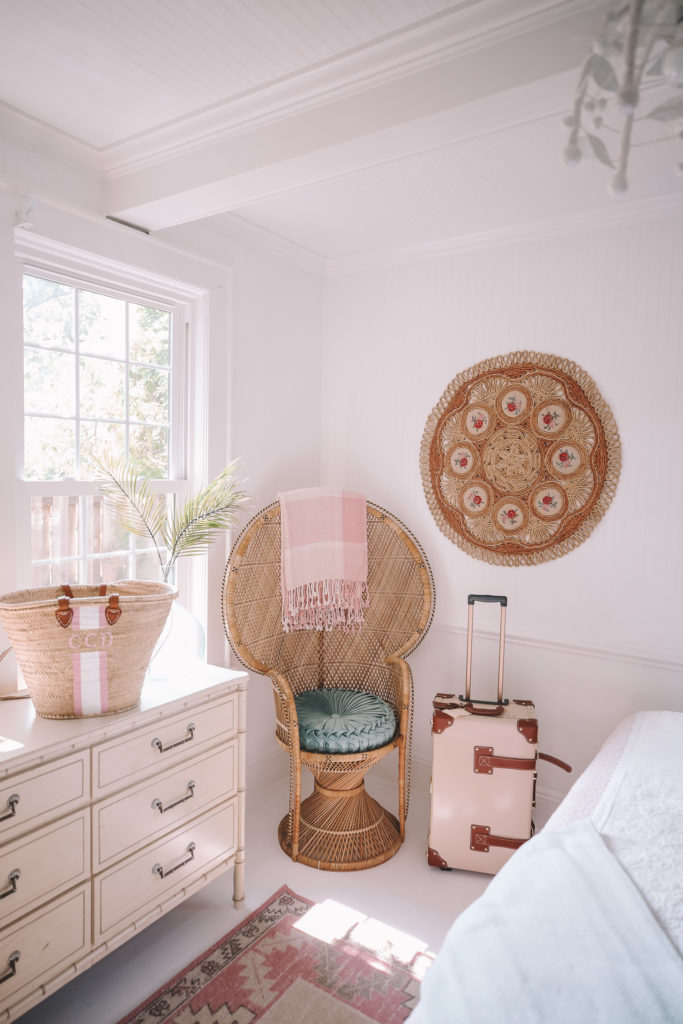 I recently took a one-night trip to Wilmington, NC. I was there such a short period of time, but we managed to pack a lot in! If you're going to be visiting for a short trip as well, here are all my top recommendations that would be easy to fit in a short stay:
Where to Stay
Airbnb: We stayed at the cutest Airbnb right in the heart of Wilmington! It's a 1940s English Tudor house that has been transformed into a boho bungalow. There are four bedrooms and two kitchens (one upstairs and one down), so plenty of space for you to spread out… or invite all the girls along! The Airbnb was in the perfect location because it's only a 5 minute drive to downtown Wilmington and a 10 minute drive to Wrightsville Beach. Plus it is pink and white HEAVEN. Seriously, y'all, this house was made for Instagram, and it's got several selfie mirrors to prove it. (The house is not currently live on the Airbnb website, but you can send them a DM on Instagram to book.)
Okay, so you made it to Wilmington and checked into your rental, what's next? Here's what I would (and did) do with only 24 hours in Wilmington!
Morning
Wake up with the sunrise, cause you won't want to miss a precious moment of this day. Start out by throwing on your swimsuit and a cute cover-up and stop by Beach Bagels to pick up coffee and bagels on your way to the beach. Chewy, soft and a little sweet, these New York style bagels won't disappoint – there are tons of different options on the menu, they're vegan-friendly, and they even serve up some delicious fruit smoothies. Grab a metered parking spot anywhere along Wrightsville Beach (don't forget your coins!) and scout out the nearest public beach access to set up camp for the morning. I really love the beach at Wrightsville – the sand is super soft and the water is clearer than other North Carolina beaches.
Lunch
Once your stomach starts grumbling again (or you're getting a little sun weary), walk back up the beach path in search of some lunch. Tower 7 is located right off the beach and has some killer fish tacos and margaritas, or meander over to the Trolly Stop for a hot dog – both are walkable from the beach. If you want to eat lunch with a view, hop in the car and make the short drive over to Dockside, located on the marina. Although the restaurant is a little more upscale, you can still wear your swimsuit and cover-up straight from the beach.
Afternoon
After a quick shower back at your Airbnb, you'll definitely want to explore historic downtown Wilmington (only a five minute drive from the Airbnb). Stroll along nearly two miles of scenic walkway alongside the historic Cape Fear River, browse the quaint little shops, boutiques and art galleries along the waterfront, and be sure to grab an ice cream cone at Kilwin's while you're at it. Island Passage is a cute little boutique you'll want to pop into if you have some money to spend!
Drinks & Dinner
Wilmington has so many great restaurants, but I personally would head back towards Wrightsville Beach for drinks and dinner. Grab a Miami Vice or another fun cocktail at Bluewater, a "happening" restaurant right on the marina. Once you've had your share of boat watching (and people watching), hop on over to Ceviche's for dinner. It doesn't offer quite the same view as Bluewater, however, the food is INCREDIBLE and not to be missed. The best way to enjoy Ceviche's is by ordering several dishes for the entire table to share. I can personally vouch for the coconut shrimp, guacamole, and mango mahi ceviche and confidently say that it was the best meal I've had in a LONG time!
After Dinner
If you want a "calm" night, head back to the beach and lay down a blanket to watch the sunset. Wrightsville Beach is particularly gorgeous at golden hour. If you'd rather partake in Wilmington's nightlife, consider heading back downtown to Tails Piano Bar. It's beautifully decorated and they serve up incredible craft cocktails alongside a nice wine list. Plus the atmosphere is always lively, with amazing pianists who care about their craft and do not have sheet music. Be prepared… you'll want to settle in for a few hours!
What to Pack
Wilmington is a very casual city, so don't feel like you need to dress up (unless you want to… then go for it!). For beach days, you'll want to pack a few swimsuits and some easy, casual coverups to throw on top. Definitely bring some sunscreen and a pair of sunglasses, since the sun can get quite harsh during the midday hours! You'll be doing plenty of walking, so be sure to pack comfortable shoes, including a pair of tennis shoes in case you want to walk or run "The Loop" – the 2.5 mile long path that circles through the very heart of Wrightsville Beach. These sandals are my favorite comfy sandals and go with every outfit. For dinners out, a casual dress is fine. I noticed that people dress pretty casual everywhere, even for nice dinners! As for beauty and hair products, minimal makeup with glowy skin is a "look" in Wilmington, so definitely invest in a good dewy highlighter before your trip. One warning – there's no use in spending a ton of time on your hair, cause the humidity can be pretty rough on it! I recommend wearing your hair in a ponytail, bun or cute braids instead of spending hours curling it. 🙂
If you've been to Wilmington and have more recommendations, let us all know in the comments! I am dying to go back and spend longer than a day this time.