I am by no means an expert on traveling with a baby, but I did a Q&A the other day on instastories and thought I would round up my answers here! For reference, Kennedy is 3 months old and we took a week-long trip with her to the beach. For the first half of the week, we stayed at our condo in Ocean Isle Beach, and for the second half we visited Sweetgrass Inn in Wild Dunes (near Charleston). I was a little nervous for how it would all go being gone from home for that long, but it went great!!
Here are a few of your questions, and let me know if you have more in the comment section.
Q: Did you have to return to the hotel for naps? Or nap on the go?
A: She napped on the go! She slept a lot in both her car seat in the car and in her stroller!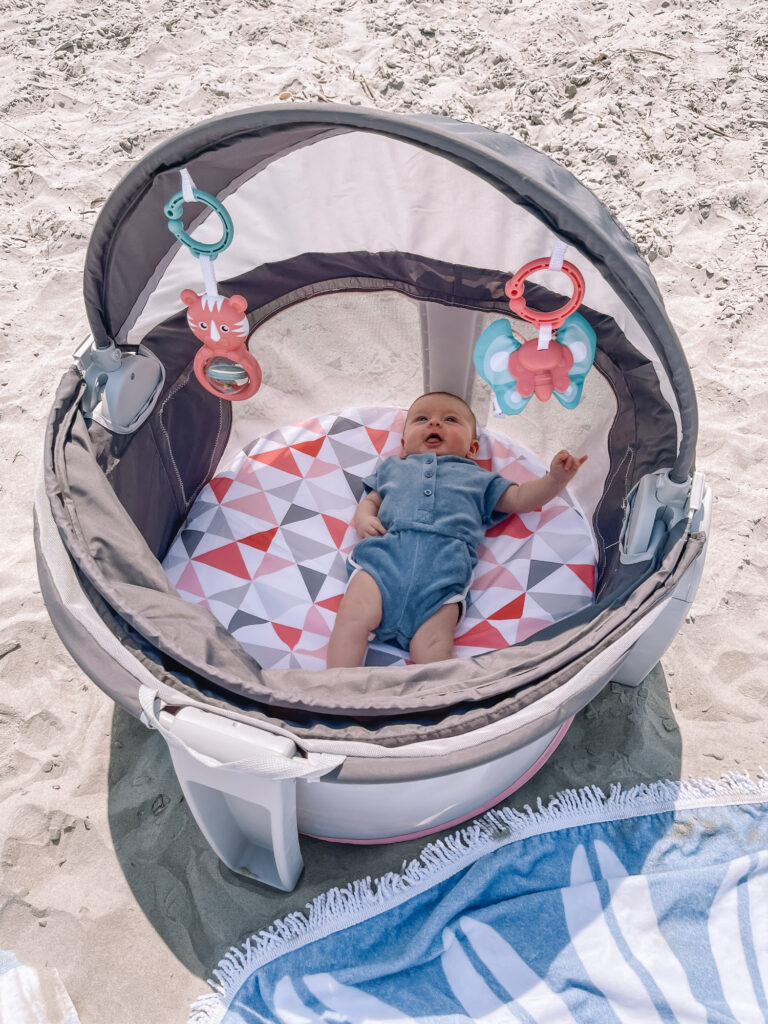 Q: Advice on bringing baby to the pool/beach! Just lots of sunscreen and shade?
A: We don't use sunscreen on her yet (not until she's 6 months old), we keep her in the shade the entire time. This beach dome is a lifesaver! It provides lots of shade and it's a safe place for her on the beach. It has mesh sides so the wind can get through but not sand!
Q: Do you nurse out in public?
A: Yes I do! I just wrap a little blanket around me for privacy! FYI… Breastfeeding in public is legal and protected by federal and state law in all 50 states. You can nurse whenever baby is hungry, even in private establishments such as restaurants or stores.
Q: How did you sanitize bottles/pump parts?
A: I actually brought our electric sanitizer with us. I love this thing! It's way easier than boiling water! Also, one of you suggested these microwavable bags!
Q: What do you do about feeding baby when you want to enjoy an alcoholic beverage?
A: My doula told me it was totally fine to have one drink either while you're nursing or right after… by the time you feed again 2-3 hours later, all the alcohol will be out of your system! If I have more than one drink, I feed her a bottle of pumped milk to be safe.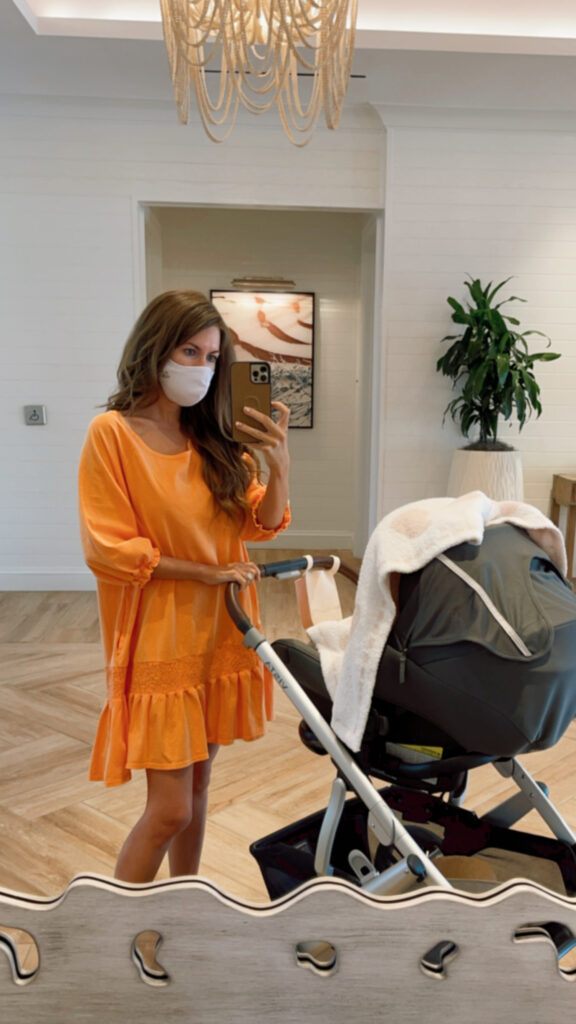 Q: Do you find that doing naps on the go negatively influences her night sleep?
A: I was worried about that but no, it didn't seem to affect her night sleep! I think she even slept better at night since she got so much stimulation during the day.
Q: What are some of the baby essentials while out of the house that you love to not forget?
A: Whenever we leave I pack the following: portable sound machine, portable fan, pacifier, extra blanket, changing mat, diapers, wipes, burp cloth and an extra outfit.
Q: Was she ever fussy at restaurants? How did you manage?
A: Yes, she was! Honestly I find it really stressful, but you do what you have to do. I try a bunch of things- nurse her, try the pacifier, bounce her. What usually works best is rocking her in the car seat.
Q: Where did she sleep at night?
A: We brought a travel bassinet with us and I set it up beside my bed!
Q: Which diaper bag do you use the most?
A: To be honest I've used my LV Sperone Backpack way more than her actual diaper bag! I've had it for several years but didn't use it much until I had Kennedy. It's so easy to throw on your shoulders and it fits all her essentials and mine!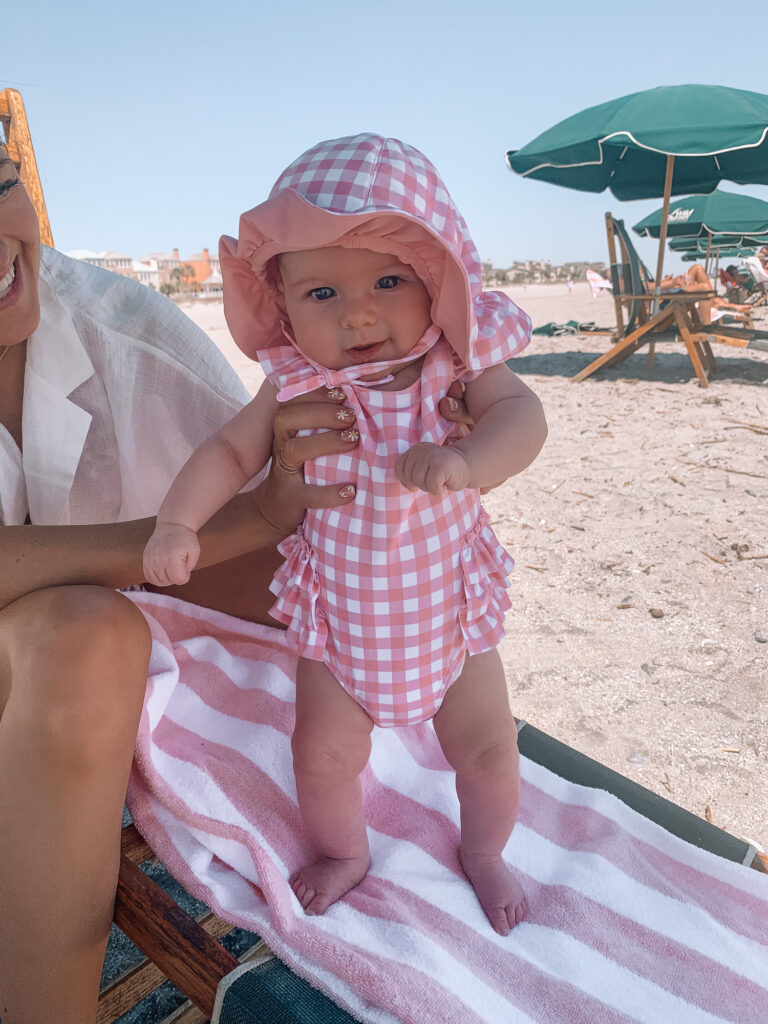 Q: What did you bring that you realized you could've left behind? Babies have a lot!
A: We should have left behind her Dockatot and Boppy Pillow! We didn't use either- I've been putting her down on a blanket on the floor when I need to set her down! Great reminder to practice tummy time, as well!
Chris and I are actually headed to the beach again next week (we're both going to work from the condo + get in some beach time when we can), so I plan on doing a whole post on beach essentials that we pack. Let me know if there's anything else you wanna know/see!
xoxo