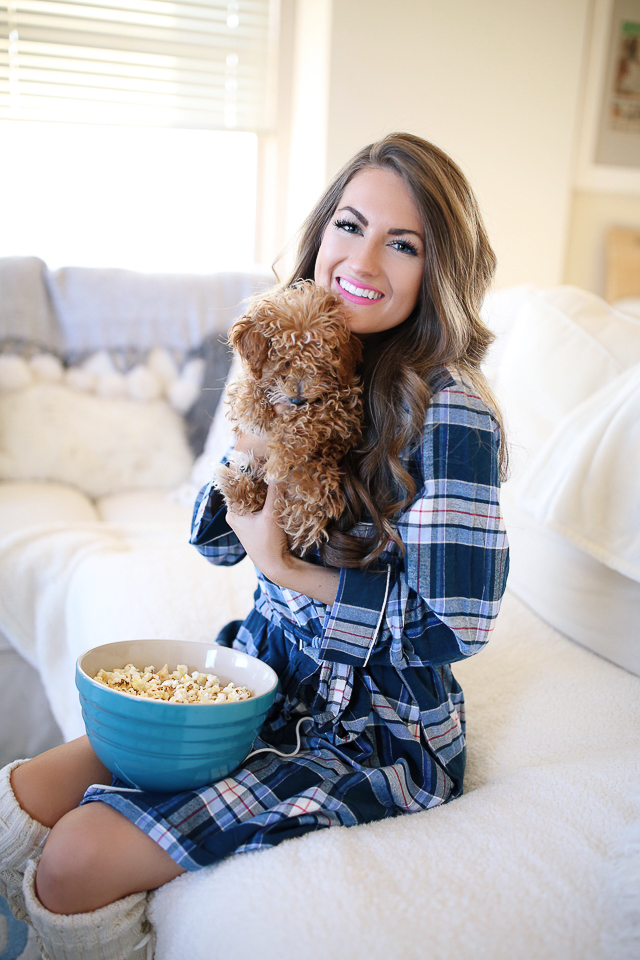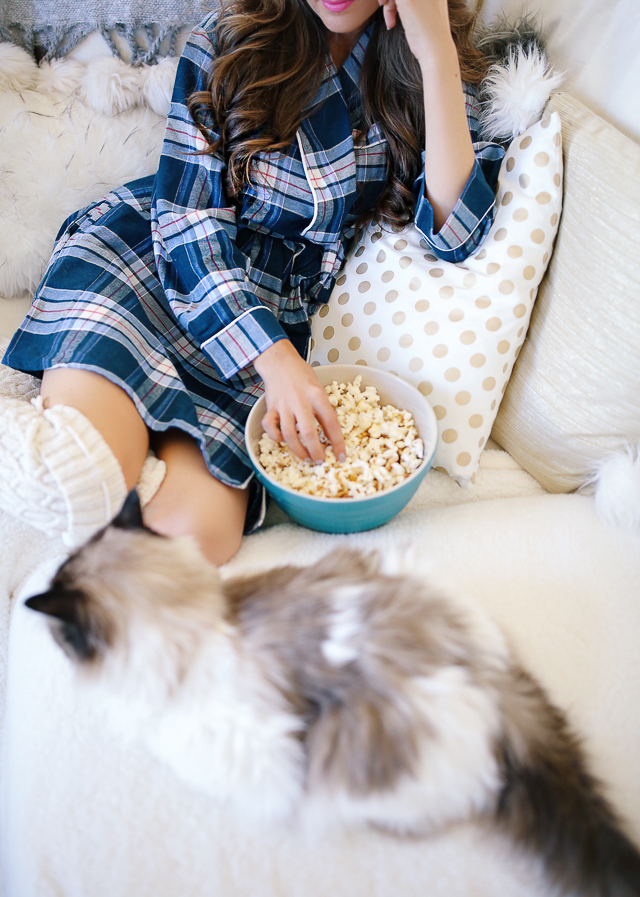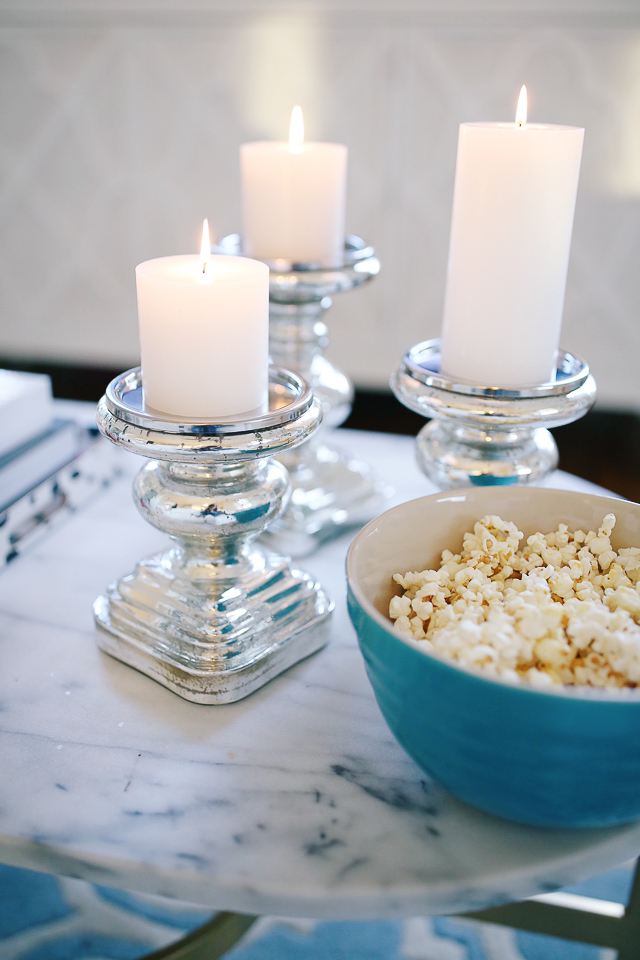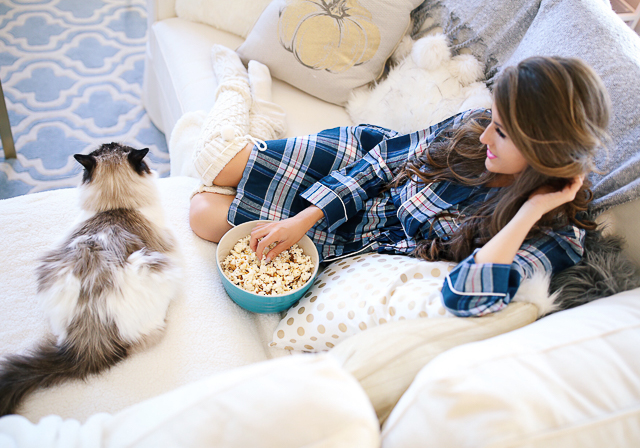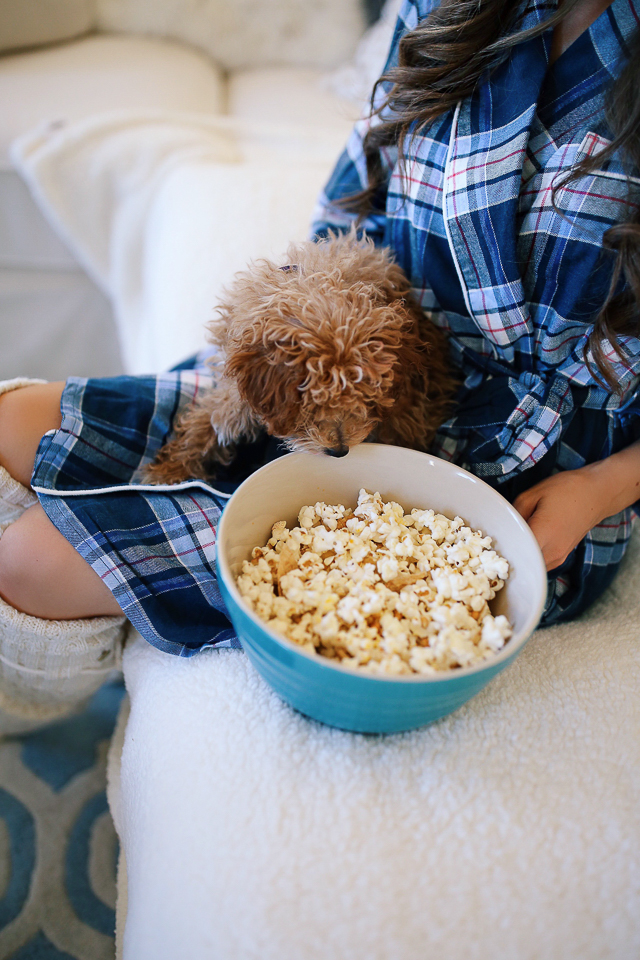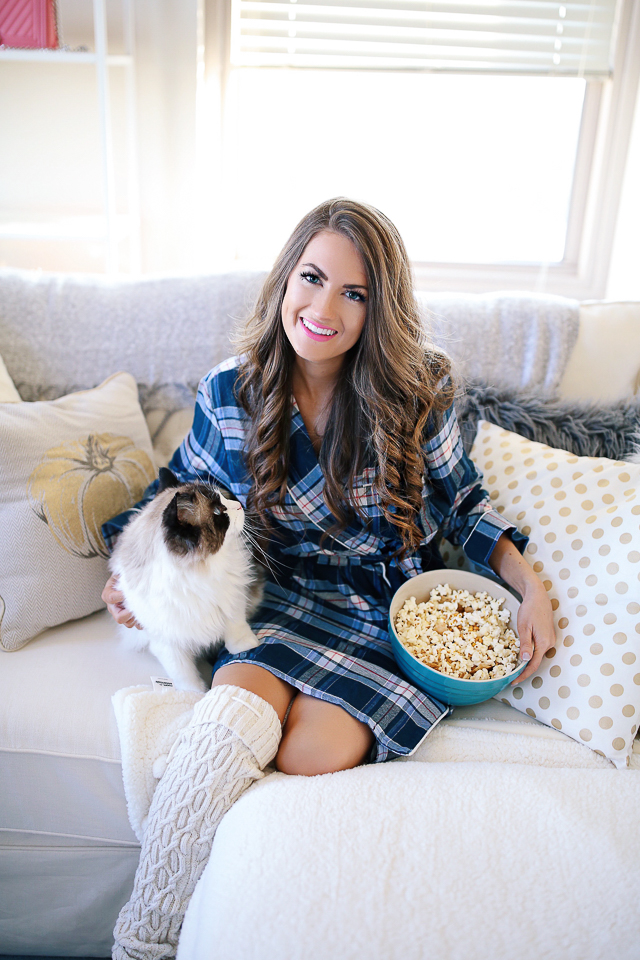 pom pom blanket
//
faux fur pillow
//
MAC lipstick in "gumball"
Since today is the day before Thanksgiving and you all should (hopefully) be getting a few days off work or school, I thought I would round up ten of my favorite Christmas movies on Netflix. Christmas movies always get me in the holiday spirit and leave me feeling warm and fuzzy inside (cliche, but true!). If you have a favorite that I haven't discovered yet, let everyone know in the comments!
P.S. A ton of Black Friday Sales have already started, for a full round-up click HERE!
1. A Christmas Kiss
This is one of my favorite Christmas movies of all time! I discovered it last year and probably watched it five or six times throughout the holiday season. Wendy, the main character, is an aspiring designer with a horrible, demanding boss (Priscilla). When Wendy kisses a mysterious, handsome man in the elevator, she soon realizes that it's Priscilla's boyfriend, Adam. Things get complicated quickly… especially because the chemistry between Wendy and Adam is SO strong, it really sells the movie. I can't even express in words how much I love this movie – it's pretty much the perfect Christmas chick flick!
2. Love Actually
This movie is another one of my favorite Christmas movies and is also appropriate for guys to watch (unlike A Christmas Kiss, which they probably wouldn't appreciate!). This romantic comedy follows eight couples whose lives intersect right before Christmas. The story takes place in London and enlists some of the best British actors to tell the different love stories. Although there are too many characters to go into here, I will say I ADORE Hugh Grant in this movie.
3. 12 Dates of Christmas
This one has a very classic storyline for a Christmas movie – the main character, Kate, relives Christmas Eve over and over again until she gets it right. In an attempt to win back her ex-boyfriend on Christmas Eve, Kate ends up ruining her blind date with Miles, a handsome guy she's been set up with. In a strange twist of fate, Kate has the chance to re-live the same day twelve times. I loved this movie because the chemistry between Kate and Miles was really strong and I kept waiting for her to realize it! Also, Miles is really cute so I liked it for that reason too (haha!).
4. Miracle on 34th Street
This movie is SUCH a classic and I'm so happy Netflix has it! This one is the 1994 remake (which I think is better than the original) and follows the same storyline. Santa Claus must prove that he is the real Kris Kringle, at first to a disbelieving little girl and then to the whole world, when he is put on trial. If you haven't seen it, give it a chance. This is a heartwarming Christmas classic for the entire family.
5. The Christmas Card
This movie doesn't have the best acting in the world (okay, the acting is pretty terrible), but for some reason I LOVED this one. A U.S. soldier receives a Christmas card while he is on duty, and he eventually visits the town that he received the card from, and falls in love with the woman who sent it. Like any good Christmas movie, there are some obstacles that prevent them from being together. The plot line pulls you in immediately… like I said, I really love this one.
6. You've Got Mail
Meg Ryan and Tom Hanks shine in this romantic comedy. Ryan plays a bookshop owner, while Hanks is building a huge bookstore chain in the same neighborhood (thus, they can't stand each other). They start chatting on the internet and begin to fall in love with each other – although they have no idea who the other is in real life. It's really, really cute! The whole movie doesn't occur during Christmastime, but part of it does, so it's worth calling a Christmas movie.
7. Just Friends
This is a cute romantic comedy starring Ryan Reynolds (heeyyyyy) and Amy Smart. At a high school graduation party, overweight Chris (Ryan Reynolds) attempts to reveal his true feelings to his best friend Jamie (Amy Smart), but ends up making a fool of himself. The real story takes place a decade later when Chris returns home for Christmas. This is a very funny, feel-good movie. My boyfriend loves this one too!
8. Serendipity
This romantic comedy starring Kate Beckinsale and John Cusack begins in a department store on Christmas Eve in New York City. After a magical evening, they decide to let fate determine if they're meant to be together. Years later, they are both engaged to others but can't give up the dream that fate will bring them together again.
9. The Legend of Frosty the Snowman
This one is such a classic, I grew up watching Frosty the Snowman! I always watch it once a year to bring back the memories. If you have kids, this one is perfect for them!
10. Christmas with the Kranks
This is a really cute holiday comedy starring Tim Allen and Jamie Lee Curtis. This couple decides to skip Christmas altogether and go on vacation, when they learn that their daughter has decided to come home at the last minute. They cancel their vacation plans and try to pull off a Christmas Eve party – with a lot of failures (and hilarious moments) along the way.
I know tomorrow is Thanksgiving, but check my blog early tomorrow morning for a surprise you won't want to miss – a huge THANK YOU to everyone who follows this blog! See you then! And for a full round-up of the Black Friday Sales that have already started, click here, and don't forget to enter my $1,500 Cyber Monday Giveaway HERE!
SHOP THE POST:

JavaScript is currently disabled in this browser. Reactivate it to view this content.