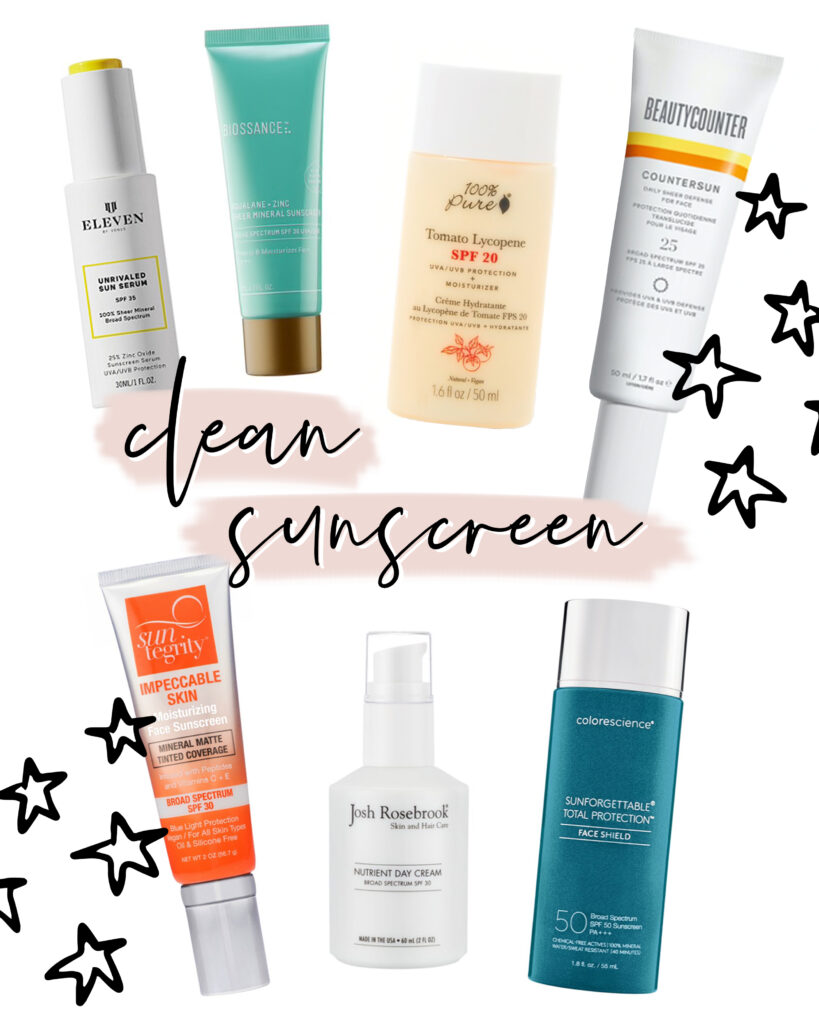 With spring and warmer weather right around the corner, I wanted to round up some of the best options for "clean" facial sunscreens! Over the past year, sunscreen has become just as much a part of my morning routine as my daily coffee. But because of pregnancy and now breastfeeding, I'm SUPER picky about which sunscreen I use! It needs to both work with my skin and contain really good, safe ingredients. To be honest, it can be quite overwhelming to find a safe, non-toxic sunscreen…. especially because there's so much information out there about "clean" skincare products and it's a bit overwhelming. I did a TON of research on ingredients and also used both the EWG's website and the app ThinkDirty to help me find the best sunscreen options out there. So without further ado, here are my top picks that are suitable for a bunch of different skin types!
"EWG Verified" is the best rating that the EWG can give, so you can be confident that this is a safe product! The zinc oxide in this broad spectrum sunscreen provides protection, while the squalane and chicory root extract leave skin hydrated. This sunscreen is formulated to blend in to all skin types with no white cast. It's also lightweight enough to wear daily and under makeup, too. It also has hundreds of five-star reviews, with most everyone agreeing that it's super sheer.
This sunscreen is another EWG Verified product and is a great option for dry to normal skin types. The squalane in Boissance's formula helps to moisturize the skin and fight fine lines, while the water lily soothes and calms redness. It uses zinc oxide for UVA/ UVB protection and it is lightweight enough to wear under makeup. This one has rave reviews on Sephora's website!
Unrivaled Sun Serum by Venus Williams is a product I kept seeing everywhere while researching clean sunscreens! It's formulated with 25% zinc oxide for a broad-spectrum protection against UVA, UVB and blue light rays. It does not leave even the slightest white cast, so it is great for all skin tones. This sunscreen is also formulated with coconut and prickly pear to keep skin hydrated!
ThinkDirty Rating: 0, EWG Rating: 2
I love how many familiar natural ingredients are in this broad-spectrum sunscreen! Ingredients like green tea, coconut, carrot, grape and tomato help to protect the skin against harmful UV rays and environmental pollution. It's a very lightweight sunscreen (although reviewers do say that it leaves a slight white cast), that would be best for normal to oily skin types.
EWG Rating: 2, ThinkDirty Rating: 3
Suntegrity has a lot of cleaner sunscreen options on the market, but this one seems to do it all! This one is a tinted moisturizer, so no worries about white streaks with this one. Zinc Oxide provides the broad-spectrum protection we need, while vitamins and peptides reduce signs of aging. On top of that, hyaluronic acid moisturizes the skin, and one of the six shades is bound to provide the perfect match for a perfect "no makeup" look!
ThinkDirty Rating: 3
Josh Rosebrook Nutrient Day Cream was one of the most recurring products I saw while researching cleaner sunscreens. It is a little more pricey than the others, but review after review read, "expensive but worth it!" Honestly, the reviews were so good that I had to order it for myself (it's currently in the mail haha). This sunscreen uses 15% zinc oxide to provide broad-spectrum protection and plant oils to soothe and moisturize the skin in a luxurious way!
I added this one because it is one of the facial sunscreens that Toska recommended in one of her monthly newsletters! This formula uses zinc oxide to protect skin from UVA, UVB and blue light rays. Sunforgettable Total Protection Face Shield is also full of antioxidants and it is water/sweat resistant for 40 minutes, so it would be a great option to use at the beach.
Ingredients to look for…
Zinc and/or titanium dioxide should be the only ingredients listed under "active ingredients."
Familiar ingredients! I try to see how many recognizable plants/foods I can find in the ingredient lists.
Ingredients to look out for…
The term "mineral-based." This phrase is used for sunscreens that have mixed nontoxic mineral ingredients with irritating chemical ingredients. So, if you see "mineral-based," be sure to carefully read the entire list of active and inactive ingredients.
anything ending in -paraben
phthalates
sodium laureth sulfate
oxybenzone
octinoxate
octisalate
octocrylene
homosalate
avobenzone
fragrance
Other things to keep in mind…
It is best practice to wear sunscreen EVERY DAY! Not only do we need sunscreen on those gorgeous sunny days when we spend time outside, but also on cloudy days as well as on days we plan to stay indoors. Sunscreen not only protects us against harmful UV rays from the sun, but it also protects us from the damaging blue light rays from our phones and computer screens.
Waterproof formulas are best, especially if you are at the beach or planning on doing any type of physical activity. Sunscreen formulas that are not waterproof can melt off the skin as soon as we start to sweat or wash off with the slightest splash of water. Most sunscreens typically stay water resistant for about 40-80 minutes, so be sure to reapply regularly.
Dermatologists recommend using an SPF 30 or higher for the best protection against harmful UV rays.
Broad-spectrum sunscreens are the most effective because they protect us from both UVA and UVB rays.
I am on a continuous journey to find the best and safest products, so if you have any other recommendations, I am all ears!