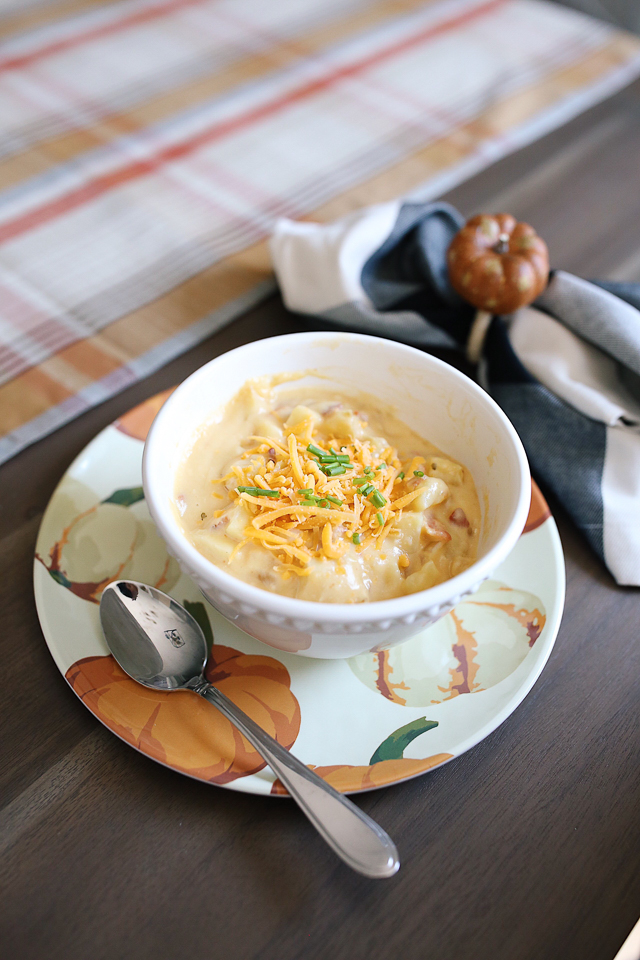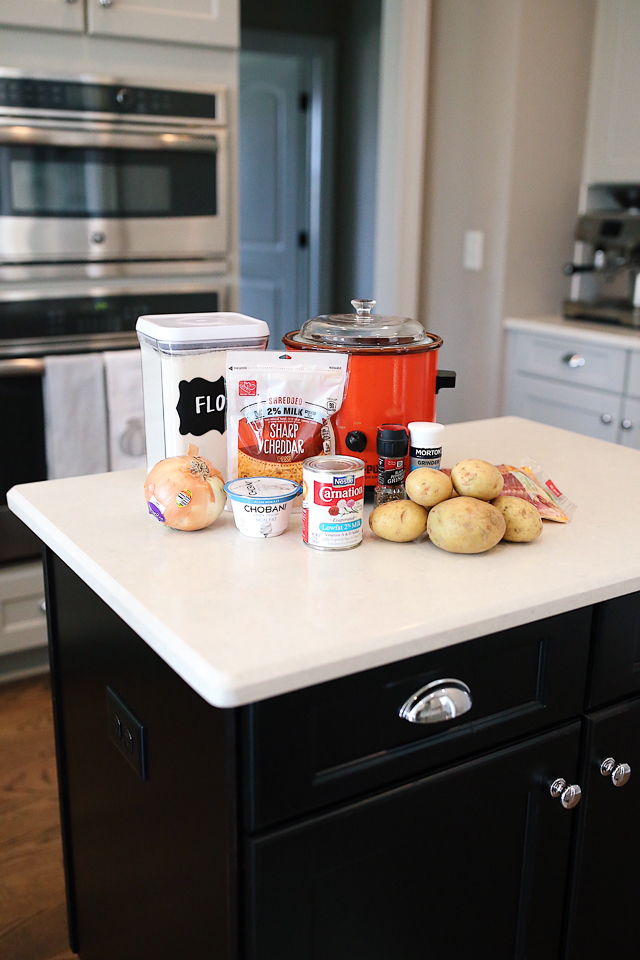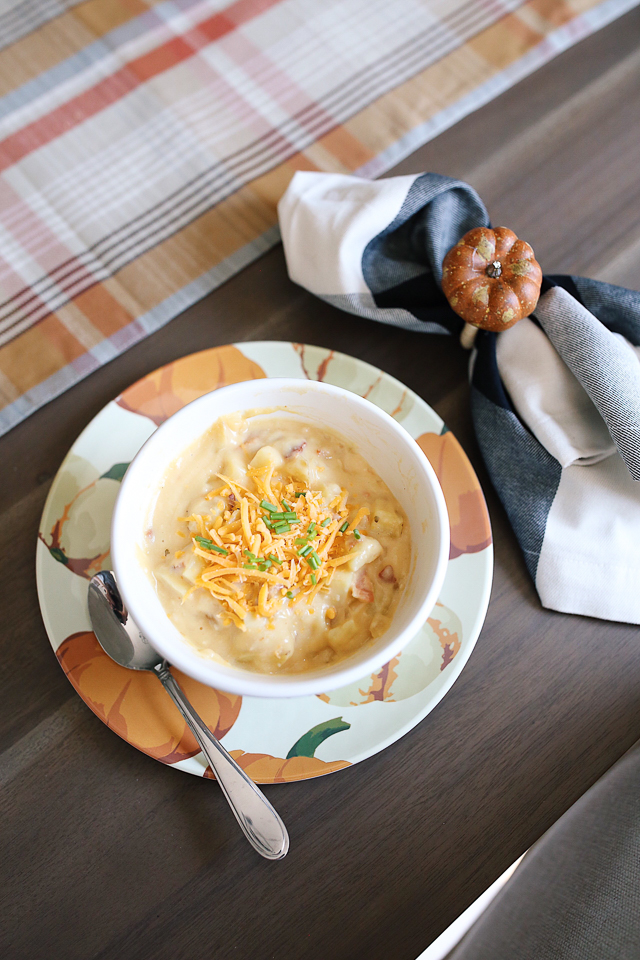 Happy Wednesday, loves! One of my favorite things to do in the fall is cook – especially meals in the slow cooker. You simply throw in all the ingredients into the slow cooker in the morning, and then by dinnertime – voila! – you have a hot, delicious home cooked meal! Today I wanted to share a few tried and true favorites that both me (and my fiance!) love. These are my go-to crock pot recipes, but they're ESPECIALLY good in the fall when it's cold outside!
First up, the Potato Soup that's shown in the photos above. This soup is so good, it's restaurant quality! It's a little healthier than your average baked potato soup because it calls for Greek yogurt rather than sour cream. The leftovers are also sooo good – Chris and I always have it for lunch the next day or even dinner a few days later. The soup will refrigerate up to 3 days.
Slower Cooker Potato Soup 
Ingredients:
6 slices cooked bacon, diced
3 to 4 cups chicken stock
2 pounds Yukon gold potatoes (I don't peel mine but you can!), diced
1 medium yellow onion, peeled and diced
4 tablespoons butter
1/3 cup all-purpose flour
1 (12-ounce) can 2% evaporated milk
1 cup shredded reduced-fat sharp cheddar cheese
1/2 cup plain low-fat Greek yogurt
1 teaspoon Kosher salt
1/2 teaspoon freshly-cracked black pepper
Optional toppings: thinly-sliced green onions or chives, extra shredded cheese, extra bacon, Greek yogurt
Instructions: 
Add bacon, 3 cups chicken stock, potatoes and onion to a large slow cooker and stir to combine. Cook on low for 6-8 hours or high for 3-4 hours, until the potatoes are completely tender.
Once the soup is almost ready to serve, cook the butter in a small saucepan on the stove over medium-high heat until it has melted. Whisk in the flour until it's completely combined, then cook for 1 minute, stirring occasionally. Gradually add in the evaporated milk while whisking it together with the flour mixture, and continue whisking until the mixture is completely smooth. Let the mixture continue cooking until it reaches a simmer, stirring occasionally, and then it should get really thick.
Immediately pour the milk mixture into the slow cooker with the potatoes and stir until combined. Add in the cheddar cheese, Greek yogurt, salt and pepper and stir until combined. You can mash the potatoes with a large spoon if you would like the soup to be a little thicker!
Serve warm with desired toppings.
This next one is another favorite… Chris and I both love it really spicy so we add in extra spicy ingredients! You have probably seen me snapchat about this chili a lot over the past couple of years. It's a staple for us!
Crock Pot Chicken Taco Chili
Ingredients: 
1 small onion, chopped
1 (15.5 oz) can black beans, drained
1 (15.5 oz) can kidney beans, drained
1 (8 oz) can tomato sauce
10 oz package frozen corn kernels
2 (10 oz) cans diced tomatoes with chilies
4 oz can chopped green chili peppers
1 packet reduced sodium taco seasoning
1 tbsp cumin
1 tbsp chili powder
3 boneless, skinless chicken breasts
Instructions: 
Combine beans, onion, chili peppers, corn, tomato sauce, diced tomato, cumin, chili powder and taco seasoning in a slow cooker and mix well.
Nestle the chicken in, making sure it's completely covered, and cook in low for 8-10 hours or on high for 4-6 hours.
Thirty minutes before serving, remove the chicken and shred. Return chicken to slow cooker and stir to combine.
Top with your favorite toppings! I love plain Greek yogurt and a little bit of shredded cheese.
I started making this next one for Chris because he lovvvves the broccoli cheddar soup from Panera. This tastes almost identical – however it is not very healthy haha! I only make this occasionally because it is SO good and a comfort meal never hurt anyone now and then 🙂
Slow Cooker Broccoli Cheddar Soup
Ingredients:
1/4 cup butter or margarine
1 large onion, chopped
1/4 cup all-purpose flour
1 can (12 oz) evaporated milk
1 carton (32 oz) chicken broth
1 bag (14 oz) frozen baby broccoli florets, thawed
1/2 teaspoon freshly ground pepper
1/4 teaspoon salt
1 box (8 oz) Velveeta cheese
1.5 cups shredded extra-sharp Cheddar cheese
1 cup shredded Parmesan cheese
Instructions:
1. Spray a 4-quart slow cooker with cooking spray. In 12-inch skillet, melt butter over medium-high heat. Cook onion in butter 4 minutes, stirring occasionally, until tender. Stir in flour. Cook 1 minute, stirring constantly. Gradually stir in milk until smooth and pour mixture into slow cooker.
2. Stir in broth, broccoli, pepper and salt and cover. Cook on low for 4 hours or until bubbly.
3. Add cheese cubes to slow cooker and stir until melted. Add 1.5 cups Cheddar cheese and the Parmesan cheese; stir until melted, and serve.
If you have any favorite slow cooker recipes, please let me know!! Either comment the link or email me and I'd love to try them 🙂
xoxo