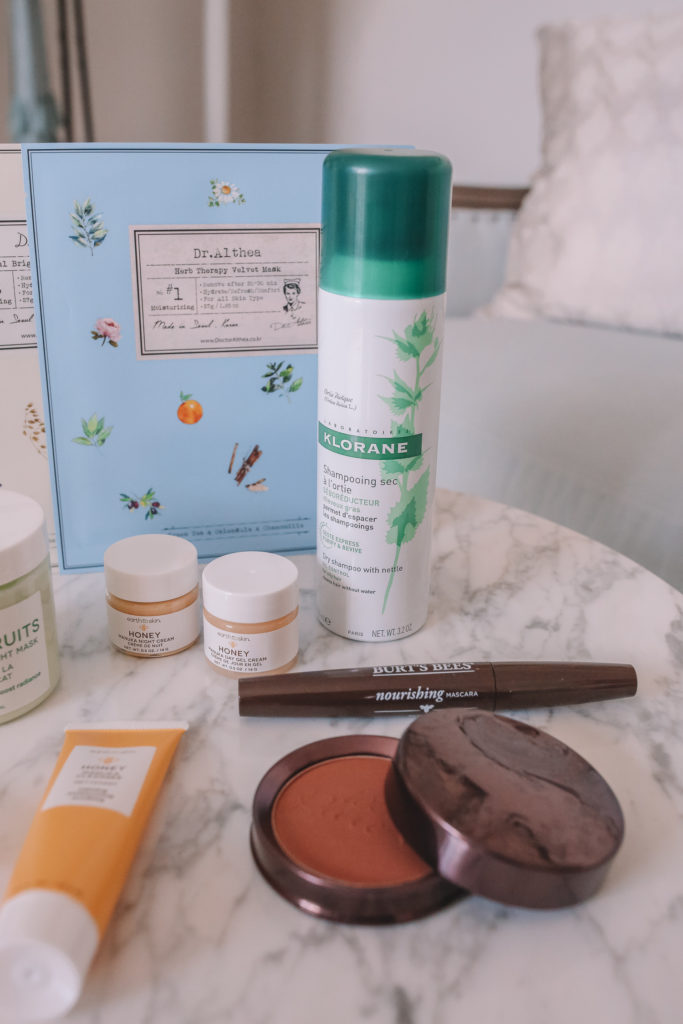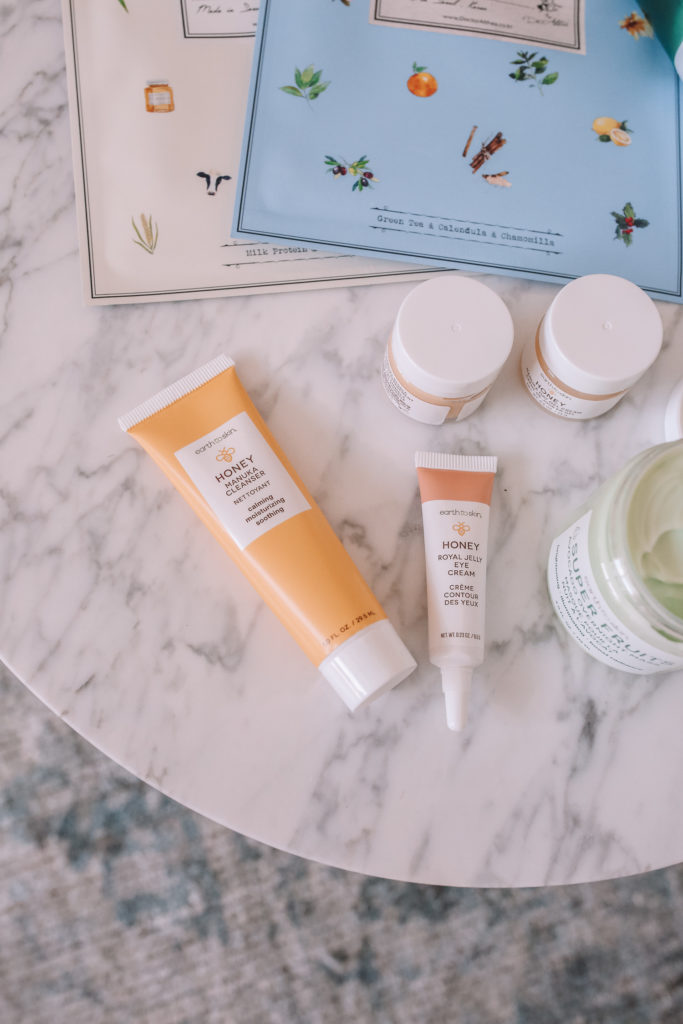 Until recently, I had no idea how extensive Walmart's beauty department was. In addition to all of the big brands (like Covergirl, L'Oreal, etc.), I was surprised to learn that they also carry a ton of "natural" beauty brands – which made me really excited! I've been trying to cut out toxins in both my diet and bathroom cabinets, so I thought it would be fun to place a big order and try out some of Walmart's natural beauty products for the upcoming fall. Here are my top five!
This creamy Avocado Overnight Mask doesn't contain any parabens, phthlatales, petrolatum, mineral oil, sulfates or gluten (and isn't tested on animals!). My first night trying this, I immediately noticed how luxurious and rich it felt – I put it on right before bed, and washed it off with warm water in the morning – my skin was SO SOFT the next morning! The overnight mask is enriched with Avocado Fruit Extract (hence the green color) and is rich in Vitamin D, Beta Carotene, Vitamin E and Potassium, known for its illuminating and brightening benefits. I can't wait to try out more products from the Walmart-exclusive Earth to Skin brand – they have a whole line of honey products that I will be trying out next, and ALL of their products are less than $10!
I am a huge believer in the idea that beauty starts from the inside. What you eat and how your nourish your body can play a big role in the health of your skin, hair and nails. I take a multivitamin every day in case I miss any nutrients in my diet. I love the Garden of Life brand – I have used several of their products before – so I was happy to discover this Organic Whole Food Multivitamin for women. What I love MOST about these vitamins is that they're made from more than 30 REAL organic fruits, vegetables and herbs including lemons, annatto, alma berry, holy basil and more. These vitamins also provide B-12, which is really important if you're a vegetarian or vegan (since you can't get this nutrient from plants!). Plus it's just one a day – I've been taking one with breakfast and then I'm all set.
Dr. Althea Sheet Masks
I got two different kinds of these Dr. Althea sheet masks to test out – the Herb Therapy Velvet Sheet Mask and the Brightening Sheet Mask. I like to include a sheet mask into my nighttime routine around once per week – it is a nice opportunity to just chill out and watch some Netflix while the face mask is on. I am obsessedddd with the Herb Therapy one because it contains organic chamomile, green tea, olive extract and squalene and my skin looks and feels amazing afterward! It's even nicer to put it on while enjoying some chamomile tea with honey at night 🙂
Someone asked me for a natural mascara recommendation the other day and I realized that I had never tried one before! I tested out this Burts Bees 100% Natural Nourishing Mascara in Classic Black and I LOVE IT. It's made with Jojoba Oil to nourish your lashes and doesn't contain any parabens, phthalates, SLS, petrolatum or synthetic fragrances. Since your eyes are a mucous membrane, you do have to be careful of any products that you use on or around your eyes. This mascara was really gentle and also easy to take off at night with just water. I was really pleasantly surprised to find that this mascara did lengthen my lashes and the brush was really nice – it didn't leave them looking clumpy at all. If you've been hunting for a more natural mascara I would HIGHLY recommend this one!
Ok I lied – I have actually been using this Klorane Dry Shampoo for a few months now so this technically isn't a "new" find. But I love it so I still wanted to share 🙂 This dry shampoo is formulated with nettle, a nutritious plant popular in Western herbal medicine (I actually drink nettle tea regularly). This dry shampoo is whiter than some other options out there, but unlike others, it actually disappears when you rub it in! A little goes a long way – I just need to put a few spritzes and my hair feels significantly cleaner. It leaves no residue and honestly, I can't even feel it when I touch my hair afterwards (which is exactly what I want). It's also silicone-free, paraben-free, sulfate-free, sodium chloride-free and colorant-free – so YAY for that haha!
I love that Walmart carries products that are "safer" and also just as affordable as bigger brands. You can check out all of their fall beauty products here, as well as their Walmart-exclusive beauty products here!
*Thanks to Walmart for sponsoring this post