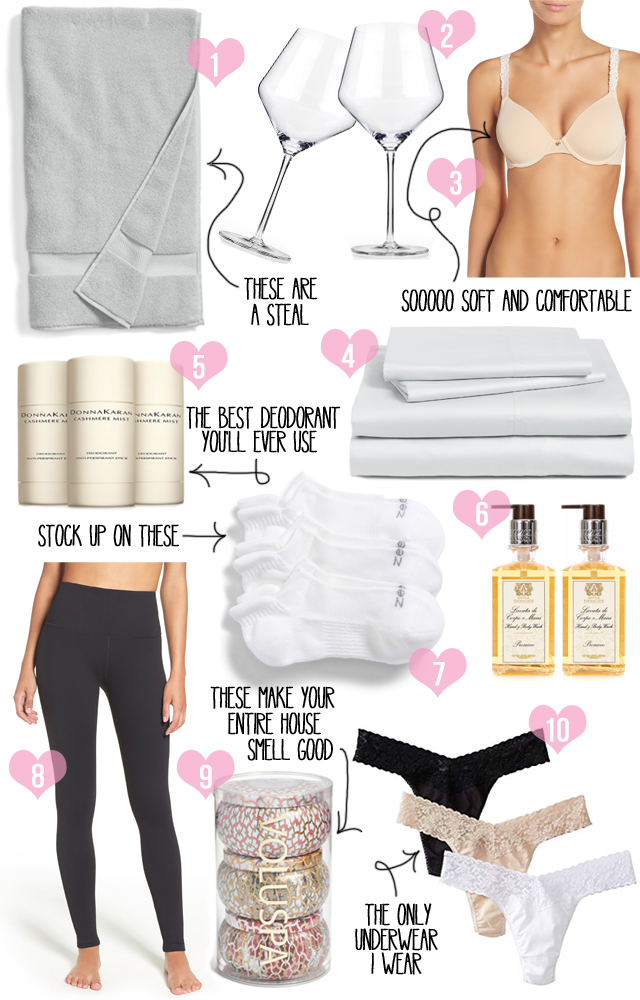 The Nordstrom Anniversary Sale has become known for it's vast selection of cute, trendy fall clothes like booties, sweaters and cardigans, but that's not all they have. I was DEEP into the Nordstrom Anniversary Sale website while browsing the other day, when I had an epiphany – there are some REALLY good staple items included in the sale… staple items that you can stock up on now (while they're on sale) and they'll improve your life and home in the future. A lot of these may seem boring (I talk about towels and underwear a lot hahah) but as a woman, I love chatting about these things! And I'd love to hear your opinion, too. Let me know in the comments if you've tried any of these!
I love having all matching towels in my home, especially for guests to use! These hydrocotton bath towels come in 18 (yes, 18!!) different colors and have amazing reviews. I'm serious – read the review section on Nordstrom's site – there are 90 PAGES of reviews raving about these towels, with commenters calling them "plush" and "luxurious," adding that they hold up well in the wash and are still as soft as ever.
Do you have a set of matching wine glasses in your home? If not, now is your chance to snag them on sale. The Nordstrom Sale includes these red wine glasses, as well as these
white wine glasses
and these
champagne glasses
. I love serving guests a glass of wine in a nice, "grown up" wine glass as I call it, haha.
I ordered one of these bras after hearing my friends rave about how soft and comfortable these are! One of my friends had just bought bras at Victoria's Secret and went and returned them all after she tried this brand. A high-quality and well-filling bra is hard to find for less than $50, so I was shocked to see the sale price. I currently have two of them in my shopping cart!
If you haven't tried 400-thread count sheets before, you're missing out – they're like heaven to sleep on! These sheets are thick and soft and made with organic cotton. I personally like all-white sheets, but these come in three other colors, too. I'm stocking up on a few sets for our guest bedrooms.
Alright, I know what you're probably thinking… $65 for deodorant?!? TRUST ME when I say that this deodorant is life-changing! Plus the $65 includes three tubes of it. I bought my first one a few years ago and now I will never use a different brand. It smells so good that I could probably spend 10 minutes talking about it – and it also works really well to prevent sweating. This trio will probably last you a couple of years!
I'm always running out of hand wash in my house! I ordered three of these sets during the first day of the sale and I'm happy to report that the formula smells amazzzzzing! I'm also obsessed with the packaging – it looks very elegant in my master bathroom.
Another thing I'm always running out of: socks! I can never seem to find a pair that matches. I ordered several of these Zella 3-packs from the Nordstrom Sale to replenish my sock drawer. The great thing about these is that they have extra fabric on the back to prevent blisters – they really protect your heels in tennis shoes! I 100% recommend them.
If you buy ONE thing from the Nordstrom Sale, please let it be these high-waisted leggings. I have sworn by Zella leggings for several years now. The plain black color is such a wardrobe staple – I wear them both to work out in and with regular outfits, too. They look really cute with boots and an oversized sweater, and they last a really long time!
You are probably sick of hearing me talk about these candles, but they are just too good. I love these because you can light one and within a matter of five minutes, that room in your house will smell good. The scent really travels, which I love! (I hate when you light a candle and then can't even smell the scent.) Plus this trio is a really good deal!
I have been wearing Hanky Panky underwear since I first discovered them in college, and I'll never switch to anything else! They're one-size-fits-all, which sounds weird but it somehow works, it truly does fit everyone. These are so comfortable and also pretty at the same time! I have accumulated so many pairs that my underwear drawer looks like a rainbow of Hanky Panky, haha! But really, they're the BEST!
xoxo
SHOP THE POST:
JavaScript is currently disabled in this browser. Reactivate it to view this content.