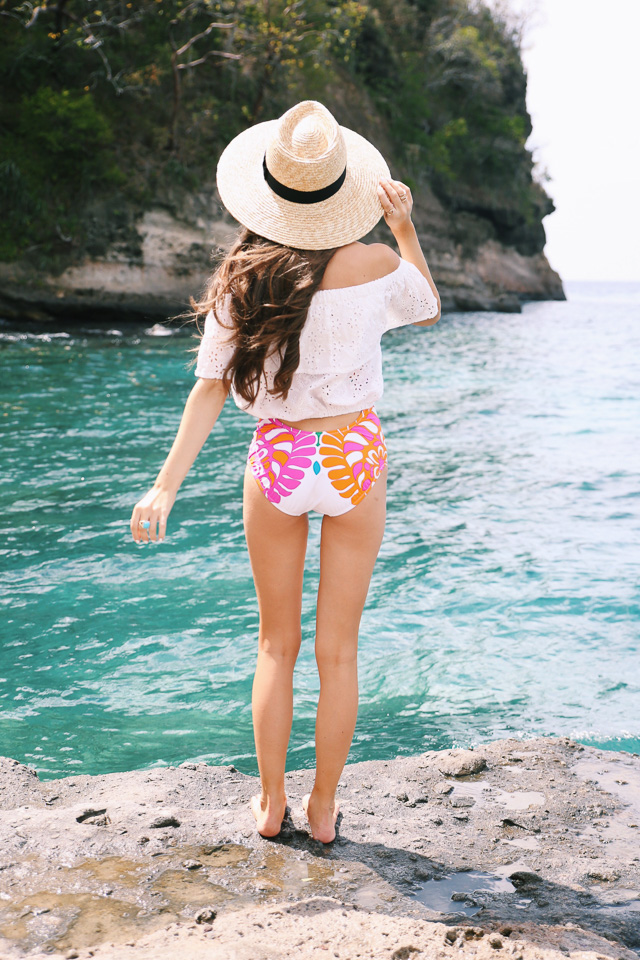 I should probably add on the phrase "on a beach vacation" to the title of this post, because some of the items I wouldn't pack away in my suitcase for a snowy trip. But anyways! I have always been a beach girl, since I was little… choosing the beach over the mountains every single time. I've learned over the years that there are a few items every girl needs to pack with her on a tropical vacation (and no, none of these items are sponsored, I do truly use and love them). So let's get started!
1. Self-tanner
Having
this self-tanner
with me on vacation is one of my top essentials. I love the sun but I don't like laying out because of the risk of skin cancer… but I still want to appear tan on vacation. Jergens re-formulated this lotion last year & it now smells wonderful (remember when self-tanners had that horrible, icky smell?). A word of caution though, I like
the regular one
way way more than
the firming one
. Trust me, there's a difference! I LOVE the regular one. I apply it on my legs usually every night or after showering, and it develops into a natural, gorgeous tan.
2. A portable charger
A portable charger is something I can't live without when I'm traveling. I'm constantly on my phone answering emails, checking social media, etc. and my phone battery doesn't last very long.
This portable charger
is really slim and fits easily in your purse, but I'm a huge fan of
this charging phone case
. It's actually a charger and phone case in one – and I can't tell you how many times it has saved my phone from dying! Keeping your phone charged is a good idea while traveling – you may need travel and weather updates, flight confirmations, the address of the hotel, etc.
3. Noise cancelling headphones
Santa brought me
these noise cancelling headphones
(in white) for Christmas this year, and I have used them on every single flight since then. They are great for watching movies and listening to music on the plane – but sometimes I just put them on and turn on the "noise cancelling" switch (located on the side of the headphones). It drowns out all of the airplane noises and people talking around me so that I can catch some sleep on the plane. With these headphones on, you can't even hear the person next to you talking – they are AMAZING and definitely worth the money – no other headphones can compare!
4. A Good bronzer & highlighter
Since you'll likely be on the beach all day, you don't need to wear a ton of makeup (it can clog your pores!). The two most important makeup items I bring with me are
this bronzer
and
this highlighter
. Both are amazing and essential for giving you the "sun-kissed glow" we all want on vacation. The highlighter is absolutely magical – I've worn it the entire time in St. Lucia! Dust it on the tops of your cheekbones or on your eye-lids for a gorgeous, glowy look.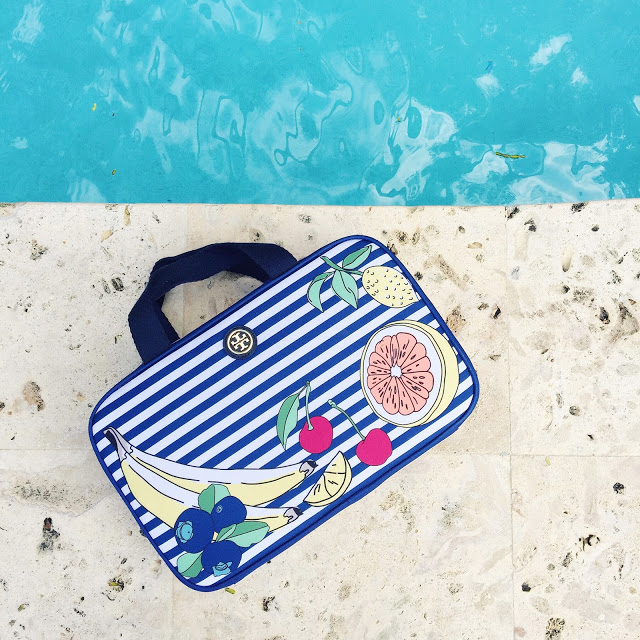 5. A Hanging toiletries case
I brought
this Tory Burch travel case
with me on this trip to St. Lucia, and it is a godsend. There are two things I really love about it: it's incredibly slim, which makes it easy to fit in your suitcase, and secondly, there is a hanger attached so you can hang it in your hotel bathroom, on the showerhead or towel rack (which makes it so convenient and doesn't take up counter space!). Although it is slim, there is plenty of space inside for all of my toiletries: shampoo, conditioner, etc. And it's made out of nylon so you don't have to worry about products spilling inside and messing it up.
6. Comfortable shoes
I learned this one the hard way, because one year I didn't pack comfortable beach shoes & ended up with a ton of blisters! You'll want to pack a pair of tennis shoes
and
a good pair of shoes for the beach – preferably a pair of sandals that are easily washable. Depending on your resort, you may end up doing a lot of walking! I brought
these sandals
on this vacation and I wear them everywhere – to the beach, to breakfast, exploring, etc. They are really comfortable and since they are patent, I can get them wet and sand washes off easily.
7. Makeup remover wipes
Makeup remover wipes are a must-have on vacation… I end up taking my makeup off a few times per day (after the beach, before bed, etc.) so wipes make it a ton quicker and easier to take off your makeup. Especially at night when you're tired!
These mini wipes
are my favorite because they work so well, but they are also compact and easy to fit in your purse or suitcase.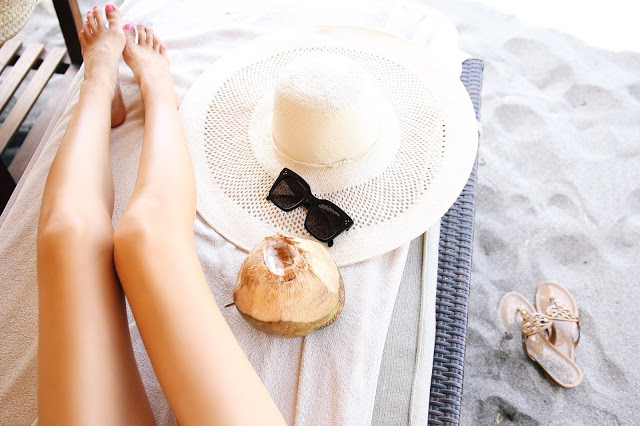 8. A huge sun hat
My face is sensitive to the sun and burns very easily, so I always bring along a huge sun hat with me to wear while I'm on the beach. (Hats can be hard to fit in your suitcase, so I usually carry them with me onto the plane.) I brought
this straw hat
with me to St. Lucia & am pretty obsessed with it – it's only $38 and SO high quality! (You've probably seen it in some of my photos.) If I had an extra $400 laying around to spend on a hat, I would definitely buy
this one
– it's the cutest hat I've ever seen!
9. Several pairs of sunglasses
Yes, I am that girl that brings three to four pairs of sunglasses on vacation. However, I usually wear every single pair that I bring and I'm always happy I brought options! Sunglasses are essential on vacation because it can be hard to see in the bright sunlight. I am loving
these tortoise sunglasses
and
these colored ones
right now.
10. A packable laundry bag
I always manage to accumulate a lot of laundry on vacation – especially swimsuits that need washing. I always throw my washables in a nylon bag and pack it in my suitcase, so when I get home all I have to do is dump everything into the washing machine.
This laundry bag
is genius (and cute!) and will keep your washables away from your clean clothes. The same company also makes packable bags for your
heels
and
lingerie
!
There you have it! I love hearing tips about traveling, so if you have any "must have" traveling products, let me know in the comments!
SHOP THE POST:
!function(doc,s,id){ var e, p; if(!doc.getElementById(id)) { e = doc.createElement(s); e.id = id; p = '//shopsensewidget.shopstyle.com/widget-script.js'; var cb = new Date().getTime(); p += '?cb=' + cb; e.src = p; doc.body.appendChild(e); } if(typeof window.ss_shopsense === 'object'){ if(doc.readyState === 'complete'){ window.ss_shopsense.init(); } } }(document, 'script', 'shopsensewidget-script');