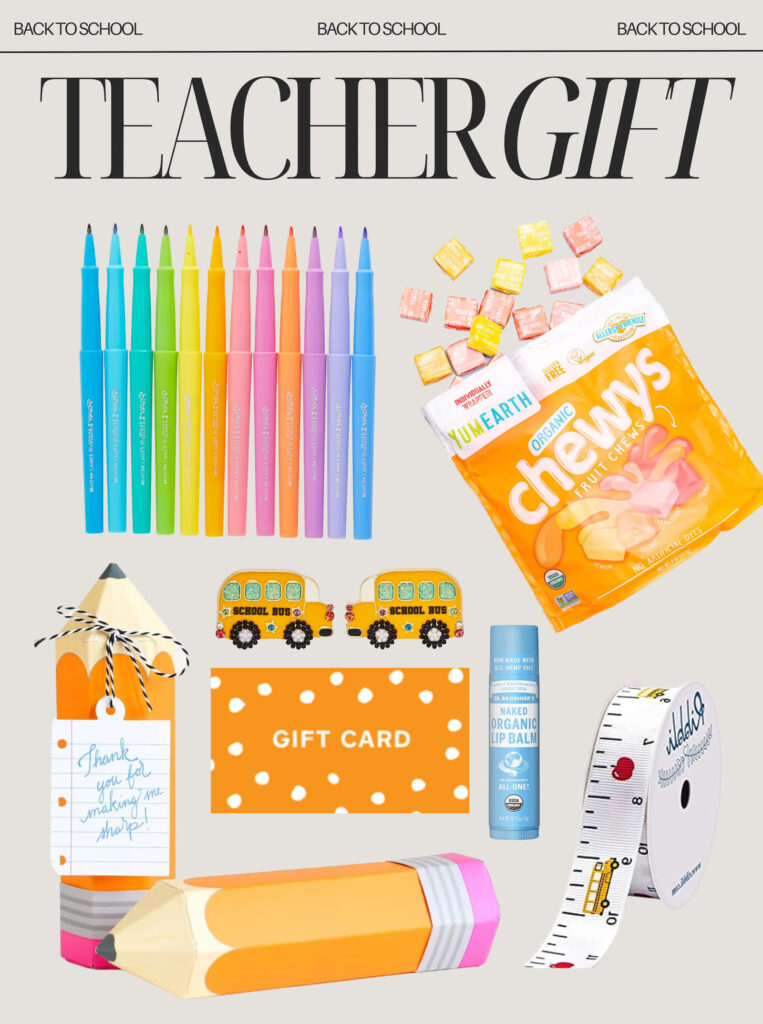 Kennedy is starting her first year of school soon and I wanted to put together a little gift for her teachers! I know they don't have the easiest job, but I think it's one of *the most* important jobs in our society. I found these cute little pencil gift boxes on Etsy and filled them with a few things I thought her teachers would appreciate both now and throughout the school year!
Gift Boxes // These gift boxes are the star of the show! They are SO CUTE and they're also a good size to fit lots of goodies inside! I found them on Etsy and they come in a few different school-themed shapes like an apple and a school bus.
Flair Pens // Every teacher I know LOVES these pens! They come in a ton of pretty colors and they last forever. I bought a big pack from Amazon and put a few in each gift box.
Lip Balm // Am I the only one that is always losing their lip balm?! This organic lip balm is amazing! It's made with organic beeswax and organic avocado oil, so it's super moisturizing and non-toxic too!
Candy // Everyone needs a little sweet treat throughout the day (especially teachers!). These YumEarth Chews are allergy friendly so they are school-safe! I also love how they don't contain any artificial dyes.
Earrings // I found these little school bus earrings at Target and just had to get them for Kennedy's teachers! They are the brand SugarFix by BaubleBar so I trust that they are high-quality and they are just so stinking cute!
Coffee Shop Gift Card // I think anyone that works with children needs caffeine – LOL! (But for real.) I thought Kenny's teachers may like a gift card so they can stop and get a little pick-me-up on the way to school in the morning. I got them a gift card from a favorite local coffee shop that is close to her school!
If you have any other ideas I'd love to hear them!
xoxo