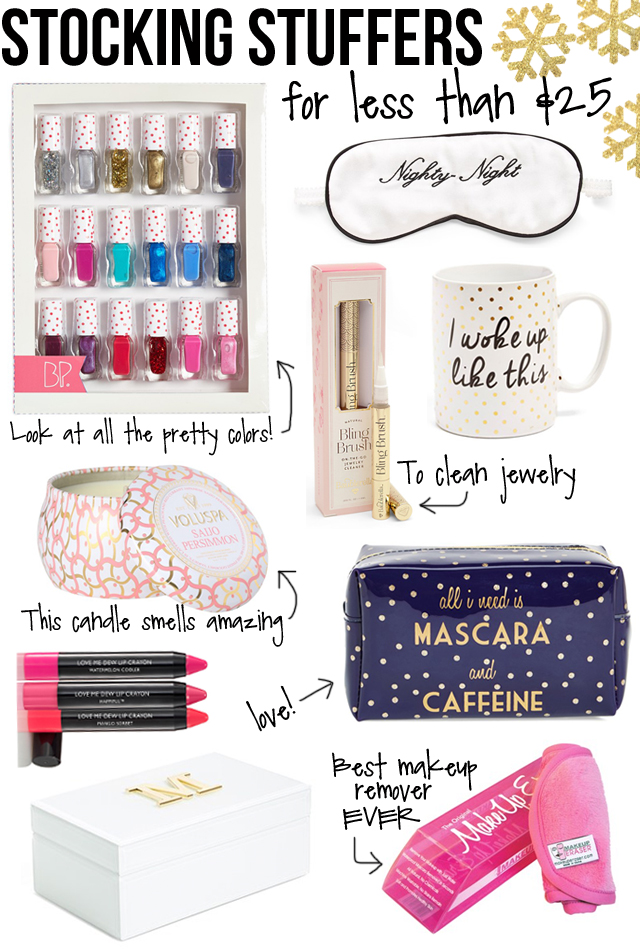 nail polish kit // "nighty night" eye mask // Bling Brush jewelry cleaner // "I woke up like this" mug
Voluspa candle // Laura Geller lip crayons // makeup bag // jewelry box // Make Up Eraser
Stocking stuffers can easily add up, especially if those small things have big price tags. I love all of the items above, but especially because each one is less than $25! These aren't your typical stocking stuffer items, either. For example, this Bling Brush is the perfect portable jewelry cleaner for a girl who loves jewelry & travels a lot. And ANY girl would love this Make Up Eraser. It is just a cloth but it is a magic cloth – I swear! It takes off your makeup using just water – just throw it in the laundry machine after three or four uses, and you can reuse it over and over again. I also want to point out this makeup bag (that also comes in pink). The quote on it couldn't be more true, haha!
In other news, I filmed another YouTube video. I'm not very good at filming videos but they are so fun to make! In this one I'm showing ten different ways to get into the Christmas Spirit. The video is below, you can subscribe to my YouTube channel here! 🙂
SHOP THE POST: