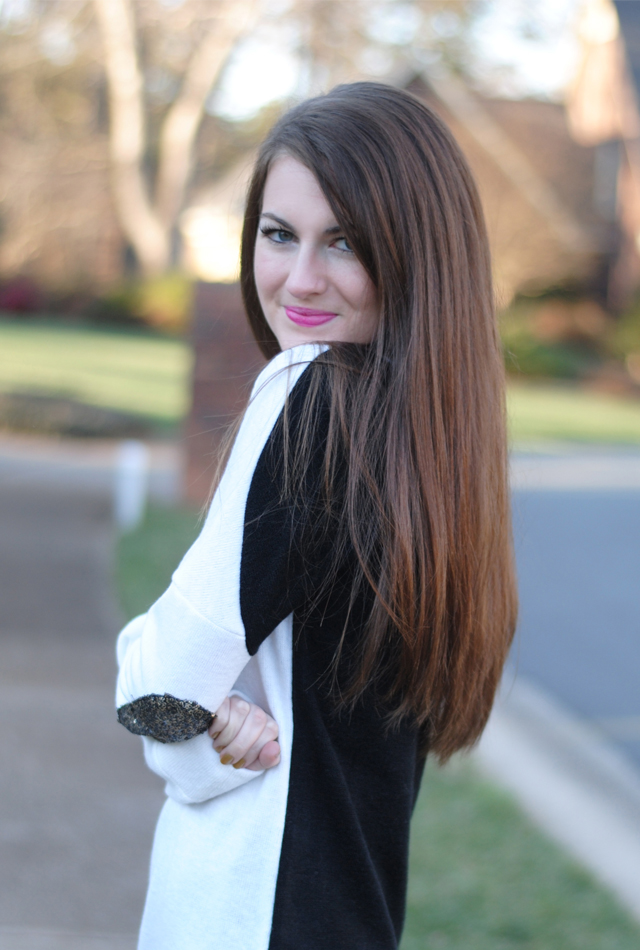 Crystal Feather sequin elbow patch sweater // monogram necklace // Sylvia Benson chain link necklace
gigglosophy heart ring // Lilly Pulitzer travel pants // Tory Burch Kiernan Boots // YSL lipstick #7
True life: I'm obsessed with elbow patches. Add sequins in the mix and I'm an absolute goner. This sweater from Crystal Feather Boutique is just to die for! I love the fact that the front and back are different colors. It's edgy but classic at the same time… and those elbow patches add the perfect amount of chic (now I'm dying for this dress with the gold sequins!). For this look, I wanted to add a pop of color so I chose YSL lipstick in the color "le fuschia." I only wish I owned a clutch or bag in the same fuschia color to go with it!
This week will be SUPER busy for me. I have a lot to do at work and on Tuesday I'll be traveling to Atlanta for some New Year's Eve fun! On Friday, I'm having a small surgery at the dermatologist in Charlotte. I hate, hate, hate needles and doctors so I will definitely be freaking out a bit! Anyways, what are everyone's NYE plans?