Good morning (errr, afternoon!) everyone. I wanted to write an updated post on my second trimester and how it's going. Before getting pregnant, I had visions of absolutely loving pregnancy… of having glowing skin and lots of energy. I had only heard my pregnant friends talk about the positives of being pregnant… but not a lot of the negatives. While I'm so so thankful to be pregnant, there are some days (and weeks), where it is really NOT enjoyable! However, I think the longer I've been pregnant, the more I've come to love my changing body – and I've learned some tricks to make myself more comfortable. The aches, pains, growing breasts and acid reflux are all incredibly real, and while it's such a miracle to be growing a human life inside of you, it's certainly not all rainbows and butterflies!
Now on to your questions 🙂 By the way, I am 24 weeks along right now and due January 13, 2021!
Q: I'm 7 weeks pregnant and wondering if the fatigue and food aversions go away?
Yes, they go away! I started feeling better around the week 15 mark, and then by week 16 I felt back to my normal self. You honestly don't even realize just how bad you feel until you feel normal again! All of you pregnant mamas in your first trimester, hang in there. The nausea, food aversions and tiredness really do go away. I feel like I have more energy right now than pre-pregnancy.
Q: How are you dealing with your body changing? Is it mentally challenging?
At first, yes! I think every woman who has been pregnant before can agree with me, that you feel like your body is not your own anymore (and let's be real: it's not! You are sharing it with another tiny human, haha). It's not just the weight gain or body changes, it's feeling like you just don't have any control at all over what happens to you: the back pain, acid reflux, extreme hunger and tiredness… it's all out of your hands and really out of your control. I think what has helped me the most mentally has been continuing to work out and eat healthy every week. Even though my body is changing and I'm gaining weight, it's all for an amazing reason, and I know that I'm doing everything I can to stay healthy and strong.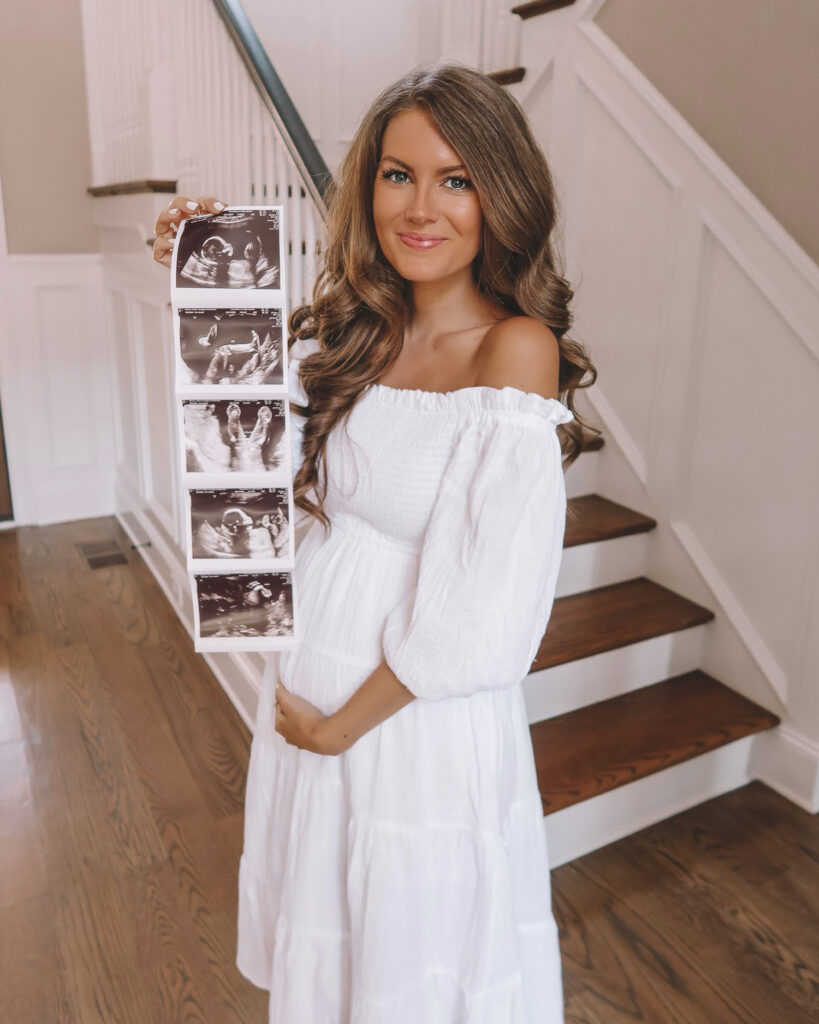 Q: When did you feel your baby kick? And has Chris been able to feel the kicks yet?
I started to feel the baby's kicks around 17 weeks. At first, it almost feels like little muscle spasms (at least, that it was it felt like to me!). Or someone is just gently poking you from the inside. She has gotten more and more active since then. One night I had an Airhead after dinner and she went CRAZY, hahah! It felt like she was doing a gymnastics routine in my stomach. Chris was able to feel the baby move around 19 weeks, and we can both see her movements in my stomach now! It so weird to see her kicking and moving around in there. I will say that the kicks and movements are the absolute BEST part of pregnancy! The constant reminder that she's there is truly the most wonderful feeling in the world, and I know I will miss her being in there when she's finally here.
Q: What is your workout routine? What type of workouts feel the best during 2nd trimester?
To be honest, I did not exercise much in my first trimester! I felt tired and nauseous a lot of the time, and was also scared to work out and do something "wrong" that could lead to Diastasis Recti. I also experienced a ton of lower back pain during my first trimester. At my 18-week ultrasound appointment, I talked a lot with my doctor and he recommended continuing my pure barre workouts – in addition to keeping my muscles strong, he said it would also help my back pain. I was so happy to hear that (pure barre focuses on a lot of core and ab-strengthening exercises, so I had purposefully been avoiding it). After getting his blessing, I went home and did a pure barre workout that afternoon. Ever since then I've tried to do three classes a week… and honestly it has helped me SO MUCH! My lower back pain has improved and I also feel better mentally on the days that I work out. On the days that I don't take a pure barre class, I either do an Obe Fitness prenatal stretch class or this prenatal yoga routine. I still walk a lot, too… I try to take one walk in the morning and one in the evening every single day. Staying active in my second trimester has been the number one thing that has helped me feel good, both physically and mentally.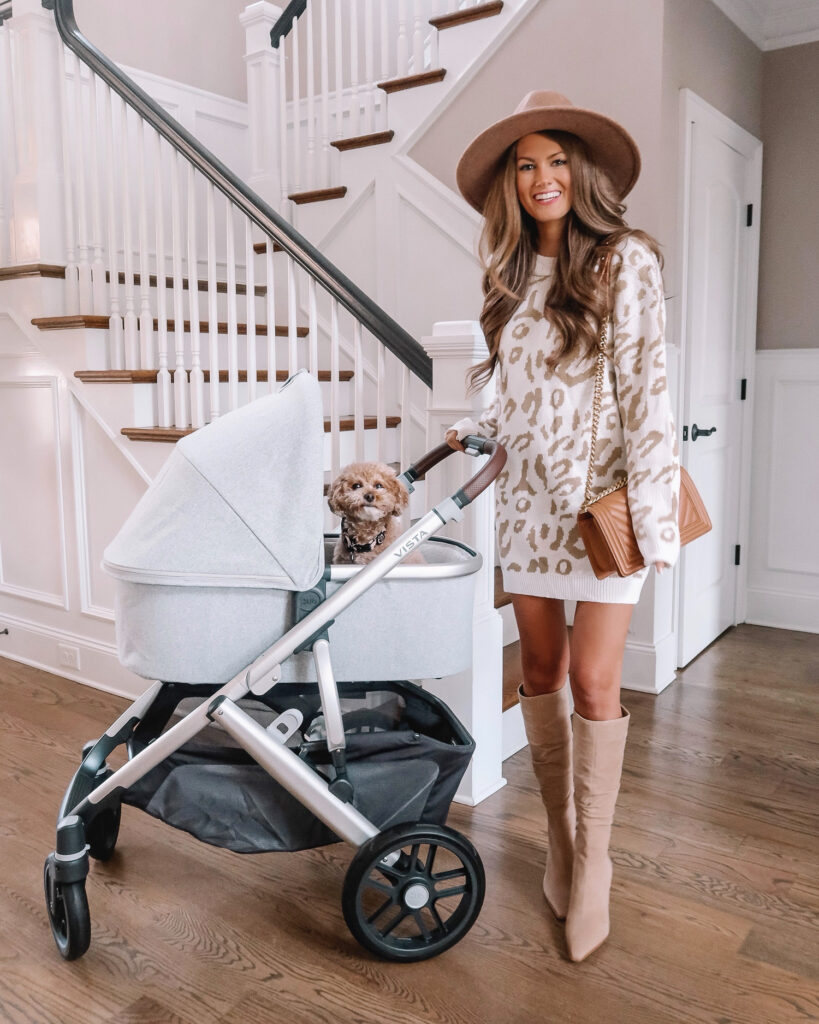 Q: Which stroller did you choose?
We actually got two strollers, because one was gifted to us! We purchased the Uppababy Vista V2 stroller based off of the recommendations from our friends and family, who all swear by this stroller and especially the bassinet. I can't give a full review yet (since baby isn't here), but it seems really easy and intuitive to use, it's beautiful, and it rolls really easy. The only thing I'm a little concerned about is lifting the seat and bassinet with a baby inside – it feels heavy just without the baby! We also received the Doona Infant Car Seat and Stroller combination as a gift, which I'm so excited for. I only have one friend who has the Doona, and she says it's the absolute best. I mean, she really raves about it. It's incredible light, and it pops out of the car and transforms into a stroller in no time at all. My friend says she's able to get her baby in and out of the car in a few seconds, without any struggle. I'm looking forward to trying both!
Q: Body wash you recommend during pregnancy? And what have you been using for stretch marks?
I've been using this body wash because it's made with "clean" ingredients. For stretch marks, I have been LOVING this belly butter (if you follow me on Instagram, you already know about this). It doesn't have any water or fillers, or preservatives… it's literally made with the purest ingredients, which you want if you're going to be rubbing it all over your baby belly! It's a super thick butter, so I melt it in between my hands a little bit before applying on my stomach, breasts and butt. I think whether or not you get stretch marks has a lot to do with genetics, but keeping your skin moisturized and elastic certainly helps. This is definitely TMI but I'm just going to put it out there, I also ordered this olive oil butter specifically for my perineal area. I've had a few friends who said that keeping this area moisturized and massaged help reduce tearing during labor.
Q: What do you love most about being pregnant that no one talks about?
Well I love the baby kicks, but I think everyone talks about that. 🙂 Personally, I love my bigger boobs! I have always had an A or AA cup, and right now I'm a full B. I had to ditch my push-up bras at the beginning of the first trimester. Although, I will say, it's harder to dress! I can't wear a lot of the same summery tops that I used to, because my boobs feel like they're spilling out!!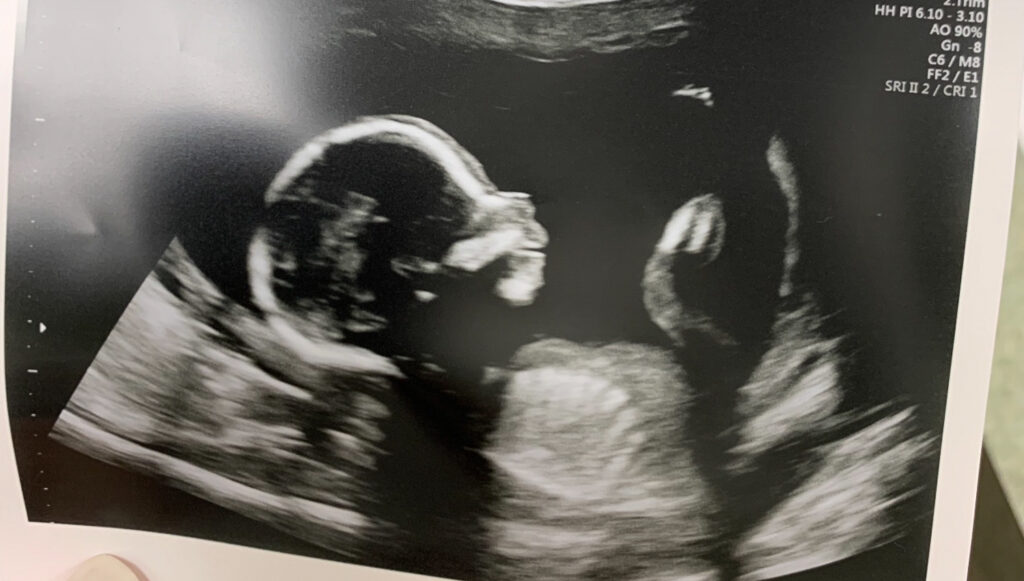 Q: Do your pre-pregnancy jeans still fit?
That is a big fat NO!!! Hahah. Even the jeans I bought from the Nordstrom Anniversary Sale, that I sized up in, are too small now. I already think jeans are pretty uncomfortable, but wearing too-tight jeans when you're pregnant is the WORST! I will definitely invest in a pair of maternity jeans soon.
Q: Are you nervous to give birth?
My whole life, I have never been nervous to give birth. But I have to admit, now that there's a ticking clock and countdown to labor, I'm starting to think about it more and more. It's a little nerve-wracking! I've heard some beautiful birth stories and also some horror ones. No matter how much you "plan" for the perfect birth, I don't think it ever goes according to plan. I've accepted that and am doing my best to give it over to God! As long as the baby gets here and is healthy, then however she gets here doesn't really matter to me.
Q: What birth courses have you done/will do?
We have hired a local doula to assist with birth, and they have an online class that we are going to take! We also plan to watch some of the videos by Spinning Babies as I've heard they're amazing and really helpful.
Q: Are there any not cute pregnancy things (relating to your body or mood) that no one tells you about?
Ummm YES. So many things. Every week I experience a new symptom that is pregnancy-related, that I had no idea about! I've experienced a lot of lower back and tailbone pain, to the point where I could not sit in my car for more than five minutes without pain. I ended up ordering this special pillow and a few others that I keep around the house and in my car. I also found out the hard way that constipation makes my tailbone pain worse. And guess what? When you're pregnant, you're pretty much constipated ALL THE TIME! An increase in the progesterone hormone during pregnancy causes all of your muscles to relax, including your intestines. My hips and ribs also hurt a lot, and within the past couple of weeks I started experiencing a new symptom: acid reflux. I have to be super careful with my food choices right now, because one wrong choice and I will have acid reflux for the next 24 hours (mine feels like the acid is splashing up on the back of my throat and leads to my throat feeling sore.) One more thing I will mention and then we won't speak of it again: when you're pregnant, all sorts of things come out of your body. Invest in some organic panty liners and there you go – we won't mention that again. 🙂
Q: Remedies for constipation?
If someone has a different remedy for this, please let me know! I started drinking a small cup of coffee every morning in my second trimester and it definitely helps keep things regular.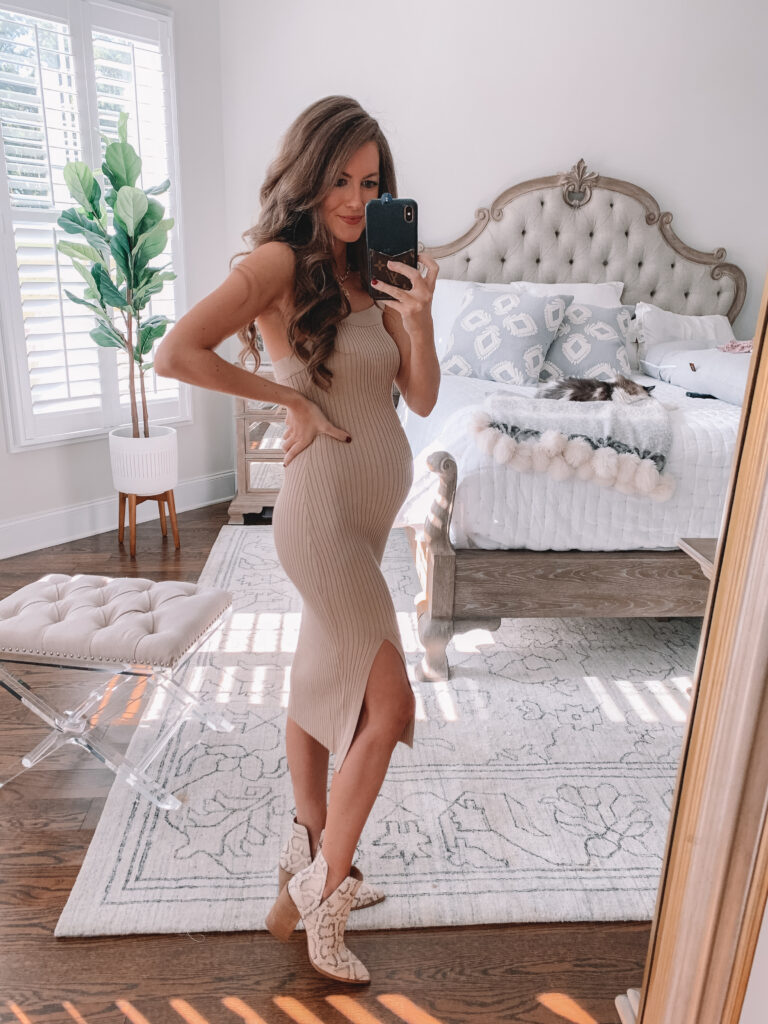 Q: Did you end up getting the Snoo?
We decided not to get the Snoo! Every mama has to make the best decision for themselves and their babies. For us, we decided that we would prefer to get the baby on a sleep schedule early on and hopefully she will learn to fall asleep on her own, without a machine to help her. We plan to take the newborn sleep class by Taking Cara Babies in my third trimester. My friend swears by this class and says it helped them so much, even during her baby's four-month sleep regression. I also worry about EMFs and having too many wifi devices close to the baby's head, so I prefer to buy a traditional bassinet and just not have to worry about it. Like I said, though, every mama has to do their own research and make the best choice for them! Who knows, our baby might be a terrible sleeper and I will end up ordering it one night at 2 a.m. in desperation – you never know!
Q: Are you still taking the same prenatal vitamins?
Nope, I'm actually not! The Ritual prenatal vitamins finally came back in stock, so I ordered those and am taking those now. The only reason I switched is because the Ritual ones contain all of the same vitamins and minerals, PLUS choline and DHA (which my other vitamins did not have). And you only have to take two per day instead of three, which is easier for me to remember.
Q: Have you found any maternity clothing wins?
Another tough part about pregnancy is feeling uncomfortable in your clothes – and feeling as if you have nothing to wear! I've had the hardest time with workout clothes and pajamas. Early on, all of my pre-pregnancy workout clothes felt SO tight and uncomfortable. I worked out a few times in my pajamas because I simply didn't have anything that fit! And then when your pajamas start to get too tight – that is a whole other problem, hahah. I ordered these Lululemon Align leggings and shorts in a size 6 after a recommendation from a friend. They are technically not maternity, but since I ordered a few sizes larger than normal, they fit perfectly and aren't too tight on my bump. I wish I had ordered more pairs, because they are literally the only workout bottoms that feel comfortable to me right now! As for pajamas, I am head-over-heels in love with these maternity sleep shorts – I really might order ten more (not kidding). They are so soft and don't hurt my stomach at ALL – you can either wear them higher up on your bump or fold them down. I can finally sleep well at night because I have the right pajama shorts, now! (And no, I have never been one to sleep in just an oversized tee or dress. I HAVE to wear shorts!)
Q: Second trimester must-haves?
I can dedicate a whole post to this if you want, but here are a few of my must-haves for second trimester (some I've mentioned throughout this post!):
I plan to do a blog post on what we're adding to the baby registry, but let me know if you want to see anything else in particular! 🙂