You guys already know that Chris and I have been on a journey to "cleaner" living, and especially now that I'm pregnant! But that doesn't mean I want to give up one of my favorite fall pastimes: burning FALL CANDLES! There's just something about the flicker of a fall-scented candle that brings me comfort and happiness. Since typical scented paraffin candles can release petroleum and formaldehyde into the air, I have been on a search for some non-toxic alternatives that still smell just as good. I ordered a bunch of nontoxic candles from several small businesses and have been testing them over the past couple of weeks, so today I wanted to review my five favorites!
I was looking for candles that are either made from soy or beeswax (or a blend of both), cotton wicks, and essential oils. No phthalates or petro soot allowed. And the number one requirement? They must smell good!
*Disclaimer: a lot of the non-toxic candles are lightly scented and simply do not fill an entire room with a scent. They still smell good and are just as cozy, but it's something to keep in mind when you are shopping, so that you're not disappointed!*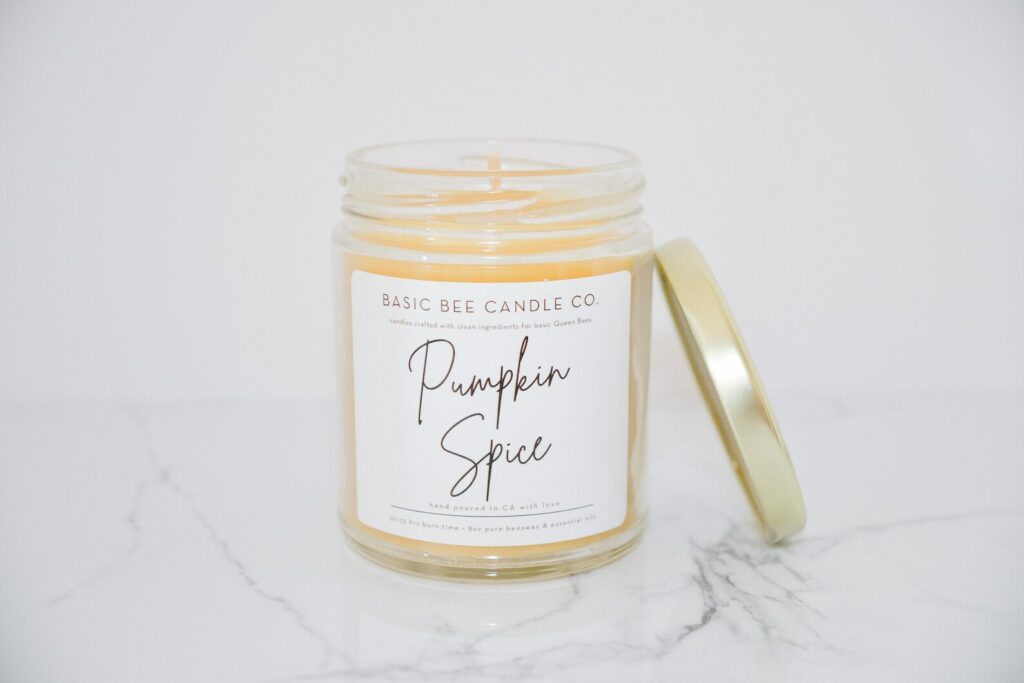 Scent: 5 out of 5
How well it fills the room: 4 out of 5
Ingredients: 5 out of 5
How long it lasts: 5 out of 5
Overall: 5 out of 5
I thought I'd start out with a tried-and-true favorite. 🙂 The "Pumpkin Spice" candle by Basic Bee Candle Co. is my favorite scent: a rich, warm aroma with lots of fall spices like cinnamon and nutmeg… it pretty much smells like a pumpkin pie fresh out of the oven. The scent is really fresh and natural, and I could tell it was made with natural ingredients. In fact, out of all the candles, I think this one is made with the best ingredients, as it's made with pure beeswax from happy California-raised bees and PURE essential oils (no fragrance oils of any kind). Even though it's a pretty small jar, it lasts for a LONG time with one candle providing 30-35 hours of burn time. Like most candles made with essential oils, the smell while it's burning is not overwhelming and certainly won't fill your entire house, but I still think this one filled an entire room. I absolutely love this one!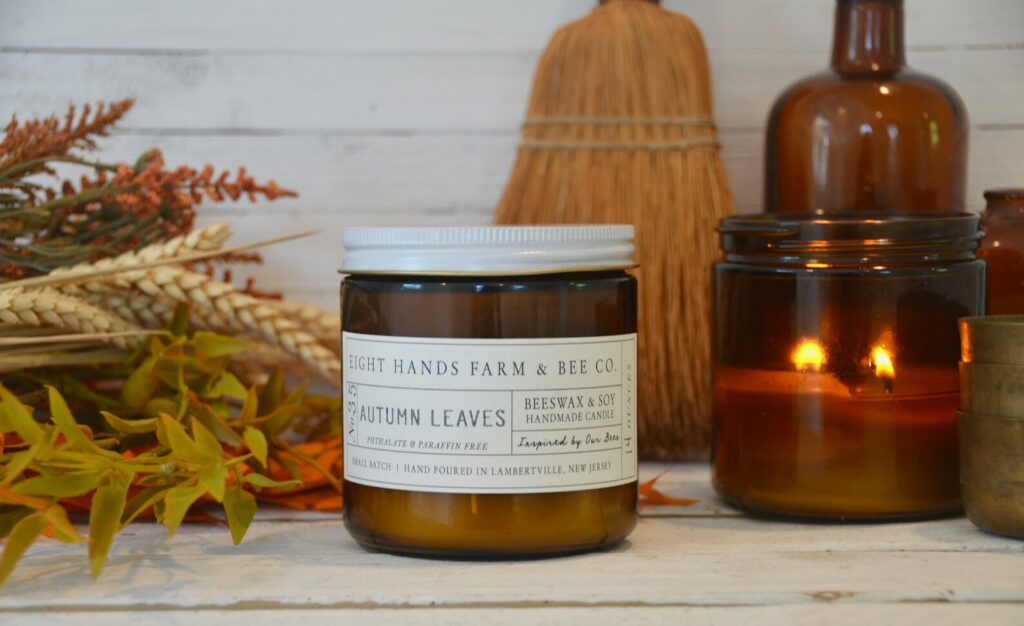 Scent: 4 out of 5
How well it fills the room: 5 out of 5
Ingredients: 4 out of 5
How long it lasts: 5 out of 5
Overall: 4.5 out of 5
This is another one of our favorites because it really fills an entire room with scent! The "Autumn Leaves" scent is a crisp fall fragrance with notes of fruit and spices, and really reminded me of a Bath and Body Works scent, although I couldn't put my finger on which one. All candles by Eight Hands Farms are made with a combination of pure beeswax and 100% soy wax, as well as a phthalate-free premium fragrance oil and two cotton wicks. As far as their ingredients go, I'm skeptical of the "fragrance oil," but their website says their candles don't contain paraffin or pthalates, nor do they produce petro soot. Although I liked the scent, I think there is something a tiny bit "artificial" about the scent – I can tell that it's not made with pure essential oils. On a positive note, though, I will admit that this one was my favorite aesthetically: it comes in an apothecary style amber glass jar that gives a beautiful glow when lit.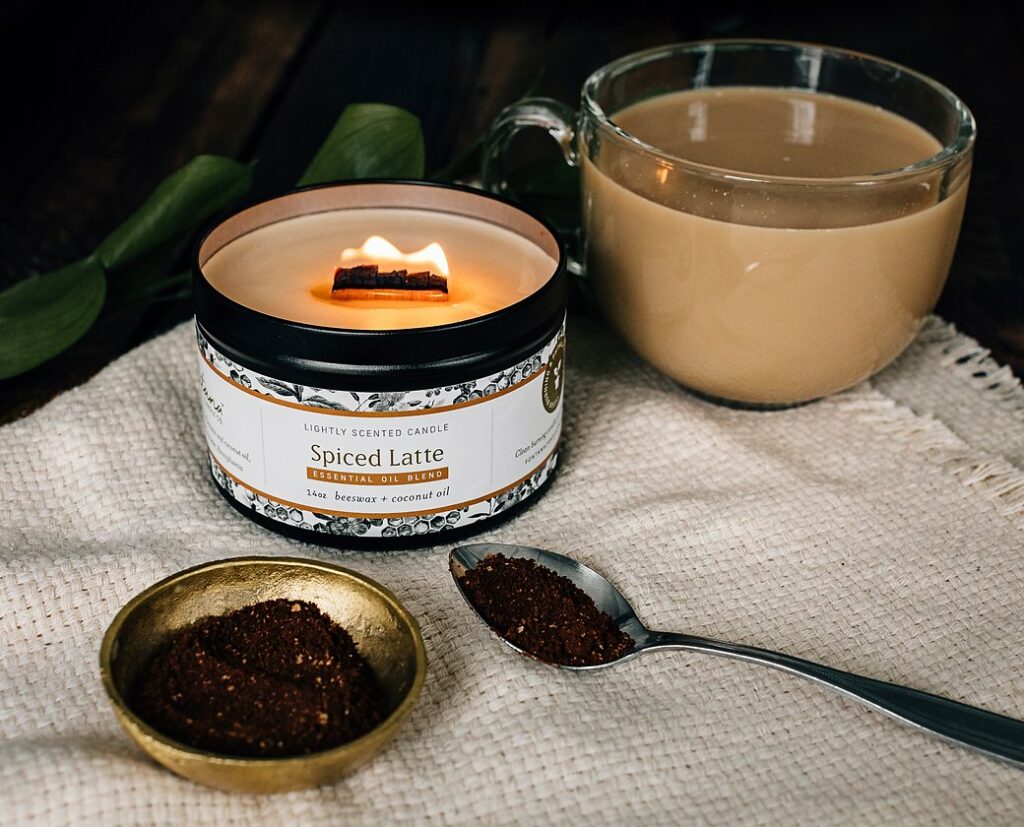 Scent: 4 out of 5
How well it fills the room: 3 out of 5
Ingredients: 5 out of 5
How long it lasts: 3 out of 5
Overall: 4 out of 5
This candle does not really smell like coffee to me, but it does smell like fall with hints of ginger, nutmeg, and clove. It wasn't my favorite scent out of all the candles, but I still really liked it. This candle has super clean ingredients, which include pure beeswax and coconut oil mixed with therapeutic grade essential oils. The website warns that because it's scented only with essential oils, it will not fill an entire room with scent, so we were prepared for that! I could smell the candle if I had it close to me, but not from far away. All Fontana Candle Co. candles come with a single wooden wick that crackles when it burns – which is really nice if the candle is close enough for you to hear it. This candle requires some maintenance, since you have to trim the wick to 1/4″ after every burn (no special tools are needed – you can just snap off the burnt end with your fingers). Since the ingredients are so clean, I rated it pretty high at 4 out of 5 stars.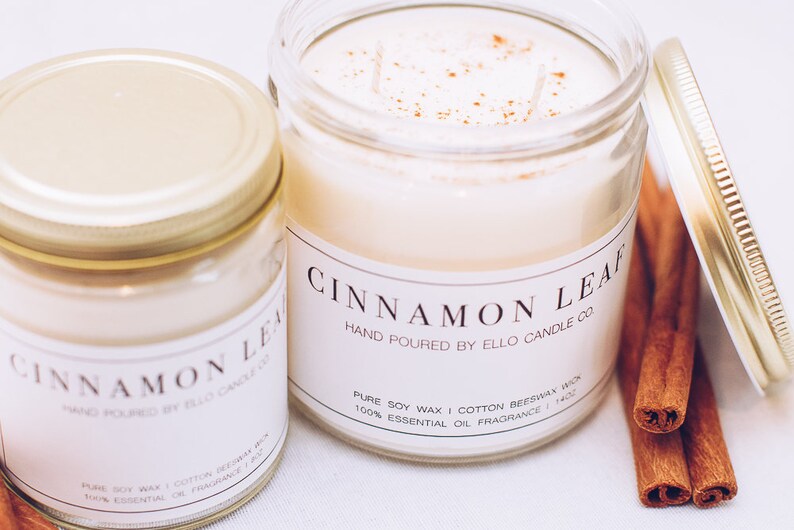 Scent: 4 out of 5
How well it fills the room: 3 out of 5
Ingredients: 5 out of 5
How long it lasts: 5 out of 5
Overall: 4 out of 5
If you like the smell of cinnamon, then you will love this candle! It smells like one big cinnamon stick, and even comes with real cinnamon sprinkled right on top. I thought this one did a pretty good job of filling up a room with scent, and especially if you burn it in a smaller room like a bedroom or bathroom. All of Ello Candle Co's candles are made with pure soy wax and are completely paraffin free. They use cotton-braided wicks coated in white beeswax and scent their candles with 100% therapeutic grade essential oils – there are absolutely no synthetic fragrances in their candles and they are all derived from natural plant sources. The website describes the "Cinnamon Leaf" candle as "stimulating, warming and energizing," which I think is an accurate description.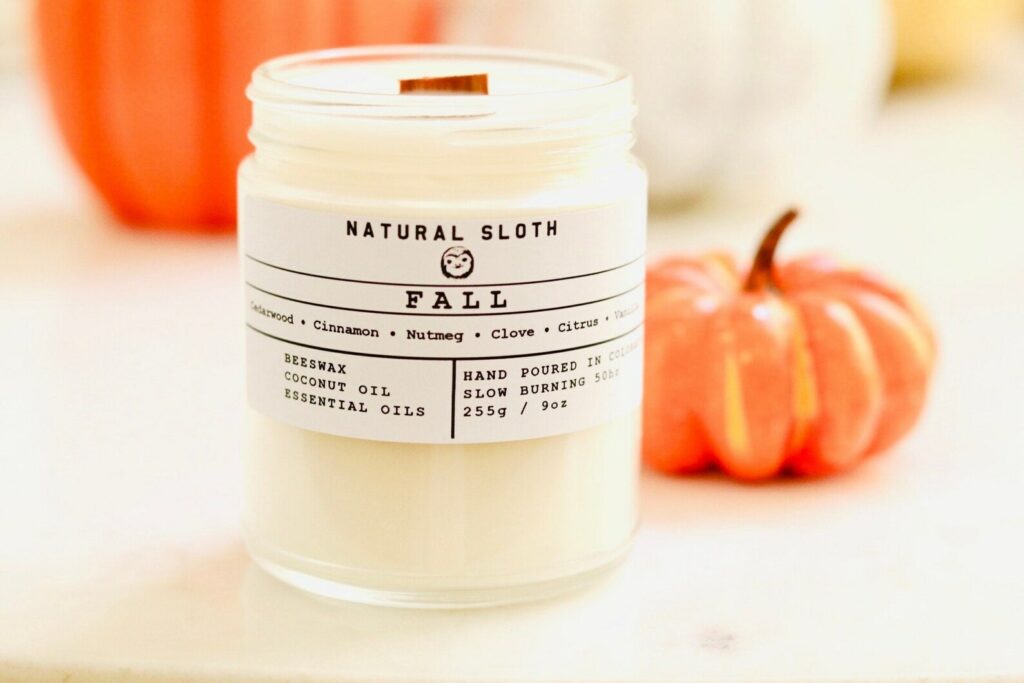 "Fall" by Natural Sloth
Scent: 4 out of 5
How well it fills the room: 1 out of 5
Ingredients: 5 out of 5
How long it lasts: 5 out of 5
Overall: 3.5 out of 5
I really loved the scent of this candle, but unfortunately could not smell it at all once the candle was lit! When it's not lit, it smells like cedarwood, cinnamon, nutmeg, clove, citrus and vanilla. The wooden wick does make a nice, loud crackling noise that's incredibly soothing. Made with therapeutic essential oils, 80% beeswax and 20% coconut oil, this brand is non-toxic and clean-burning. Each candle is hand-poured into the recyclable, glass jar in small batches to maintain the natural ingredients' quality. This was the longest lasting candle ever – the approximate burn time is 50 hours. The only negative to this candle is that after the first burn, I blew it out and put the lid on top to hold in the smoke, and then the entire candle seemed to soak up a smokey smell. This dissipated with the next burn, though.
I'd love to know if you already have a favorite non-toxic candle company – let us know in the comments below!