A few weeks ago we vacationed at Sunset Key Cottages in Key West, Florida. I researched for WEEKS (no joke) to find a place that was within the United States, baby-friendly and also COVID-safe. I did not want to stay in a crowded high-rise hotel, nor did I want to travel out of the country… but I also wanted to find a location that was warm in February and would provide a break from the snow and ice. And, we basically found it all in Sunset Key! Sunset Key is a secluded 27-acre island off Key West and is accessible by a short ferry-ride. There were a few downsides (which I'll get to), but all-in-all we had a WONDERFUL trip and Kennedy absolutely loved it as well! My only regret was that we didn't stay longer.
I'm rounding up the outfits I wore below, but scroll on for the full review!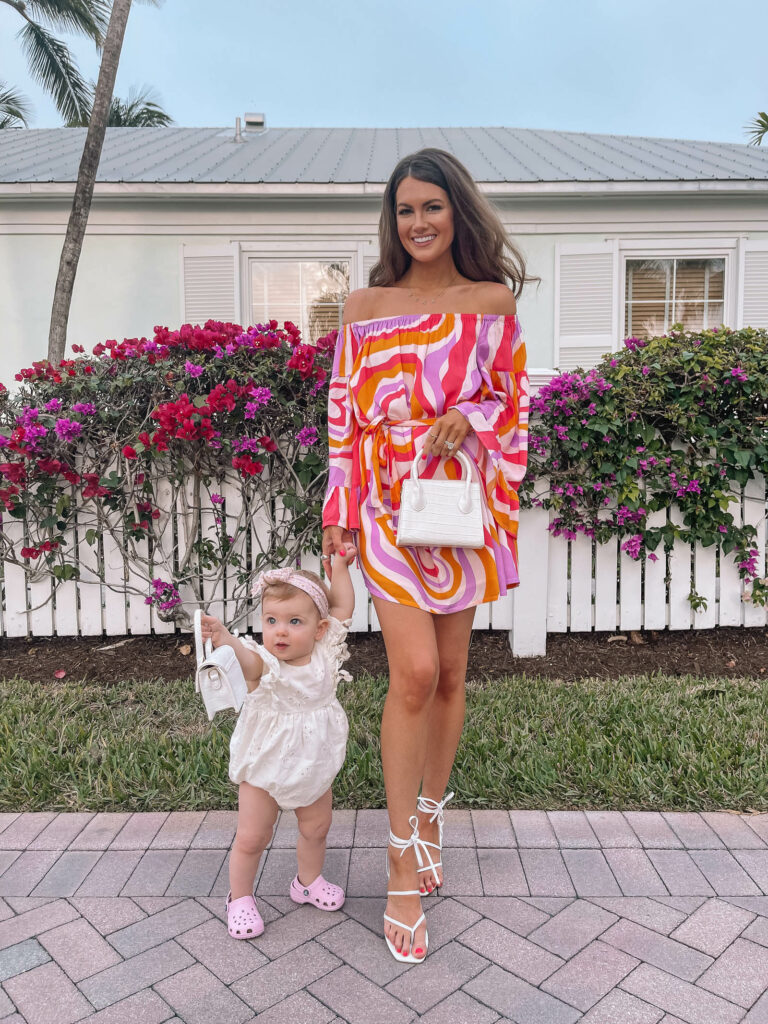 On me: Sundress Adina dress // RAYE Syrah heels // Amazon purse // On Kennedy: white eyelet baby romper // baby crocs // Amazon purse // daisy headband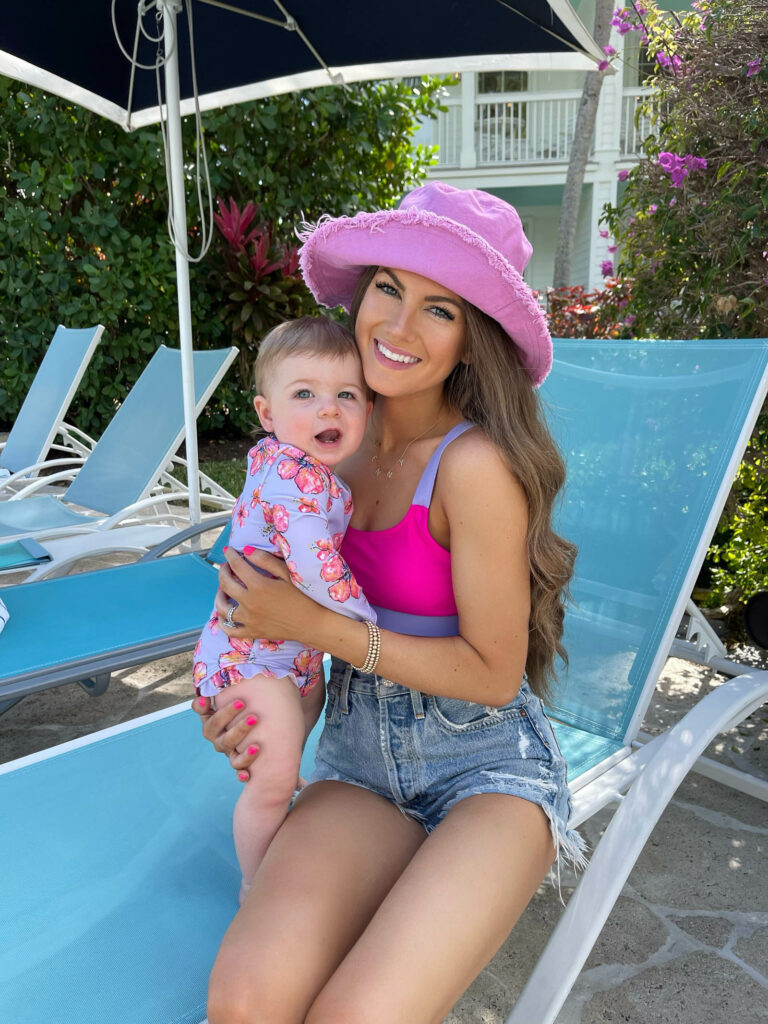 On me: Amazon swimsuit // Amazon bucket hat // Agolde Parker Vintage Cut Off Shorts // On Kennedy: Coco Moon Hibiscus long sleeve swimsuit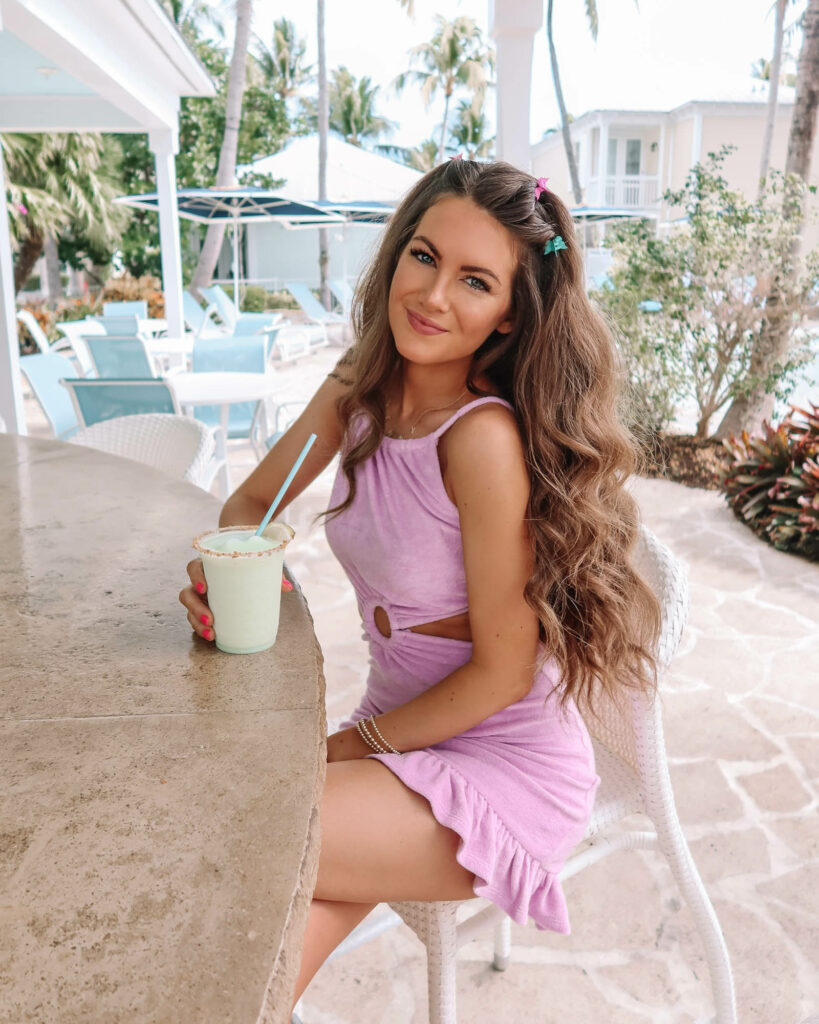 Majorelle Devyn Mini Dress // butterfly clips // beaded bracelets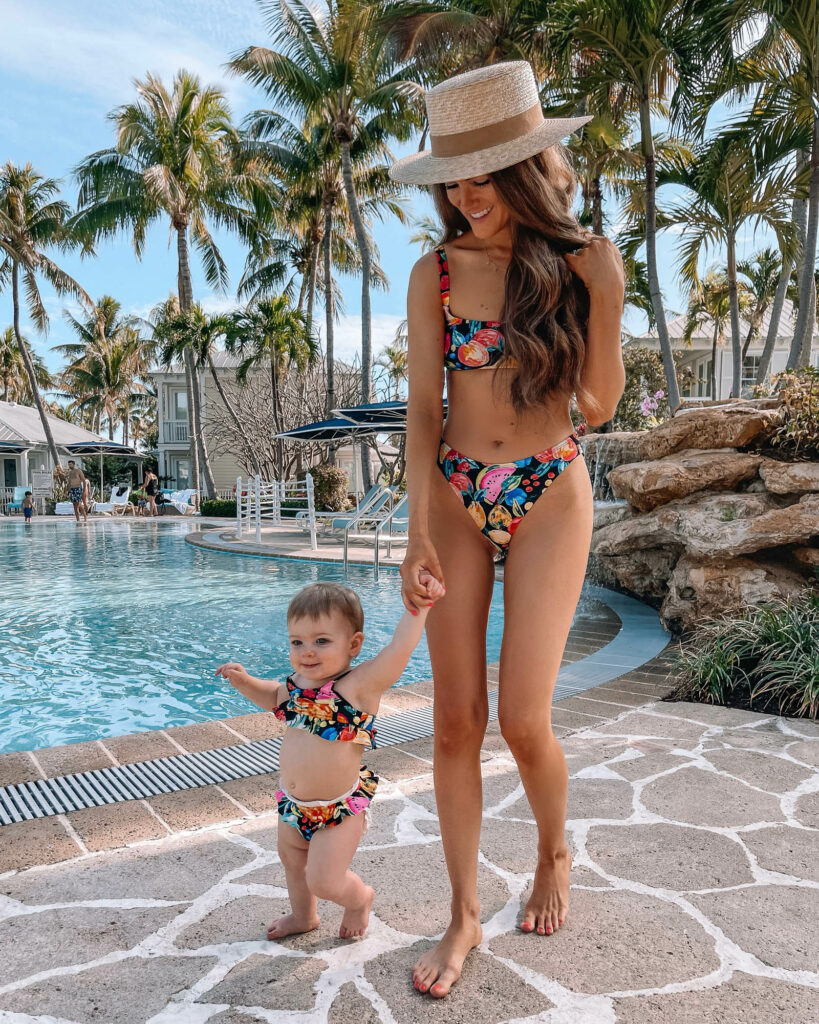 On me: Oceanside bikini top // Monterey bikini bottoms // Lack of Color The Spencer Boater Hat // On Kennedy: Magnolia May Two Piece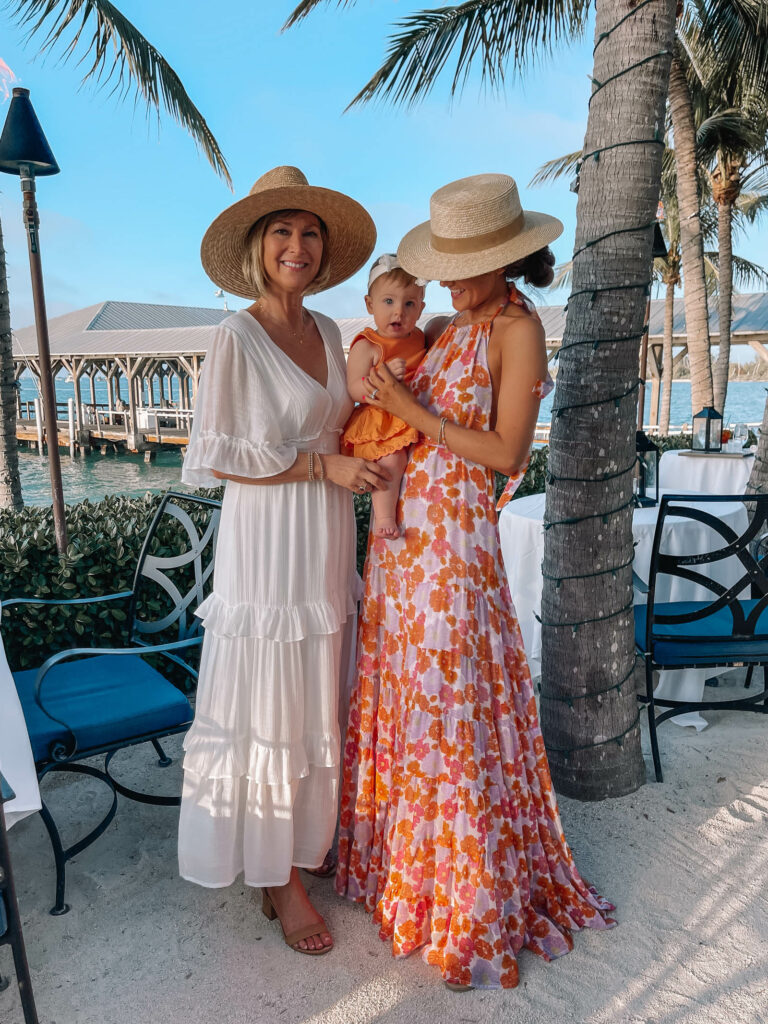 On me: Sundress Rosalie dress // Lack of Color The Spencer Boater Hat // On Kennedy: Seed Heritage tiered cotton dress // white headband
Here's my full review of the resort, below!
Room
The "rooms" at Sunset Key Cottages are actually individual cottages. There are several to choose from, including two-bedroom, three-bedroom and four-bedroom cottages, but all are equipped with multiple bathrooms, a full kitchen and dining area, living room and porch. We chose to stay in a three bedroom oceanfront cottage, which was two stories and had a beautiful view of the turquoise ocean water. The grounds of the resort are immaculately kept – there was not a single palm leaf out of place! – and flowers grow abundantly everywhere you look… but the inside of the cottages told a different story. I think some of the cottages have been redone, but ours felt a little out-of-date and run-down inside. The inside was spacious and we LOVED having a kitchen and full-size refrigerator, however the carpet was fraying and the paint was chipping in a few places. If I'm being completely honest with you guys, our biggest disappointment was that we felt like the cleaners forgot to mop the floor before we arrived! Within a few minutes of taking off our shoes and walking around inside the cottage, we noticed that the bottoms of our feet were black with dirt. This is not a comforting feeling when you're bringing along a baby who loves to explore on her hands and knees. Aside from that, though, we really enjoyed the privacy that the cottage offered and everything else about the resort made up what the cottage lacked.
Food
The food was amazing at Sunset Key Cottages! For starters, we were able to pre-order groceries ahead of time. When we arrived at our cottage, all the groceries we requested were already stocked in our refrigerator. They even honored my request to buy everything organic! I cannot tell you how nice this was, especially to have organic milk for my daughter and the ingredients to make her favorite meals.
Another selling point of Sunset Key Cottages is the breakfast baskets that they bring every morning. It is something I missed sorely once we returned home – every morning I would wake up and there would be a new basket outside our door filled with fresh pastries! Every morning was a surprise, sometimes there would be chocolate croissants and fresh oranges, other mornings there would be mini quiches and blueberry muffins. Every single morning's breakfast was mouth-watering and definitely enough for a full breakfast. At night, they also drop off a basket filled with water bottles, fresh orange juice and a sweet treat!
During our stay at Sunset Key Cottages, we dined at two different restaurants: Flipper's Pool Bar and Latitude's Restaurant. Flipper's Pool Bar is exactly what you would imagine: a pool bar offering an array of delicious frozen drinks and "bar food" like pizza, fish tacos, burgers and chicken tenders. The food was great, but the real winner was their Key Lime-Colada! For dinner, we absolutely loved Latitude's. If you're visiting Key West but not staying at Sunset Key Cottages, you should still try to get a reservation! They have indoor and outdoor seating, but if you snag a table outside near the ocean, you are almost guaranteed a gorgeous sunset view. Every drink, appetizer and dish we had at Latitude's was absolutely fantastic, and I can't recommend it enough!
On the topic of food, I thought I would mention the room service as well. We ordered room service for dinner twice because, ya know, traveling with a toddler is tough! There were some nights that we just couldn't make it out for dinner and back by Kennedy's bedtime, so we ordered room service. All of the room service comes from Latitude's restaurant and is just as good as if you were eating it there. The food also came super quick. I always love when a resort has amazing room service and their's can't be beat!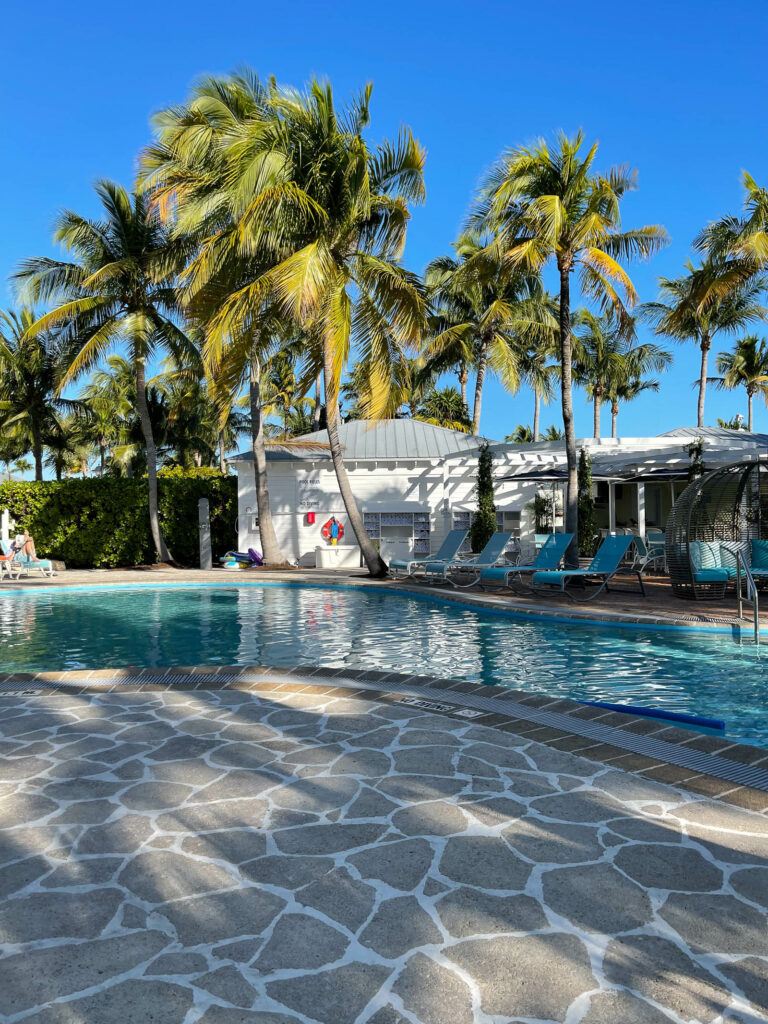 Pool
The pool was definitely the highlight of our trip to Sunset Key Cottages. We spent the majority of our time here, since the beach was a still a little too cold and windy in the month of February. Sunset Key's pool is in the center of the resort and is a great central location to every single one of the cottages. It's also blocked from the wind, so it felt nice and warm to us (whereas the beach felt windy). We had such a great experience because my daughter Kennedy LOVED the pool so much! The pool is zero-entry, meaning it has a gradual slope that creates a seamless transition between land and water. Kennedy could simply walk right in – and she did!
A few other notable things: there are two hot tubs adjacent to the pool if you'd prefer, and Flipper's Pool Bar is located right there, so you can order drinks and dine while taking a break from swimming or sunning. We also noticed that weekends seemed to be super busy at the pool, and some families ventured out early to "save" their pool chairs by placing towels or items on the chairs. We figured this out the hard way because one day we didn't have anywhere to sit, and nearly all of the chairs had towels or someone's belongings on them! The second day, my brother got up early to save chairs for us, and we got to enjoy them all day long!
Beach
The beach at Sunset Key Cottages is absolutely beautiful! We walked along the beach but did not enjoy much time here because of the wind. If we had visited during the peak of summer, I'm sure the wind would be highly welcomed! However, it made the beach feel a little too chilly during our stay there. The beach at Sunset Key Cottages has several tiki huts placed strategically on the sand alongside scenic turquoise chairs. The ocean water was crystal clear and beautiful. If you're planning on enjoying the beach while visiting Sunset Key, I would highly recommend bringing water shoes with you! The beach is quite rocky and would not be comfortable walking barefoot, especially for kids!
Activities
There are a ton of different activities to choose from at Sunset Key Cottages! Besides the pool and the beach, which I've already gone over, Sunset Key also offers a spa, fitness center, complimentary yoga classes on the beach, as well as tennis and basketball courts. The concierge will also help schedule a variety of water activities, such as diving and snorkeling, deep-sea fishing, parasailing and sailing excursions. Before having kids, I preferred to be active on vacations, however it's a little different now traveling with a toddler! My number one goal was to RELAX, so I actually did not take advantage of all the activities that Sunset Key offered. But if I get the chance to come back with Chris, I would love to!
Transportation
Part of the reason I chose Sunset Key Cottages is because it's easy to get to! Key West is an easy, two-hour direct flight from Charlotte, NC (where we flew out of). Upon landing, we took an Uber over to Opal Key Resort & Marina (an 18 minute ride) and then caught the seven-minute ferry over to Sunset Key to check into the resort. Once you've arrived at Sunset Key, you are welcome to hop on the ferry back to Key West at any time – it departs every 30 minutes. We did not venture off the island very much, but it would be easy to catch the ferry to Key West for a meal, shopping or exploring!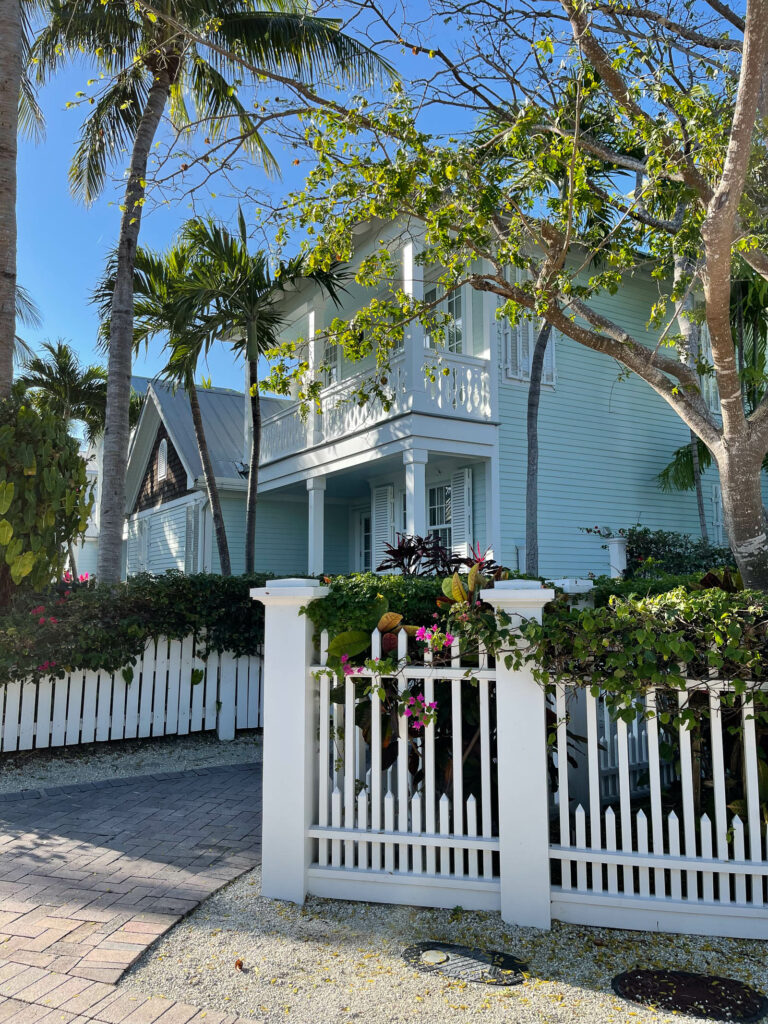 Pros
Sunset Key Cottages is literally the PERFECT place to travel with a baby and/or young children. We loved having an entire cottage to ourself with a full kitchen! Because we ordered groceries prior to our arrival, I was able to cook a lot of meals for Kennedy in our kitchen, as well as serve her fresh fruit! Kennedy loved exploring the cottage and standing out on the deck overlooking the ocean. The staff also placed a crib in our cottage prior to our arrival, so all I did was bring a fresh crib sheet from home. We loved that everything in the resort is close walking distance to each other, so we didn't have to walk long distances to go the pool or restaurant. Every meal we had was delicious, and we absolutely loved our time spent at the pool. It was really wonderful to see Florida through the eyes of my daughter – I could tell that she was soaking everything in and enjoying it SO much. That truly made the trip enjoyable for me as well!
Cons
This wouldn't be a full, honest review if I didn't share the cons of Sunset Key Cottages, as well! Although we had a wonderful time, there were definitely a few cons. The first is that the cottages are very expensive and I didn't think that they lived up to the price! Like I said before, some of the furnishings were outdated and the carpets were fraying (and the cottage was not cleaned to our liking!). Secondly, (and this will only apply to you if you're traveling with kids!), we could not find a good spot for Kennedy's crib in the entire cottage! Whenever we travel, I usually put her crib in a closet or bathroom – somewhere quiet and without any windows so that it stays super dark. This is not a super big deal, but we ended up giving Kennedy an entire room to herself because the crib would not fit in a bathroom or closet. None of the rooms have blackout curtains, either, and do not get truly dark, even at night. I felt like this impacted Kennedy's naps since her room did not get dark. Next time, I will bring our SlumperPod so that we don't have to worry about this! And lastly, the three-bedroom cottage had two stories, but the stairs were a bit dangerous if you have young kids. They were very narrow and steep. To solve this, we kept our suitcases in front of the stairs to keep Kennedy from trying to climb up or down them. This would also not apply to you if you don't have children!
Overall, I would definitely encourage anyone to check out Sunset Key Cottages. If you've visited Sunset Key Cottages in Key West before, I'd love to hear your thoughts!
xoxo