Good morning, you guys!! Sorry for the long absence from blogging – to be honest, it was really nice to take a little break. I think I mentioned in a previous post how the latter half of 2019 was really tough for me and Chris – we decided to "skip Christmas" this year, since being at home would be really sad (and make us think of loved ones who couldn't be with us). Instead, we planned a trip to St. Lucia! I had been to St. Lucia back in 2016 and stayed at Anse Chastenet – to this day it is one of my favorite trips I've ever been on (you can read my review of Anse Chastenet here!), and ever since then I have been dying to bring Chris back. This time, we decided to stay at Anse Chastenet's sister resort, Jade Mountain. Jade Mountain is a little more private and a lot more romantic, but you still have access to all of Anse Chastenet's amenities including their restaurants, beaches and activities (like snorkeling!).
I'm rounding up some of our images from the trip below, but you can scroll all the way down to the bottom of this post for the full review.
This was the view from our room (we stayed in a Galaxy Suite, specifically number JC1). All of the rooms have an amazing view with the fourth wall missing!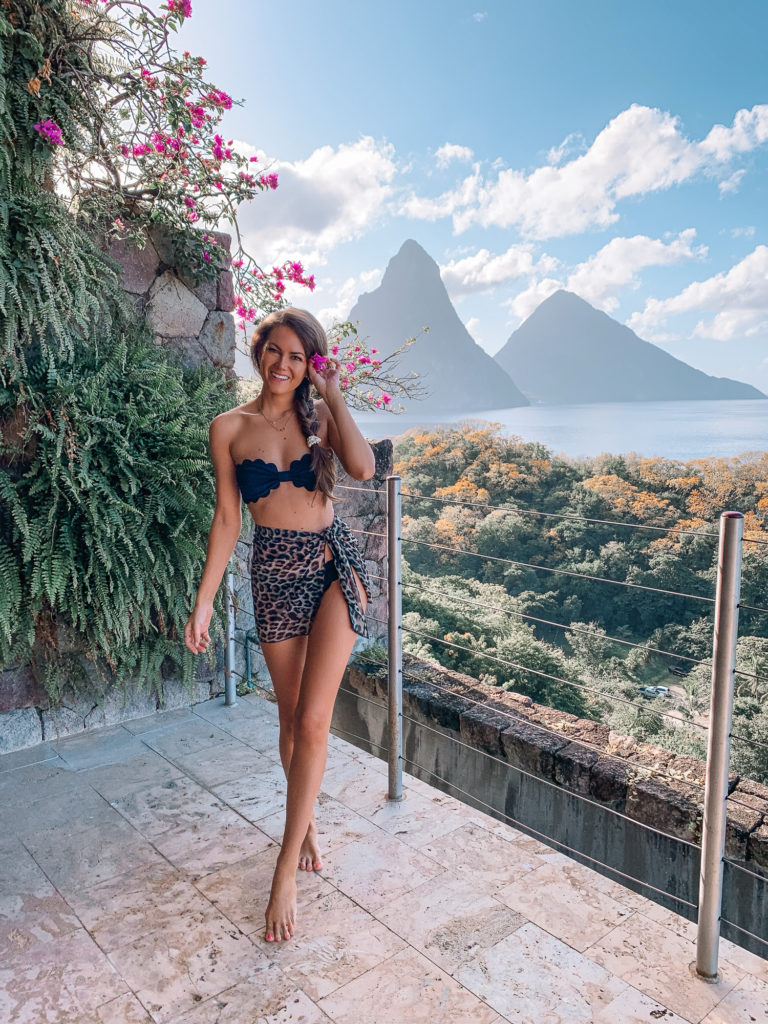 We LOVED the beach – we spent every morning in a cabana relaxing and reading! If you desired a drink or a beach snack, all you had to do was put up your flag in the sand, and a waiter would come over right away.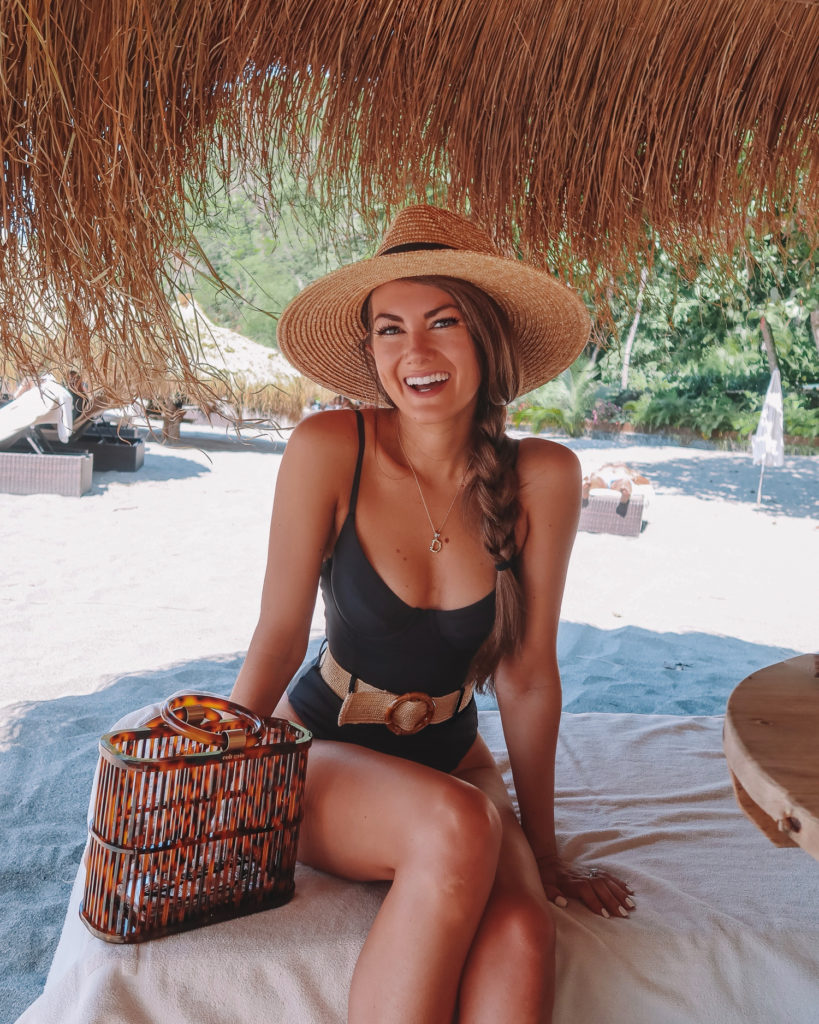 This is the view you have walking to Jade Club, the fine dining restaurant at Jade Mountain. The very top floor is known as the Celestial Terrace, where yoga was held every morning.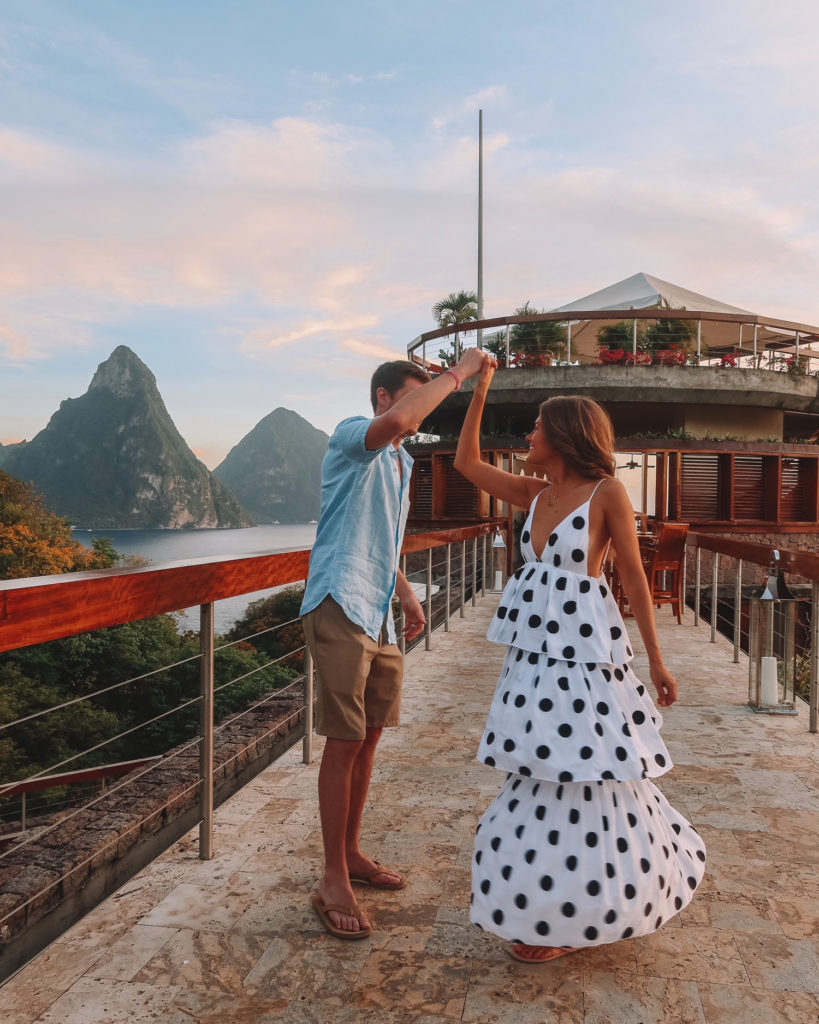 I wore more swimsuits than "real clothes" in St. Lucia – which is definitely the sign of a good vacation!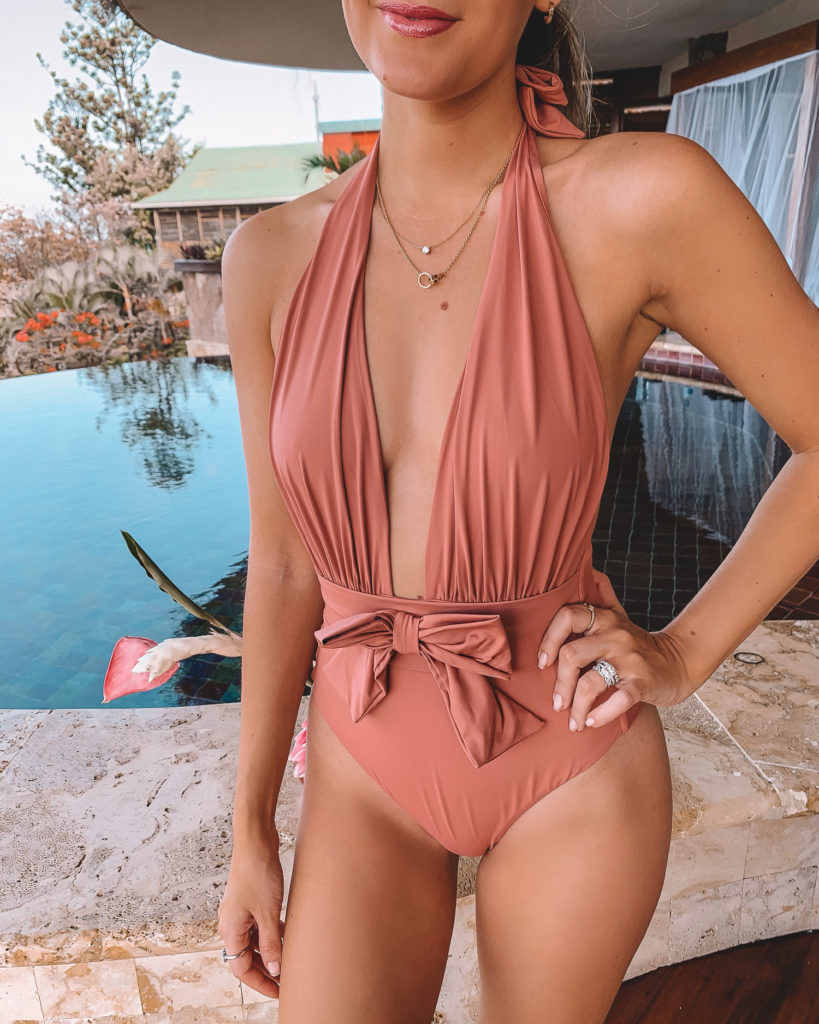 What I wore for Christmas dinner at Jade Club!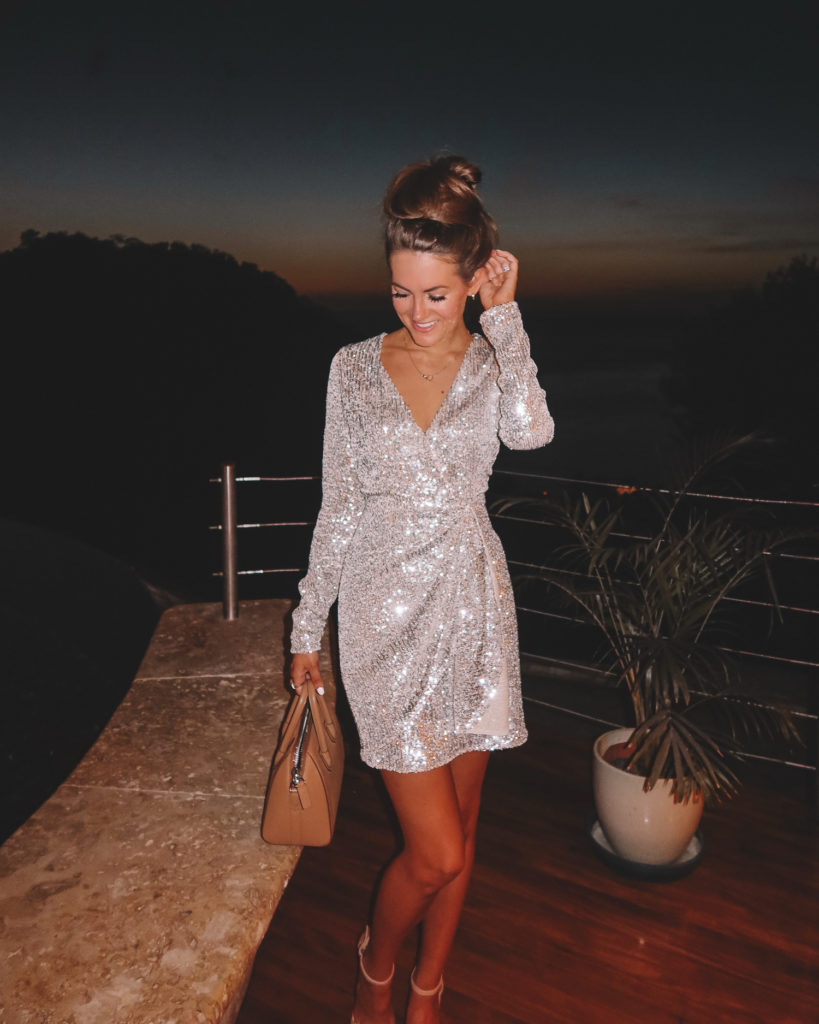 One of my favorite swimsuits I wore on our trip: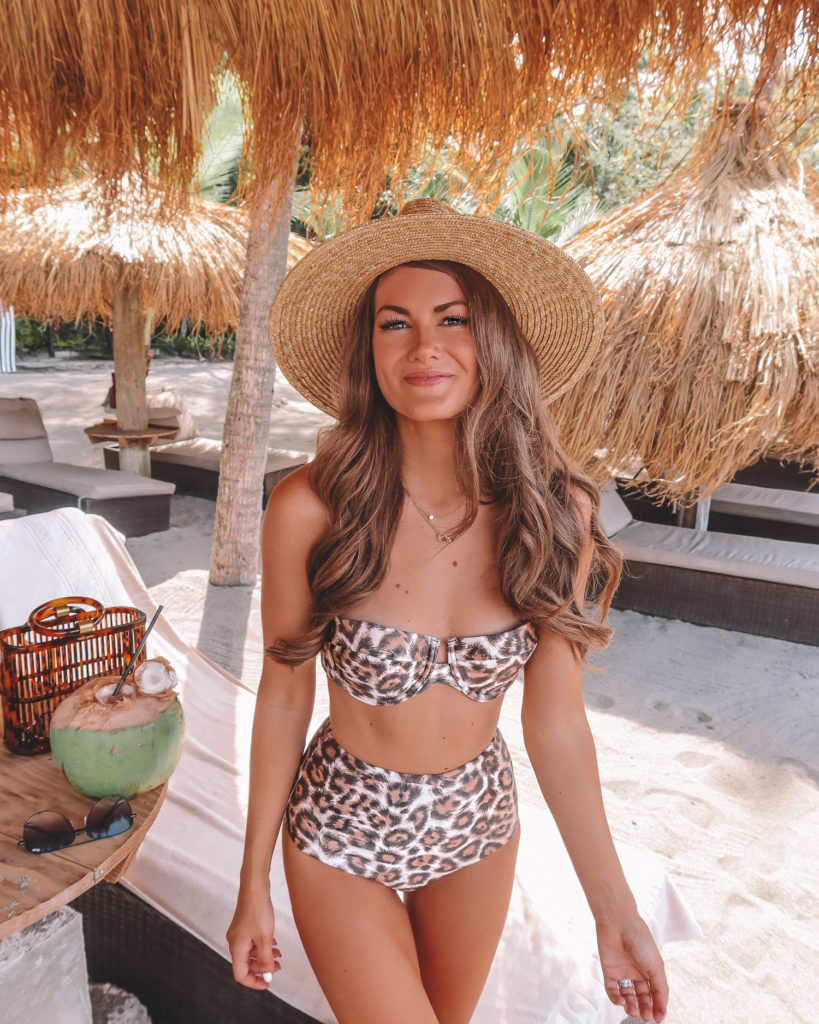 The view from our room!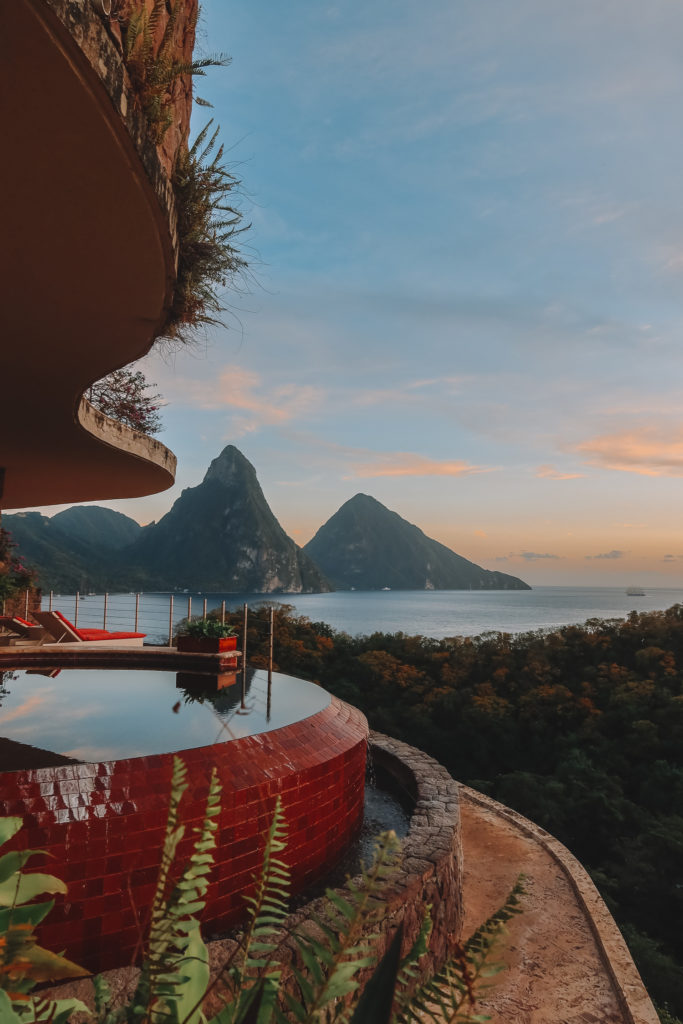 Overall, we LOVED our stay at Jade Mountain! It was one of the most incredible resorts I've ever stayed at, and I would highly recommend it for a romantic vacation and especially for a honeymoon! Let's get on to this review, shall we?
Room
All of the rooms at Jade Mountain are incredible. They call the rooms "sanctuaries," and there are several types to choose from, ranging from the Star Sanctuary (with the smallest infinity pool) to Galaxy Sanctuary (with the largest infinity pool). As you can guess, the bigger the pool, the higher the price. We initially booked a Sun Sanctuary, but they upgraded us to a Galaxy upon arrival, which was amazing! (In case you're wondering, our specific room number was JC1.) Since none of the rooms have a fourth wall, you can hear the sounds of nature and birds chirping at all hours (which is really relaxing, I promise!). We woke up every morning to a beautiful sunrise, with the sound of birds and fresh sea breeze blowing into our room. We had a comfortable bed, two wardrobes, a full-length mirror, a shower, jacuzzi bathtub, two lounge chairs, a sitting area, fridge, and a beautiful infinity pool. Every night, someone would come in and light candles and arrange the mosquito net over the bed so you didn't have to worry about bugs getting in while you slept. In case you want a little room tour, there is one saved on my "St. Lucia" highlight on my Instagram page. We really loved our room, but you can't go wrong because every single room at Jade Mountain offers a breathtaking view of the Piton mountains.
Food
The food was definitely one of the highlights of our trip! We chose the All Inclusive meal plan when we made our reservations on the website, which includes breakfast, lunch, dinner, snacks and most alcoholic beverages (excluding a few nicer bottles of wine and specialty cocktails). It was really nice not having to worry about how much the meals were costing or trying to keep up with bringing a credit card or cash with us to every restaurant. The quality of the food at Jade Mountain was utterly outstanding, and to my joy, almost everything on the menu was organic and the fish were all wild-caught. A lot of the vegetables are grown on the island, and Jade Mountain gets most of their ingredients from their own organic farm called Emerald's, including organic salad leaves, micro greens, vegetables and herbs. Jade Mountain has it's own fine-dining restaurant called Jade Club on the top floor of the resort – we ate most of our dinners there because we loved the food! Staying at Jade Mountain also gives you access to all of the restaurants at Anse Chastenet, including their restaurant on the beach called Aspara, which was our favorite. We ordered room service for breakfast every morning, and for lunch, we either had lunch delivered to our beach chairs or we walked over to the second beach, Anse Mamin, to dine at the beach-front Jungle Bar and Grill, offering some of the best burgers on the island (and if you don't eat meat, they also serve a mean veggie burger!). We thought all of the food was fresh, healthy and absolutely delicious. If you're looking to go on vacation and eat a lot of junk food – sorry, you won't find it here! They didn't have any prepackaged or processed foods at the resort (the one "junk food" item I did eat on the trip was french fries, I couldn't resist those!).
Beaches
Staying at Jade Mountain gives you access to the two beaches at their sister resort, Anse Chastenet. The beaches are unlike any I've ever been to before, because they have BLACK sand! The Anse Chastenet Beach is the quintessential Caribbean resort beach – we spent every day here laying on cozy beach chairs under the shade of straw huts. Someone would periodically walk around offering fruit kebabs, cooling eucalyptus spray or cold washcloths, and anytime you desired a drink or a beach snack, you could put a little flag in the sand and a waiter would walk over right away. The second beach, Anse Mamin, is located to the north and is about a ten minute walk away (it is a beautiful walk, though, right next to the ocean). The beach is a little more private, has some beautiful rock formations and is the location of the famous burger restaurant, Jungle Bar and Grill.
Activities
There were tons of activities to partake in at Jade Mountain, including snorkeling, scuba diving, mountain biking, kayaking, tennis, sunset sailing, hiking, chocolate making, and yoga (and I'm sure I'm missing a few, too). Some of the activities are free to participate in, like yoga, tennis, kayaking and even snorkeling. I personally LOVED the yoga every morning! It was early (7 a.m.) on the Celestial Terrace, and I felt like my body got to "wake up" with the island – the sun started rising in the sky and the birds were chirping as we began our yoga practice. I loved the instructor Nelson Chako – definitely take one of his classes, if you can! I felt so at peace afterward.
Chris and I also went snorkeling off of the main beach, Anse Chastenet Beach. It is free to rent snorkeling equipment, and it was one of the best snorkeling experiences I've ever had in my life (in fact, many other resorts and snorkeling excursions come to that spot and charge their guests to snorkel there!). The water was crystal clear, and we could see hundreds of different types of fish. We saw turquoise fish, blue fish, yellow fish, striped fish, stingrays, even what looked like a swordfish! There's also an octopus that lives on the ocean floor, but we didn't see it that particular day.
The one excursion that we did have to pay for was the Jazzy Cruise that we did one night. I would HIGHLY recommend it – we had so much fun! There was an incredibly talented saxophone player on the boat, and we cruised around the coastline close to the Piton Mountains while listening to jazz music. There were also unlimited drinks, so everyone definitely had a fun time, haha!
Transportation
When we visited St. Lucia four years ago, there were not any direct flights from Charlotte, so we had a connecting flight through Miami. But nowww there are direct flights from Charlotte!!! This made us SO HAPPY, because it makes it so easy to get there. The flight was around four hours and not bad at all. We took a morning flight and before we knew it, we were descending into St. Lucia.
If you do end up staying at Jade Mountain or Anse Chastenet, I would highly recommend booking a helicopter to transfer you from the airport to the resort. It takes nearly an hour to get there by car, but only six minutes by helicopter, and you get to see some breathtaking views of St. Lucia, the Piton Mountains and the turquoise water. My one recommendation is to pack a swimsuit, sunscreen and a change of clothes in your carry-on so that you can change right away into your swimsuit – they transfer your checked luggage by car, so you end up at the resort for about an hour without your checked luggage.
Downsides
There are hardly any downsides of this exquisite resort, but I can think of a few things that you will probably want to know beforehand! The first is that there are no TVs in the rooms. Chris was a little upset about this at first because, ya know, FOOTBALL, but he got over it quickly when he realized that we had a strong wifi connection pretty much everywhere we went in the resort. There were a few nights where we returned to our room early and watched Netlfix on our computers! The second "warning," is that you do have to be in good physical shape to stay at this resort. Jade Mountain is located higher up on the mountain (which gives you quite a beautiful view of the Pitons!), but it is quite a long way down to the beach… and back up. We counted the number of stairs from the beach to our room and there were more than 300 (this number does not include the steps taken, just the number of stairs). Although the way down wasn't too difficult, we definitely had to stop a couple of times to catch our breath on the way back up. I feel like I am in pretty good shape, but I can see how an older person might have trouble getting up and down the stairs to the beach. They do offer a shuttle service down to the beach if you don't want to take the stairs every time. I personally didn't think that the number of stairs was a true "downside," though – I felt like it kept us active while we were on vacation and I ended up feeling better since we were getting some exercise every day.
If you have any questions about Jade Mountain, our room, or our stay, please leave them in the comments and I'll get back to you there! If you want to read my review of Anse Chastenet (Jade Mountain's sister resort), you can click here. If we're going to compare the two resorts, I would pick Jade Mountain if you want a truly romantic getaway, and Anse Chastenet if you have a tighter budget or you want a more family-friendly option (we did see a few kids at Anse Chastenet, but none are allowed at Jade Mountain). I hope that helps!
xoxo