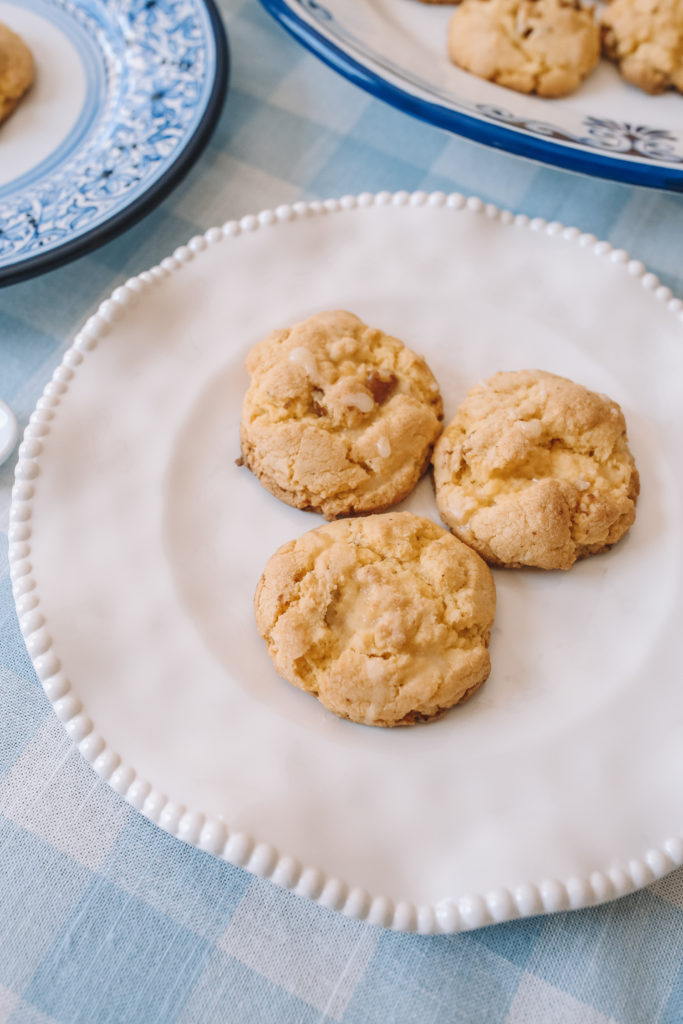 If there's one thing that reminds me of summer and sunshine-filled days, it's lemon cookies. I remember being young, running around in the backyard (barefoot of course), and being called into the house by my mom after she had baked a fresh batch of lemon cookies. I would guzzle two or three at a time right out of the oven; when they're warm, they melt in your mouth and the lemon-y drizzle "zings" your tongue with happiness. And when they've cooled off a few days later, they're just as addicting: they're the perfect mix of soft and crunch, cake and cookie. Now that I'm older, I love making a steaming hot cup of coffee in the morning and drinking it alongside these lemon cookies for breakfast. It will seriously put a smile on your face and start your day off in the best way possible.
Like I said, my mom has been making these for YEARS – they are straight from one of her Pampered Chef cookbooks. And in the cookbook, they are named Sunshine Kisses, which is honestly the perfect way to describe them. They're like a kiss of sunshine on your tongue.
Without further ado…
Sunshine Kisses (Lemon Cookies)
Ingredients:
For the cookies:
1 package boxed lemon cake mix
1 egg, slightly beaten
1/3 cup vegetable oil (I used avocado oil)
2 tablespoons water
1/3 cup pecans
For the glaze:
1 lemon
1/2 cup powdered sugar
Recipe:
Preheat oven to 375 degrees.
Combine cake mix, egg, oil and water in a mixing bowl and stir until thoroughly combined (mixture will be dry). Chop pecans with a food processor and stir into dough.
Using a small stainless steel scoop, drop dough 2 inches apart on a baking sheet.
Bake 10-13 minutes or until lightly browned. Let cool for three minutes and transfer to a cooling rack.
To make the glaze, remove 1 teaspoon of zest from the lemon and 2 tablespoons juice from the lemon. Whisk lemon zest, lemon juice and powdered sugar in a small mixing bow. Drizzle glaze on cooled cookies.
This recipe makes around 30 cookies. I made them over the weekend and the entire batch was gone in just two days. Oops. My husband has been begging me to make more this week! 🙂