TGIF, everyone! I wanted to round up some recent Amazon buys that I'm loving (in fact, you've probably already seen a few of these on my Instagram). These are all super high-quality finds and a perfect for spring and summer and I LOVE how affordable most of these are. Here are a few call-outs in particular: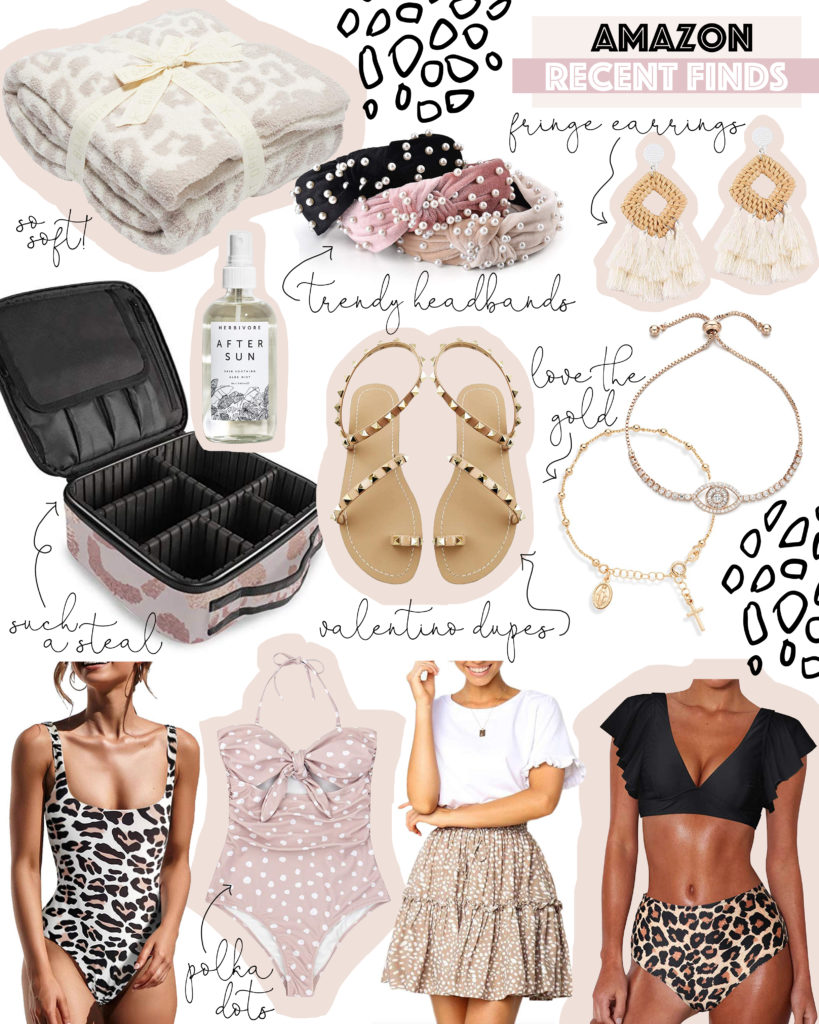 faux pearl headbands
This trend is not over yet, folks! I love these velvet pearl headbands, especially the blush and white ones as we head into spring. I can vouch for these babies – they are super high-quality and look amazing on!
makeup organizer
I've had the exact same makeup bag for YEARS on years and it was time for a change. I found this cute leopard print one on Amazon and fell in love with the removable inserts (so that you can customize it to your specific beauty products). I was a bit nervous to get it in the mail, but it's actually REALLY high-quality and all of my makeup fits perfectly. I also love how organized everything is… I used to just throw everything in the same bag and it would all get lost!
leopard one-piece swimsuit
This leopard one piece swimsuit was a recent purchase that I brought with me to Miami – and I absolutely LOVE it. The small fit me perfectly. The thing I love about this suit is that it could almost double as a bodysuit – just add a pair of jean shorts and you're set!
polka dot swimsuit
I wore this polka dot one piece swimsuit in Aruba with my family and I don't know if I've ever gotten this much feedback about a bathing suit before! It comes with removable straps and seriously looks good on EVERY body type. Plus, it's only $21.99!! For sizing reference, I'm wearing a size small.
high-waisted skirt
This high-waisted skirt is easy to take from winter to spring, since you can wear it with boots and a turtleneck or sandals and an off-the-shoulder top (see the picture at the top of this blog post!). It comes in several colors, but this is the "khaki" – I love the neutral color and subtle animal print.
Let me know if you have any questions in the comments, or if you've bought anything good off of Amazon recently! xoxo