Last week, I told ya'll I was going to give you a healthy quinoa recipe.
Hence, I give you BBQ Chicken Quinoa, packed with filling protein and lots of flavor!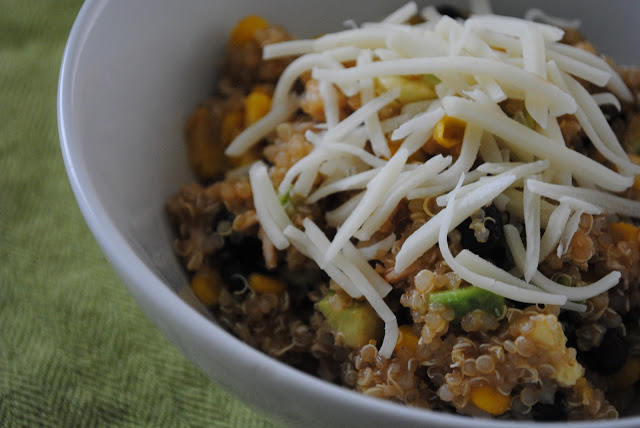 So why
quinoa
? It looks a little funny and it's hard to say (Did you know it's pronounced KEEN-wah?).
This edible seed is similar to rice but is packed with protein – like meat. It's rich in all nine essential amino acids and high in lysine (the amino acid responsible for tissue growth and repair). It also boasts fiber, iron, magnesium and manganese. That makes quinoa an awesome post-workout snack AND a great addition to your bikini bod diet! 😉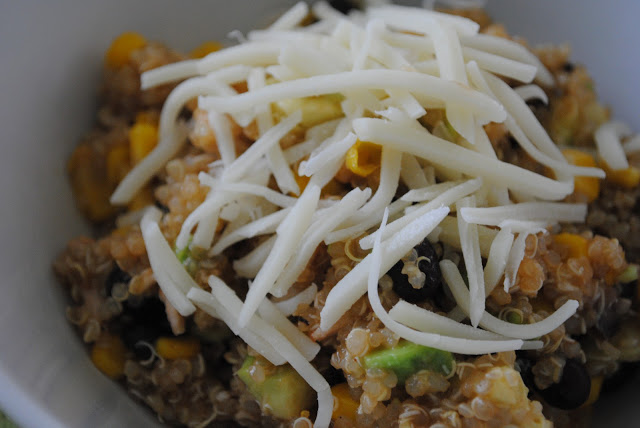 BBQ Chicken Quinoa
1 cup uncooked quinoa
1 cup corn
1 cup black beans, rinsed and drained
1 cup shredded rotisserie chicken
1 avocado
1/4 cup Mozzarella cheese, shredded
5 tbsp BBQ sauce
Heat quinoa in a saucepan with 2 cups of water. Bring to a boil, turn the heat down and let it simmer for 15 minutes.
Meanwhile, cup up the avocado and toss in a large bowl with corn and black beans.
Shred the rotisserie chicken and toss with the other ingredients.
When quinoa is done cooking, combine everything.
Serve warm, topped with shredded cheese and BBQ sauce.
Store in the fridge and enjoy all week!
Love,