quick shop
I have been meaning to share this post with you guys for a while now – our wedding invitations! We worked with If It's Paper on our custom letterpress wedding invitations and couldn't be happier with how they turned out. If It's Paper also did our Save the Dates (which you might remember from this blog post) – we were so happy with them that it was a no-brainer to order our invitations from them as well!
I sat down with Elizabeth from If It's Paper about six months before our wedding to start planning out the wedding invitations. I told her that I wanted classic, traditional invitations that would really embody our Charleston wedding: elegant, sophisticated, and of course with a touch of pink! Elizabeth really held my hand through the entire process. We first looked at a bunch of samples that If It's Paper had printed for other weddings to discuss the look and feel of the invitations. Then we discussed some options for customization (which was my favorite part!). She even helped me with the wording of the invitations, down to the smallest detail (for instance, the difference between "honor" and "honour" when it comes to the invitation haha!).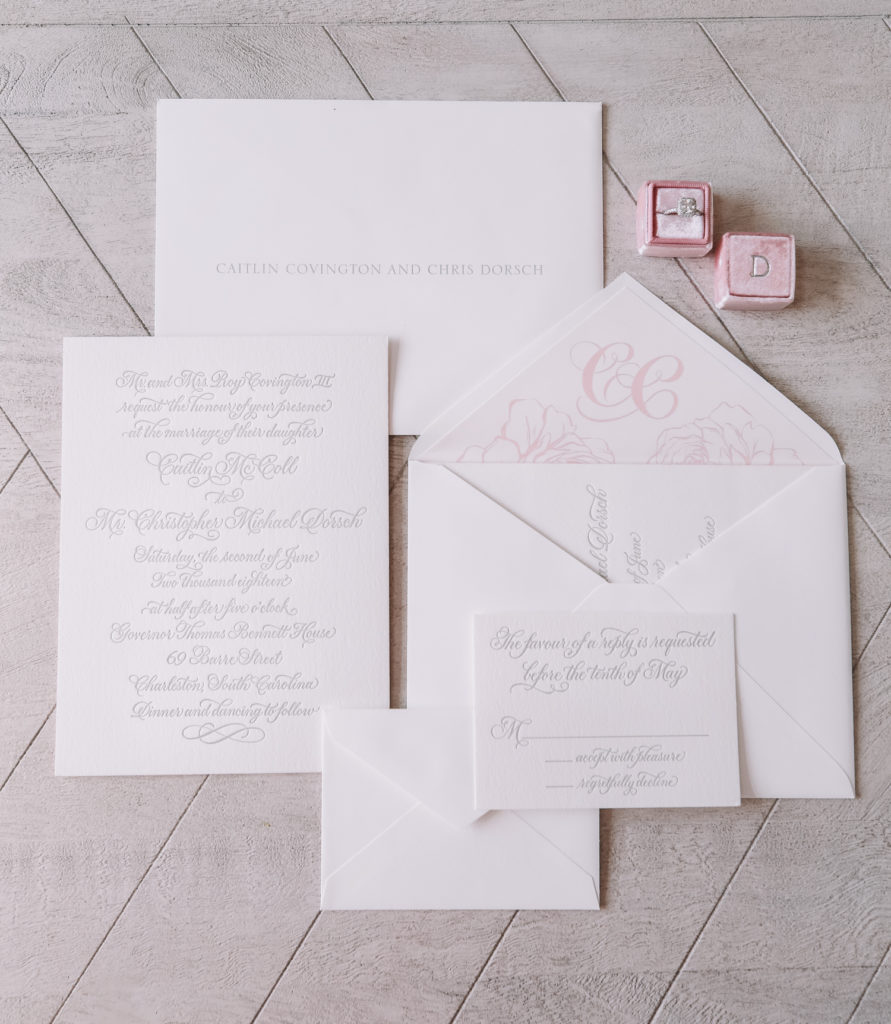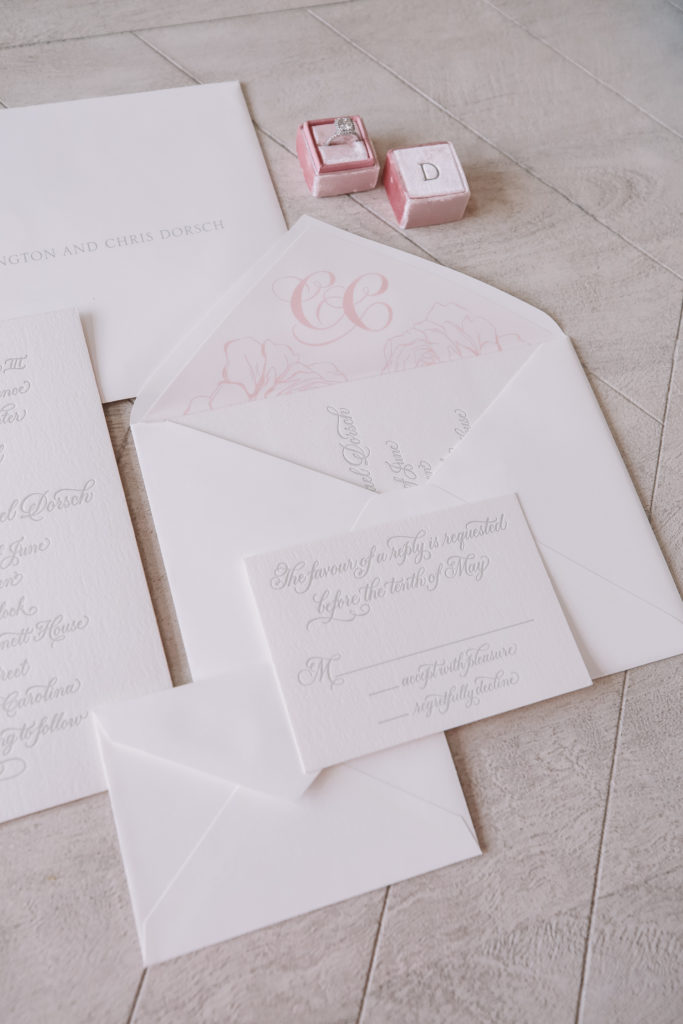 Okay, let's get down to the important details! Here's everything that we ended up ordering (125 of each): invitation, reply cards, outer invitation envelope, inner invitation envelope, reply card envelope (we put stamps on these to make it easy for our guests to pop in the mailbox), and a digital liner for the inner invitation envelope. We even uploaded all of our guests' addresses in a Google Doc and they printed the addresses on each and every envelope. (For the purpose of this post, all addresses including ours have been photoshopped out.)
We had a hand calligrapher, Sarah Hanna, write the invitation suite. The calligraphy was letterpress printed onto the invitations (If It's Paper told me that the letterpress works amazing with the calligraphy style rather than engraving – the letterpress created a lot of texture and it is SO gorgeous in person). Bella Figura did all of the printing, and they even printed a pink edging on the invitations!
Both Sarah Hanna and Bella Figura were wonderful to work with and really made our dream come to life.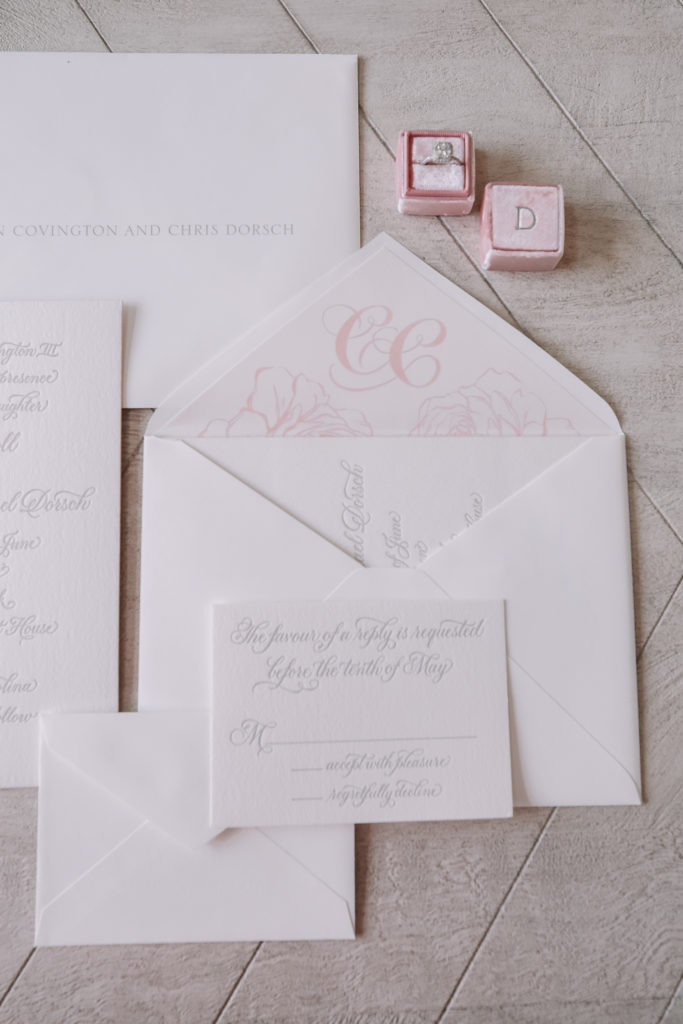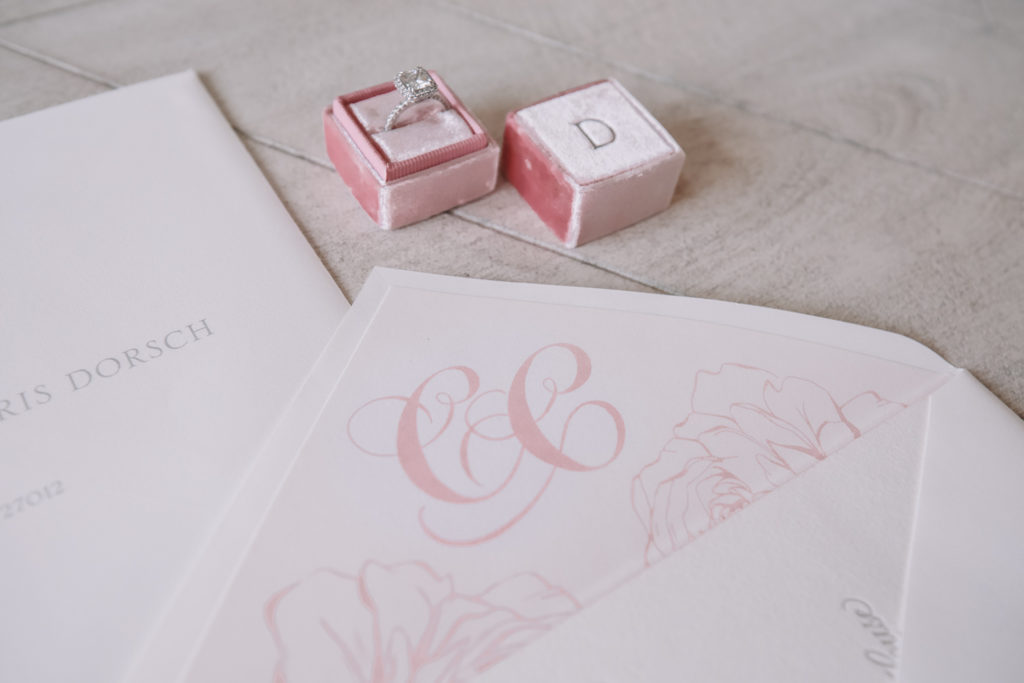 Personally, my favorite part of the invitations were our custom envelope liners! We went with a beautiful peony print and customized them a step further by adding our wedding monogram. Sarah Hanna custom-designed our wedding monogram, and we used it several times in our wedding, from our runner to our wedding place settings (below)!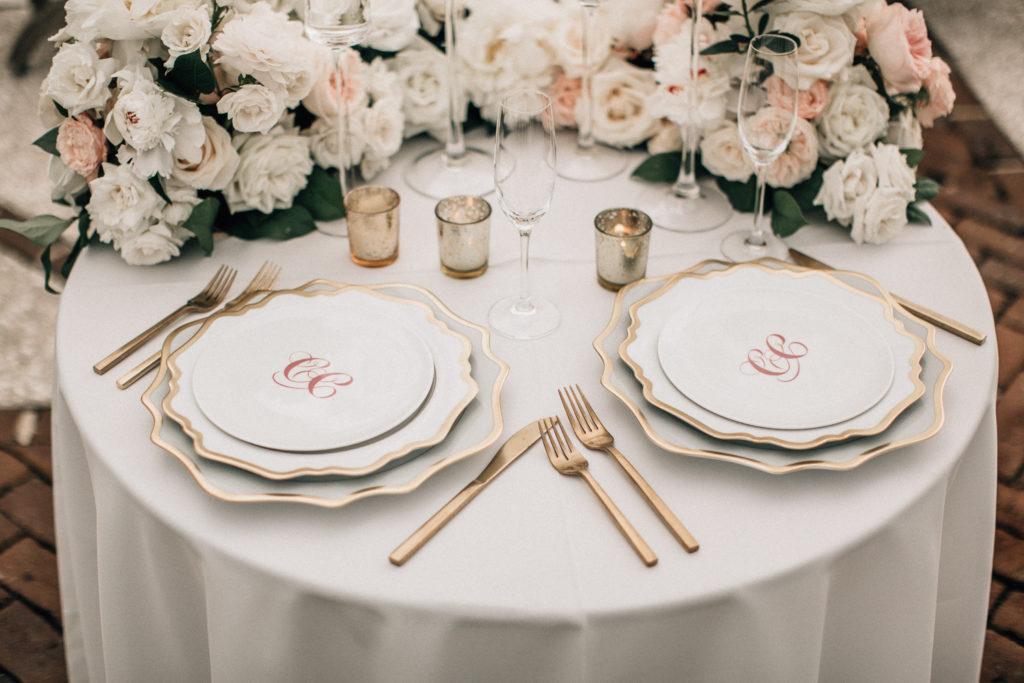 We were seriously SO impressed with If It's Paper and will definitely be turning to them in the future for all of our invitations/announcements, etc! If you're local to North Carolina, you can schedule an appointment through If It's Paper's website, here. And something super exciting: if you want to order our exact Invitation Suite, you can click HERE to request a quote!
If you have any questions, let me know in the comments and I'll be happy to answer them!
xoxo