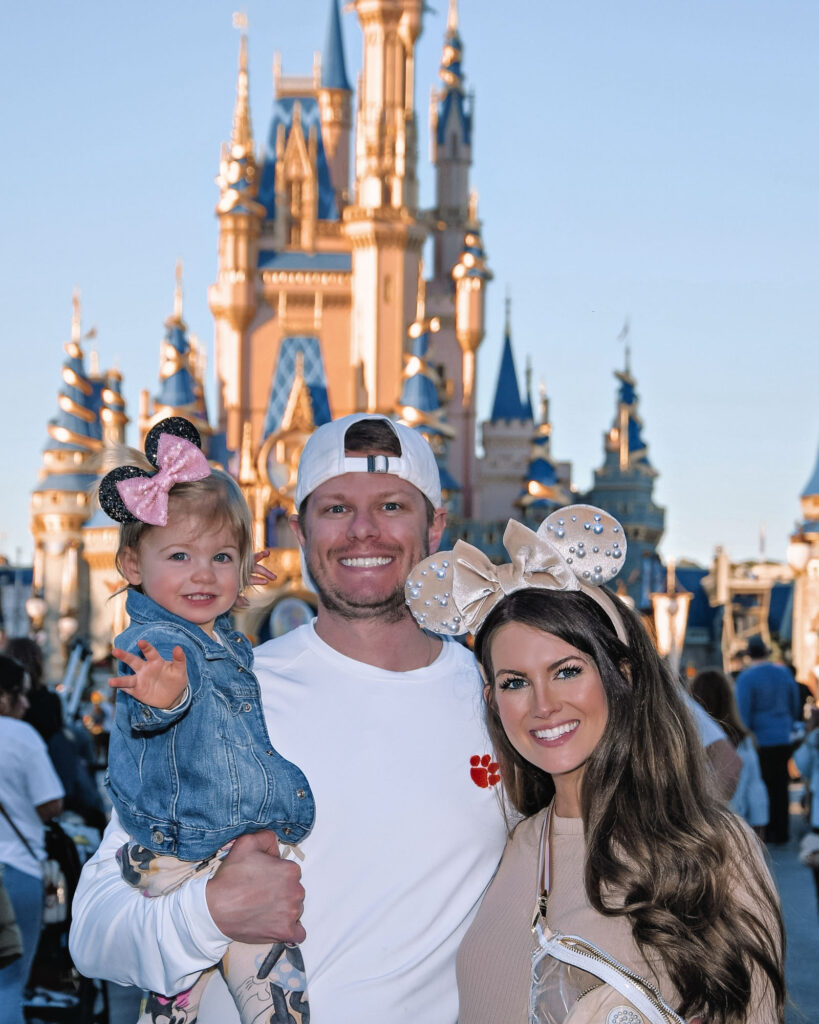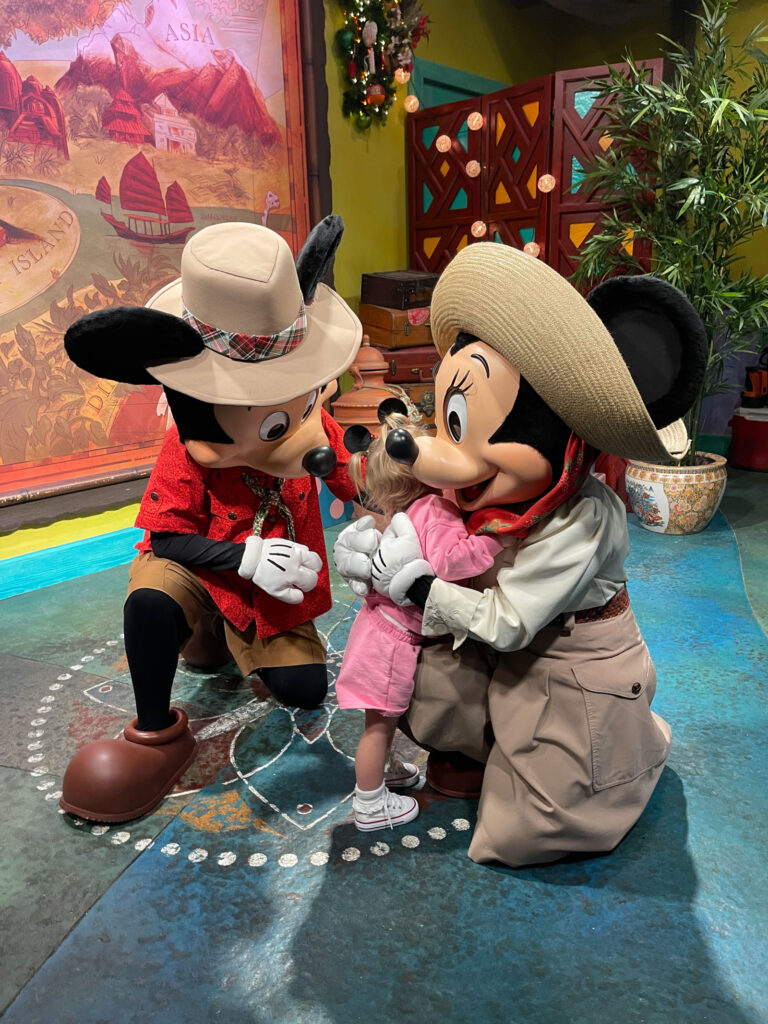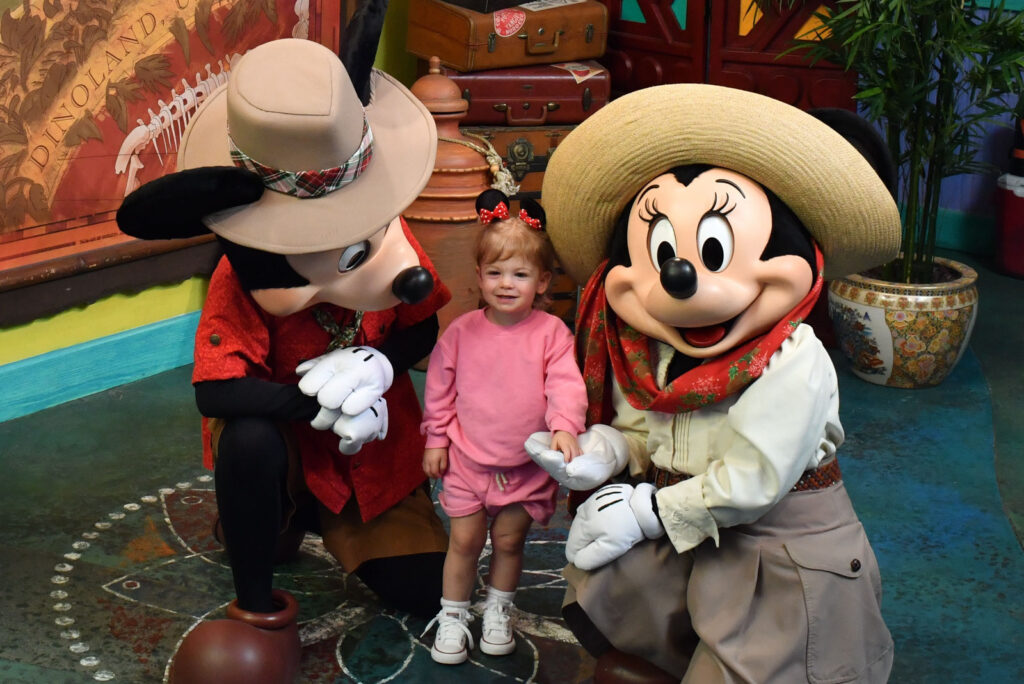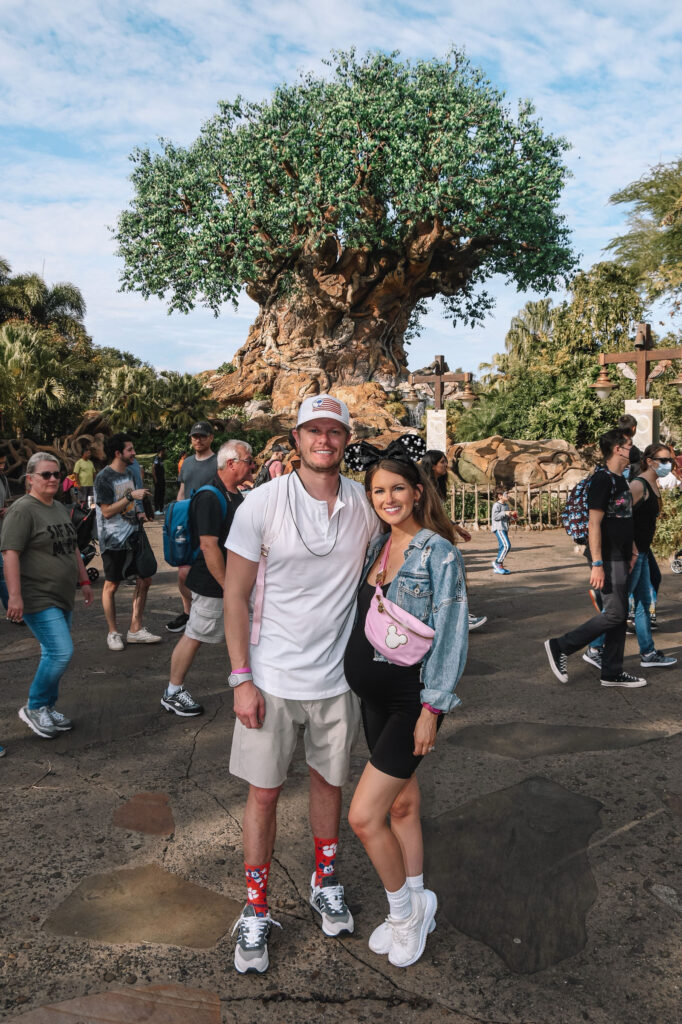 I am so excited to share more about our trip to Disney World over Christmas break today!! I feel like this post does need a lot of disclaimers, though! For one, this was my first time to Disney… ever. I never went as a child, and therefore had NO idea what to expect or what to do! Secondly, I am definitely not an expert after going *one* time, so if you're looking for professional advice, I certainly cannot offer that, haha. In fact, we worked with a Disney planner to plan our entire trip and she helped us book our park passes, character breakfast, stroller, etc. She was a huge help! But I still wanted to write about the trip because Chris and I had an amazing (if not exhausting) time.
One thing that sets this trip apart from other Disney trips you might see is that we decided to take it S-L-O-W! I was 35 weeks pregnant the week that we chose to visit, and we also had a 23-month-old in tow! Since I had also never been to Disney before, we decided that we wanted this trip to be more about "scoping out" Disney so that we could make a plan for next time… and also find some time to relax while we were in Orlando. And our most important objective: to soak up time with Kennedy while we are still a family of three. And I'm happy to report that's exactly what we did!
Our Itinerary
I wanted to share a quick overview of our itinerary. As I said, we really wanted this to be a relaxing trip, and I think we achieved that by building rest/pool days into our schedule!
Day One: Fly into Orlando, check into our hotel Four Seasons
Day Two: Hopped on our hotel's shuttle to visit Magic Kingdom at Walt Disney World
Day Three: Good Morning Breakfast with Goofy and Pool Day
Day Four: Hopped on our hotel's shuttle to visit Animal Kingdom at Walt Disney World
Day Five: Pool Day and scheduled massage at the Four Seasons Spa
Day Six: Fly home!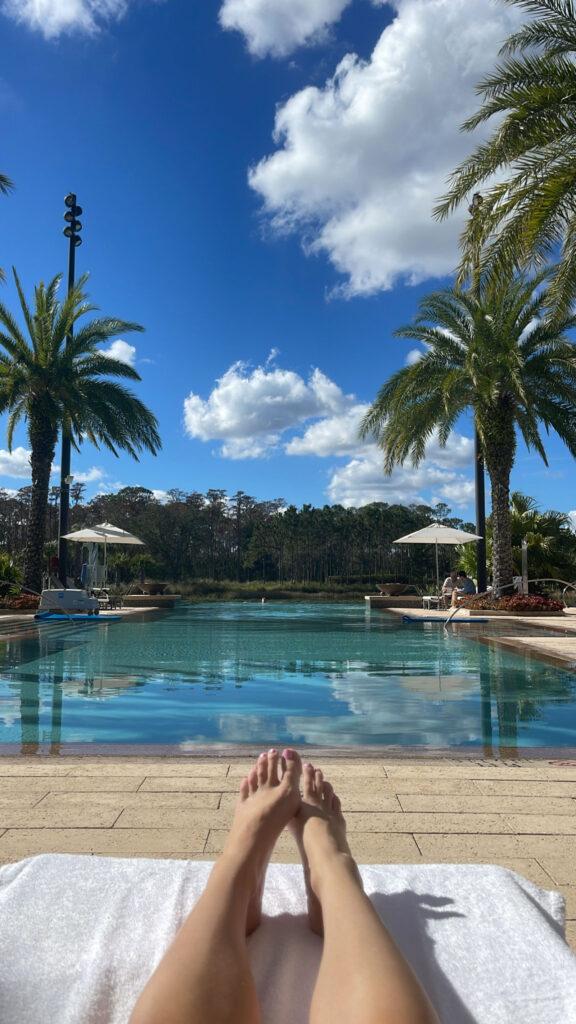 Where We Stayed
After researching hotels in the area, we chose to stay at the Four Seasons Orlando, and would 100% stay there again if we go back! In general, Chris and I love the Four Seasons as they are known for exceptional service and luxury, and the Orlando location is no different. Even though it is not a Disney-owned hotel, the Four Seasons is located on Walt Disney World property and situated within view of all the theme parks. It is not connected by monorail or bus line to Disney, but is still a quick car ride away (it is meant to be an oasis from the park!). The hotel itself is located inside the private Golden Oaks community and is surrounded by natural beauty, including an Everglades sanctuary, and it feels like a tropical paradise!
One of the things we liked MOST about the Four Seasons Orlando is how baby and toddler-friendly it was! Our room (which was clean, cozy and offered stunning views of the Golden Oaks neighborhood and the nightly fireworks at Magic Kingdom), was well stocked when we arrived with a full-size crib, Diaper Genie trash can, baby wipes and baby soap, and even some pouches for Kennedy. I have never seen a hotel offer so many amenities for babies and toddlers! I also felt super comfortable on the property because there were lots of other parents, with lots of other babies and toddlers running around.
Another thing we loved? On our "relax" days, we didn't need to leave the property at all! One morning we had a FABULOUS Good Morning Breakfast with Goofy, where Kennedy got to meet Minnie and Mickey Mouse (her favorites). They were so wonderful with her and even danced with her and gave her LONG hugs! She was in absolute Heaven. The other mornings, we ate breakfast at Ravello, ordered room service, or grabbed a quick smoothie at the Four Season's coffee and smoothie shop, Lickety Split. After breakfast, we took our time getting ready and then headed to one of the Four Season's amazing four pools. The pools include a lazy river, family pool, adults-only pool, and our personal favorite: a "Splash Zone" that is bigger than most Disney MAIN pools! This is where we spent the majority of our time with Kennedy. She had an absolute blast running around the splash pad and accompanying splash pools. While the Splash Zone area itself was really large, none of the splash pools are very deep so we didn't have to worry about Kennedy going in under her head. When I tell you she loved the pool, I mean it. She LOVED it. I really think she would have been perfectly happy staying here all day and not ever visiting the Disney Parks! On our pool days, we ordered lunch right to our pool chairs and then headed back to the room for nap time.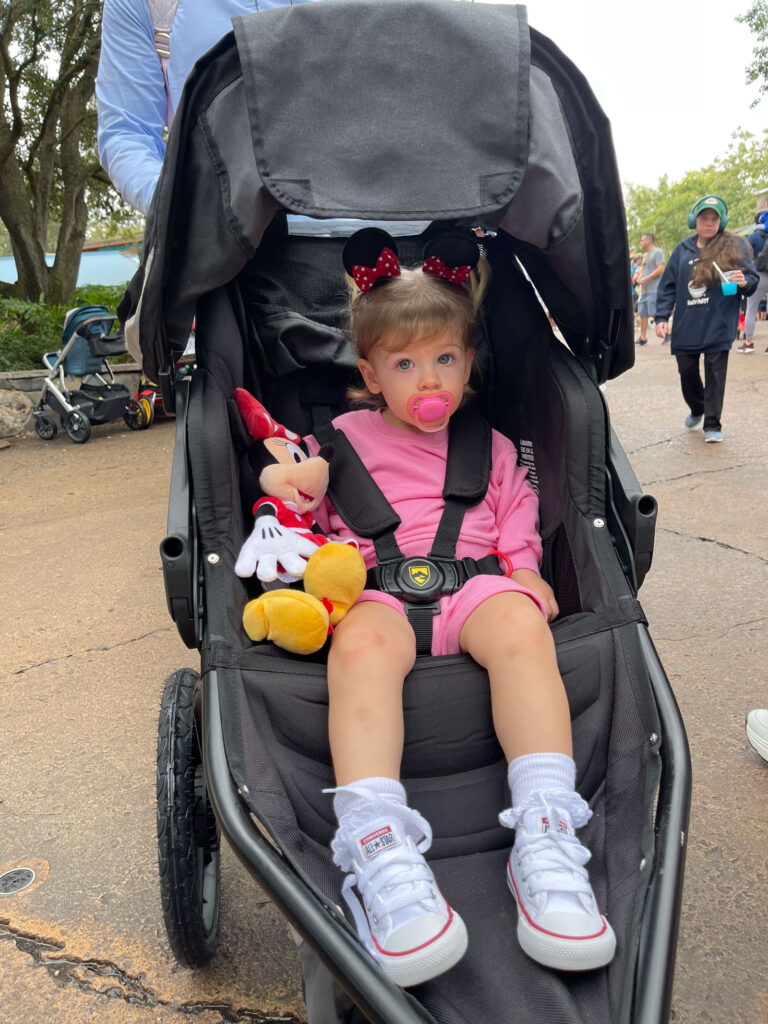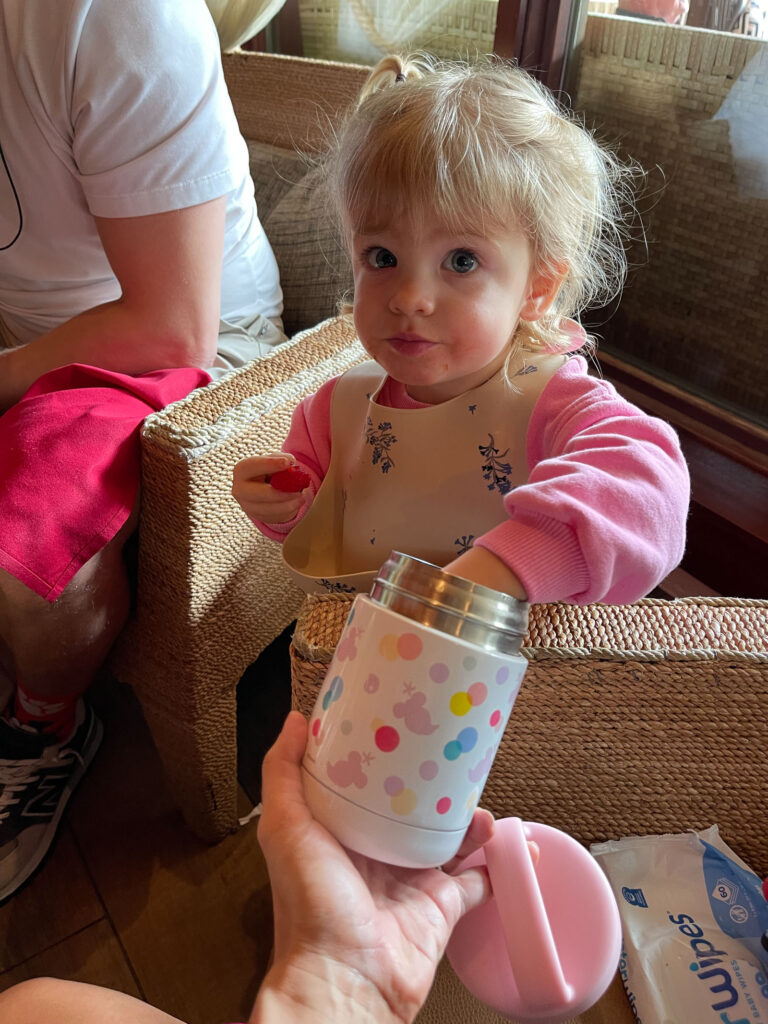 Toddler Tips
On the days that we visited the Disney theme parks, they were quite crazy days! We (accidentally) chose the busiest week of the year to go to Disney, and were a little overwhelmed with the crowds and activity. Here are my top tips that really helped us while visiting the parks with a toddler!
Invest in a MagicBand. The MagicBand is your "all access pass" to Disney. It looks like a simple watch (although there is no screen on it) and you can scan it for everything – to get into the parks, to pay for food/drinks/toys, and to use the Lightning Lane to get on the rides. I saw other parents struggling to go through their diaper bags and wallets to pull out their Disney passes, whereas all we had to do was hold up our wrists!
Stop for snacks and breaks often. Disney is wonderful in that they allow you to bring pretty much any type of food and drink into the parks! Since we brought a stroller with us, we were able to load it up with healthy snacks and water bottles for us to enjoy throughout the day. I packed some Peter Rabbit Organics Pouches since they don't need to be refrigerated, along with bananas, puffs, peanut butter crackers and this stainless steel food jar filled with fresh fruit. (Side note: we used Instacart to order groceries to our hotel room on the first day!) Since I was also 35 weeks pregnant, taking lots of breaks to eat and rest was also really nice for me, too!
Download the My Disney Experience app to your mobile phone ahead of time. This app was soooo helpful when planning our trip and on days that we were in the park! We were able to purchase our Genie+ Passes on the app, make lunch reservations, look at wait times for rides, and even see where the different characters were in the park. Kennedy really only cared about Minnie and Mickey Mouse, so we used the app to find out where they were at all times!
On that note, my next tip is to make your lunch and dinner reservations ahead of time! We booked our trip a little last-minute, and there was ZERO availability when we went to make lunch and dinner reservations within the Parks. This made it difficult when it came to lunch time and we were starving and tired but had to figure out which restaurants we could get into without reservations. Thankfully, we were able to use the app to get on a "Walk Up List," which we did both days. The wait was about an hour long to get into both restaurants, but it was really, really nice to sit down at a restaurant with Kennedy and rest our feet and eat a good lunch!
Consider buying the Genie+ Pass. Genie+ is essentially Disney's version of a Fast Pass, it costs $15 per person and allows you to ride some of the rides quicker. The only caveat is that it's pretty confusing to use, and you have to wait two hours before booking a new ride. Our Disney planner sent us an entire tip sheet with Genie+ Tips, and even then, it was still pretty complicated for us to figure out! Once we did figure it out, though, we used it to get into our "priority" attractions, like Peter Pan's Flight at Magic Kingdom and a Meet-and-Greet with Minnie and Mickey at Animal Kingdom. We think that it was overall worth it, but it would be more worth it on a week that wasn't so crowded. What I mean by that is: the more people who buy the Genie+ service, the less useful it is. On some days and in some parks, you might only score a couple of worthwhile ride reservations. This happened to us at Animal Kingdom… so many people were using Genie+, that we still couldn't sign up for the rides we wanted to go on!
Consider visiting Magic Kingdom more than one day! We found that Magic Kingdom had TONS to do for toddlers, and we couldn't fit it all in during just one day! I was surprised just how many rides that Kennedy could go on (and myself, being 35 weeks pregnant). Kennedy's favorites were Peter Pan's Flight, It's a Small World, and Dumbo the Flying Elephant. There were also tons of cool parades where we got to see Minnie and Mickey and didn't even have to lift a finger or wait in line, haha. We thought that Animal Kingdom had a lot less for Kennedy (and myself) to do, and we ended up leaving early that day.
Rent a stroller. Our travel planner arranged a stroller rental for us that we were able to pick up at Guest Services at our hotel every morning – which was SO nice! The strollers that you can rent in the Parks are very cheap, bumpy and uncomfortable. We were so happy that we had a nice stroller to roll around and Kennedy was very happy and comfortable in it! It also provided some extra storage so that we could bring all our snacks and water bottles with us.
What to Wear
One of my biggest questions before going to Disney World was, what do I wear?! Since we were visiting in December, I was unsure what the weather was going to be like, but it was absolutely beautiful for us (it was in the 70s during the day). My two biggest tips for visiting the Parks are to wear comfortable shoes and to wear layers! It was cool in the mornings but then got pretty toasty during the day, so having a sweatshirt or jacket that I could wear in the morning but take off in the afternoons was essential. Here are the outfits and items that I packed for Orlando (the first two outfits I wore on Park days, and the other outfits I wore around our resort!). For reference, we visited in December in the week between Christmas and New Year's.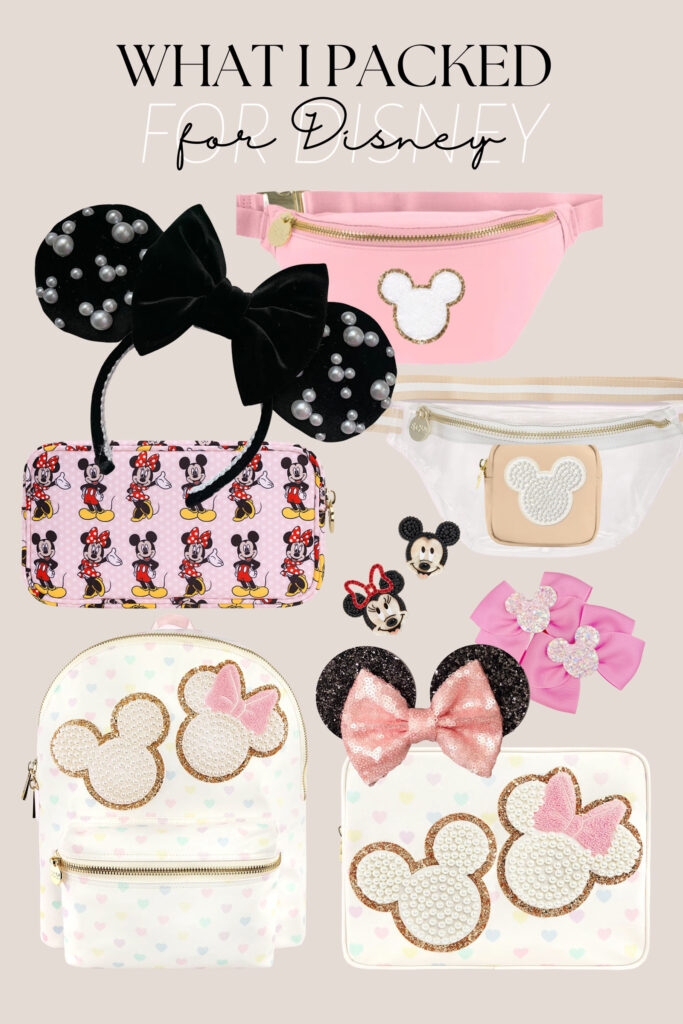 pearl Minnie Mouse ears // Stoney Clover Lane fanny pack // Mickey Mouse glitter patch // Stoney Clover Lane Minnie and Mickey small pouch // Stoney Clover Lane stadium clear fanny pack // Stoney Clover Lane classic mini pouch // Mickey Mouse pearl patch // Mickey and Minnie earrings // pink Minnie Mouse bows // glitter Minnie Mouse ears headband // Stoney Clover Lane Mickey and Minnie pastel hearts backpack // Stoney Clover Lane Mickey and Minnie pastel hearts large pouch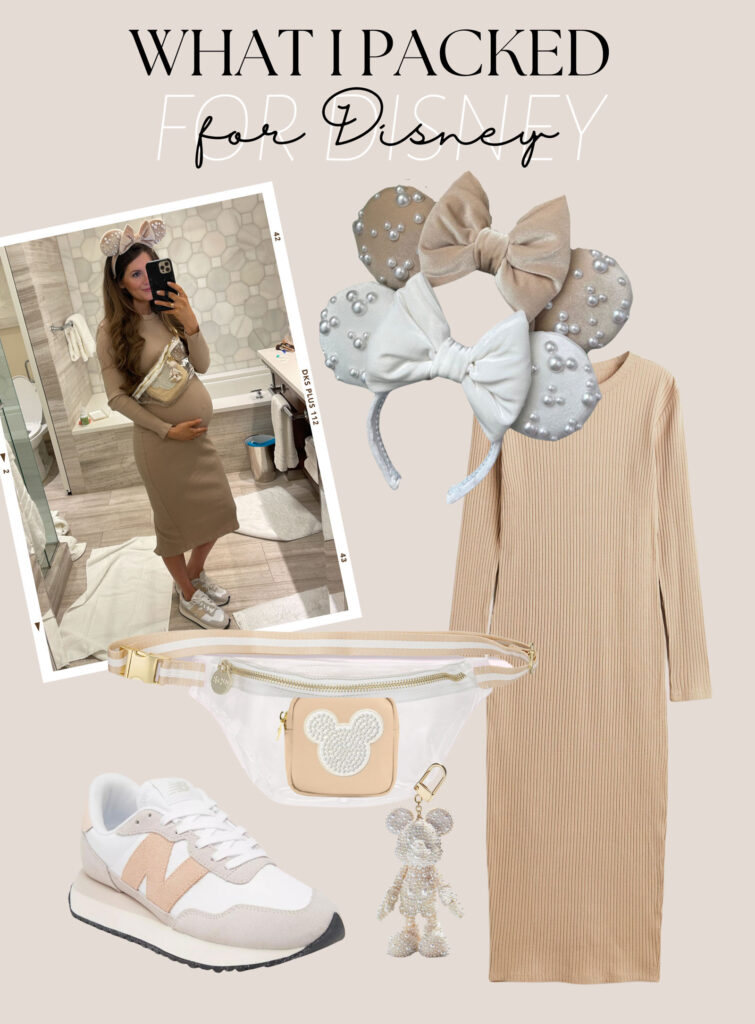 velvet pearls Minnie Mouse ears // similar ribbed midi dress // Stoney Clover Lane stadium clear fanny pack // Stoney Clover Lane classic mini pouch // Mickey Mouse pearl patch // New Balance sneakers // pearl Mickey Mouse keychain (I wore this outfit for our day in Magic Kingdom!)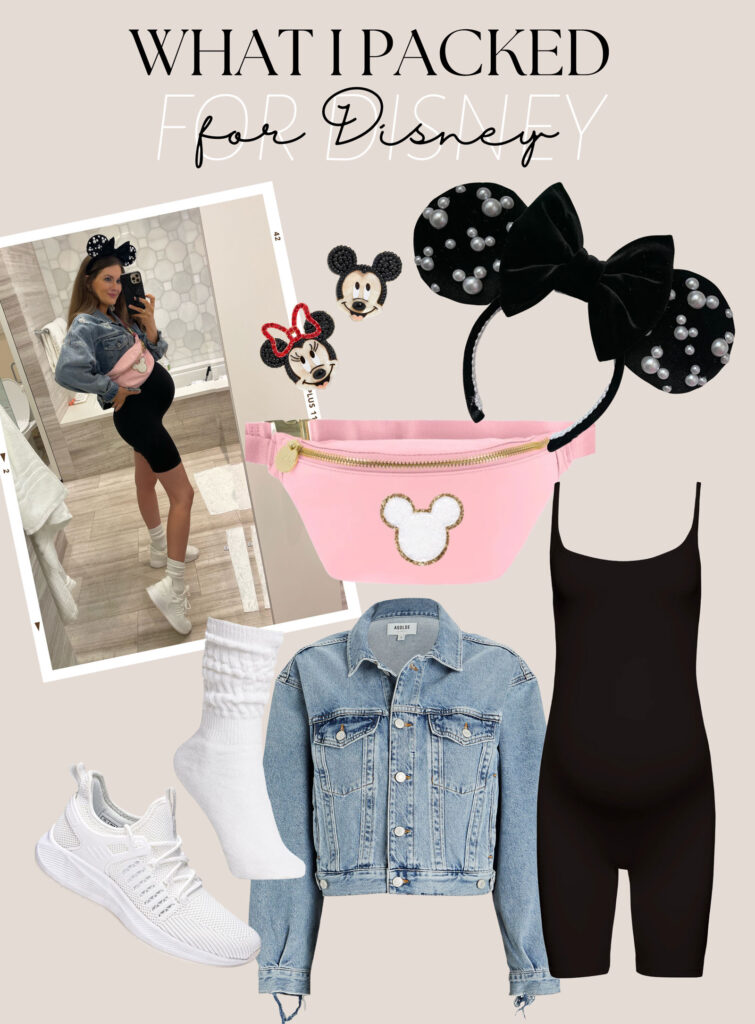 Mickey and Minnie earrings // pearl Minnie Mouse ears // Stoney Clover Lane fanny pack // Mickey Mouse glitter patch // Bumpsuit The Alexa, similar here // Amazon sneakers // crew socks // Agolde denim jacket (I wore this outfit for our day in Animal Kingdom)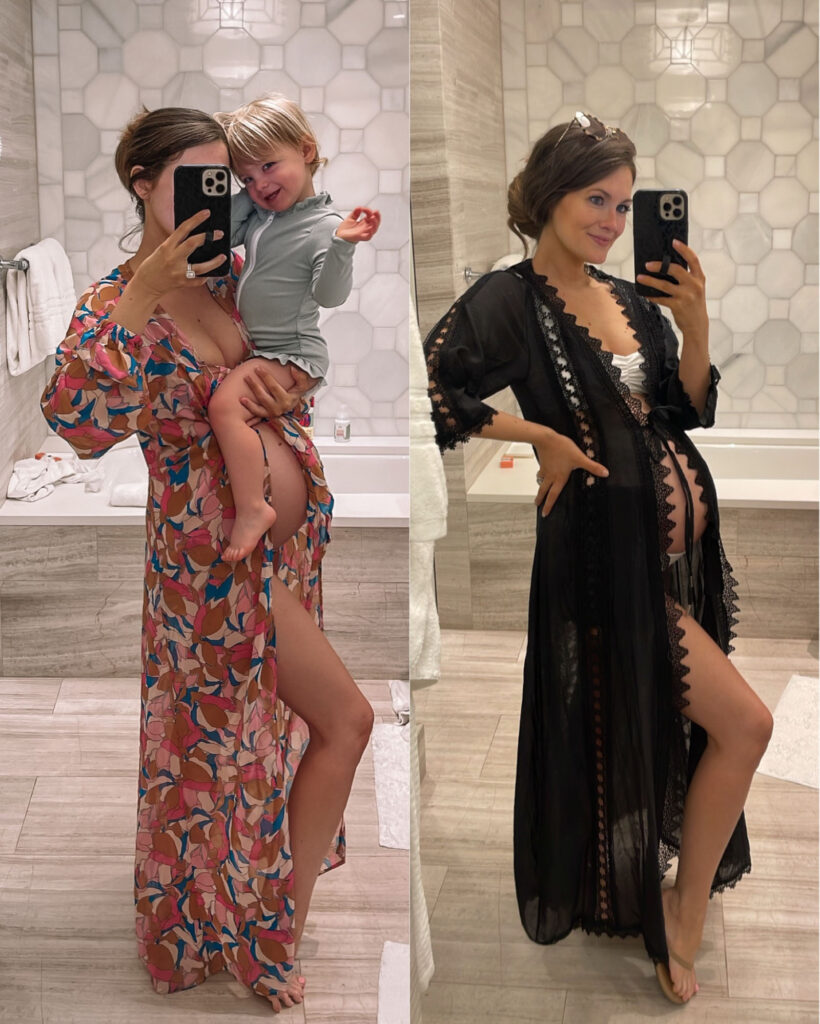 left look: floral bikini top // floral bikini bottoms // floral cover up // toddler ruffle swimsuit // right look: white swimsuit top // white swimsuit bottoms // crochet cover-up kimono (I wore these for the pool days!)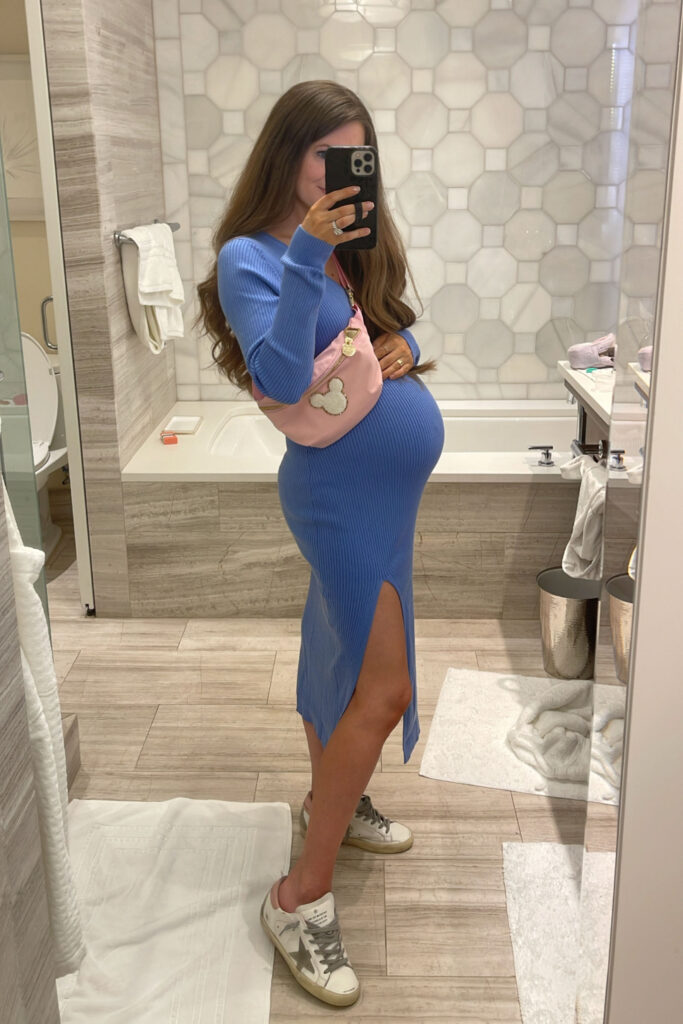 Revolve knit dress in blue // Stoney Clover Lane fanny pack // similar Golden Goose sneakers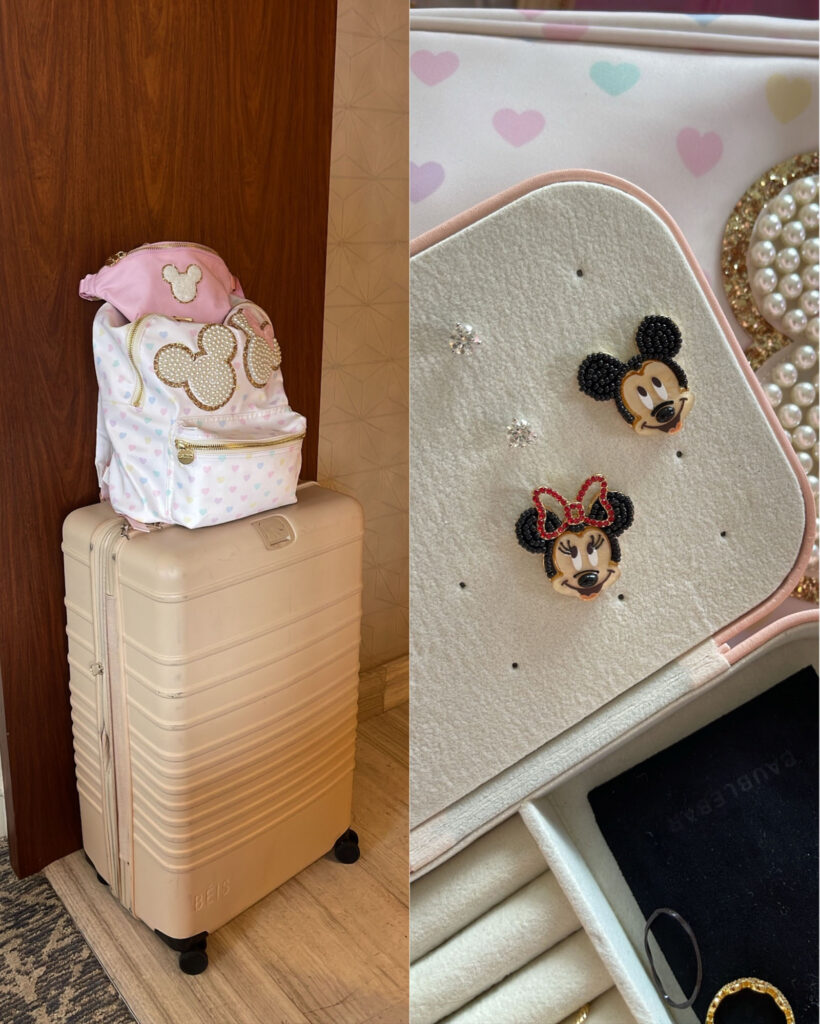 Beis Luggage // Stoney Clover Lane fanny pack // Stoney Clover Lane Mickey and Minnie pastel hearts backpack // Mickey and Minnie earrings
Is Disney with a Toddler Worth It?
To conclude this blog post, I wanted to sum up our thoughts on Disney with a toddler. Was it hard? That is a resounding YES. Was it worth it? It absolutely was! I say that it was hard because there were many moments that we felt stressed or overwhelmed while we were actually in the Disney Parks. I think a lot of this came from not having been before and having no idea what to expect. I simply had no idea it would be so crowded and hard to navigate, and many of the rides we wanted to ride had a two hour wait! Having a toddler with us only amplified the stress because I worried about Kennedy getting too tired or too hungry and whether or not she would fall asleep in her stroller for her nap (side note: she didn't). But at the end of the day, Chris and I both agreed that it was completely worth it for Kennedy's sake. There was one moment on the first day where we were particularly stressed trying to find a restaurant to eat lunch, when surprise! A parade came by with Minnie and Mickey at the top of the float. Kennedy's entire face LIT up and I have never seen her smile so big in her entire life!! I legit started crying, right there in the middle of the parade at Magic Kingdom. I thought to myself, oh my goshhhh this is so embarrassing, am I really crying at Disney!?!! and then I looked up at my husband, to see that HE WAS CRYING, TOO. Then we both started laughing, and all of the stress we were feeling just seemed to melt away. It was small moments like this that made the entire trip completely worth it for us! These little moments happened a lot during the trip, where we both looked at Kennedy and realized that we were making her so happy. And even if she doesn't remember it in twenty years, we still will! And we have all the pictures to prove it, too. 😉
Okay I *thinkkkk* I got to everything! By the way, we worked with Disney planner Allison Hobbs and absolutely loved her, if you'd like to book or have any questions at all! I can also answer additional questions in the comment section if I didn't answer your question within this blog post. 🙂
xoxo