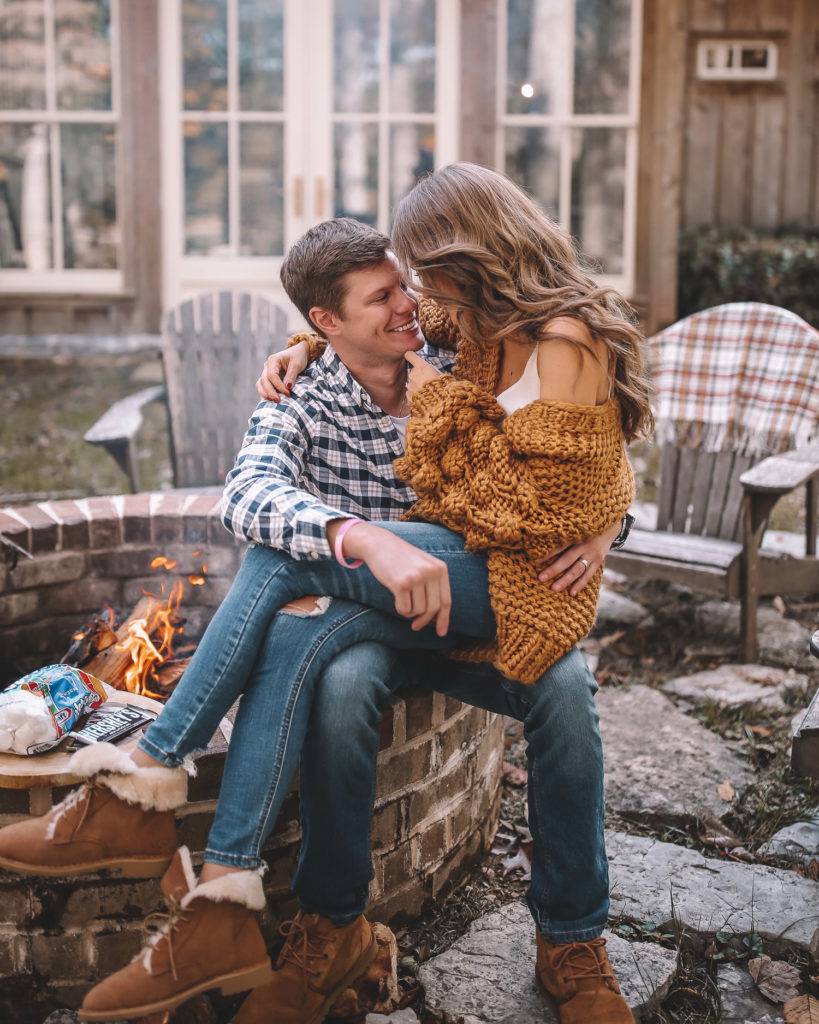 on me: pom sleeve cardigan // white tank // ripped jeans // UGG boots // on Chris: plaid flannel // jeans // UGG boots
Good morning, friends! A few weekends ago, Chris and I packed up our car and road tripped through the North Carolina and Tennessee mountains to the absolute CUTEST cabin I've ever stayed in. It was such a fun weekend – we mainly stayed in the cabin the whole time, although we did venture out to go grocery shopping and to eat a few meals. Before the trip, I bought Chris a pair of man UGGs without telling him (lol). At first, he said he would never be caught dead in them – but after wearing them a few hours, he fell in LOVE WITH THEM. By the end of the weekend, I couldn't get him to take them off!!! He admits it, too – he loves them now. Anyway, Chris was really sweet and agreed to take a few blog pictures with me while we were on the trip, so I'm rounding up some of our outfits below. Read on for more about our cabin and a link to rent it yourselves!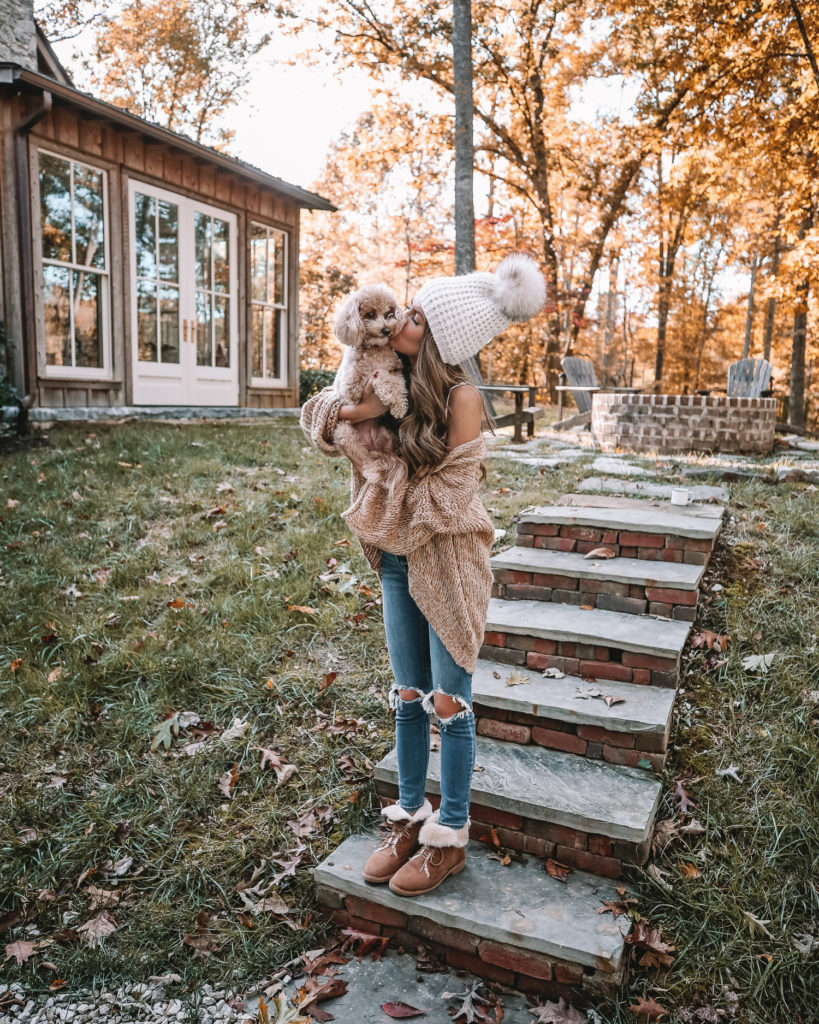 cardigan // lace tank // ripped jeans // UGG boots // similar beanie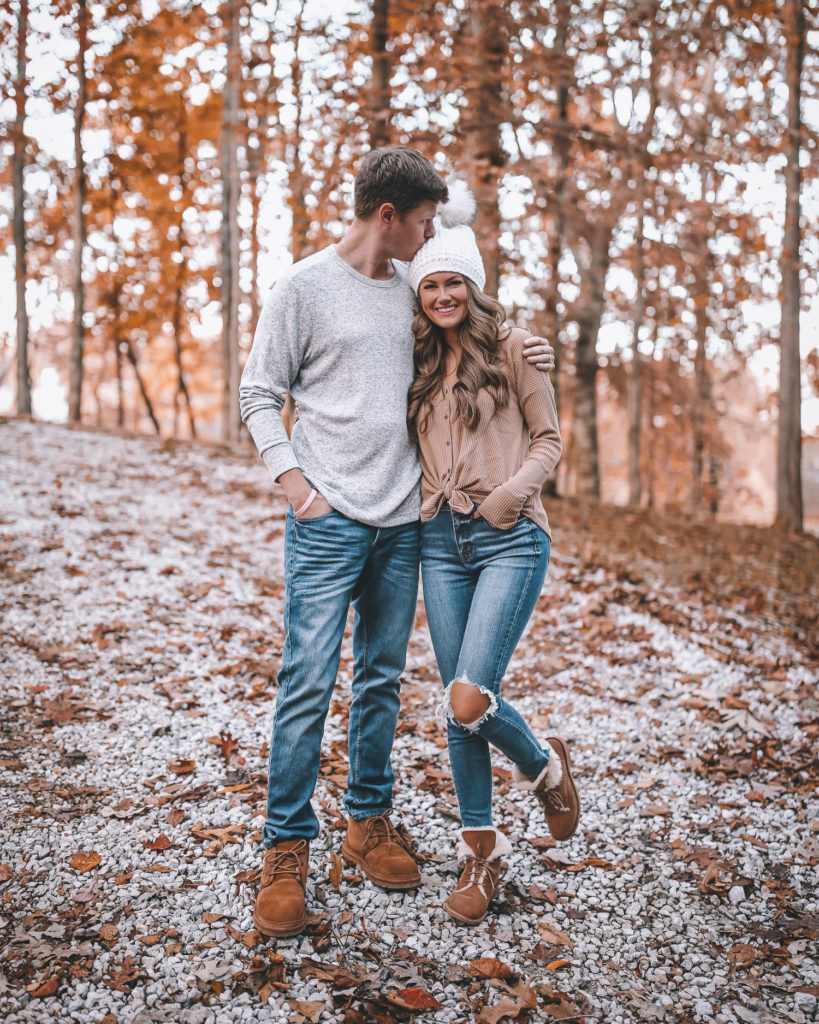 on me: waffle knit tie top // ripped jeans // UGG boots // similar beanie // on Chris: grey heathered top // jeans // UGG boots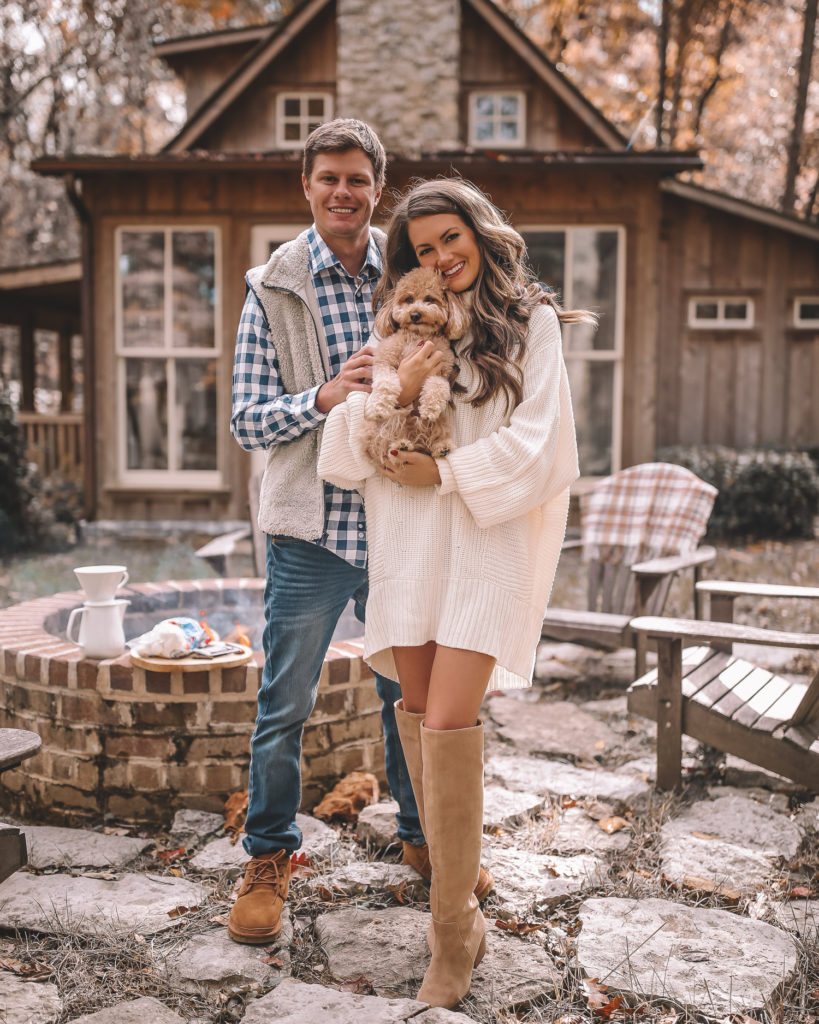 on me: Free People dress // suede boots // on Chris: plaid flannel // fleece vest // jeans // UGG boots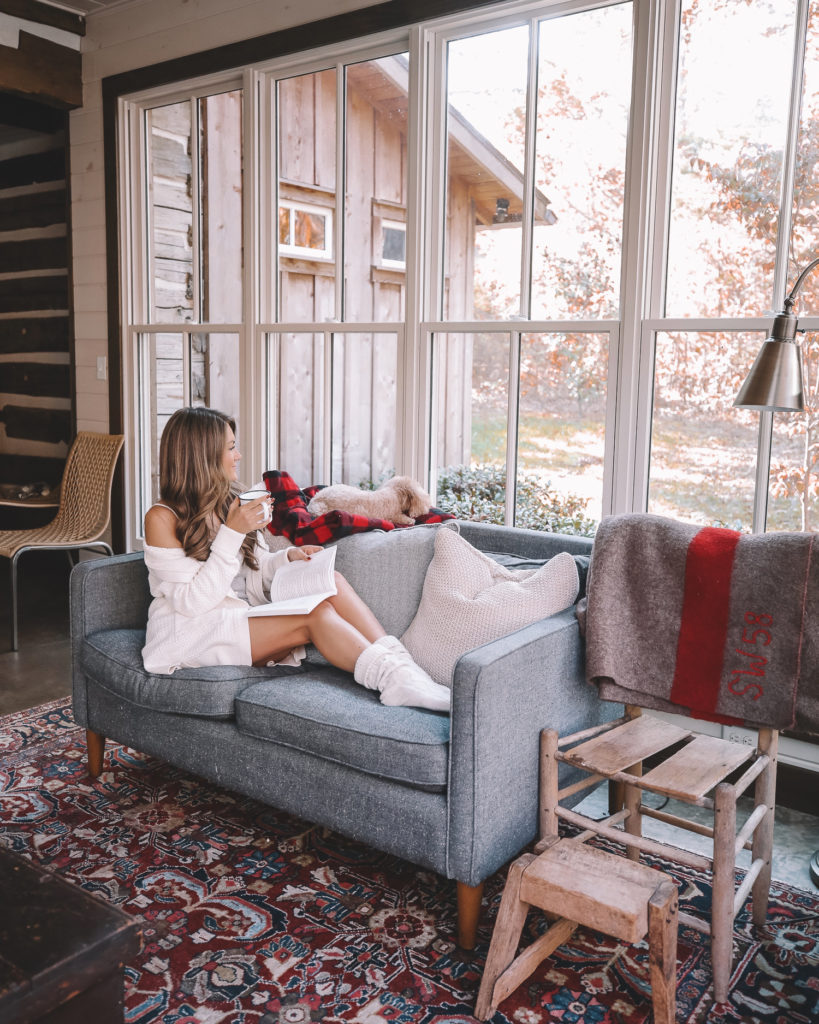 waffle kit cardigan // pajama top // pajama bottoms // knit socks // buffalo plaid blanket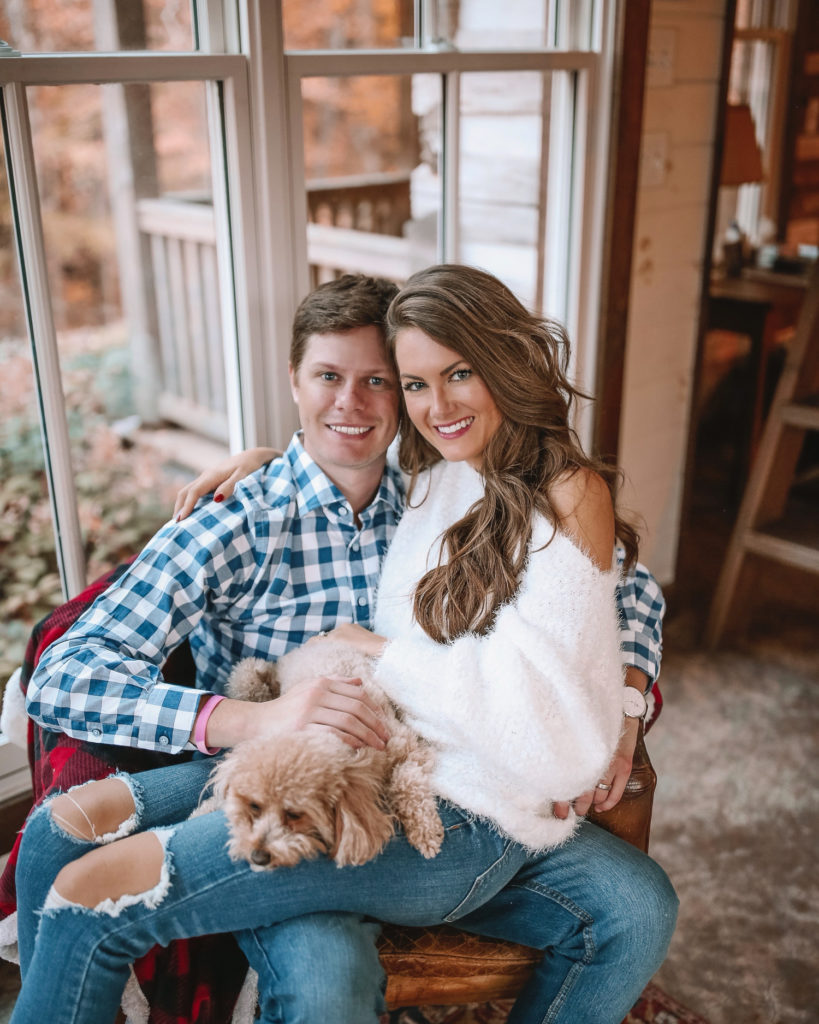 on me: fuzzy sweater // ripped jeans
Okay, more about this cute cabin of ours! Here is the link for the cabin, it's an Airbnb in Cookeville, Tennessee. It accommodates five guests, there are two bedrooms and one bathroom, AND, it's pet-friendly! We absolutely loved having Winnie there with us, since she isn't allowed on most of our trips.
I think you guys can see from our pictures how cute the exterior is! The cabin is surrounded by woods and right next to a beautiful lake, and there's a large fire pit outside with chairs all around. We built a fire both nights we were there, and enjoyed hot chocolate and S'mores around the fire pit. The interior is just as beautiful as the outside, with white board and batting, a claw foot tub, double fireplaces, and a brand new, bright kitchen. There are also TONS of windows downstairs which fill the whole place with a lot of natural light, making it really cheerful. The master bedroom is downstairs and has a private door (the second bedroom is in the loft area and doesn't offer a lot of privacy). There's a washer and dryer and good Wi-Fi. 🙂 Here are a couple of pictures I snapped of the interior: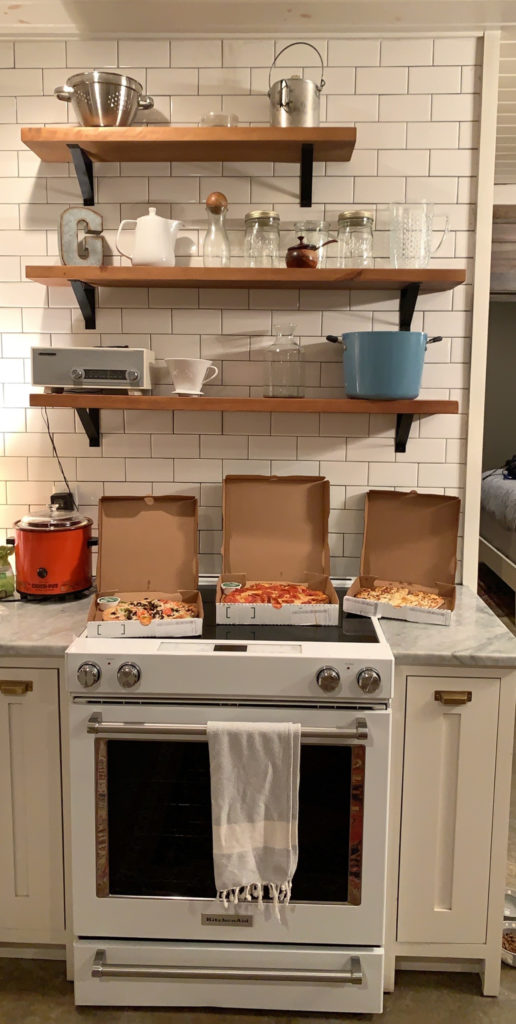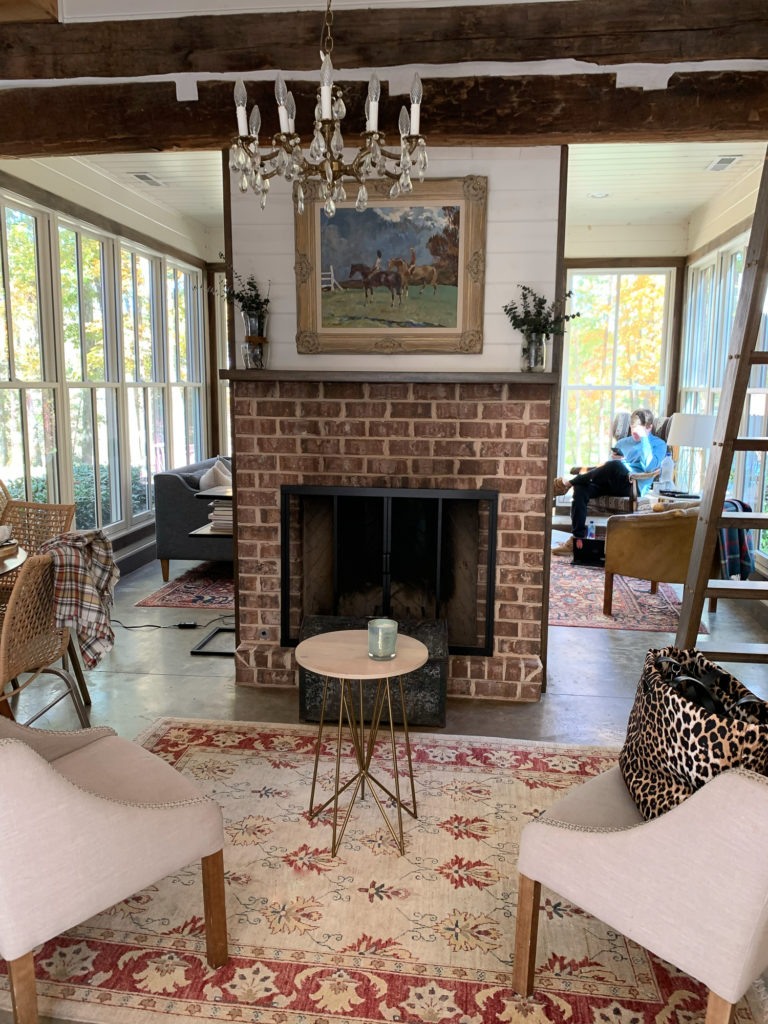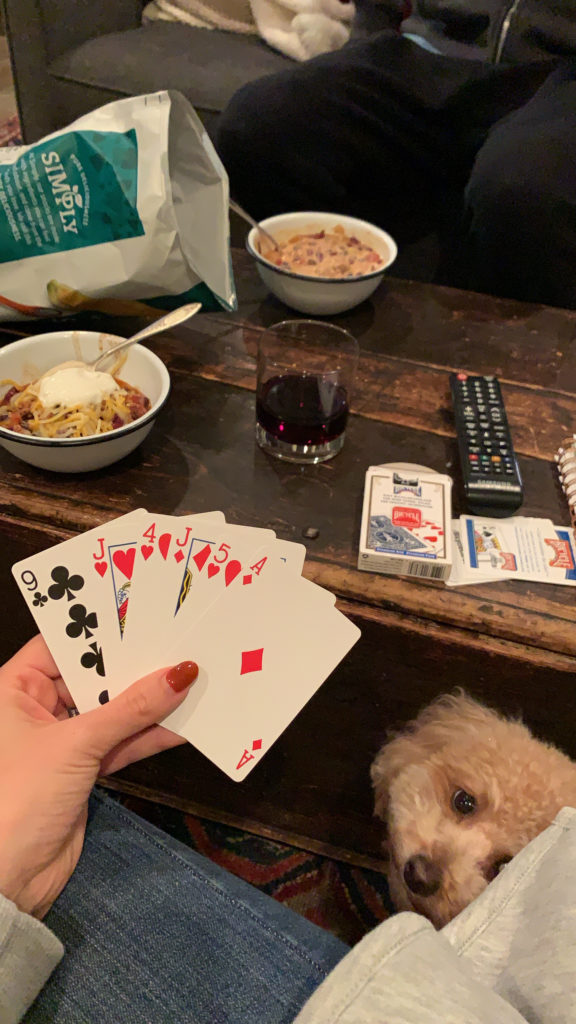 The last picture was taken on my favorite day! We made chili in the slow cooker (we brought our own) and let it simmer all day, then had chili and wine that night while we payed card games!
If you want a full tour of the cabin, you can look on my Instagram highlights under the "TN" tab, and click here to rent the cabin for yourself. This post isn't sponsored at all, I paid for the cabin myself, but it's such a cute cabin I just wanted to share with you guys!
xoxo