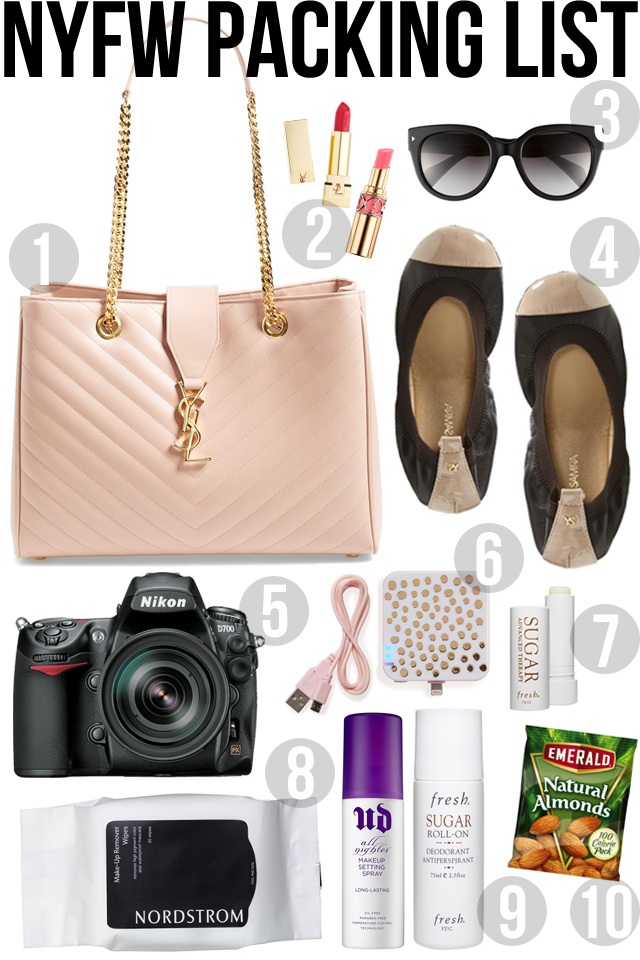 Hello from New York City! Today is the official start of #NYFW and I could not be more excited to be here. This is my second time coming, and basically all I remember of last year's fashion week is a big blur. The atmosphere in NYC is crazy this time of year and everyone is so busy running from shows to events and hair appointments that being prepared beforehand is a MUST. Thankfully I came to fashion week a little more prepared this time! Here's what I brought with me…
One: A roomy handbag
I brought along my
YSL cassandre tote
because it's incredibly roomy inside, perfect for carrying little knick knacks and even my big camera.
Two: A whole lotta lipstick
Yep, lipstick is essential at fashion week. I like YSL lipsticks because the formula is super creamy and long-lasting. My favorite color right now is
"le fuchsia,"
a bright pink hue.
Three: Sunglasses
Four: Fold-up flats
When you are wearing heels nonstop all day, flats are a must-have! I love
these flats
by Yosi Samra because they come folded up in a little compact bag that you can keep in your purse. I pull these out whenever I'm walking from shows because my feet are usually throbbing!
Five: Nikon camera
Of course a camera is essential for pictures!
My iPhone battery has a habit of dying when I always need it most… so I brought three different portable chargers with me this year to make sure that didn't happen, haha! Social media is such a huge part of fashion week and I don't want my phone to die while I'm trying to tweet 🙂
Seven: Sugar lip balm
This
is my favorite lip balm right now, I keep it in my purse at all times. It's really great to apply before lipstick because it makes it go on really smoothly!
Eight: Makeup remover wipes
Taking care of your skin is important, especially when you're traveling – my skin always gets really dry and breaks out on plane rides. I love
these makeup removing wipes
because it makes it so easy to clean my face when I'm really tired at night.
Nine: Makeup setting spray & deodorant
These are probably my two favorite products right now!
This makeup setting spray
is phenomenal (you may have heard me talk about it before). I spray it on my face after applying my makeup and it keeps my face looking fresh for five hours – no lie. And
this deodorant
is awesome… I am keeping it in my purse during fashion week just in case!
Ten: SNACKS!
I get really HANGRY if I don't eat every few hours, haha, especially if I'm really stressed out!! This year I've come prepared with a bunch of snacks to carry in my purse. I love packs of almonds, peanut butter crackers and energy bars. Oh and I love diet coke too but that is not the healthiest!
This fashion week I am partnering with TRESemmé to bring you the latest hair styles and trends from backstage and the runway. Look out for some fun hair posts, but until then be sure to follow along on social media (@cmcoving) to receive updates from my trip!
SHOP THE POST:

JavaScript is currently disabled in this browser. Reactivate it to view this content.