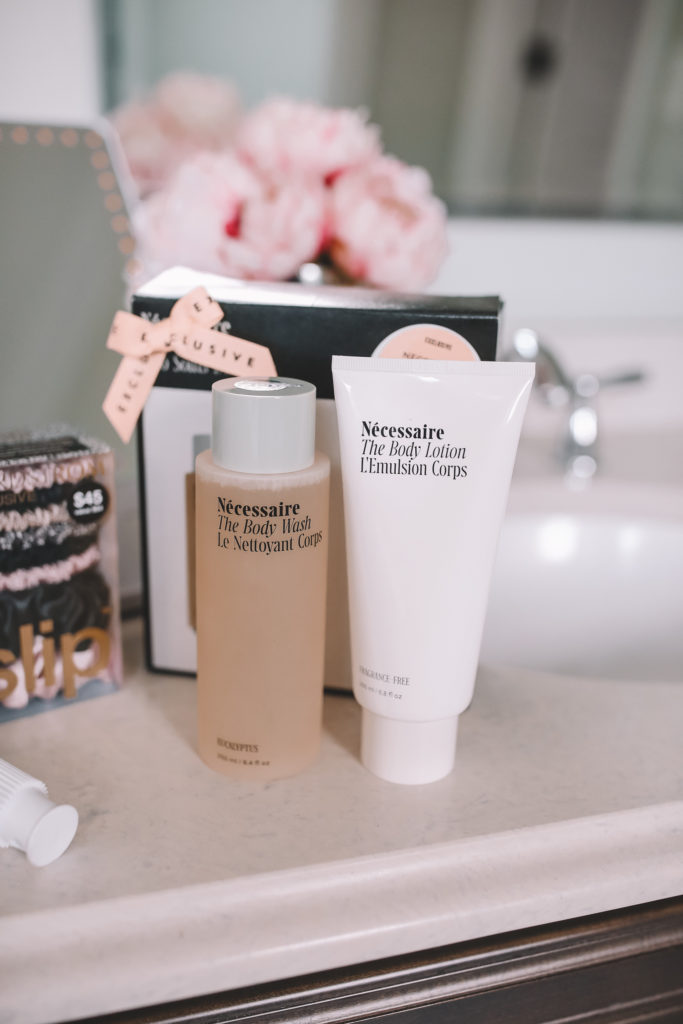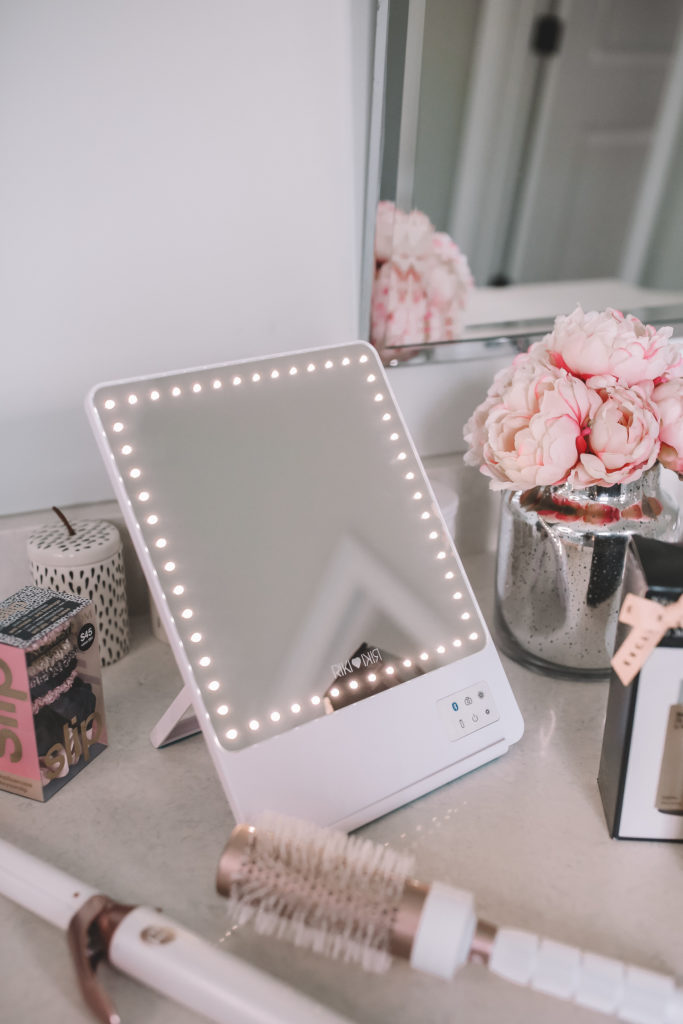 A bunch of you guys voted for a #NSale beauty roundup on yesterday's bog post… so here we are! To be honest, I wasn't SUPER impressed with beauty selection this year, as I normally find dozens of items I *have* to have from the Nordstrom beauty department. That being said, it wasn't a total fail, as I was able to stock up on my favorite clean body lotion and body wash, silk pillowcases, lipstick, and shampoo and conditioner. There are also a few things that I already own that are included in the sale, like my hair dryer, brushes and curling iron – and those are definitely worth checking out, since they rarely go on sale!
I rounded up my absolute must-haves below… there are only nine… but that's okay! These nine are amazing!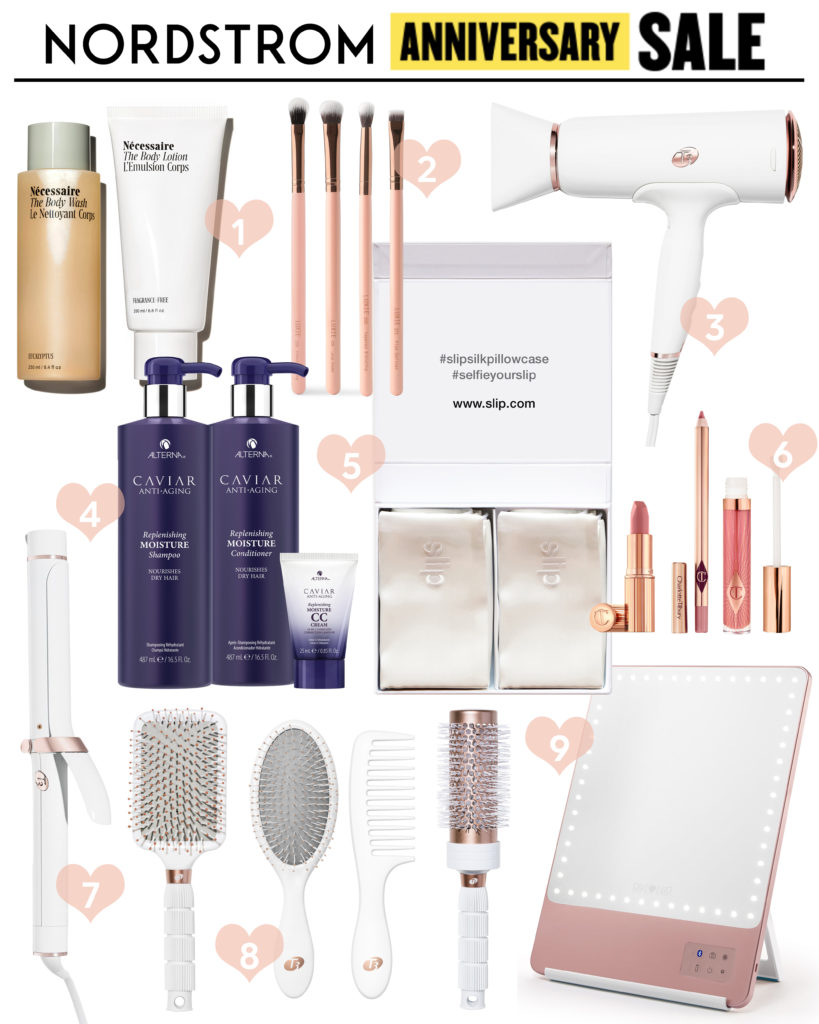 This is the body wash and body lotion I have in my bathroom right now! It's made of super clean ingredients, without sulfates, phthalates, parabens, petrochemicals, mineral oil, silicone and talc… and it also just WORKS. The body wash has a beautiful eucalyptus scent that makes your shower smell nice (I use it instead of shaving cream!), and the body lotion (although unscented) is incredibly moisturizing and leaves your skin feeling really soft.
I have been needing new makeup brushes, so I did pick up this rose gold eye brush set and the matching makeup brush set. These are so pretty, you could easily keep them out on your counter!
This is the hair dryer I've used for years and years now. I like it because it dries my hair so fast… otherwise it would take me an hour!
If you have followed my blog for a long time, you know that I have always loved the Alterna Caviar shampoo and conditioner! I switch up my hair products a lot, but this particular set is ALWAYS in rotation, as I really do think it's one of the best shampoos and conditioners out there! I have some in my shower right now, and I stocked up on another set from the Nordstrom Anniversary Sale.
Do I really need to repeat the benefits of silk pillowcases? I feel like I already talk your ear off about this! The Slip brand is my favorite brand of silk pillowcases…. they're seriously like an eight-hour beauty treatment every night. Silk fibers are significantly less absorbent than many other fibers, so they help keep your skin's moisture and expensive face and hair products where they belong – on your face and hair, not your pillow. I always pick up a new set during the #NSale!
This lip kit is probably my favorite thing in the beauty section this year!! For the past year, Charlotte Tilbury's "Pillow Talk" lipstick has been my go-to lipstick, and I'm always losing mine (and constantly complaining that I need one for every handbag). I was pleasantly surprised to find out that I love both the lip liner and especially the lip gloss from this kit as well! All three products are a beautiful nude, blush pink shade that honestly look good on every skin type and color.
My T3 curling iron is in the Nordstrom Anniversary Sale this year, and I always encourage people to get it while it's more than $50 off (they hardly ever go on sale at Nordstrom). This is THE BEST curling wand you'll ever use. Mine is probably five years old now and still works like a charm.
This is the first time I've seen Nordstrom offer this brush set on sale! I own all of these brushes… one of them is a Wet Brush, and is great for getting tangles out of wet hair. The round brush is what I use to blow dry my hair with!
I own the white version of this RIKI Skinny Lighted Mirror, and it is such a huge help in the morning while I'm putting on makeup… and for seeing the back of my hair after styling it. I really love that it lights up, though, because on darker mornings I'm still able to do a good job applying makeup! I also traveled with this mirror throughout the year… it even came with me all the way to Ireland! Trust me, you will get your money's worth out of this thing!!
If there's anything in the Nordstrom Anniversary Sale beauty department that you absolutely love and you think we should try out… please let me know in the comments! Maybe I missed over something good 🙂