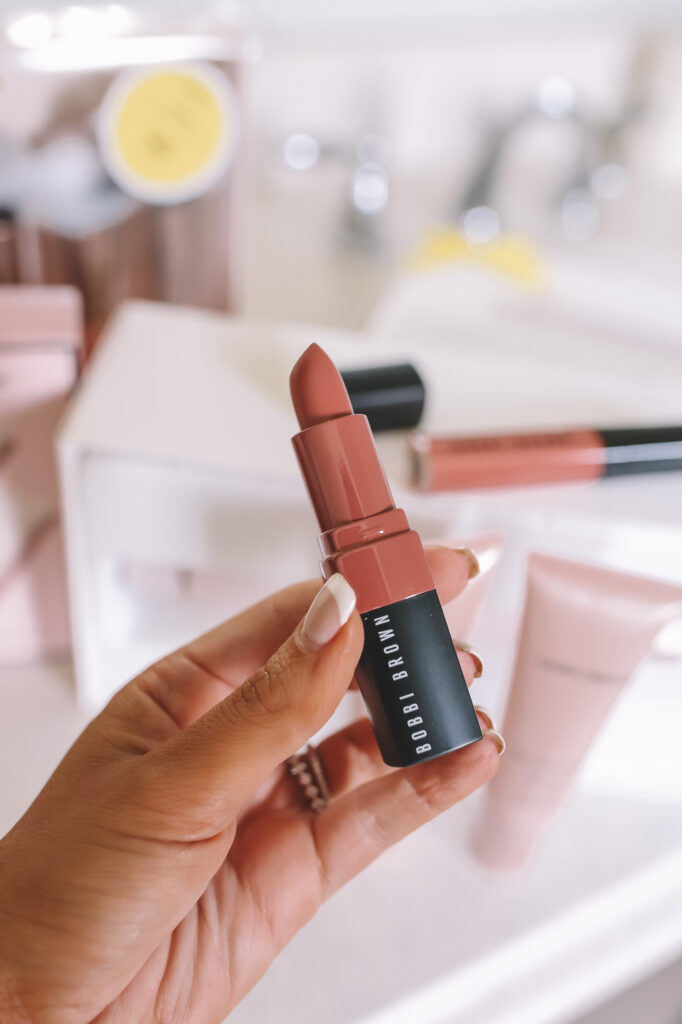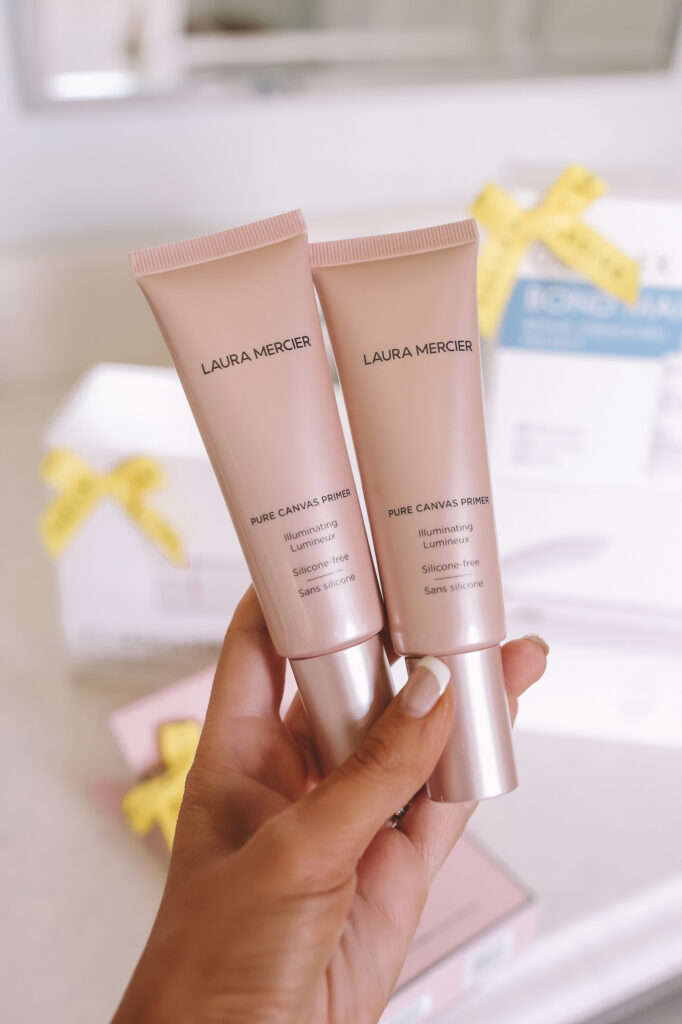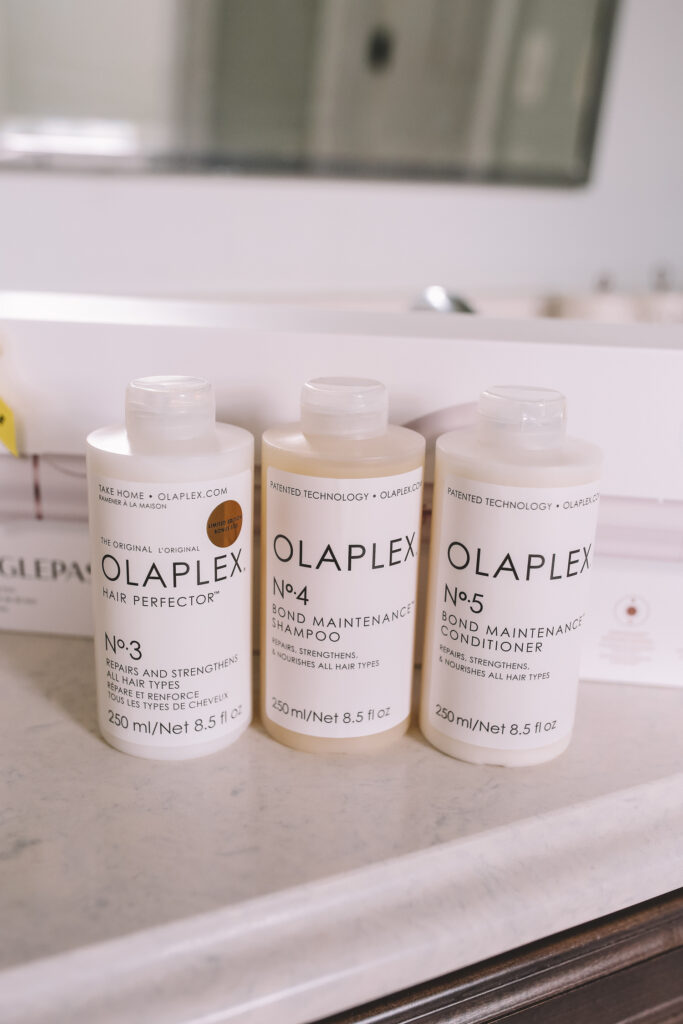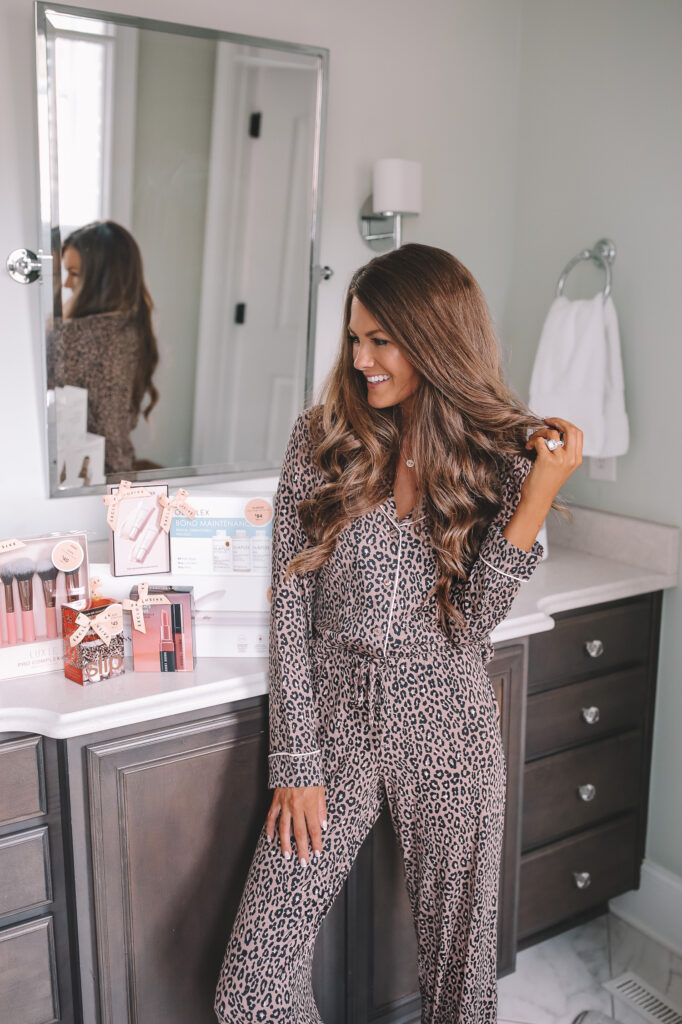 So normally I rush to blog about my Nordstrom Anniversary Sale beauty buys RIGHT AWAY… but this year, I wanted to wait a few days and test them out first! I always use the sale as an opportunity to stock up on my favorite beauty items (which I did), but this year I wanted to try out a few new ones, too. I thought the beauty deals were really great this year and I loved that they included a ton of products I was dying to try – it definitely makes it easier to take the plunge if you can save some money at the same time!
Below are my top five favorite beauty exclusives from the #nsale… and read on for a fun giveaway!
I can't remember exactly when I first started using Olaplex (it was sometime during my pregnancy because I remember asking you guys if it was pregnancy-safe), but it has worked wonders for my hair. This trio of products (a bond strengthener, moisturizing shampoo and reparative conditioner) is formulated specifically to reduce breakage and visibly strengthen hair. Because I use heat products so often on my hair, I was in desperate need of something to help stop and reverse the damage, and I think this set has helped a TON. I don't use it every single week since I like to switch up my hair products a lot, but I would say at least three times per month since I got it! (Which is a lot since I wash my hair only once per week lol). My bottles are almost out, so I quickly added this Olaplex Bond Maintenance Hair Care Set to my Wish List it as soon as I saw that it was a part of the Nordstrom Anniversary Sale. It's an awesome deal because you get a jumbo sized No. 3 Hair Perfector (8.5 oz) for the price of a normal size (3.3 oz). Everyone else I know that uses this also raves about it!
This is one of the products I've had my eye on for a while, so I could not pass up the incredible deal on this Laura Mercier primer – you get TWO full-sized primers for $50! I tested it out over the weekend and it's safe to say that I'm obsessed. This primer has a blend of micronized pearls that reflect light to give your skin a healthy glow. I wear it under makeup and it truly does blur imperfections and makes my makeup go on a lot smoother than without. For my "clean" folks – it is also formulated without silicon, parabens, sulfates, fragrances and talc!
These are a tried-and-true favorite of mine…. they truly are the best hair ties of all time!! I always make sure to grab a Slip hair tie set from the #NSALE because it is the cheapest I find them at any point in the year! I am pretty much guaranteed to have one on my wrist at all times. Not only do they not damage your hair at all (since they're made of silk), but they're super strong at the same time. I even sleep in these at night (I put my hair in a loose ponytail on top of my pillow) and they help keep my curls in tact. I love the pretty colors in this set and how it includes a new leopard pattern!
This is another product that I got to test out over the weekend! Not only is the rose gold finish absolutely gorgeous, but this brush set is on sale for more than 65% off during the Nordstrom Anniversary Sale. This set includes five brushes perfect for apply foundation, bronzer, highlighter, blush, and setting powder. They all work great (especially that fluffy foundation brush), and another reason I love them: they look beautiful sitting out on your bathroom counter, too!
The beautiful shade of this Bobbi Brown lipstick and gloss set immediately caught my eye while browsing this year's beauty selection. From the box, it looked like these colors are the perfect combination of pink and nude that compliments every skin tone… and that assumption would be correct! The lipstick feels more like a balm – it's super soothing on your lips – and the color is buildable so it becomes stronger the more you apply. The lip gloss is actually a stronger color and it's silky smooth and not sticky at all. And it really doesn't get much better than $29 for a Bobbi Brown lipstick and a lipgloss!
Y'all know how much I absolutely love my T3 curling iron! I was so happy to see it in the Nordstrom Anniversary Sale again this year, and it's even better this year because it's available in this gorgeous rose gold color. I promise, this is THE BEST curling iron you'll ever use – and it's a great time to get it while it's more than $50 off (they hardly ever go on sale). Buuuuut if you don't want to purchase one yourself… there's a chance you could win it, because I bought an extra one just for you guys!
I'll ship out this rose gold curling iron to one of y'all…. to enter, simply leave a comment and tell me your favorite items from the Nordstrom Anniversary Sale this year (it could be anything, clothes, jewelry, etc.) I'll pick a winner and announce in 24 hours!
xoxox