The Nordstrom Anniversary Sale is HERE! Every year, the pieces that I buy during the Nordstrom Anniversary Sale are the pieces I end up wearing all fall and winter long. I end up wearing these pieces to death, because not only are they discounted prices (which means you save money!), but they're high quality items from brands you trust. I was really, really happy with my purchases this year! I do feel like I left the store with less items than usual, but the items I did buy, I really love. I ended up going home and ordering a few items that my store didn't have (so look out for another blog post whenever I receive them!). If you have any question at all about any of the items I bought, please let me know in the comments! I will be responding to comments and questions there.
My sizing and height for reference:
I often get asked my height and normal size to help you decide what size to order. I normally wear a size XS/S and a 25 in denim. If I say something is "TTS," that means "true-to-size" and means that I just got my usual size. As for height, I am 5'3 and a half (that extra half inch matters! 😉 )
Without further ado… here are my Nordstrom Anniversary Sale picks!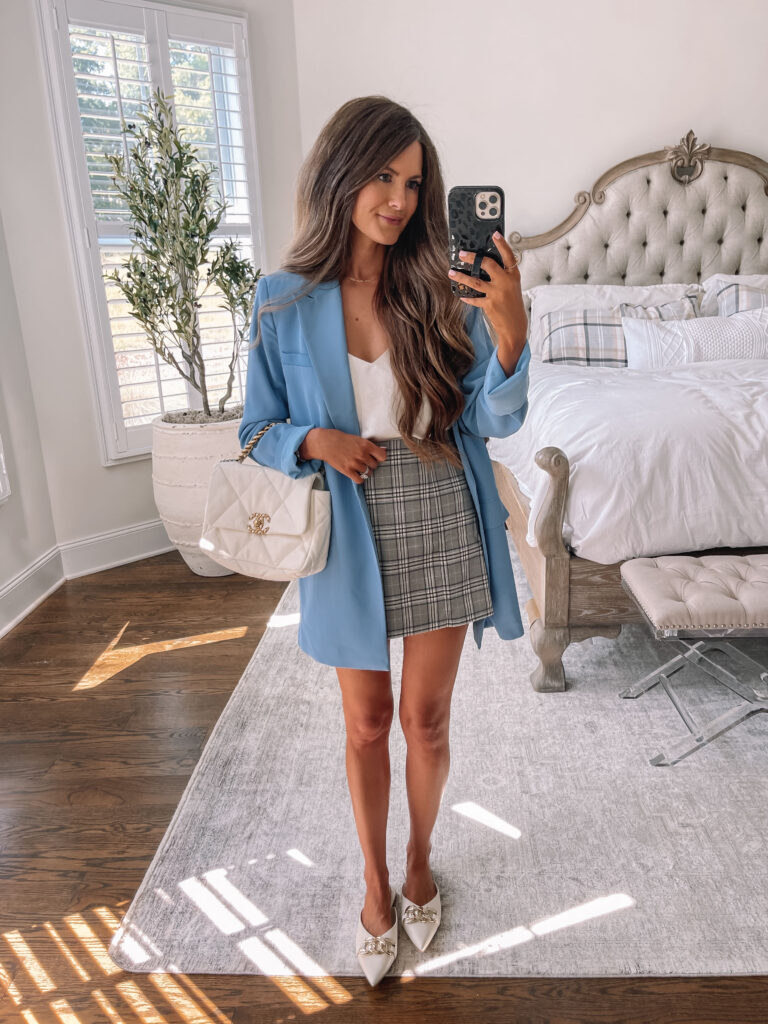 Sizing: TTS, I'm wearing size XS (it does have an oversized fit, as the name suggests!)
Quality: This is a great blazer for less than $50! It comes in three different colors, but I really loved how pretty the blue was when I saw it in person. It looks like it has been custom-tailored because it fits so well and is so flattering. You could wear this so many different ways in a corporate setting, but it will also easily take you to brunch or happy hour with the girls.
Price: Originally $79.00, marked down to $49.99
Sizing: TTS, I'm wearing size XS.
Quality: I found myself reaching for this satin camisole over and over again while trying on Nordstrom Sale looks! It looks great under pretty much any cardigan or blazer, and has a very nice feel and weight to it – you can tell that it is a quality product. It's also partially lined, so you will never see the outline of your bra!
Price: Originally $115.00, marked down to $74.99
Sizing: TTS, I'm wearing size XS.
Quality: This mini skirt is so, so cute! It's hard to tell from the photo, but the plaid pattern has a pretty blue color that matches the blazer perfectly. You could also wear it with a black blazer or a cardigan! This skirt would easily take you from work to happy hour.
Price: Originally $49.00, marked down to $29.99
Sizing: TTS, I'm wearing size 7.
Quality: These flats are super comfortable and super chic! I love how minimalistic they look with the pointed toe and chain-link hardware. They're easy to walk in, too! They come in four different colors and look great with denim, skirts and even dresses.
Price: Originally $74.95, marked down to $49.99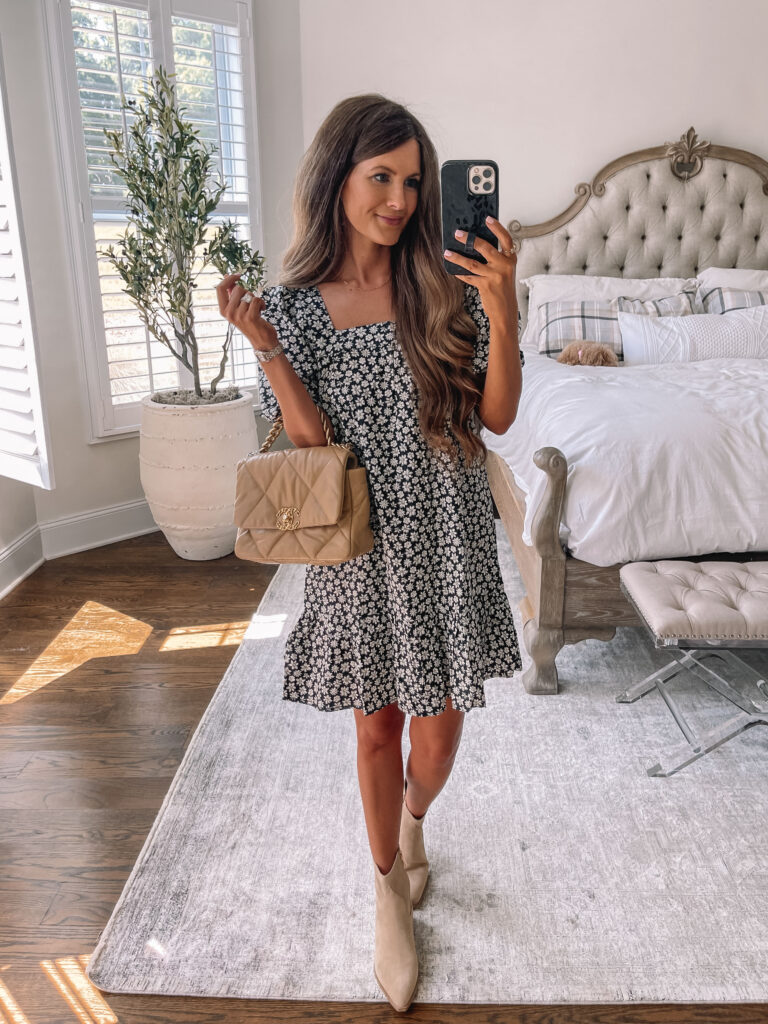 Sizing: TTS, I'm wearing size XS.
Quality: Literally the perfect dress to take you from summer to fall! Wear with sandals in the summer, the transition to booties or tall boots in the fall. This dress has the prettiest little flowers printed all over and puffy sleeves for a flattering shape.
Price: Originally $65.95, marked down to $44.99
Sizing: TTS, I'm wearing size 7.
Quality: These Steve Madden booties are hands-down my favorites shoes from the sale this year! They managed to go with every single outfit, and the color is absolutely GORGEOUS in person – a very light camel color. I had to force myself to try on different shoes with the outfits, because I was too tempted to just wear these over and over again! They are very comfortable and I honestly can't believe they're less than $100!
Price: Originally $129.95, marked down to $89.99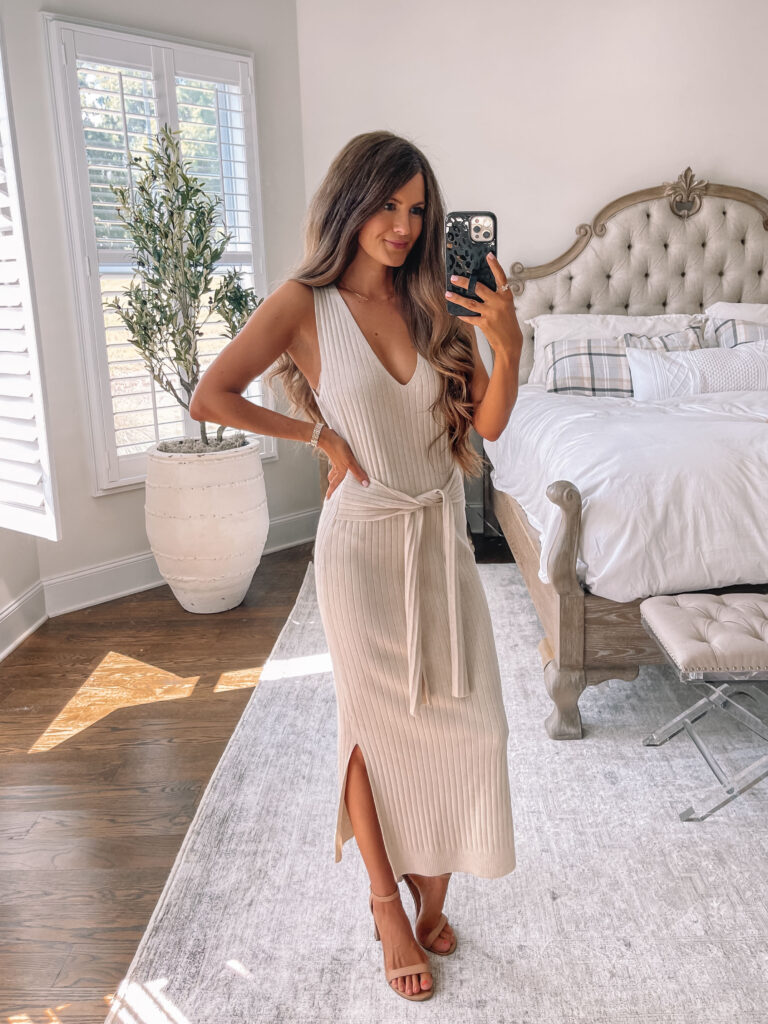 Sizing: I'm wearing size XS. If in between sizes, size down. I felt like I needed an XXS!
Quality: This dress is absolutely gorgeous and so, so comfortable! The tie waist creates an hourglass illusion and the ribbed material is super soft. I also love the small slit in the side that allows you to see some leg! This one would be great for pregnancy because the sweater material is very stretchy and you could tie it above your bump!
Price: Originally $79.00, marked down to $49.99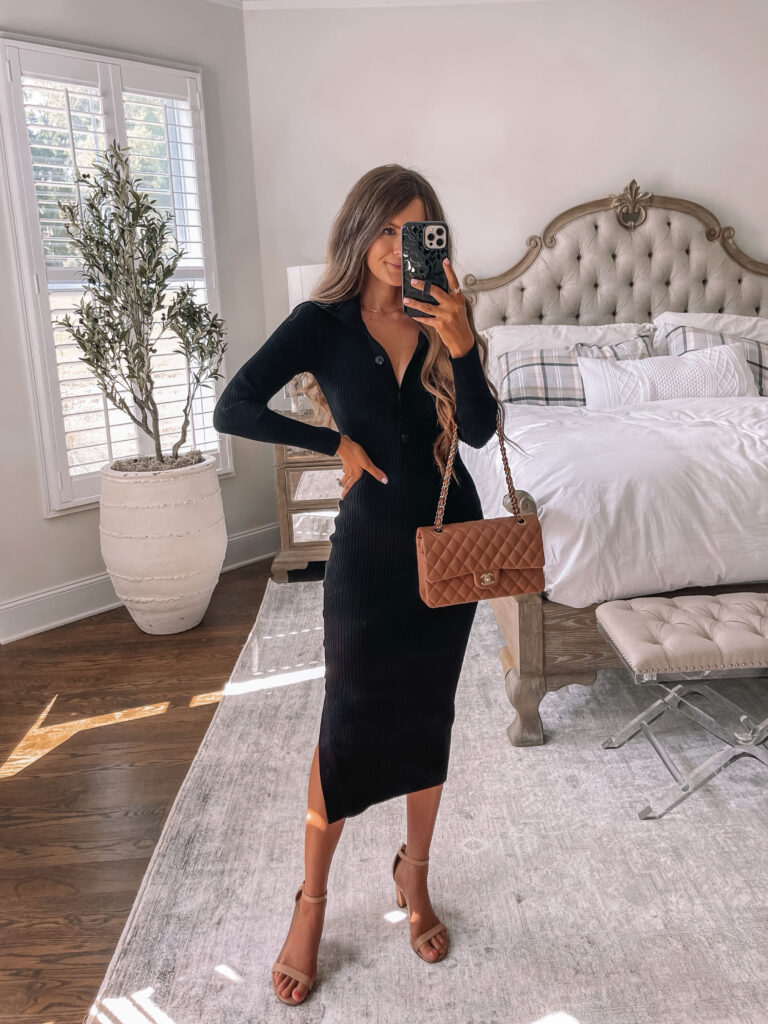 Sizing: TTS, I'm wearing size XS.
Quality: This is one of my favorite dresses from the sale! It is definitely a "splurge," but you can tell in person that this is a DESIGNER dress. It is absolutely stunning. It has nice buttons along the bust, as well as the slit in the side. In fact, you can unbutton more buttons if you wish for the slit to be higher! The length is great (even for short girls like me!). The material is ribbed, super soft and is not too tight – a major pet peeve of mine.
Price: Originally $320.00, marked down to $219.99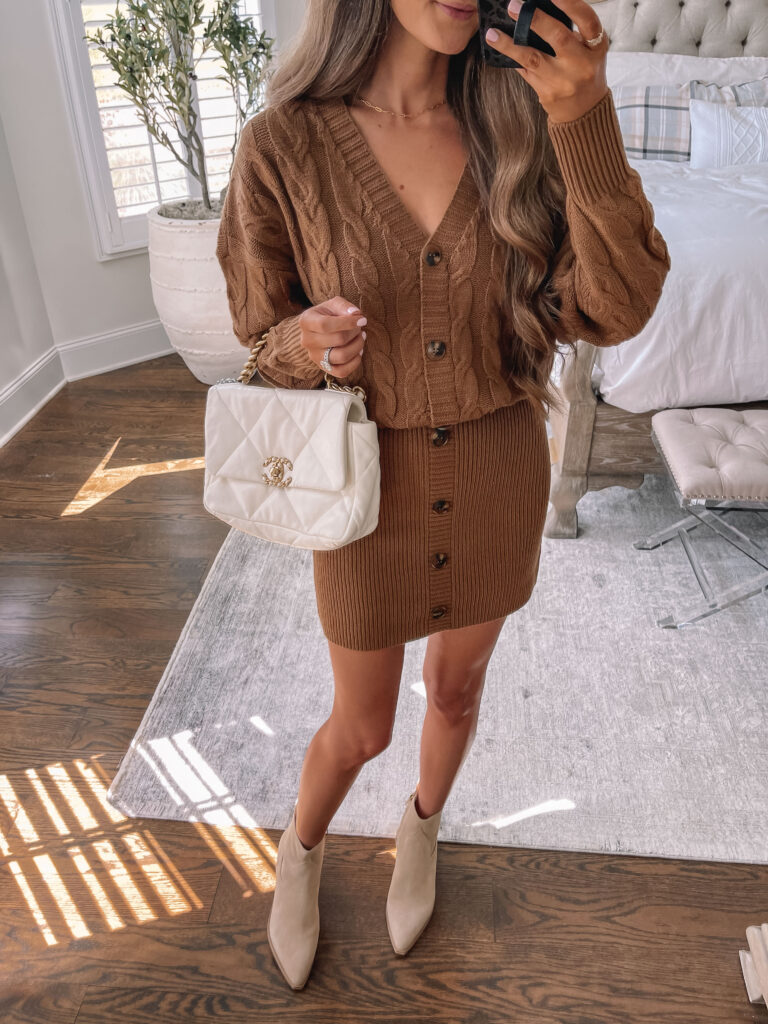 Sizing: TTS, I'm wearing size XS.
Quality: This sweater dress just screams "fall" to me! It makes me want a pumpkin spice latte 😉 It has really nice tortoise buttons down the front and is made from a very cozy sweater material. I love the cable knit detailing at the top. It would also look great with some tall boots!
Price: Originally $99.00, marked down to $58.99
Sizing: TTS, I'm wearing size 7.
Quality: These Steve Madden booties are hands-down my favorites shoes from the sale this year! They managed to go with every single outfit, and the color is absolutely GORGEOUS in person – a very light camel color. I had to force myself to try on different shoes with the outfits, because I was too tempted to just wear these over and over again! They are very comfortable and I honestly can't believe they're less than $100!
Price: Originally $129.95, marked down to $89.99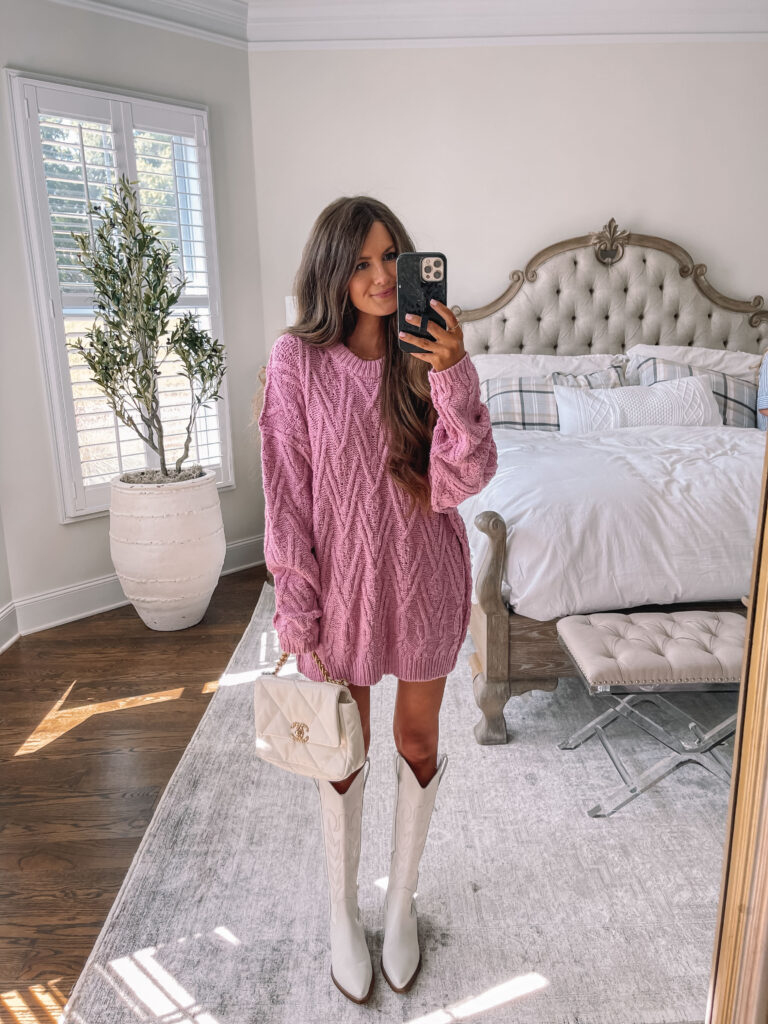 Sizing: I'm wearing size small. Get your normal size if you plan to wear it as a top. Size up one size if you want to wear it as a dress!
Quality: The Free People sweaters are always the first to sell out in the Nordstrom Anniversary Sale! This one comes in five different colors and is marked down to less than $100. In true Free People fashion, this sweater is super high-quality. I love the chunky knit detailing! It is oversized, so I sized up to a small in order to wear it as a dress. The pink color is so girly and feminine, it just makes me happy!
Price: Originally $148.00, marked down to $96.99
Sizing: TTS, I'm wearing size XS.
Quality: Words cannot express how much I love this jumpsuit! It is SO soft, it feels almost like pajamas. The jumpsuit is double lined and has pockets, making it a great option for a travel day. The black color is very slimming! This would look amazing with a denim jacket or cardigan thrown on top.
Price: Originally $99.00, marked down to $59.99
Quality: This was my favorite hat from the Nordstrom Anniversary Sale this year! It's the perfect tan color to go with all your autumn outfits.
Price: Originally $49.00, marked down to $31.99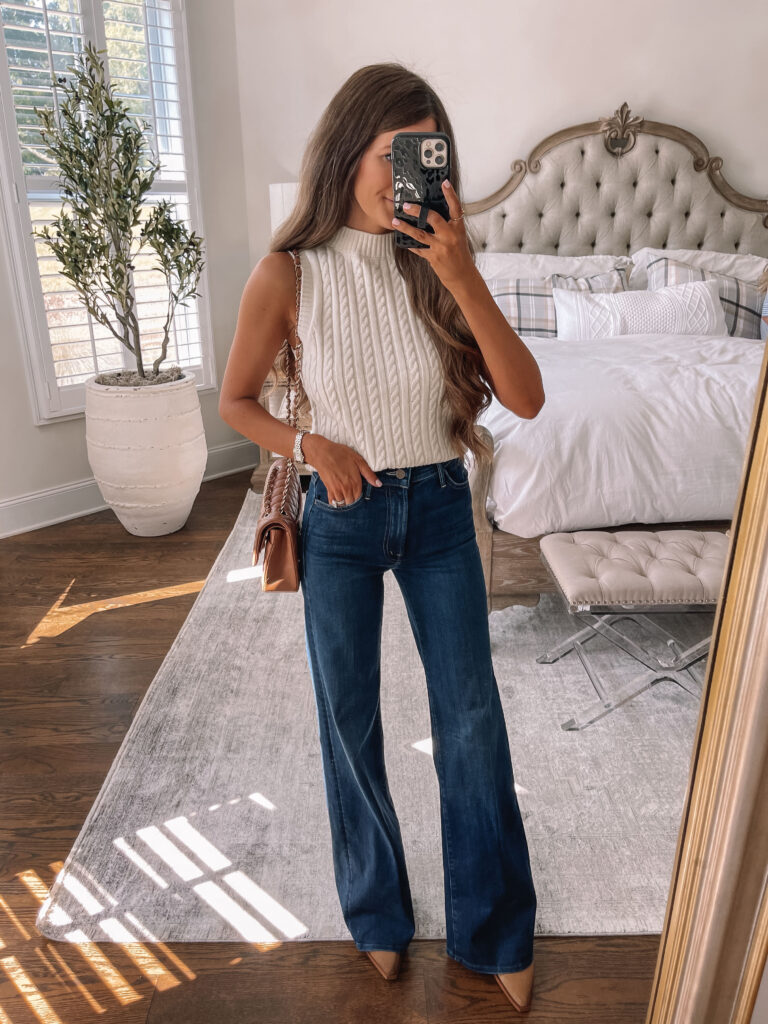 Sizing: TTS, I'm wearing size XS.
Quality: This sweater vest is so nice, I bought it twice! (I got it in this "Ivory Tofu" color as well as the "Pink Moonlite" color.) It's made of a soft cotton and has a thick, intricate cable pattern that is absolutely gorgeous in person. You could even layer this over a button-down for an office-appropriate outfit!
Price: Originally $39.00, marked down to $24.99
Sizing: I'm wearing size 24. If in between sizes, size down.
Quality: I am so impressed with the selection of MOTHER denim in the Nordstrom Anniversary Sale this year – and this pair is no different! They are very trendy with a high waist, wide legs and a super dark wash. They are honestly unlike any other pair of jeans that I own! I was hesitant to try them on, but absolutely loved them when I did. They also went with almost every single top and cardigan that I tried on in the dressing room!
Price: Originally $278.00, marked down to $185.99
Sizing: TTS, I'm wearing size 7.
Quality: These shoes are the perfect western booties to take your "coastal cowgirl" summer look into fall. They have an elongating pointed toe, intricate stitching and a 3 1/4″ heel. They're perfect for wearing with dresses or under your favorite jeans!
Price: Originally $200.00, marked down to $129.99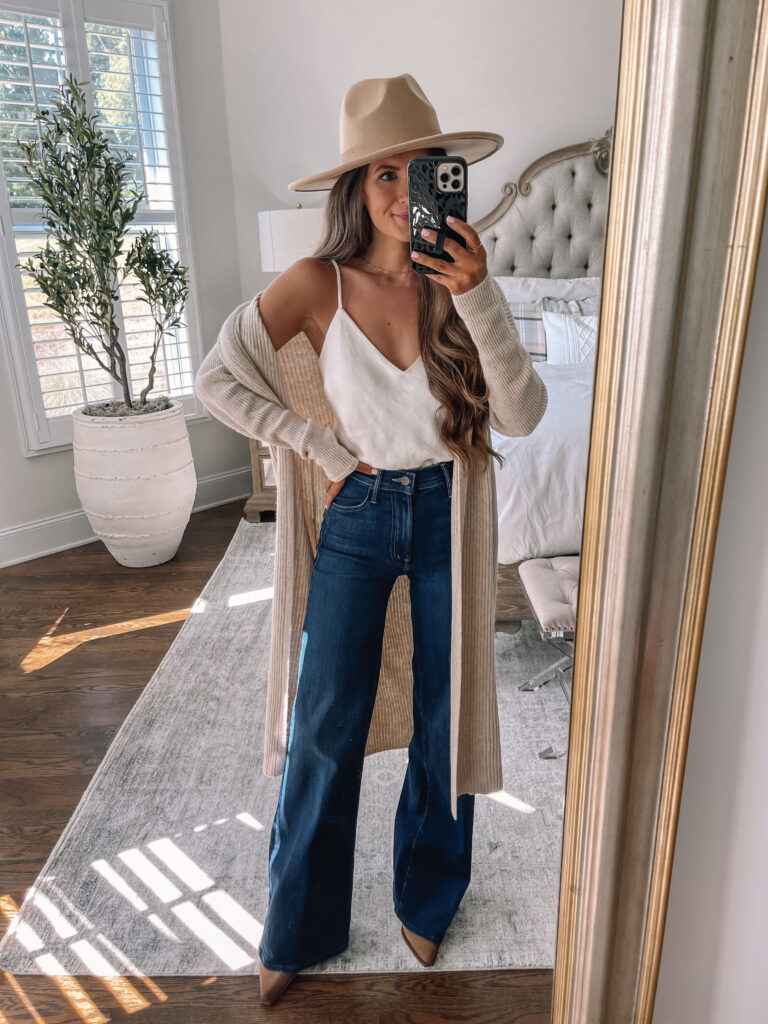 Sizing: TTS, I'm wearing size XS.
Quality: This is my very favorite cardigan from the sale!! I honestly can't believe that it's under $50. It's so soft, it feels like cashmere. It has a shawl collar and is made from a delicate ribbed sweater material. It's very soft and I love how it falls below the knee. There are so many different ways to wear it!
Price: Originally $79.00, marked down to $49.99
Sizing: TTS, I'm wearing size XS.
Quality: I found myself reaching for this satin camisole over and over again while trying on Nordstrom Sale looks! It looks great under pretty much any cardigan or blazer, and has a very nice feel and weight to it – you can tell that it is a quality product. It's also partially lined, so you will never see the outline of your bra!
Price: Originally $115.00, marked down to $74.99
Sizing: I'm wearing size 24. If in between sizes, size down.
Quality: I am so impressed with the selection of MOTHER denim in the Nordstrom Anniversary Sale this year – and this pair is no different! They are very trendy with a high waist, wide legs and a super dark wash. They are honestly unlike any other pair of jeans that I own! I was hesitant to try them on, but absolutely loved them when I did. They also went with almost every single top and cardigan that I tried on in the dressing room!
Price: Originally $278.00, marked down to $185.99
Sizing: TTS, I'm wearing size 7.
Quality: These shoes are the perfect western booties to take your "coastal cowgirl" summer look into fall. They have an elongating pointed toe, intricate stitching and a 3 1/4″ heel. They're perfect for wearing with dresses or under your favorite jeans!
Price: Originally $200.00, marked down to $129.99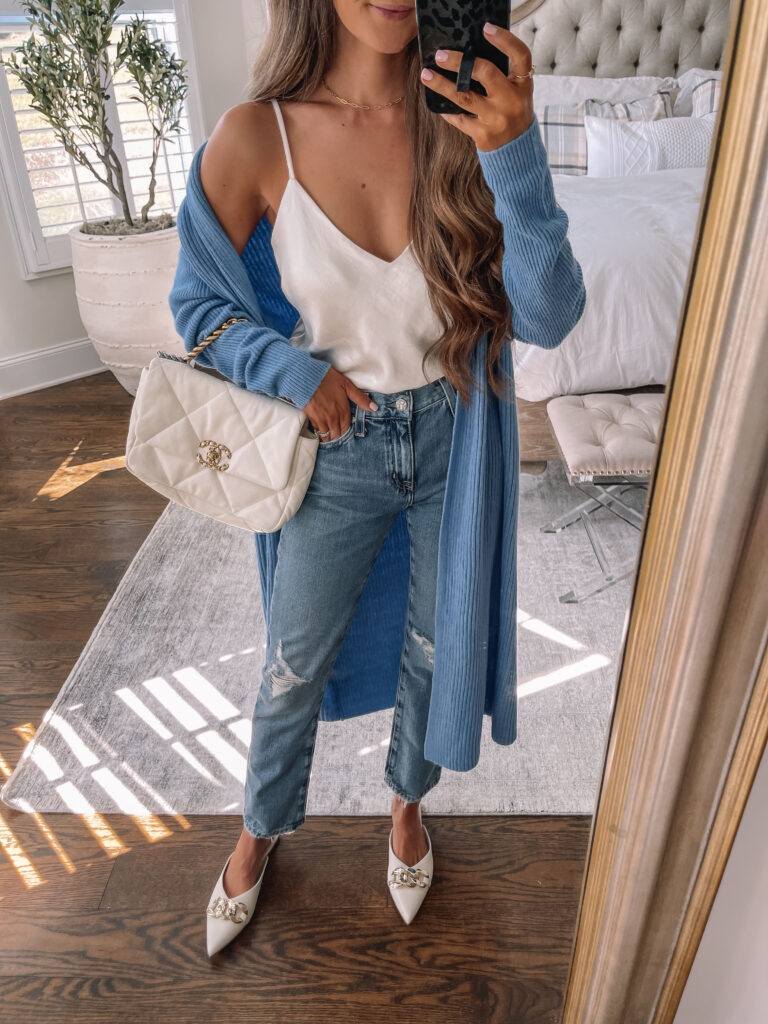 Sizing: TTS, I'm wearing size XS.
Quality: This is my very favorite cardigan from the sale, I had to get it in blue as well! I honestly can't believe that it's under $50. It's so soft, it feels like cashmere. It has a shawl collar and is made from a delicate ribbed sweater material. It's very soft and I love how it falls below the knee.
Price: Originally $79.00, marked down to $49.99
Sizing: TTS, I'm wearing size XS.
Quality: I found myself reaching for this satin camisole over and over again while trying on Nordstrom Sale looks! It looks great under pretty much any cardigan or blazer, and has a very nice feel and weight to it – you can tell that it is a quality product. It's also partially lined, so you will never see the outline of your bra!
Price: Originally $115.00, marked down to $74.99
Sizing: I'm wearing size 24. If in between sizes, size down.
Quality: These AG jeans were on my Wish List from the minute that Nordstrom released their preview of the Nordstrom Anniversary Sale – and they did not disappoint! I absolutely love the fit of these boyfriend jeans. They are a bit slouchy but not *too* slouchy, and feature some distressing on the knees as well as slightly cropped length, perfect for wearing with both booties and flats.
Price: Originally $235.00, marked down to $156.99
Sizing: TTS, I'm wearing size 7.
Quality: These flats are super comfortable and super chic! I love how minimalistic they look with the pointed toe and chain-link hardware. They're easy to walk in, too! They come in four different colors and look great with denim, skirts and even dresses.
Price: Originally $74.95, marked down to $49.99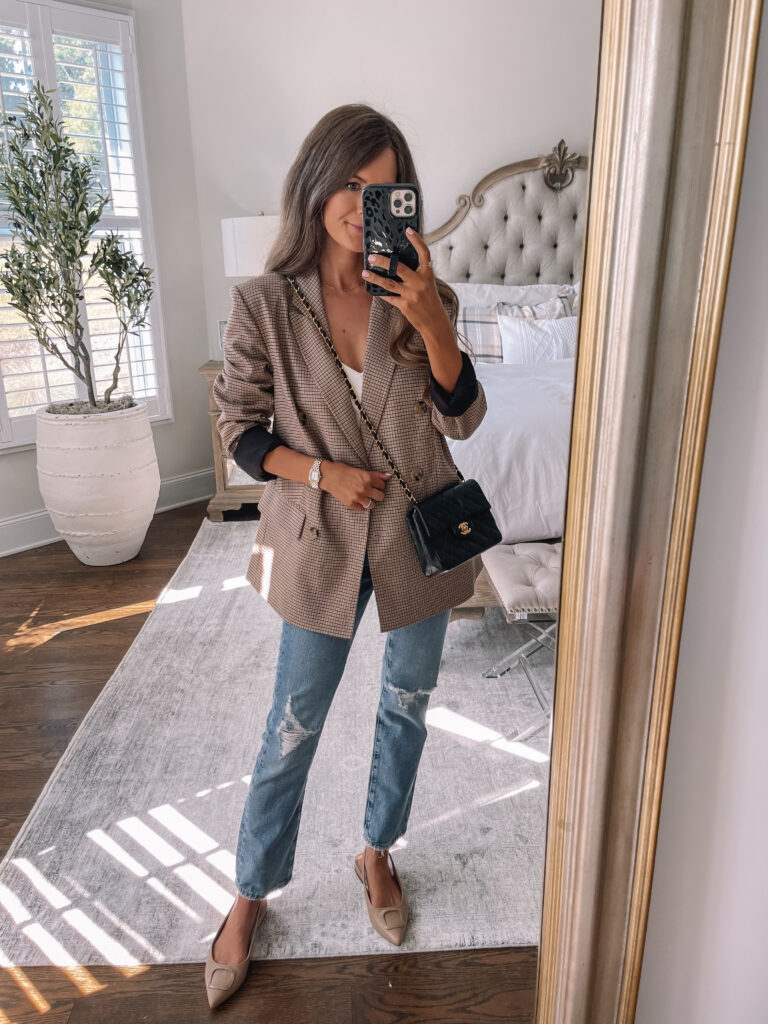 Sizing: TTS, I'm wearing size XS.
Quality: I am so impressed with this Wayf Double Breasted Blazer! There's something about it that's effortless and cool – just throw on with leggings or jeans and you have a perfectly styled outfit. It is lined and looks great with cuffed sleeves.
Price: Originally $118.00, marked down to $79.99
Sizing: TTS, I'm wearing size XS.
Quality: I found myself reaching for this satin camisole over and over again while trying on Nordstrom Sale looks! It looks great under pretty much any cardigan or blazer, and has a very nice feel and weight to it – you can tell that it is a quality product. It's also partially lined, so you will never see the outline of your bra!
Price: Originally $115.00, marked down to $74.99
Sizing: I'm wearing size 24. If in between sizes, size down.
Quality: These AG jeans were on my Wish List from the minute that Nordstrom released their preview of the Nordstrom Anniversary Sale – and they did not disappoint! I absolutely love the fit of these boyfriend jeans. They are a bit slouchy but not *too* slouchy, and feature some distressing on the knees as well as slightly cropped length, perfect for wearing with both booties and flats.
Price: Originally $235.00, marked down to $156.99
Sizing: TTS, I'm wearing size 7.
Quality: How chic are these slingback flats? The pointed toe and nude color makes them look like an extension of your legs, which makes them incredibly flattering! They are super comfortable and really help "dress up" a pair of denim.
Price: Originally $79.95, marked down to $59.99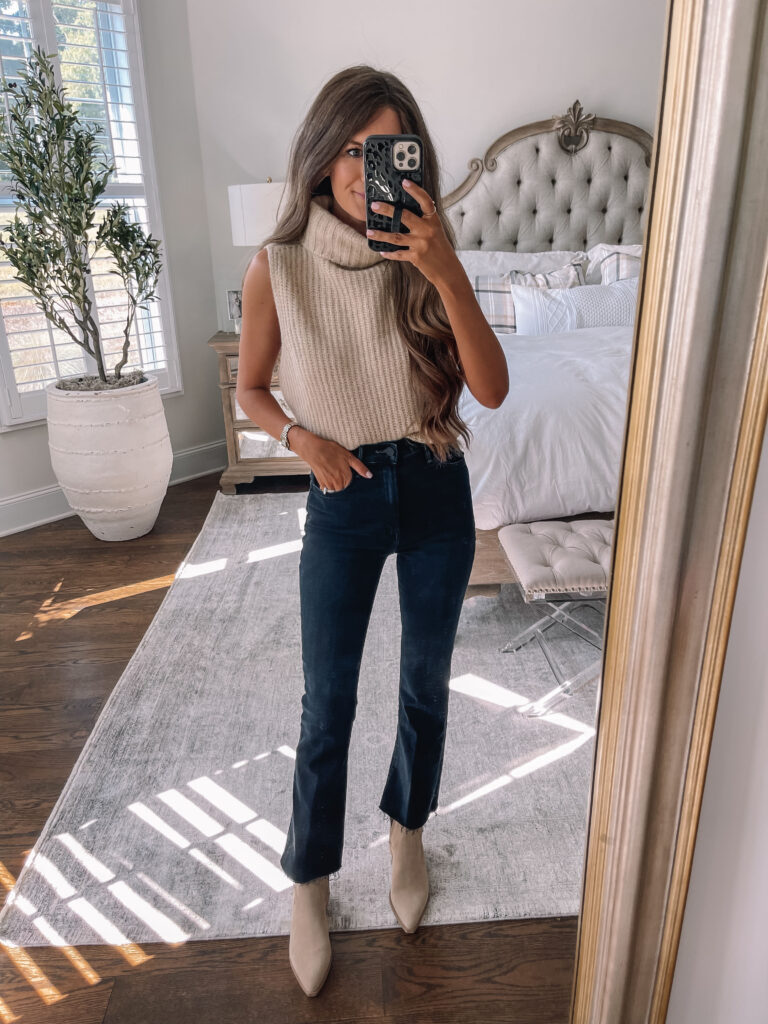 Sizing: TTS, I'm wearing size XS.
Quality: I love the look of this sleeveless cowl neck sweater! It's super cozy and will be a great transitional piece as we head into fall. Getting cooler outside? Just add a jacket! The nice "oatmeal" color of this piece ensures that you can wear it with pretty much any color bottoms!
Price: Originally $79.00, marked down to $59.99
Sizing: TTS, I'm wearing size 25.
Quality: As I said before, MOTHER really knocked it out of the park with their NSALE denim this year. I love the color of these ankle flare jeans – they're not true black, more like a faded black – and I feel so "cool" wearing them!
Price: Originally $258.00, marked down to $169.99
Sizing: TTS, I'm wearing size 7.
Quality: These Steve Madden booties are hands-down my favorites shoes from the sale this year! They managed to go with every single outfit, and the color is absolutely GORGEOUS in person – a very light camel color. I had to force myself to try on different shoes with the outfits, because I was too tempted to just wear these over and over again! They are very comfortable and I honestly can't believe they're less than $100!
Price: Originally $129.95, marked down to $89.99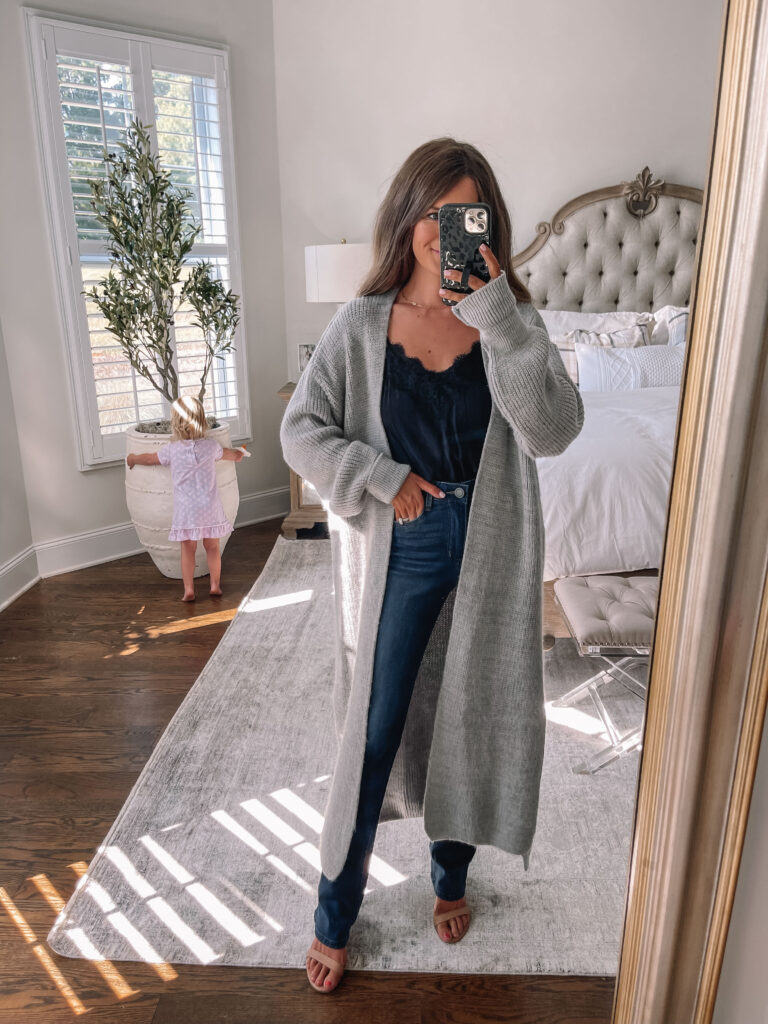 Sizing: TTS, I'm wearing size XS.
Quality: A cozy maxi cardigan is a closet staple for fall, and this one fits the description to a T. With a slightly ribbed sweater material and an array of neutral colors to choose from, you will reach for it all fall and winter long. This one is EXTRA thick and cozy!
Price: Originally $85.00, marked down to $59.99
Sizing: I'm wearing size 00. If in between sizes, size down.
Quality: These exact jeans were my favorite purchase from last year's NSALE, so I wasn't at all surprised to see them included again this year (I have seen this happen with some of the best sellers!). The dark wash and flared leg are extremely flattering and make your legs look a mile long. The material is soft and does have some stretch to it, that's why I recommend sizing down if you're in between sizes. The price is unbeatable, since these jeans really look and feel designer!
Price: Originally $88.00, marked down to $58.99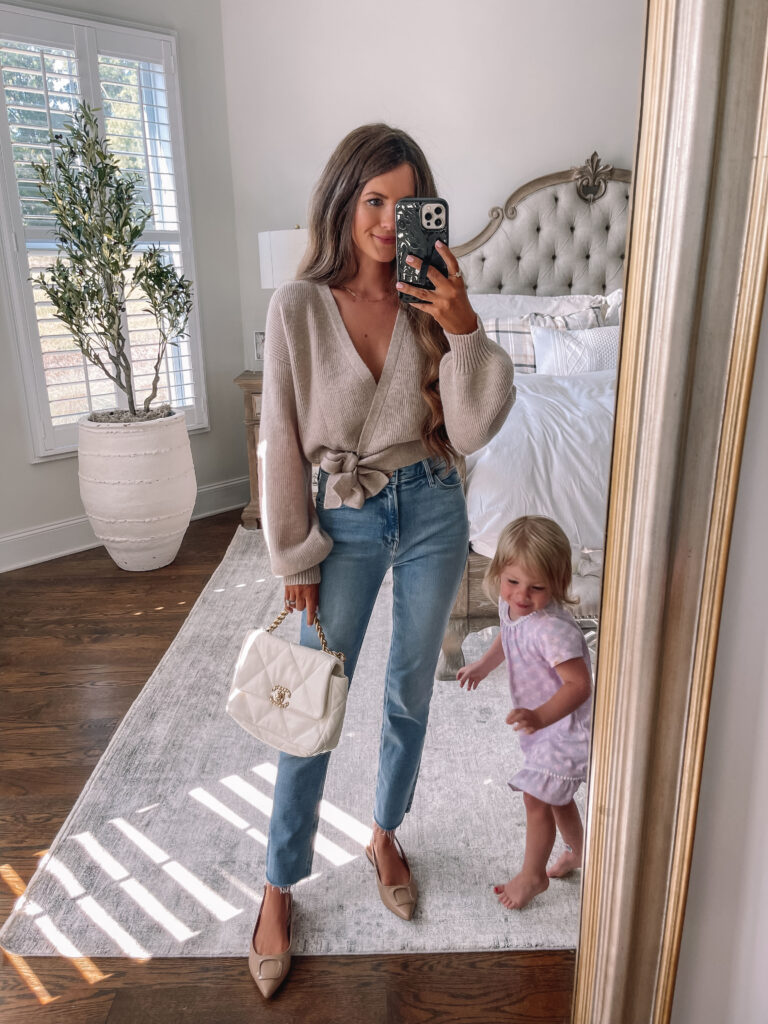 Sizing: TTS, I'm wearing size XS.
Quality: Obsessed is an understatement! This wrap sweater is super soft and cozy, the material is very thick and would definitely keep you warm in the fall. To dress it up a little, you could even style it with a lacy bra underneath.
Price: Originally $89.00, marked down to $59.99
Sizing: TTS, I'm wearing size 25.
Quality: These are the PERFECT ankle jeans for fall. They hit at just the right place on your ankles to ensure that you can wear them every day – with flats, booties and even sneakers. The light wash is very "trendy" for fall!
Price: Originally $268.00, marked down to $178.99
Sizing: TTS, I'm wearing size 7.
Quality: How chic are these slingback flats? The pointed toe and nude color makes them look like an extension of your legs, which makes them incredibly flattering! They are super comfortable and really help "dress up" a pair of denim.
Price: Originally $79.95, marked down to $59.99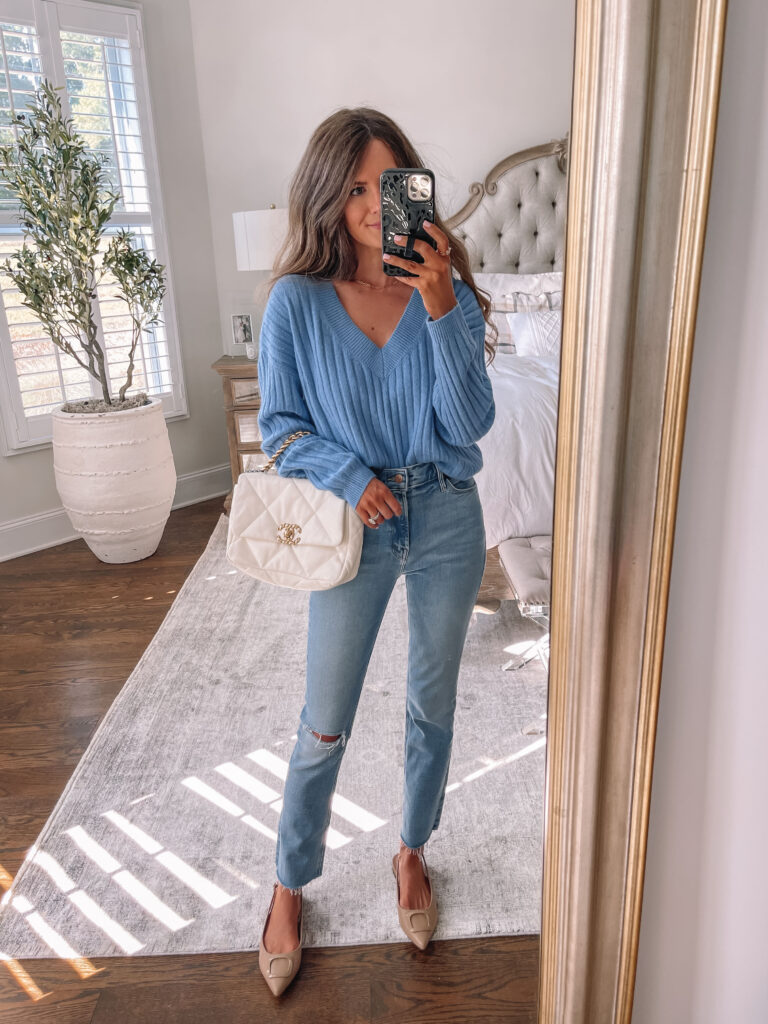 Sizing: TTS, I'm wearing size XS.
Quality: This sweater is such a beautiful blue color, I had to have it! It's made of a soft ribbed sweater material and does come in a few colors if blue isn't your thing. At less than $40, this top is an absolute steal!
Price: Originally $59.00, marked down to $39.99
Sizing: TTS, I'm wearing size 25.
Quality: These are the PERFECT ankle jeans for fall. They hit at just the right place on your ankles to ensure that you can wear them every day – with flats, booties and even sneakers. The light wash is very "trendy" for fall!
Price: Originally $268.00, marked down to $178.99
Sizing: TTS, I'm wearing size 7.
Quality: How chic are these slingback flats? The pointed toe and nude color makes them look like an extension of your legs, which makes them incredibly flattering! They are super comfortable and really help "dress up" a pair of denim.
Price: Originally $79.95, marked down to $59.99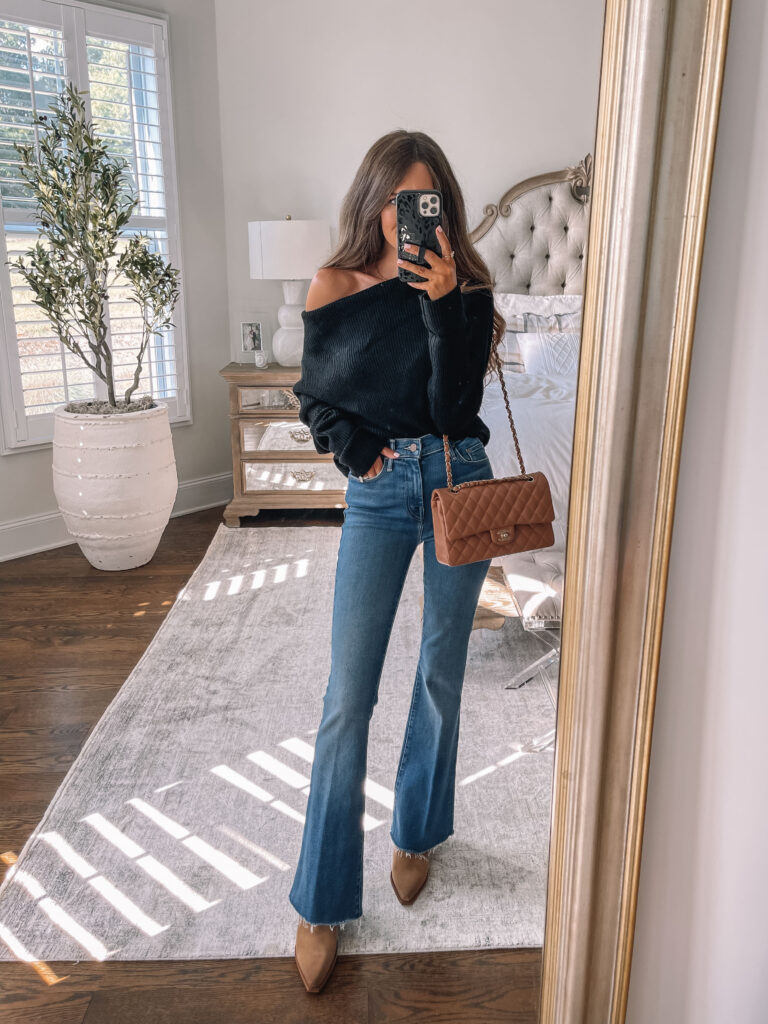 Sizing: TTS, I'm wearing size XS.
Quality: A good off-the-shoulder sweater is an NSALE "must-have," and this one is absolutely perfect, with a cozy feel and soft material. It looks laidback and put together all at the same time!
Price: Originally $69.00, marked down to $44.99
Sizing: TTS, I'm wearing size 25.
Quality: I know what you're thinking – ANOTHER pair of MOTHER jeans?! Yes, my friends, another pair of MOTHER jeans, and these just might be my favorite. These jeans have flared, frayed hems reminiscent of the 1970s, with a high waist and comfortable fit. The wash on these is in between light and dark, making them a great pair of everyday jeans!
Price: Originally $258.00, marked down to $169.99
Sizing: TTS, I'm wearing size 7.
Quality: These shoes are the perfect western booties to take your "coastal cowgirl" summer look into fall. They have an elongating pointed toe, intricate stitching and a 3 1/4″ heel. They're perfect for wearing with dresses or under your favorite jeans!
Price: Originally $200.00, marked down to $129.99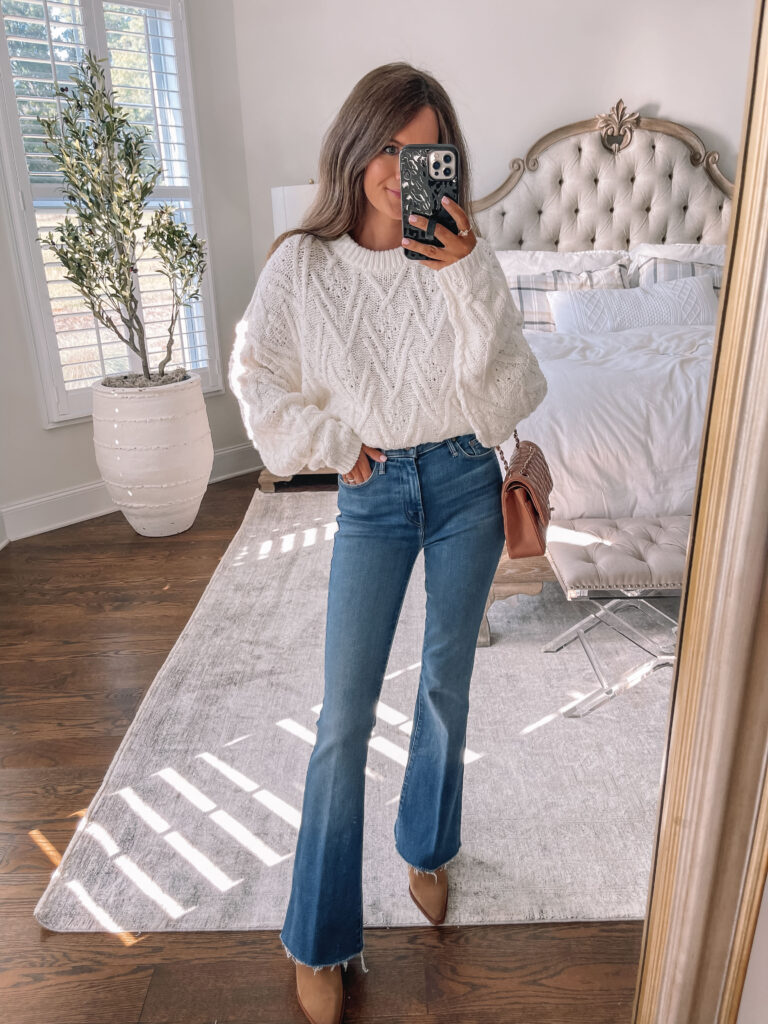 Sizing: I'm wearing size XS. Get your normal size if you plan to wear it as a top. Size up one size if you want to wear it as a dress.
Quality: The Free People sweaters are always the first to sell out in the Nordstrom Anniversary Sale! This one comes in five different colors and is marked down to less than $100. In true Free People fashion, this sweater is super high-quality. I love the chunky knit detailing! The "ivory" color is not too white and not too ivory – it is a beautiful color.
Price: Originally $148.00, marked down to $96.99
Sizing: TTS, I'm wearing size 25.
Quality: I know what you're thinking – ANOTHER pair of MOTHER jeans?! Yes, my friends, another pair of MOTHER jeans, and these just might be my favorite. These jeans have flared, frayed hems reminiscent of the 1970s, with a high waist and comfortable fit. The wash on these is in between light and dark, making them a great pair of everyday jeans!
Price: Originally $258.00, marked down to $169.99
Sizing: TTS, I'm wearing size 7.
Quality: These shoes are the perfect western booties to take your "coastal cowgirl" summer look into fall. They have an elongating pointed toe, intricate stitching and a 3 1/4″ heel. They're perfect for wearing with dresses or under your favorite jeans!
Price: Originally $200.00, marked down to $129.99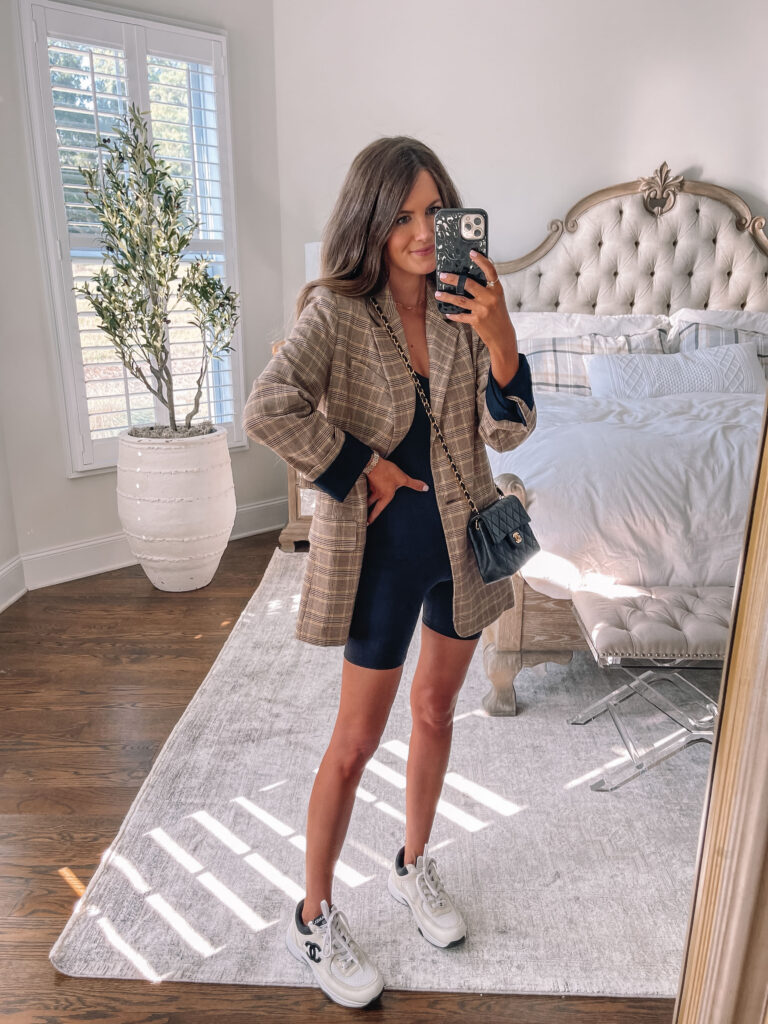 Sizing: I'm wearing size S. If in between sizes, size up.
Quality: I could talk about this onesie all day and never run out of good things to say about it! It's made of a very silky material, almost like workout gear, that feels like clouds against your body. You could wear it so many ways: by itself for a workout, or dress it up with a cardigan, denim jacket or blazer! I normally find that Free People runs large, but that was not the case with this item. Size up for a more comfortable fit!
Price: Originally $98.00, marked down to $64.99
Sizing: TTS, I'm wearing size XS.
Quality: This is a good staple plaid blazer that you need in your fall wardrobe. The color screams "fall," while the fit and feel scream expensive! While it is a little bit of a splurge, it definitely comes across as a designer piece! I have seen similar blazers being sold for $200 and $300.
Price: Originally $158.00, marked down to $104.99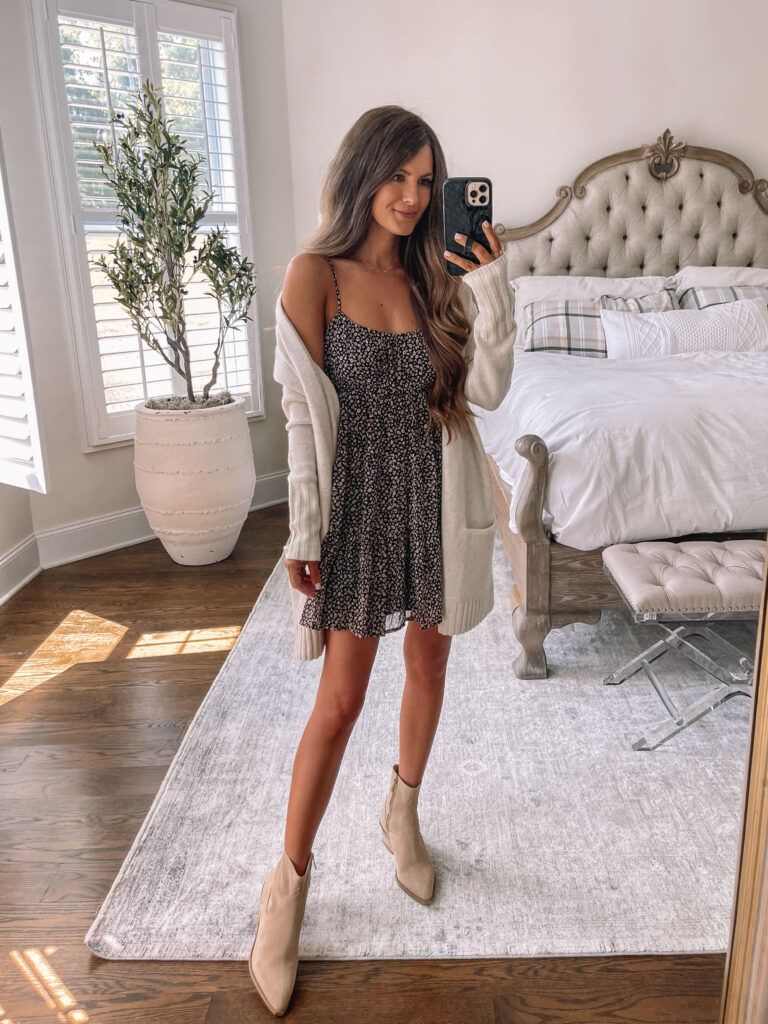 Sizing: TTS, I'm wearing size XS.
Quality: Another perfect dress to wear now and into the fall. I love the tiny floral pattern on this one! The straps tie on to your shoulders, so you can adjust them to your liking. The bust area is ruched and very flattering. This one also pairs well with a denim jacket!
Price: Originally $59.00, marked down to $39.99
Sizing: TTS, I'm wearing size XS.
Quality: This super soft, cozy cardigan from Caslon reminds me of rainy days spent in a bookstore. Seriously, you will want to curl up in this and read your favorite book! It's very soft and thick, and extremely high quality for less than $50! Feels almost like you're wearing your favorite blanket. 🙂
Price: Originally $79.00, marked down to $49.99
Sizing: TTS, I'm wearing size 7.
Quality: These Steve Madden booties are hands-down my favorites shoes from the sale this year! They managed to go with every single outfit, and the color is absolutely GORGEOUS in person – a very light camel color. I had to force myself to try on different shoes with the outfits, because I was too tempted to just wear these over and over again! They are very comfortable and I honestly can't believe they're less than $100!
Price: Originally $129.95, marked down to $89.99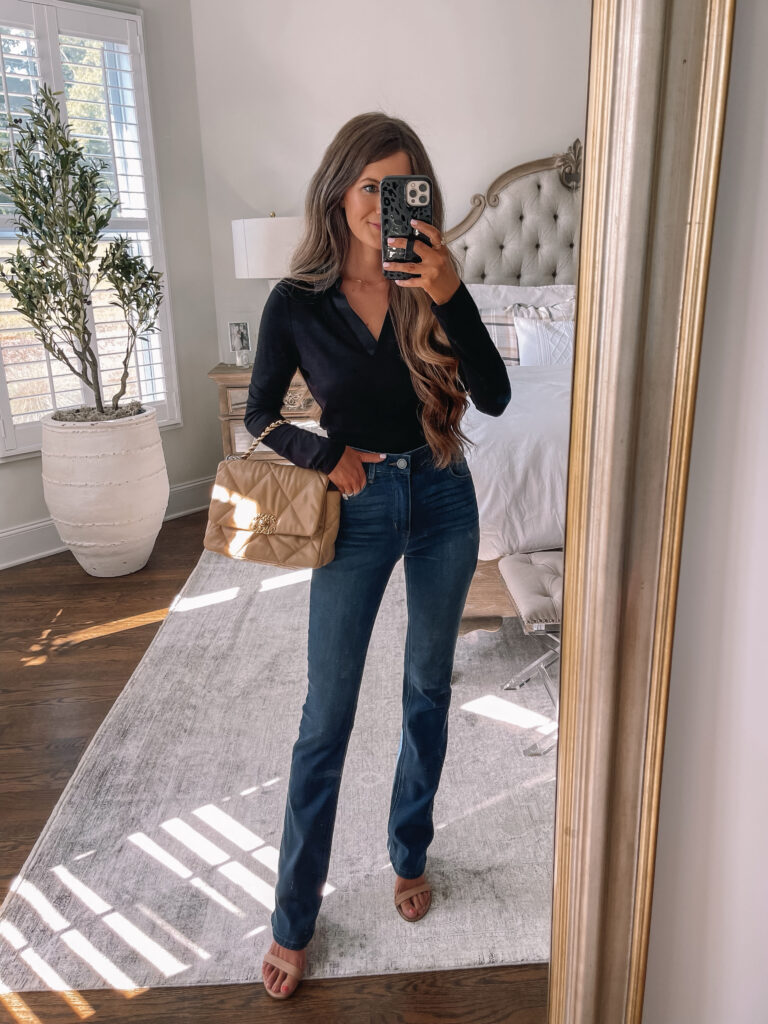 Sizing: TTS, I'm wearing size XS.
Quality: I can NOT believe the price of this polo sweater! The collar is made from a shiny material that looks and feels just like silk, making this piece instantly look designer. I absolutely love how they have it styled on Nordstrom's website!
Price: Originally $49.00, marked down to $31.99
Sizing: I'm wearing size 00. If in between sizes, size down.
Quality: These exact jeans were my favorite purchase from last year's NSALE, so I wasn't at all surprised to see them included again this year (I have seen this happen with some of the best sellers!). The dark wash and flared leg are extremely flattering and make your legs look a mile long. The material is soft and does have some stretch to it, that's why I recommend sizing down if you're in between sizes. The price is unbeatable, since these jeans really look and feel designer!
Price: Originally $88.00, marked down to $58.99
Let me know if you have any questions in the comment section and I'll get back to you there! 🙂