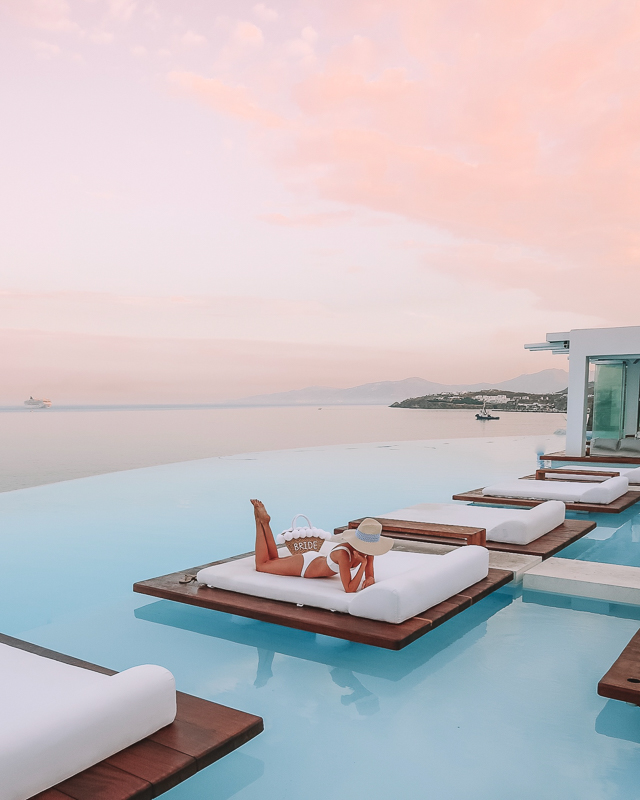 white bikini top & bikini bottoms // hat with blue and white striped ribbon // BRIDE pom pom bag
Good morning, everyone!!! Long time no talk 😉 I've never taken a break from blogging for this long, and I'm so happy to be back! If you follow along on Instagram, you may know that my husband (eeeek!) and I just spent the past two weeks on our honeymoon in Greece and Italy. A lot of you guys were interested in our itinerary and how we traveled from place to place, so I'll be doing a series of blog posts on each location. To start with, we did not work with a travel agent for this trip. Chris and I did tons of research and planned everything ourselves – to me, doing research is one of the most fun parts of planning a trip! So yes, you can totally plan and book our exact trip by yourself without the aid of a travel agent.
Today's travel guide is all about MYKONOS, Greece!
To start with, I'm rounding up all of our Instagrams from Mykonos with a short description, but scroll down to the bottom of this post for an in depth travel guide, as well as my opinion on the difference between Mykonos and Santorini.
Our first night in Mykonos we spent exploring Mykonos Town.
Another picture from Mykonos Town, taken right before dinner one night. You'll find white-washed walls and blue doors all over Mykonos Town.
First up, I received a lot of questions about the difference between Mykonos and Santorini. Before our trip, a lot of people told us, "Mykonos is where you go to party, and Santorini is where you go to relax!" and we found that to be VERY true! Mykonos is a party town. There are tons of nightclubs and beach bars and it is not uncommon to stay out until 5 or 6 a.m. partying while you're there! Mykonos is also known for its amazing beaches, whereas Santorini doesn't really have good beaches, but it does have very romantic hotels with amazing pools and fantastic cliffside views. Between Mykonos and Santorini, I really don't think I could pick a favorite! They're both very different and unique in their own ways. My recommendation is to see them both, since they're only a ferry-ride away from each other.
There are two ways to get to Mykonos: by land or by water. The most common route is to fly into Athens, Greece, and then take a 6-hour ferry from Athens to Mykonos. This option is a little more affordable, especially if you buy the plane and ferry tickets far in advance. The other option (and the one that Chris and I preferred) is to fly directly into Mykonos. The Mykonos airport is pretty small and there are limited flights, which is probably why it costs more. We took a direct flight from Charlotte to London (it was a red-eye flight so we slept most of the time), then we took another three-hour flight from London to Mykonos. We chose to do this because of the convenience factor… we wanted to arrive in Mykonos as quickly as possible and didn't want to board a ferry once we had landed in Greece! We arranged transportation with our hotel beforehand, so they were waiting for us at the airport once we arrived. From there, it was only a 10 minute drive to our hotel.