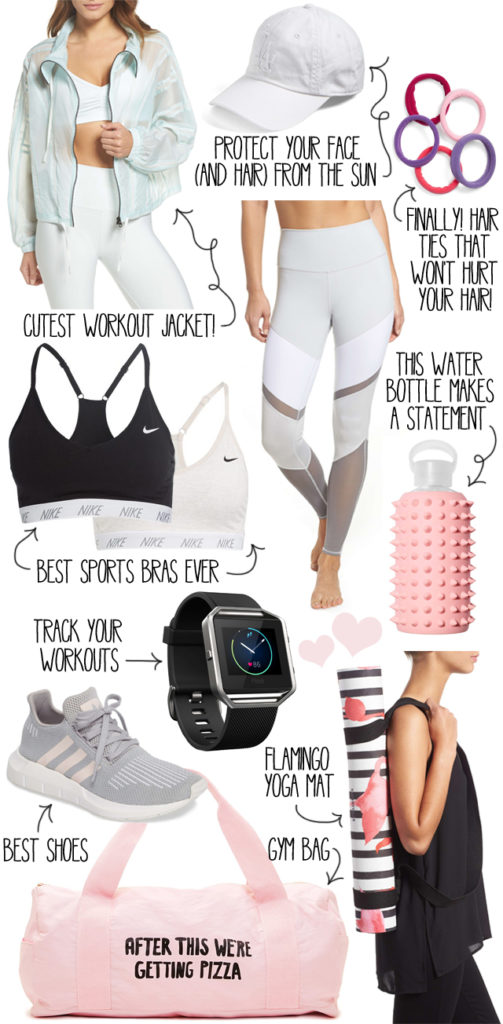 I think I've mentioned a couple times that I've been working out more than usual lately! I've been testing out some new workout gear in the process and wanted to share my favorites with you today…
Workout Jacket
// I recently ordered
this workout jacket
and I think it's one of the cutest jackets I've ever owned! You can wear it from the gym to a lunch date and everywhere in between! Plus it reminds me of spring so it helps me get through the dreary winter days.
Baseball Cap
//
This baseball cap
is a stylish way to get in a walk or run outside and protect your face and hair. I love the white because it looks good with anything!
Hair Ties
// Did you know that most workouts can damage your hair? Especially if you wear your hair in a tight ponytail – your ponytail holder can actually cause hair breakage!
These sport ponytail holders
are specifically designed to protect your hair during a workout. Another tip to protect your hair during a workout is to braid it!
Sports Bras
// I recently revamped my sports bra collection – all of the ones I owned were from college, looked old and didn't offer much support. I ordered
this Nike Pro Sports Bra
to test it out, and ended up placing another order for a bunch more colors! Aesthetically, I really love how it looks (especially the Nike band at the bottom) but more importantly it offers a lot of support, even throughout a strenuous workout.
Fun Water Bottle
// This
bkr spiked water bottle
makes a statement in the best way! The actual water bottle is made out of glass, but the spikes are silicon. I have been trying to train myself to drink more water and TRUST ME – it is way more fun drinking it out of a cute bottle! I start the day by making a goal for myself, whether it's drinking 2 or 3 bottles of water throughout the day, and then I keep a water bottle by my side all day long.
Fitbit Blaze
// I own the
Fitbit Blaze Smart Watch
and wear it every day (just not in my blog photos lol 🙂 It tracks my steps, workouts, heart rate, calories and even my sleep every night. It also motivates me to be more active! I actually did a whole review post on my Fitbit Blaze last year – click
here
to read it!
Adidas Shoes
//
These Adidas shoes
come in EIGHT different colors! I own a similar pair that I bought from the Nordstrom Anniversary Sale and they're my favorite pair of sneakers – they're incredibly lightweight and comfortable. Just a note: they run a half size big, so size down half a size!
Yoga Mat
// Dare I say that this
Flamingo Yoga Mat
is the cutest mat you've ever seen? Because it certainly is the cutest one I've ever seen! I do a lot of workouts from home and I love having my own mat – plus if you've ever been to a yoga class, you have to bring your own!
Gym Bag
// I don't really have a good bag to bring with me to the gym, but I found
this one
online and it's absolutely perfect! I love the pink color, and the fact that it says "After this we're getting pizza!" LOVE!
SHOP THE POST:

JavaScript is currently disabled in this browser. Reactivate it to view this content.