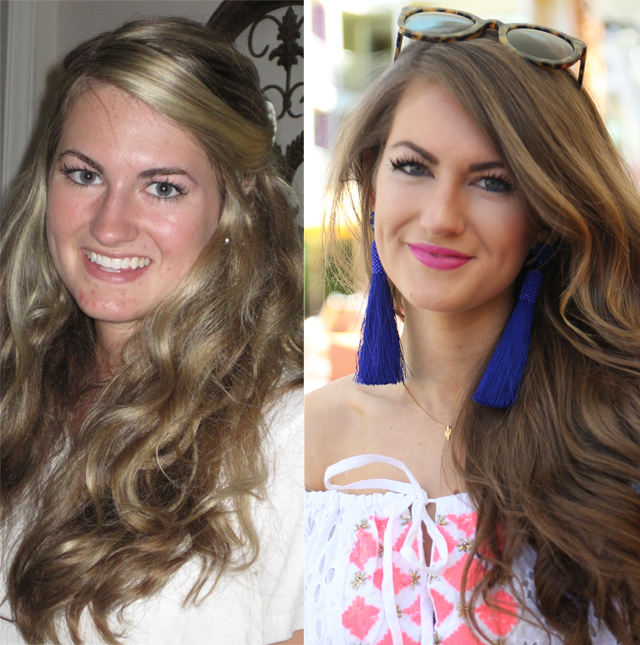 Okay… this is a scary photo to put up on the internet (lol) but I think the photo on the left really shows my skin during some of my worst struggles with acne. (Neither of the photos above have been re-touched, however I am wearing makeup in the photo on the right.) The photo on the left was taken after my freshman year of college during probably my most "insecure" phase. I had clear skin for most of my life, until college. After freshman year, painful cysts began popping up all over my chin and cheeks – I don't think I've ever felt worse about myself than while this was happening! Makeup couldn't cover them up, even though I tried (I wasn't very skilled with makeup, though) and I felt so incredibly self-conscious, like I couldn't walk into a room without feeling like everyone was staring at my chin/pimples. I couldn't make eye contact with people, and my acne was something I thought about and worried about
constantly
. I started taking prescription antibiotics, tried several different topical treatments, and even had cortisone injections into the more painful cysts, but nothing seemed to work very well (I finally resorted to using Proactiv and it worked okay – but more about that later). I remember feeling absolutely miserable and honestly worthless – all because of my skin.
So, the point of all this is to tell you that after many years I finally have figured out a skincare routine that works for my skin. Up until a few months ago I was still struggling with acne, particularly on my chin and jawline. (To clarify, I always get a few pimples during "that time of the month," but the acne on my chin and lower cheeks was constant.) To sum it up, I started washing my face with oil (yes, OIL) and my skin has almost totally cleared up. Ask my mom – she has seen me without makeup and she agrees that my skin looks a lot different!! The same skincare routine doesn't work for everyone, but I wanted to share mine just in case it may work for you. Also FYI, this post is not sponsored by any company or brand – I'm sharing my honest opinions with you all!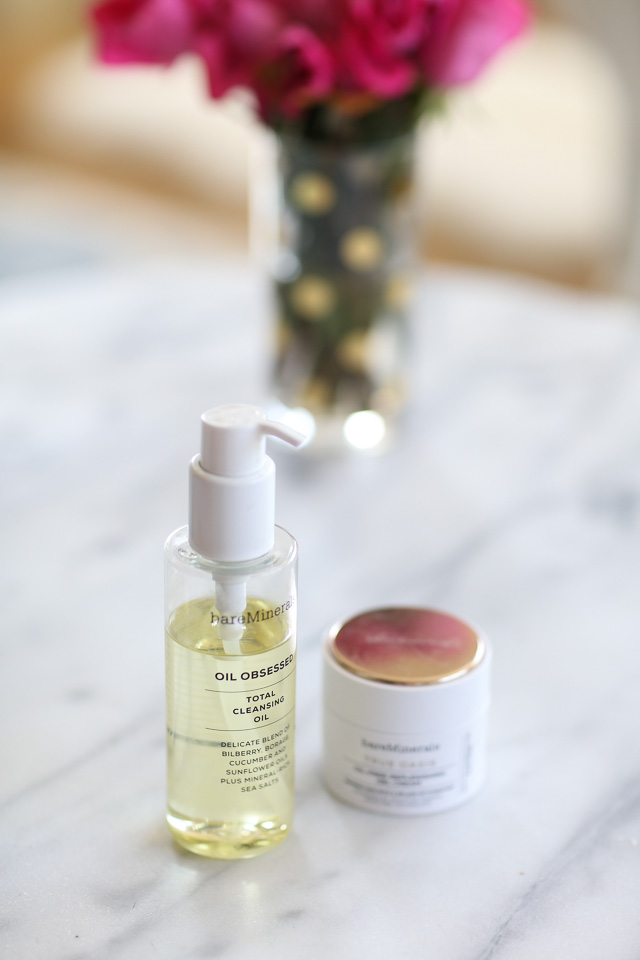 Without further ado, here are the skincare products and routine that I've found work best for me:
Step One: I use this product to cleanse my face every night, and it was the biggest game changer for me – I almost completely contribute my clear skin to this product. It is actually a cleansing oil, which did not make a lick of sense to me. You would naturally think that oil is the cause of the acne, so why in the world would you apply more oil to your face?!? (Trust me I had the same thoughts.) Oil is actually really, really good for your skin and really good for acne… and no, it doesn't lead to more breakouts. Oil dissolves impurities, moisturizes your skin and is also one of the best makeup removers out there. Swear – you massage it into dry skin and it removes all makeup, even eye makeup. Plus the smell is heavenly (I feel like I'm at a spa when I use it!)
Step Two: I use this moisturizer after washing my face, mainly because it was recommended to go with the cleanser. It has a weird consistency – it looks like a gel but acts like a cream. What I love most about it is that it's super lightweight and hydrates my skin without leaving my face feeling slick or oily.
Step Three: I apply this acne treatment on my chin and forehead (my main acne problem areas) to prevent future breakouts. I used Proactiv's three step treatment for years and years in college and after college and although it worked better than any other products I had used, it didn't completely clear my acne and my skin became really dry and thin from using these products. About a year ago I had a professional facial and the esthetician told me the Proactiv was thinning the skin on my forehead and cheeks. It is true that my face was constantly peeling from being so dry! Anyway, I will never use the face wash again – now I just use the Pore Targeting Treatment on problem areas – out of all three products in their system, I think this one works the best for acne and is fine to use in small amounts.
Step Four: Get lots of sleep & drink lots of water!!!! Growing up, I had no idea how big of a role water and sleep played in my skin's health. In college I hardly ever drank water (and definitely didn't get much sleep) and it definitely could have contributed to my acne. Now that I'm older I try to take better care of myself by getting at least seven hours of sleep a night and by drinking water throughout the day.
In the morning I don't do much to my face – I have been applying this self tanner in the mornings because it gives you a subtle glow and also provides SPF. It's great if you want a natural looking tan on your face or you are trying to make a spray tan last longer. Other than that I don't do anything else to my face in the morning!


Anddd that is pretty much it for my skincare routine! I am someone who thinks that simple is best, and now that I've found a routine that really works for me, I don't want to complicate it by adding unnecessary products into the mix. Like I said before, I didn't start using this combination of products until about a month ago, and I noticed an almost immediate change in my skin when I did. I know it won't work for everyone, but it is definitely worth a shot, especially the oil cleanser. For any of you girls (or guys!) who suffer from acne, I truly am sorry and know how it feels – I promise that it will get better and although it may feel like the most important thing to you right now, it's not. I was very insecure and unhappy with myself almost all of my college years, but I realize now that every single person has insecurities and things they don't like about themselves. Looking back, I learned so much about myself during those hard times.
If anyone has tried these products, I'd love to hear your take!
xoxo
SHOP THE POST:
!function(doc,s,id){ var e, p; if(!doc.getElementById(id)) { e = doc.createElement(s); e.id = id; p = '//shopsensewidget.shopstyle.com/widget-script.js'; var cb = new Date().getTime(); p += '?cb=' + cb; e.src = p; doc.body.appendChild(e); } if(typeof window.ss_shopsense === 'object'){ if(doc.readyState === 'complete'){ window.ss_shopsense.init(); } } }(document, 'script', 'shopsensewidget-script');