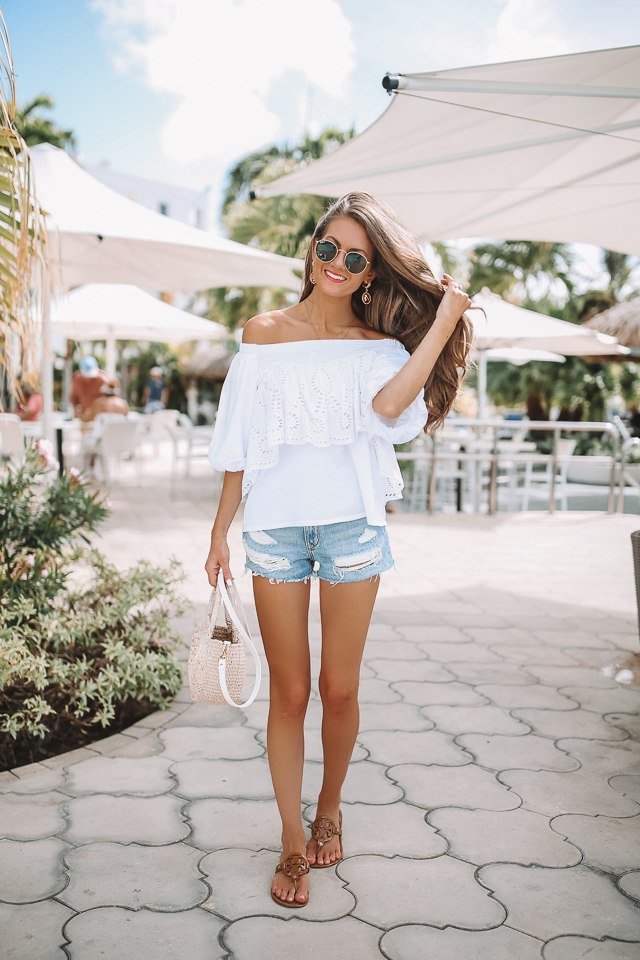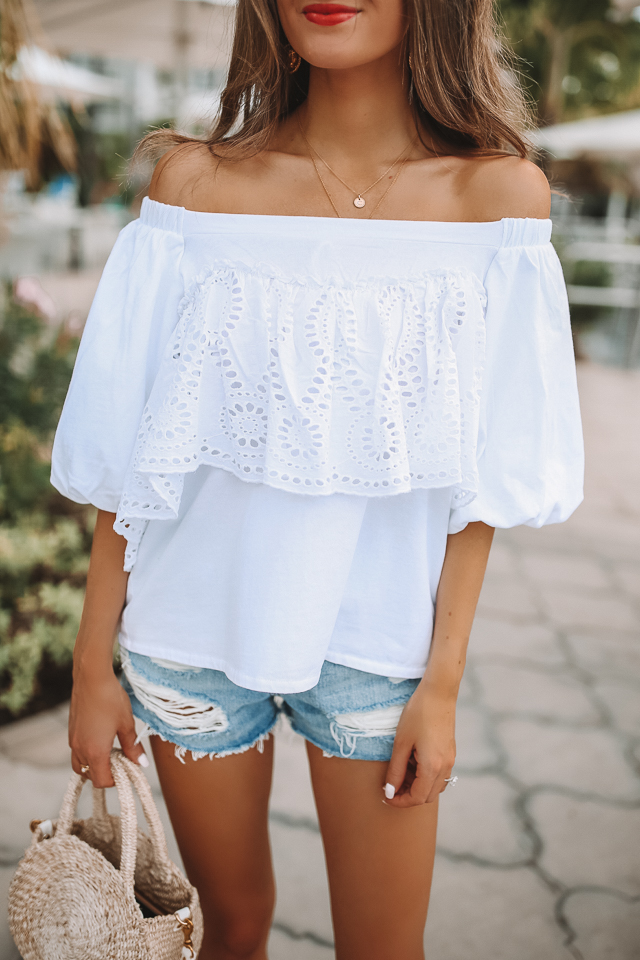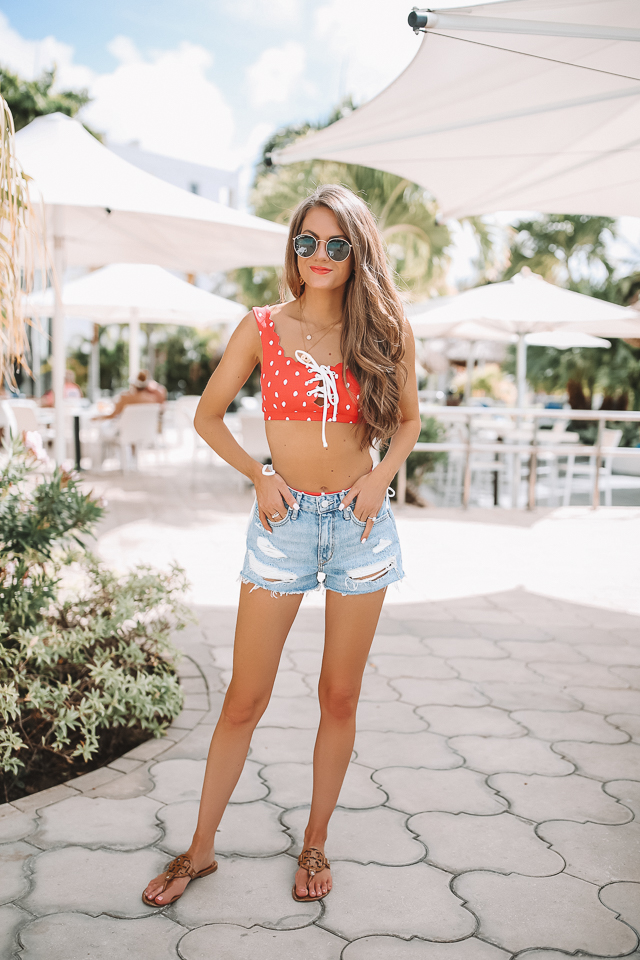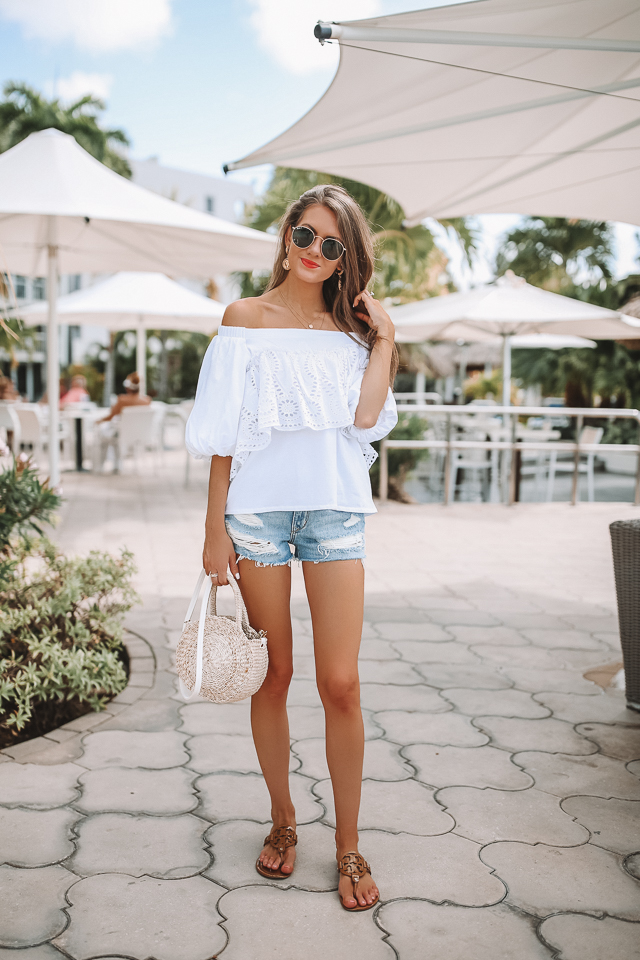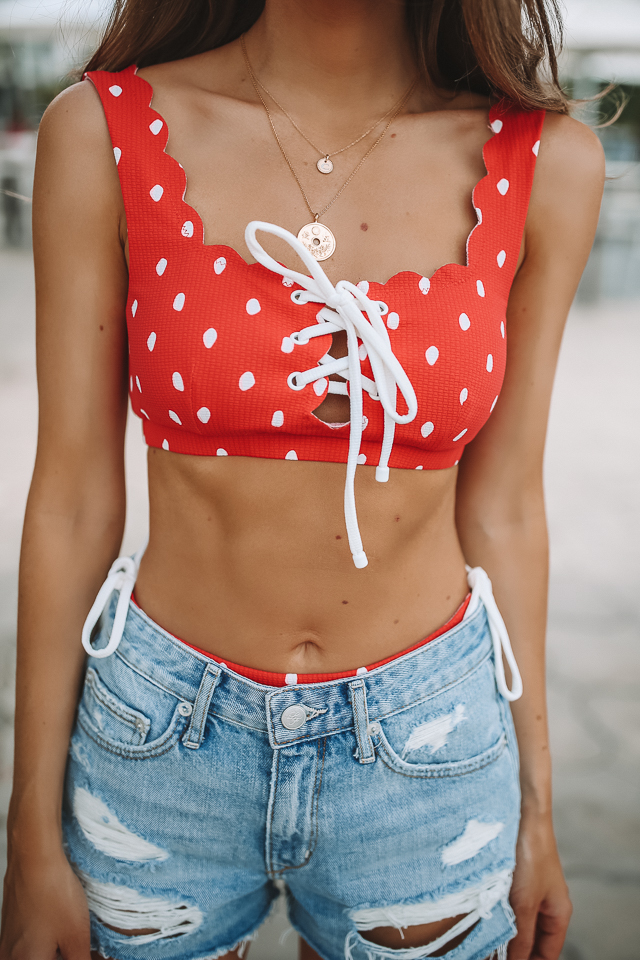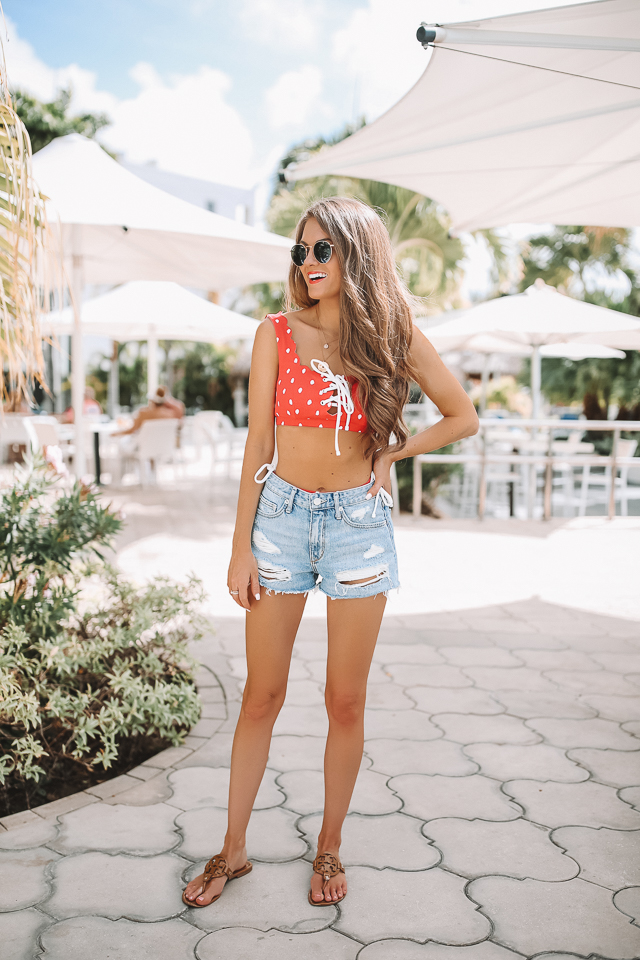 Happy Monday, friends! First up I want to talk about this cute outfit – this
BP eyelet top
is only $35 and the perfect piece for transitioning into spring and summer. I wore it with jean shorts but it would be equally as cute with pants, since in most parts of the world it's not that warm yet 🙂 Annnd these
jean shorts
are my new favorite!!! They're definitely pricy for shorts, however I really love the length, that they're a little high waisted, and they fit SO WELL! I will definitely be wearing them all spring and summer.
Okay next I wanted to answer a few questions about my spray tanning routine! A lot of you had questions about my tan so I figured it would be easiest to answer in a blog post. I have been getting spray tans for years and years and pretty much have it down to a science now. I get Mystic Tans – your can get them at pretty much any tanning salon. I like them because the tan is done by a machine, and not only does it do a good job but it's also completely private (so no one sees you naked!). Here's my exact routine:
1. I ask for a Mystic Tan in dark with the following additives: hyperboost, sunkissed and two scents (you can smell the different scents and pick out your favorite – I like to get two because it really masks the smell of the spray tan and makes you smell really nice!)
2. I also buy a pair of "sticky feet" to wear in the booth so that the bottoms of your feet don't turn black from the tanning solution
3. Once I'm alone in the booth, I strip down and apply some of the blocking lotion (supplied in the room) to my hands and fingernails. If I have makeup on, I also take off my makeup (I usually bring my own makeup remove wipes). I also put on a shower cap and put in nose inserts so that I don't breathe in the spray tan solution while I'm being sprayed.
4. Spray!
5. I always stay in the booth for the entire minute after it's done spraying, because it blows out warm air that helps dry and solidify your tan.
6. Pat down with a towel and get dressed (I always wear loose-fitting clothing! No jeans!)
7. I immediately wash my hands afterward. This washes off the outer layer of the spray tan so that your hands don't look weird in the morning.
8. Wait 8 or 9 hours until showering! It's fine to shampoo and condition your hair however I don't use body soap the first time I shower because this cuts down on the life of your tan!
When I'm on a trip, I bring this tanning product with me and apply it if my spray tan starts to fade. It's my favorite self tanner and looks SO natural! 🙂
Let me know if you have any questions!
xoxo
SHOP THE POST:

JavaScript is currently disabled in this browser. Reactivate it to view this content.