Good morning everyone! You might have noticed already, but I've been really into health and wellness lately. Not only have I been eating super clean, but I've been using cleaner beauty products, as well as watching all sorts of YouTube videos and reading books about meditation, de-stressing, and the benefits of an established self-care routine.
You've probably heard of cortisol but if you haven't, it's commonly known as the "stress hormone" and is produced by the adrenal glands when you're under pressure and receive a threat. Your body naturally produces the most cortisol in the morning, and your cortisol levels are supposed to taper off through the day and evening – wearing off just before bed. However, this is not the case for a lot of people! Have you ever found yourself laying in bed, WIDE awake and stressed out? When we're chronically stressed, the body releases cortisol at all hours, even at night when it's supposed to be at it's lowest. This is what happened to me – I found myself feeling incredibly tired in the morning, but by nighttime I would feel wired, stressed, and working late into the night. I'm trying to restore my cortisol levels back to normal (cutting out coffee has helped a ton!). One thing that really helps me relax at night is practicing a self-care routine – almost like a pampering spa night, but in the comfort of your own bathroom! Read on for my very favorite products (all from Nordstrom) and how I've incorporated them into my weekly self-care routine.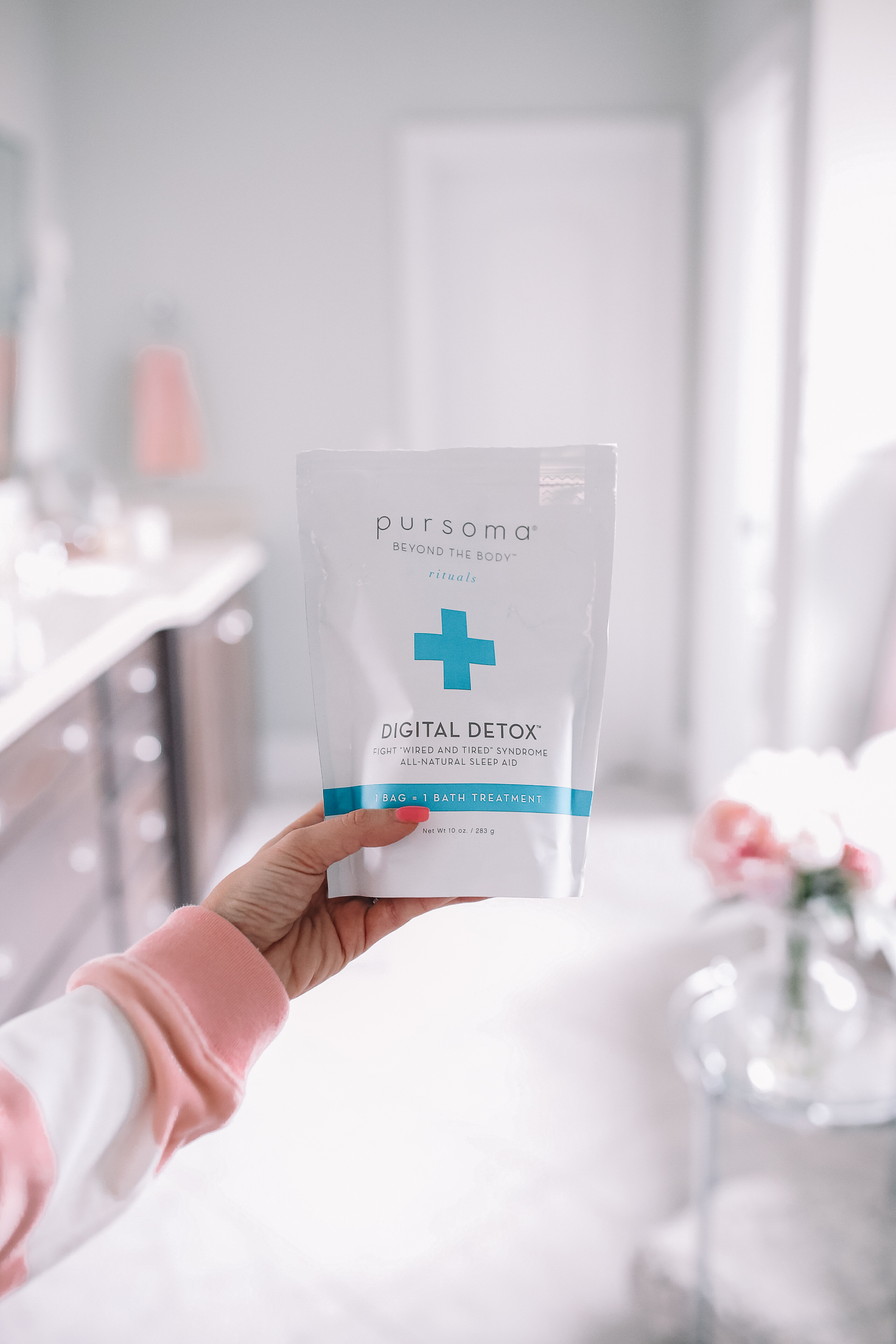 8pm – I try to get finished with all of my work by 8pm, otherwise I have the tendency to work late into the night! I start by shutting my computer and turning my phone on airplane mode. What's even harder is turning your brain off – anxious or worried thoughts might try to seep in, but you have to be conscious of them, acknowledge them and let them go (practicing meditation really helps with this!). The next step is my favorite: taking a hot bath! If you REALLY want to relax, you need to try this Digital Detox bath treatment. I was curious to try this because I saw it on Nordstrom's site, but it didn't have any reviews yet! It is expensive, because you have to pour in the entire package into the bath for the treatment, however, it really does work. I have NEVER felt more relaxed than after a bath with this stuff!! The treatment contains a mixture of French green clay paired with French green sea salt and is supposed to stimulate detoxification, as well as help relieve stiff joins and muscle cramps. It doesn't have a scent, so I like lighting some candles around the tub to help with the ambiance. But I swear, I felt so relaxed afterward, my skin felt really soft, and the next day I woke up feeling less bloated.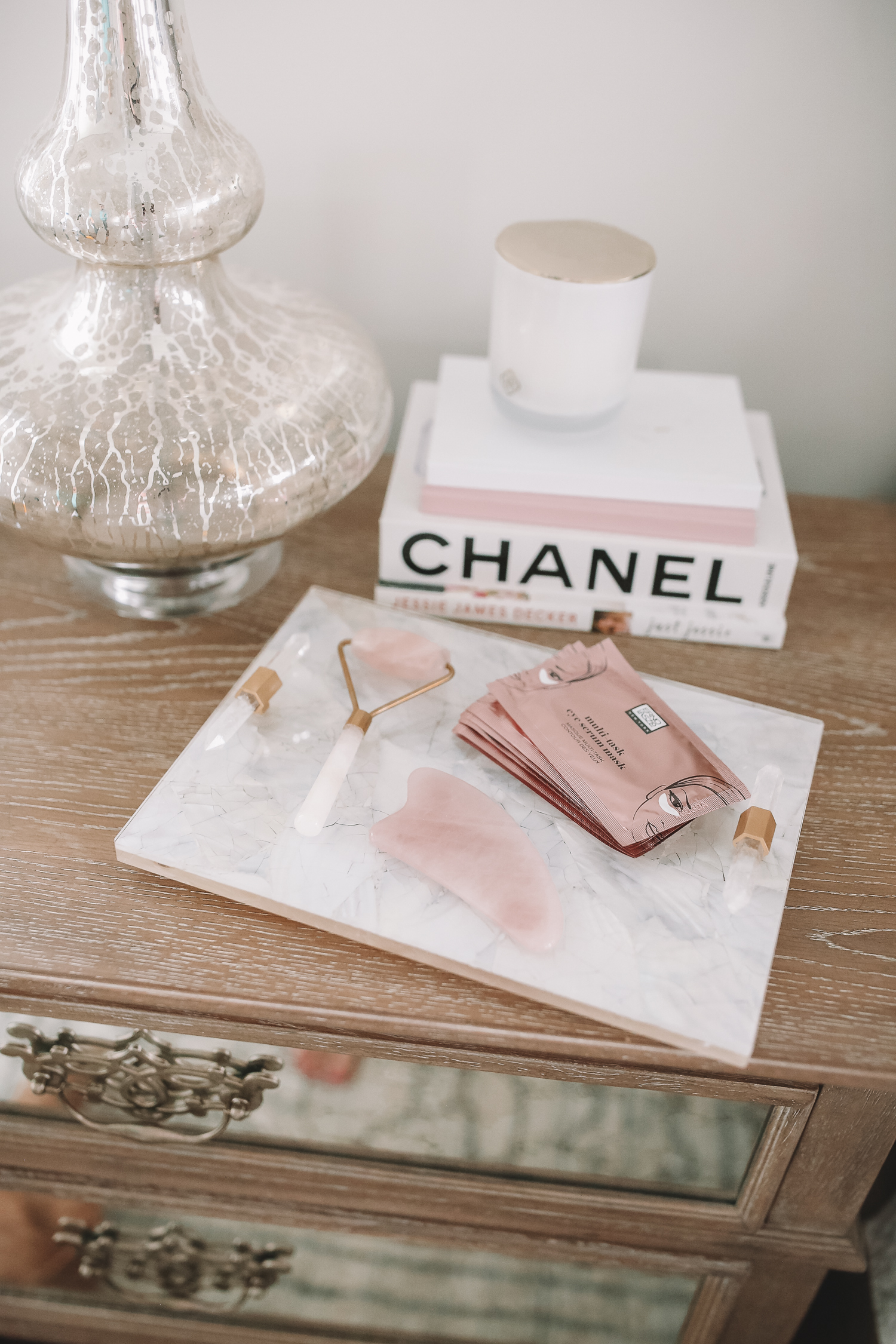 8:30pm: After a really nice, relaxing bath, I'm ready for my skincare routine. I do a certain little skincare routine every single night, but on nights that I really want to pamper myself, I add in some "extras," including a facial massage! Sounds luxurious, doesn't it? And you don't have to pay loads of money for it! After cleansing my face and using either a rose quartz facial roller or this crystal gua sha, I do a short facial massage on myself with my favorite serum. If you haven't used one of these before, I definitely recommend checking out some YouTube videos before. The trick is to always massage your face upward and outward, and never down. So what's the difference between the facial roller and a gua sha? Both products feel really nice on your skin: the facial roller is easier to use and requires less time, but the gua sha goes a little deeper to release muscle tension, and is so effective it's been called "natural botox" for your face! Both increase some level of lymphatic drainage in the face, which can temporarily reduce swelling.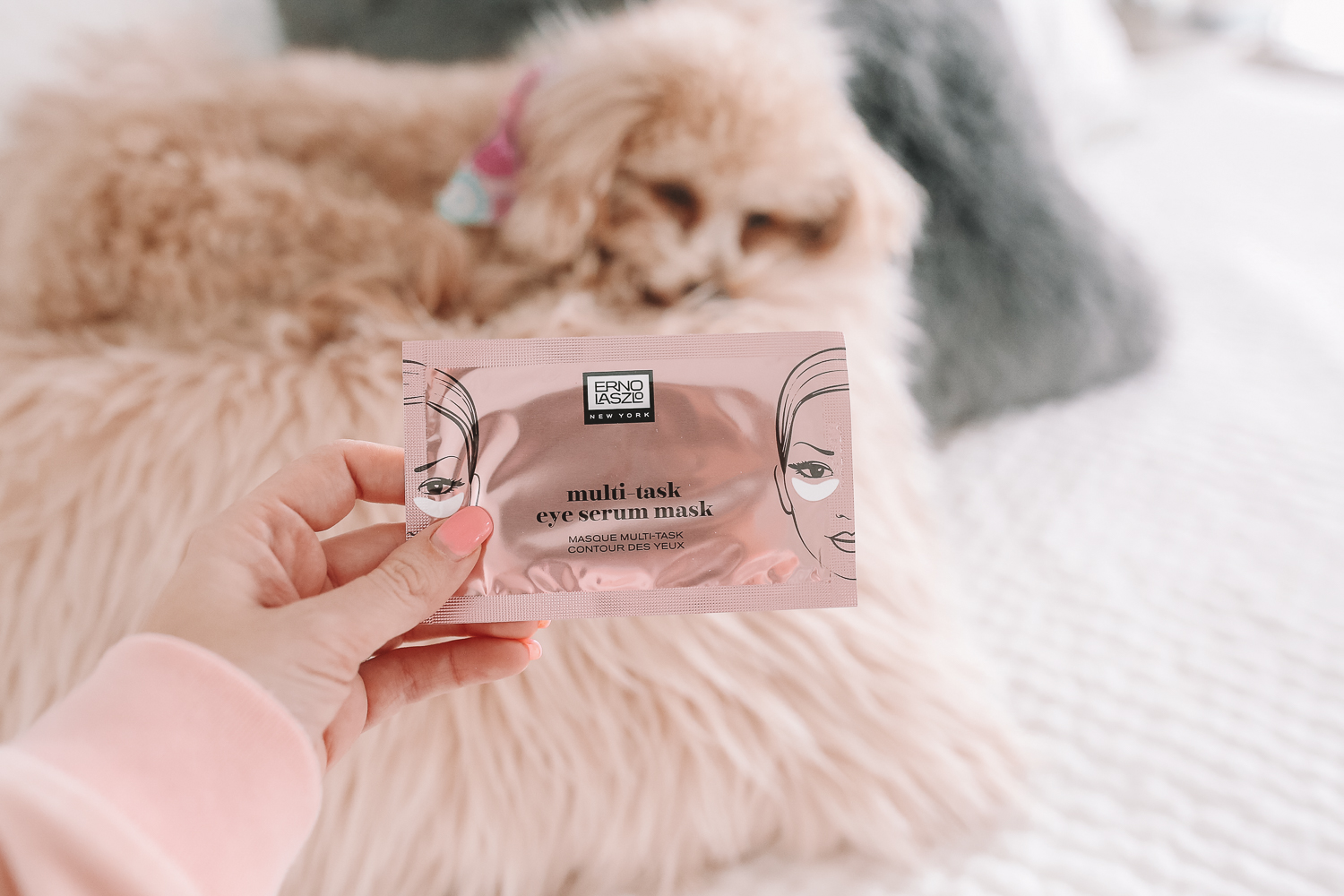 8:45pm: The last thing I do in my self-care skincare routine is to apply an eye serum mask. You can definitely do these in the morning for a boost, but I find that I never have time in the morning; therefore I like to do them at night! This particular eye serum mask by Erno Laszlo contains algae extract, vitamin B3, amino acids and allantoin to give immediate results to the under eye area. One of the reasons I really like them is because they're cooling – and they feel sooo good on tired eyes! I put them on and set my phone timer for 15 minutes, then usually get in the bed and Chris and I will start watching a TV show.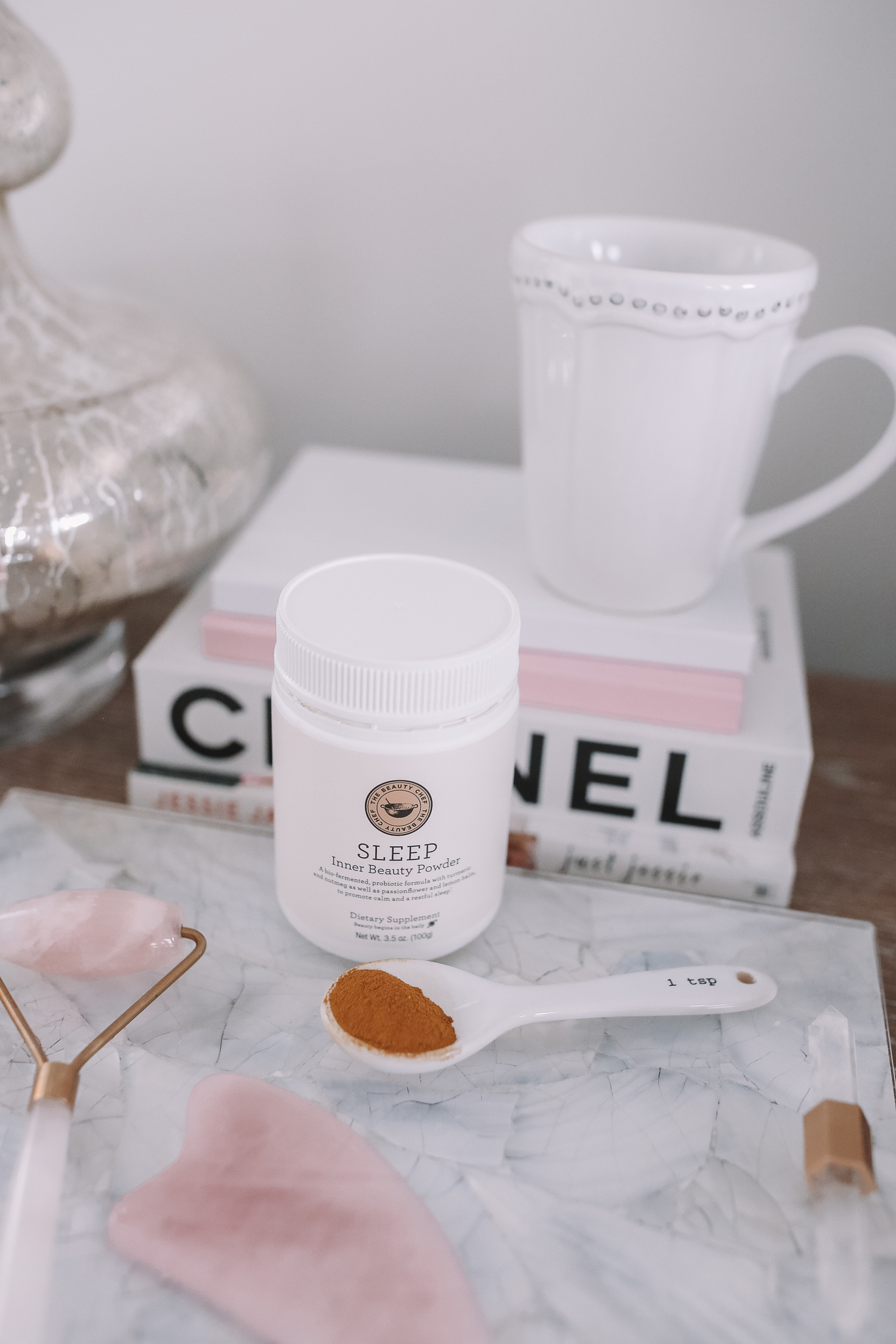 9pm: The last thing in my self-care routine is to make myself a calming bedtime drink! You guys already know I love drinking chamomile or sleepytime tea at night, and I recently started alternating between tea and this Sleep Inner Beauty Powder. I was a little hesitant to buy a powder that helps with sleep… until I read the ingredients! It's completely natural, containing turmeric, cinnamon, lemon balm, ginger, black pepper, cardamom and nutmeg, to name a few ingredients. I like to warm up a mug of almond milk and mix in one teaspoon of powder and a tiny bit of manuka honey to sweeten it a tad. I try not to use this every night so that I don't become dependent on it, but nights that I do use it, not only does it help me fall asleep but it also helps my anxiety seem to float away! The best thing is that I get a full night of sleep and wake up the next morning without feeling groggy.
10pm: Chris and I like to watch TV or I like to read in bed, but by 10pm it's lights out for us! Wow I feel like such an old person saying that hahaha, my college self would stay up until 2 or 3 a.m. every night! But I feel so much more refreshed when I go to bed earlier, and I also wake up in a good mood and ready to be productive.
I'd love to hear if you have any self-care routines or specific products that make you feel pampered! All of the products I mentioned above can be purchased from Nordstrom – did you know that they have an entire section of their website dedicated to natural beauty and wellness? For a full list of beauty products that are guaranteed free of sulfates, phthalates, parabens, petrochemicals, mineral oil, silicone and talc, you can click here.
xoxo
*Thanks to Nordstrom for sponsoring this post