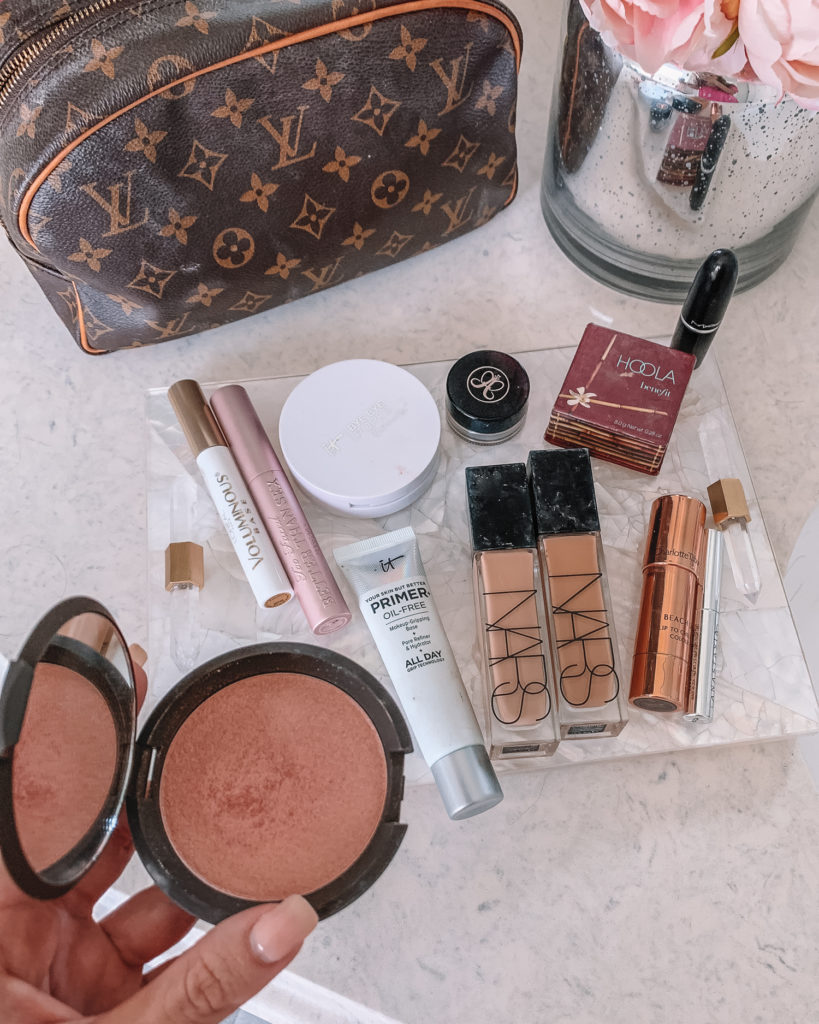 Good morning!! So happy to be sharing a current makeup routine with you guys. This post is not sponsored in any way, shape or form…. I simply looked into my makeup bag and pulled out all of the products I've been using so that I could write them up for you. I feel like my makeup routine never changes that dramatically, which is why I don't do these posts more often! I really like for my makeup routine to be quick and effective and look pretty natural. This whole thing probably takes me 15 minutes to do. So without further ado…
Primer
I've been using this primer and really love it. It's PERFECT for summer because it's oil-free and helps minimize oiliness throughout the day – which is much-needed during the summer heat! Even if I'm outside for long periods of time, my makeup never "melts" – and it also helps with refining my pores.
Foundation
I've been using two different shades of this foundation to mix and match and make my perfect shade (I use "Vanuatu" and "Santa Fe"). The reason I like mixing two shades is because my skin tone varies a lot from week to week depending on whether or not I've used self-tanner. I use more of "Vanuatu" if I have more of a tan, and more of "Santa Fe" if I'm less tan, but the combination of both shades really helps me achieve the perfect color. This foundation is the best on the market (in my opinion) – it stays put ALL DAY even in the heat and never looks cakey. I use this foundation brush to apply and it really helps to get that airbrushed look!
Under Eyes
None! I stopped using under-eye concealer a while ago. I used to wear it in a shade that was too light and it looked like a raccoon in photos! Now I just skip this step altogether.
Contour
This bronzer will FOREVER be my favorite – I think I've used it for more than five years now and I have no plans on stopping! The brush it comes with makes it really easy to apply – I put it down the sides of my nose, underneath my cheekbones and around my hairline to create some dimension.
Blush
I blogged about this blush stick earlier in the summer, and I'm officially hooked. Although it's made for your lips, too, I really like using it on my cheekbones – it blends in perfectly with your fingertips and gives my cheeks a natural looking glow. Sometimes I don't even use highlighter because this already has that glowy effect! It's PERFECT for summer.
Highlight
If I do want some extra highlight, I reach for this one in the shade "rose gold." It's soooo pretty! It's very intense, so a little goes a long way. I really like using it on my collarbones as well!
Eyelashes
I'm still using this primer on my eyelashes – it's such a good base and really thickens and lengthens my eyelashes. I make sure to coat them really well and evenly with the primer before applying mascara. I have used this mascara for a few years now and still really love it, but this one has become another one of my favorites! I switch off between the two. Just a note about eyelashes in general – I ran out of neuLash earlier this year, but I definitely notice a difference when I use it consistently – my eyelashes are way longer!
Eyebrows
I have kept my eyebrow routine the same for a while now. I use Anastasia brow pomade (in the shade "medium brown") with this brush to fill in my brows. If they're a little unruly, this clear brow gel is really good for helping them to stay in place, and it's completely invisible. I also try to use this product regularly – similar to neuLash, I really notice a difference in hair growth when I use it! I would love for my eyebrows to be a little thicker on their own. I actually used to have thick eyebrows as a child, but then college came along as well as the trend of having pencil-thin eyebrows. I wish I could go back and slap my college self for over-tweezing, lol!
Finishing Powder
In the summer, a finishing powder is essential for preventing shine! I use this one and really like it – I normally apply it with this brush but it does have a built-in foam applicator for on-the-go. I keep one in my purse as well!
Lips
This lip balm is THEEEE best! I actually have two now so that I can keep one in my handbag and one on my nightstand. It feels so good on your lips, is incredibly moisturizing, and has a light coconut scent that is just delightful. As for lipstick, I still wear MAC's Creme Cup quite a bit and I just ordered Charlotte Tilbury's Pillow Talk, which people RAVE about, so I'm excited to try that one.
Let me know if you have any questions! xoxo