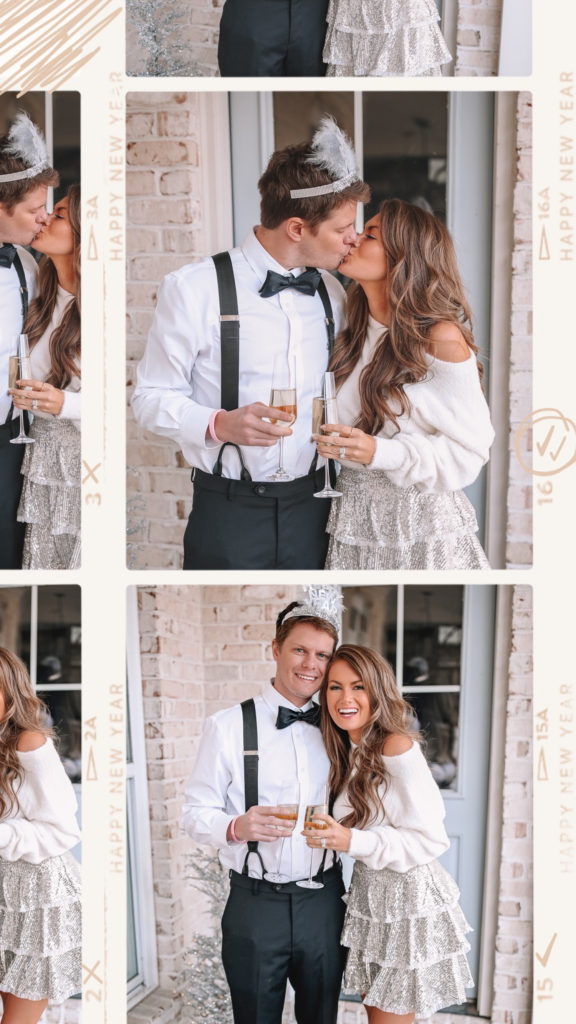 It's been a hot minute since my last Monday Motivation blog post, and I'm so excited to be back at it again! You can count on a new Monday Motivation post every Monday from now on 🙂 Today I wanted to share my New Year's Resolutions for this year (just the ones that deal with health and wellness). 2020 really feels like a fresh start since it's also the start of a new decade, and I have a lot of goals I want to work towards this year. So here we go!
Drink More Water
In my early twenties, I really hated drinking water. I thought I "didn't like the taste" of it (probably because I drank a lot of soda and water tasted plain in comparison). In college, I even got a kidney stone from not drinking enough water! Fast forward ten years, and it is crazy how things have changed. Water is pretty much the only thing I drink (and I actually like the taste of it!), but I really want to get better about drinking more of it. Your body uses water in all its cells, organs and tissues to help regulate temperature and maintain other bodily functions. Drinking a lot of water can help clear toxins from your body, balance your blood sugar, relieve headaches and even help your skin – I swear that my skin looks better when I consistently drink water throughout the day. I have this water filter and this giant Yeti and I plan to keep it by my side all day long in 2020 – I aim to drink three of them per day! I also want to play around with creating water infusions and adding lemon, cucumber, and other fruits and veggies to my water to change up the taste and get some added nutrients.
Use Less Plastic
This is a huge goal of mine for 2020. No more plastic Starbucks cups, plastic straws, grocery bags or water bottles. In 2019 I really began taking note of my plastic use and trying to reduce it, but there is definitely room for improvement. There are a few things that you can do in preparation to make it easier for yourself: always keep a clean reusable cup in your car for when you decide to buy coffee out, and keep reusable grocery bags in your car (they obviously won't do you any good if you leave them at home). It's also a great idea to go ahead and invest in some glass straws, glass food storage containers and reusable storage bags since it's the start of a new year. Small steps make a difference, you guys!
Try Out One New Recipe Per Week
My husband and I LOVE to cook – it's how we bond at night when we're both done with work! It's really easy for us to get in a pattern of recycling the same recipes every week and getting into a cooking "rut," so this year we want to branch out and try some different recipes in the kitchen. I definitely want to put my Vitamix to work, try out some new crock pot recipes, some one-pan meals, and loads more. And OF COURSE I will share the recipes with you guys (but only if they're good!!!).
Find Sustainable Clothing Brands that I Like
I sometimes feel really guilty that my career (fashion blogging) can have such terrible environmental impacts (for example, the industry often promotes fast fashion, with it's own set of environmental concerns, and overconsumption, which can lead to a lot of waste). Unfortunately, a huge portion of my audience still wants to see affordable clothes, and I strive to bring that to you guys. However, I would also really love to find some sustainable clothing brands that I really like in 2020. If you have a favorite, please let me know! I've really struggled with finding sustainable clothing brands that won't break the bank and are really cute.
Eat Greens Every Day
In 2020, I aim to eat greens every single day, specifically dark, leafy greens! Whether it's a big kale salad or a handful of spinach in my green smoothie, even a little can go a long way. There are a billion reasons that leafy greens are good for you – in my favorite book, Dr. Greger writes: "Eating greens nearly every day may be one of the most powerful steps you can take to prolong your life." Greens are associated with the strongest protection against major chronic diseases, including up to a 20% reduction in risk for both heart attacks and strokes for every additional daily serving. I've grown to really like the taste of greens (have you guys tried kale chips? mmmm!) – it's all about preparing them the right way and incorporating them into your meals in small ways.
Revamp my Beauty Cabinet
Thanks to you guys, I discovered the app Think Dirty, which rates all of the products in your bathroom cabinet based on how "clean" they are. I learned that a lot of the products I thought were clean, actually aren't – and it's been extremely helpful in finding new products to try (for example, I ditched my old toothpaste and found this one that is my new favorite – and it has amazing ingredients!). I think plant-based and "natural" skincare can be a bit tricky – I've found that my skin has stronger reactions to some natural products versus your typical drugstore skincare products (maybe because plants are super powerful!), so I'm still working on finding an exact regimen that works for me. But I will be sure to share with y'all when I do!
Have a Baby!
Yep, you read that last one right! I'm not pregnant right now, but Chris and I would love to start a family sometime in the year 2020. It fills me with EXTREME joy to write those words, since I feel like I've been waiting 29 years to say them 🙂 I believe God put me on this Earth to be a momma one day, and it makes me tear up every time I think about bringing a little one into the world with Chris. I have already started on the research and preconception phase of preparing both my body and our home for pregnancy. I'm happy to do a more in-depth post later on if you guys want, but right now I'll give you the short version: so far we've been getting our home ready by switching to all-natural cleaning products and eliminating toxins as much as we can. For my body, I try to eat as organic as possible and really make sure I'm optimizing my nutrient stores, especially nutrients that will be important for the baby later on. And on that note, I do have one big update: I have switched up my diet a little bit to include more animal products. Although I truly feel amazing on a plant-based diet, there's a lot of research out there about how some nutrients (that are really important for the baby) are only found in significant amounts in animal products. Choline, for example, is a key nutrient that is especially important for the baby's brain development, and is especially concentrated in egg yolks, but is only found in small amounts in plant sources. This podcast was really helpful for me when trying to decide if I should incorporate more animal products into my diet (fast forward to 37:10 for more information on vegan/vegetarian diets during pregnancy). I went a step further and bought this book that contains all of the latest research on nutrition for pregnancy, and am even more convinced that I've made the right decision. I would say my diet is still around 85% plant-based, but I've been incorporating lots of eggs and organic bone broth into my diet, as well as organic, grass-fed milk and occasionally some high-quality, organic chicken. Oh and cheese, but I never really stopped eating that 🙂 I'll still share some plant-based recipes on the blog this year, but I'm sure there will be some with meat and fish, too. Anyway, we are SO EXCITED about the possibility of getting pregnant this year, and I can't wait to keep you guys informed along every step of the way as we prepare.
As always, these are just my opinions and you guys are definitely entitled to your own opinions, too. 🙂 I'd love to hear your New Year's Resolutions this year! And CHEERS to a happy and heathy 2020, I am so thankful for all of you and am wishing you all the very best year ahead. Together, we can make it the best one yet!
xoxo