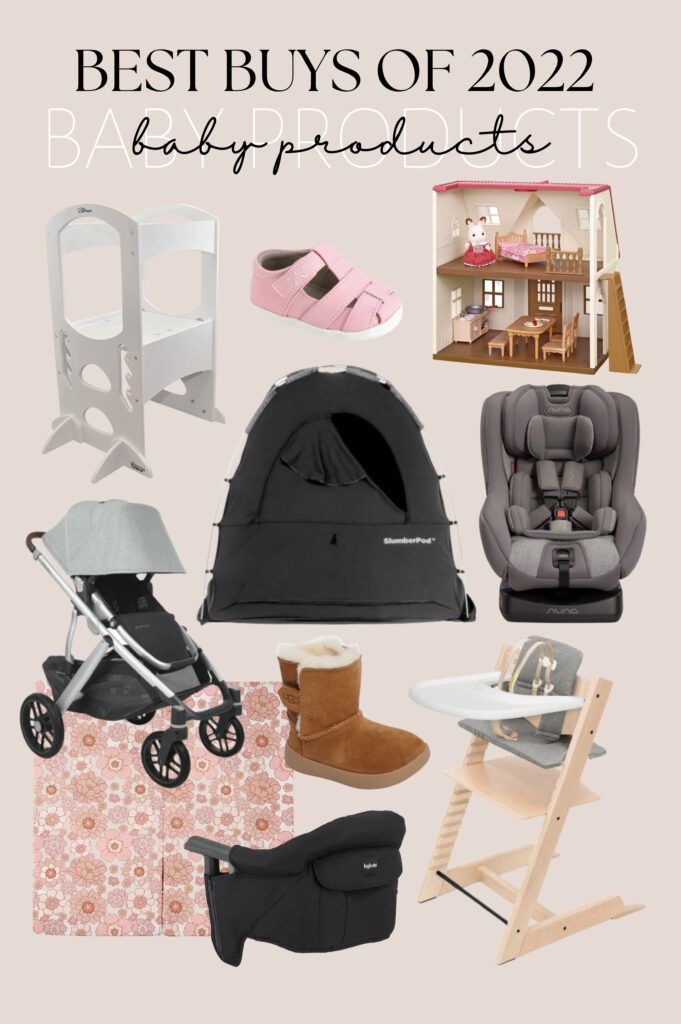 When looking back at 2022, it was such a big year of growth for Kennedy!! The difference between age one and age two is really astounding… she couldn't even walk last year at this time, and now she is running around singing songs and arranging breakfast for her bunnies, lol. I thought it would be helpful to round up the best baby/toddler purchases of 2022… at least, the items that we ended up using the most!
I think it's safe to say that this is Kenny's most played with toy of 2022! She LOVES her Calico Critters!!! She spends hours playing in her room with these little bunnies, and it's been so fun to watch her use her imagination and pretend play with them. We have this set (shown in the collage above), the Calico Critters rabbit family and the Calico Critters country home and Kennedy utilizes them all to really put her imagination to the test. She makes the bunnies cook breakfast, go to the potty, watch TV in the living room… they even throw birthday parties for each other. Plus, I get a little extra time to get stuff done because she's really good about entertaining herself when she's playing with her Calico Critters (I do play with her a lot, but she is really good about playing independently with this set, too!).
These toddler UGG boots are my favorite shoes of Kennedy's for fall and winter and I think she would agree, too! First of all, they are so easy to put on because of the velcro opening. Plus they keep her feet warm and they are easy for her to walk in. Not to mention how stinking cute they are! They look so adorable with sweater dresses and cozy knit outfits, too. Nordstrom has a few colors to choose from, but the pink version is on sale for 30% off right now and they would be so cute for Valentine's Day!
I had a lot of trouble finding shoes for Kennedy once she started walking. Either they did not come in a small enough size for Kennedy's foot, or the sole of the shoe was too flat and she couldn't walk in them. Enter: See Kai Run. They are the PERFECT shoe for little walkers! We started out with the tennis shoes and now she has five or six pairs, including the sandals too. The sole is a little curved, which makes it easier for her to walk in, and they come in small enough sizes for her tiny foot. The pink sandals (pictured in the collage) are her go-to shoes in the spring and summer!
This is an item that we use EVERY SINGLE DAY! We have this play mat on the floor in Kenny's room and she is always playing on it. I love the pretty pink floral pattern (but most of the time you can barely even see it because it's covered with her toys lol). But what I love most about this play mat is how it's made of all-natural, safe and nontoxic materials. It's also super comfortable for her because of the soft yet firm foam inserts. On top of all that, its really easy to clean because the cover is fully removable and machine washable!
Okay we all know that sleep is IMPORTANT! And not only for your baby, but for your mental health, too! The Slumperpod was really a game-changer for getting Kennedy to go to sleep and stay asleep longer while we are traveling. So what exactly is it? It's a privacy canopy that you can place anywhere, even your brightly light hotel room, and it provides complete darkness so your baby can sleep peacefully! Note that you still need your own pack-and-play or crib, and the Slumberpod goes over top of it. Like I said, when we first got this it was a complete game-changer and I now bring it on every single trip with us! It's especially nice if you're sharing a hotel room with your baby or toddler, because they can sleep and you can still have the light on or the blinds open. We make sure to have her sound machine nearby, too.
Kennedy has now outgrown this travel high chair, but it was a LIFESAVER for us for the first year and a half of her life – we plan to use it for baby number two. You can easily attach this small, lightweight high chair to any table, whether you're at a friend's house or a restaurant. It's the perfect height for small babies and keeps them right at table level. I also tend to think public high chairs at restaurants are filled with germs (and even the tabletop if they don't clean properly), so it's really nice to know that she can sit in her own high chair wherever we go. I also ordered this plastic tray that attaches to the high chair. We wash it in between uses so that it's always clean whenever we go out, and I can always be assured that she's eating on a clean surface. Everywhere we take it, random people come up to us and ask where we got it. It also comes apart and goes into the washing machine just fine.
This car seat is perfect for growing toddlers because the adjustable style allows kids up to 50 pounds to ride rear-facing and up to 65 pounds forward-facing. (We plan to keep Kennedy rear-facing for AS LONG as possible.) It also made the list of non-toxic car seats because it has no added flame retardant chemicals or fabric treatments. Additionally, the carseat has cupholders on both sides for easy access to drinks and snacks during long car rides. It's such a high-quality car seat (although, it is a little hard to install because it is so safe, haha). Right now, you can get $100 off this version at Nordstrom!
This stroller was the #1 recommended stroller from our family and friends. They all told us that it works really well and lasts for YEARS, so multiple children all got to use it. It comes with a bassinet (with a ton of cool features) and a reversible toddler seat that can be positioned upright, reclined or anywhere in between. I can honestly say that this stroller has been amazing and lives up to all the hype! It's incredibly smooth, even when there are bumps and cracks in the pavement, and Kennedy loves it too! We've had ours for two years now and it's still good as new! When Kennedy was a newborn, we used it with the bassinet attachment and now that she's older we use the seat. You can also buy an adapter to make it usable for two babies – which we plan to do!!
This high chair has really grown with Kennedy and has been a staple for every meal in our household. I really can't say enough good things about it!! It is SO sturdy and well-made. She has used it since she was only 6 months old just beginning to eat, and I know she will use it for a long time to come! The Stokke Tripp Trapp high chair is made from solid beechwood and water-based paint, and is manufactured in Europe and free of BPA and phthalates. It's very easy to wipe down after mealtimes and the tray is also removable for easy washing. It's also available on Amazon!
This Learning Tower has been one of our best purchases for Kennedy… I'm not kidding when I say we use it every single day throughout the day! You can find it here, on Amazon and here, from The Tot. Kennedy loves to stand up on it while we're cooking dinner – I think it makes her feel like she's helping us cook and just a part of everything everyone else is doing. We also use it a lot during snack time because it's such a quick and easy option. Plus it's really easy to clean, which is always a win for this mama! And if you're worried about your little one falling though the opening on the back, we bought this activity board that attaches to the back of the learning tower and closes the opening while also providing an engaging puzzle activity for your babe!
Let me know if you have any questions in the comments! 🙂