I thought it would be fun to go through my grocery staples today! They've changed a little bit since I've become pregnant, and I'm really focusing on the highest-quality, nutrient-dense foods that I can find. We've been ordering our groceries from Walmart every week, which is SO convenient for multiple reasons! The first is because I'm pregnant and have less energy/time to grocery shop than I did before, and secondly, we are avoiding being in public as much as possible due to the pandemic. So Walmart delivery has been a lifesaver for us! And not only does it save us money, but they have a surprisingly wonderful selection of organic meats and produce that we get to choose from every week.
Walmart just announced a new membership program called Walmart+. There are some serious benefits to this membership – such as free unlimited delivery from stores (your order must be at least $35 and other restrictions may apply), member prices on fuel at Walmart and Murphy gas stations and access to tools that make shopping faster. And Walmart+ is not just for groceries, you can get so much delivered from your Walmart store, as fast as same-day, including a brand new Keurig coffee machine or even baby diapers. Walmart+ costs $98 a year or $12.95 a month and includes a 15-day free trial period so that you can test it out first and see how you like it. To sign up for the free trial, click here!
Here's a peek into our weekly grocery list: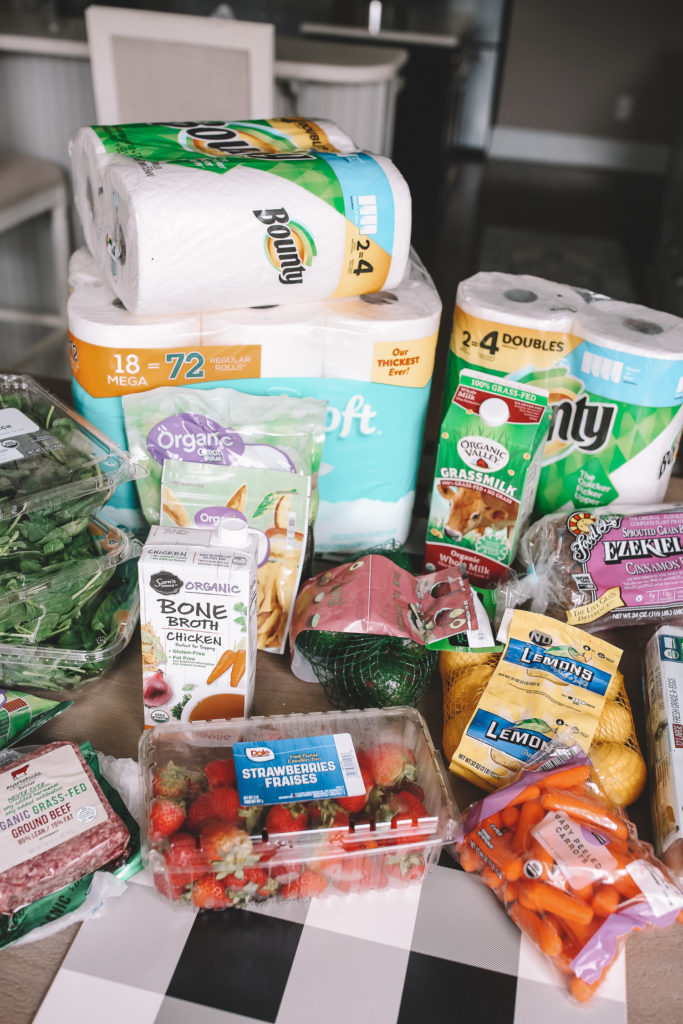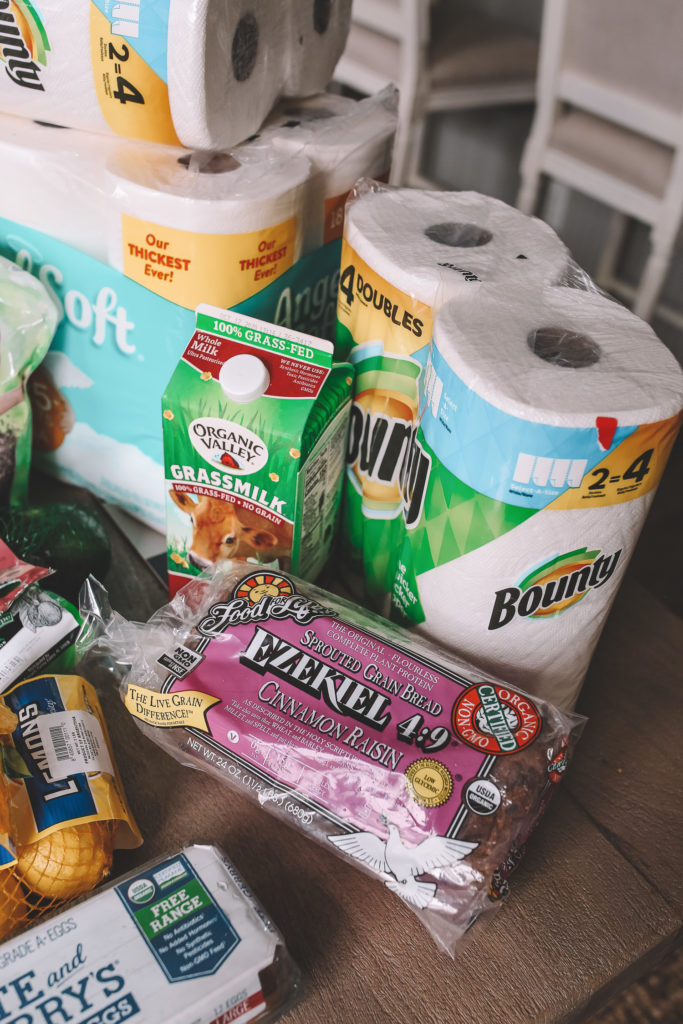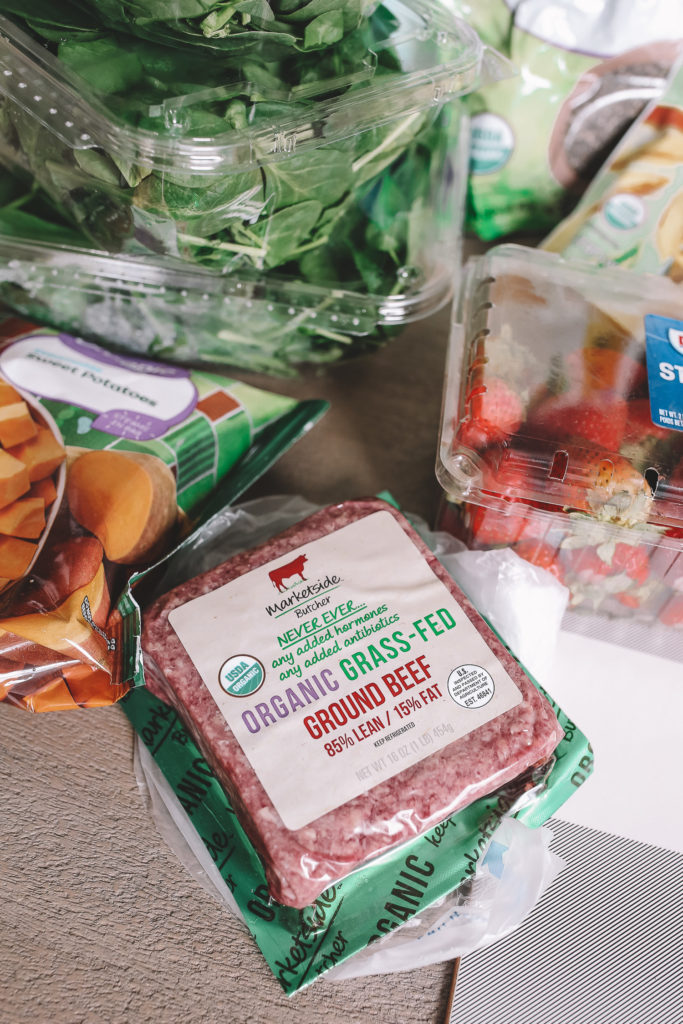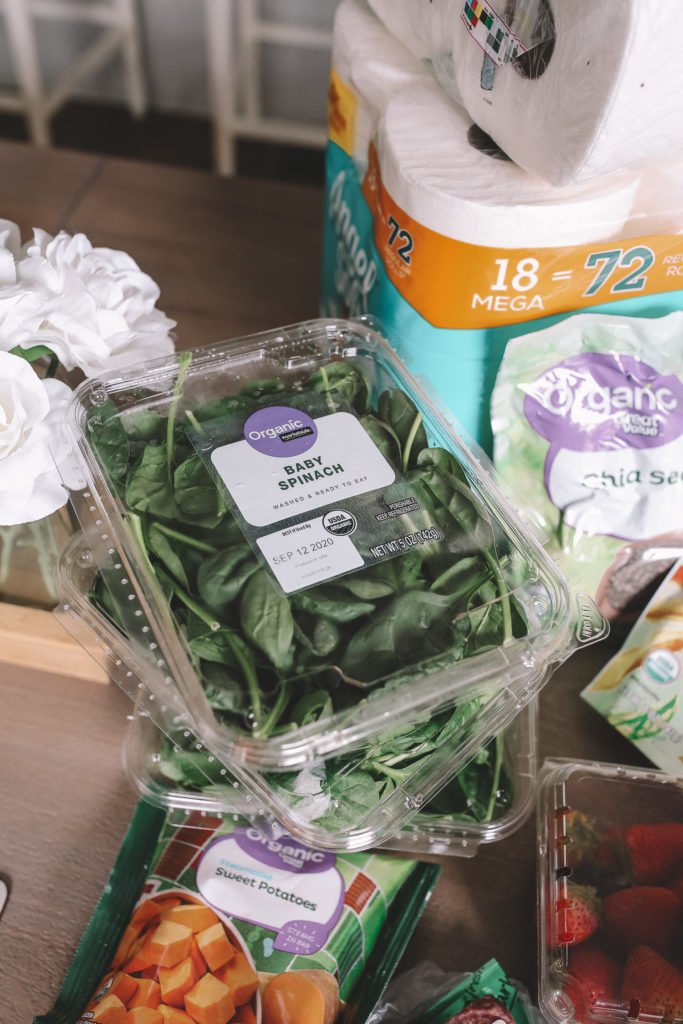 Eggs
Eggs are an incredible superfood, but especially during pregnancy. Not only are they a convenient source of protein, but they're excellent sources of many vitamins and minerals, including choline! Choline has some of the same beneficial effects on a developing baby as folate, including fostering normal brain development and preventing neural tube defects (source). We buy organic eggs, and always buy pasture-raised, if Walmart has them in stock. Eggs from pasture-raised chickens actually have more vitamin D, since the chickens are out in the sun while they're roaming around the pasture!
Milk
Yep, you saw it correctly. I've been drinking grass-fed whole milk all pregnancy long! It is higher in calories, yes, but they're extremely nutrient-dense calories, and your body NEEDS the higher fat content to grow a human! We buy grass-fed because the milk has higher levels of fat-soluble vitamins and lower levels of pesticide residues (because the cows are not munching on conventionally-grown corn and soy). Sometimes I'll drink a plain glass of milk, other times I'll throw it into smoothies or use it to whip up some blueberry muffins or homemade mac'n'cheese. And, let me tell you, there is nothing better than a cold glass of milk alongside a freshly baked cookie when you want a little treat. 🙂
Bone Broth
Another pregnancy staple – organic bone broth! Bone broth is great because, unlike regular chicken stock or chicken broth, bone broth is simmered with the bones (not just the meat), and for quite a long time. As the broth simmers, minerals and other nutrients leach from the bones into the water, leaving you with an incredibly nourishing liquid. Bone broth is rich in calcium, magnesium and phosphorus, all minerals that are essential for babies to build healthy, strong bones. Bone broth also provides gelatin and collagen, the two richest sources of an important amino acid called glycine, which your body requires more of during pregnancy.
Fruit
Fruit is great for all of the antioxidants they provide! Since it's been summertime, I love to have fresh berries in our fridge – like strawberries, blueberries and raspberries. Berries are great if you have a sweet tooth (just top them with a little cool whip), or add them to a bowl of yogurt and granola for a quick snack. We also keep lemons in our fridge – I like to squeeze fresh lemons into my water every morning, or put a slice into hot tea at night!
Ezekiel bread
I'm so happy that Walmart carries our beloved Ezekiel bread! Ezekiel bread is not like normal white bread… it's made from organic sprouted whole grains and legumes, has zero added sugars and contains no additives or preservatives (that's why you either have to keep it in your refrigerator or freezer!). I try to avoid white bread as much as I can, but Ezekiel bread is a great, healthy alternative. The Cinnamon Raisin flavor is absolutely delicious, and I love to toast it up and add a little bit of grass-fed butter on top!
Avocados
Avocados are another staple for us… we make a lot of Mexican recipes (tacos, quinoa bowls, tortilla soup) and avocado is our go-to topping. Eating a small avocado is a bit like taking a multivitamin, since you get Vitamin K, folate, Vitamin C, potassium (more than a banana!), Vitamin B5, B6 and Vitamin E. It also contains small amounts of magnesium, manganese, copper, iron, zinc, phosphorous and vitamins A, B1 (thiamine), B2 (riboflavin) and B3 (niacin). And don't forget about the 15 grams of healthy fats and 7 grams of fiber!
Organic Grass-Fed Beef and/or Organic Chicken
Your protein needs increase during pregnancy, and especially during your second and third trimesters! I try to get in good-quality protein every day, either in the form of organic grass-fed beef or organic chicken. Meat provides the most readily absorbed forms of iron and zinc and is rich in vitamin B6 and B12.
Spinach
Yes that is THREE boxes of spinach – lol! We go through a lot of spinach in our household. We use spinach all the time throughout the week in various ways – I add it to omelets, throw in a couple of handfuls into my green smoothie, and we also use it to make salads. Greens are nutritional powerhouses that are concentrated in vitamins, minerals and antioxidants and are also one of the most abundant sources of folate.
Toilet Paper/Paper Towels
Since both Chris and I are now working from home, we go through a lot of paper products, especially toilet paper (we use reusable cloths in the kitchen instead of reaching for a paper towel every time). It's so convenient to place an order through Walmart for delivery – and they're always in stock! We love the Angel Soft Toilet Paper and get it every time. 😊
Don't forget to check out Walmart+ here to see which of the benefits are available in your area!
*Thank you to Walmart for sponsoring this post