I love traveling, but it can be really tough on your body and immune system! Just thinking about all those germs circulating on the airplane is enough to freak me out. I want to stay as healthy as possible and keep my immune system in tip-top condition, without walking off the airplane feeling puffy or bloated from the change in air pressure. I've started treating flights as though they're a long self-care session: eliminate germs, load up on water and nutrient-dense snacks, and sleep! Here are all of the essentials that come with me in my handbag for a flight: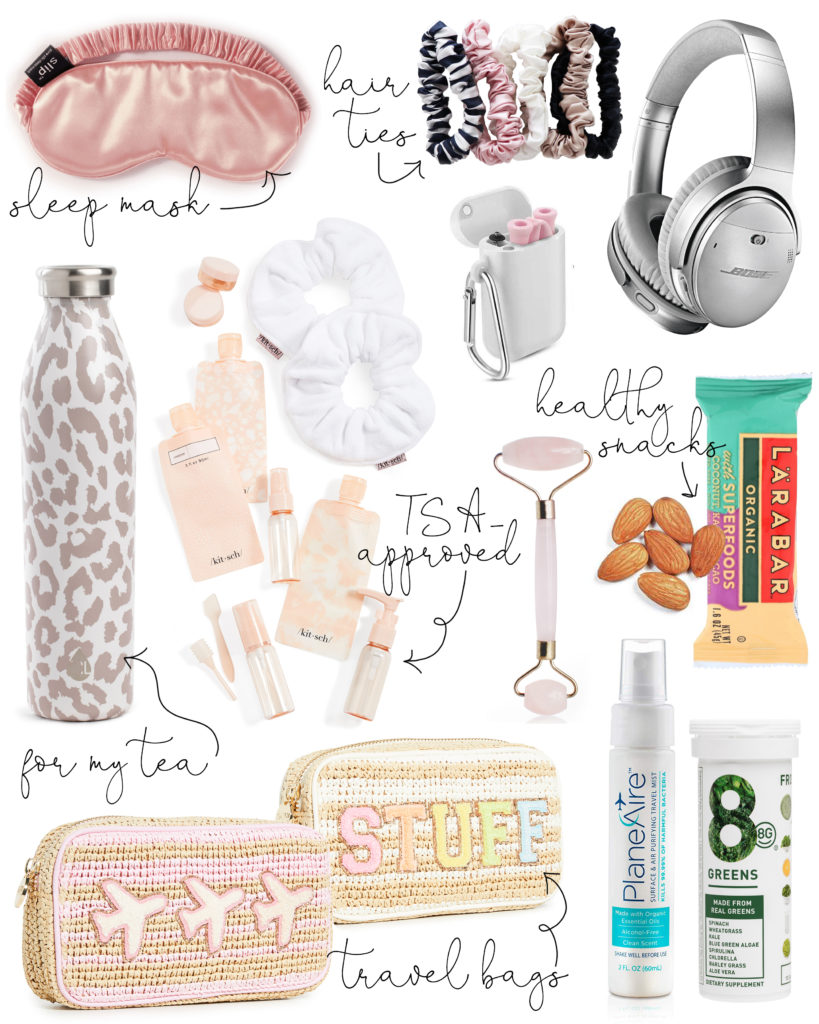 SILK SLEEP MASK
This silk sleep mask comes with me on every airplane – it's an investment but I've definitely gotten my money's worth from it because I use it all the time, both at home and while I'm traveling. It's made of silk, which is really important – the silk fibers are extra gentle on your eyes and eyelashes (and don't worry – you will never wake up with creases from this sleep mask).
SILK HAIR TIES
THE. BEST. HAIR. TIES. OF. ALL. TME. I never go anywhere now without these silk hair ties. Not only do they not damage your hair at all (since they're made of silk), but they're super strong at the same time. They're really nice to have on flights if you want to pull your hair back!
NOISE-CANCELLING HEADPHONES
Noise-cancelling headphones are so nice because they cancel out the sound of everything and everyone around you! I can't even hear the plane engine or flight attendant announcements with them on – which makes sleeping much easier. They are also nice for watching movies and YouTube videos on your iPad.
STAINLESS STEEL WATER BOTTLE
I picked up this stainless steel water bottle from Walmart and it's one of my favorites to travel with because of the leak-proof lid! I bring it with me (empty) in my handbag, and then once I'm through security I head to Starbucks to fill it up with hot water (it's free!). Then I use my own tea bags on the plane to make tea. I used to ask for hot water on planes, but stopped when I found out how dirty the water is on airplanes.
TSA-APPROVED TRAVEL KIT
I ordered this TSA-approved travel kit a few weeks ago and I'm kind of obsessed with it. Like… I want to book flights JUST so I can have more chances to use it. The kit comes with four *adorable* microfiber scrunchies, a spray bottle, pump bottle, two mini jars, three flat pouches and even a mini funnel and spatula to help fill up the jars. In addition to being super cute, all of the bottles are leak-proof and BPA-free.
PORTABLE STRAW
I'm trying my best to be more eco-friendly, and these portable straws are a great start! They're made of silicone, come in a bunch of colors, and even come with their own carrying case and cleaning brush. You can hook it onto your bag or suitcase for easy access. No more excuses for using plastic straws!!
ROSE QUARTZ FACIAL ROLLER
This facial roller is sooo nice to use on the plane – I don't even use it with a face cream or serum, I use it by itself. The rose quartz has a cooling sensation and helps with lymphatic drainage so you don't walk off the plane with a puffy face. I promise it works!
HEALTHY SNACKS
I never eat the snacks that they pass out on airplanes; instead, I always pack my own healthy ones! I love bringing raw almonds and dried organic mango (check the ingredients – mango should be the only ingredient!). I also usually bring my own peanut butter and rice cakes (I pack those in my checked luggage, though) and I loooove these organic Larabars because they have minimal ingredients and zero preservatives.
TRAVEL ORGANIZER BAGS
I like to have smaller bags within my purse to organize all of my different items. One bag is dedicated to beauty products and the other is dedicated to chargers, cords, etc. Right now my favorite bags are made by Stoney Clover – I love this one with pink airplanes and this one with the word "STUFF" outlined in gold glitter. There's plenty of room to fit all of the things I have listed in this post!
PLANE AIRE
This product is simply the best for killing germs on an airplane (or anywhere else, for that matter). The best part is that it's not a wipe and doesn't require one, so it's eco-friendly while still getting the job done. Simply spray and let it air-dry. The ingredient list is really great, too – it's made from a blend of six organic essential oils, purified water and organic fruit acids – nothing else. I like to spray down the arm rest, head rest and tray table before a flight!
8GREENS
Getting in your greens in a travel day can be tough – sometimes it's nearly impossible to find fresh greens and fruits or vegetables in the airport! I always carry around 8Greens tablets with me – you dissolve it in a glass of water and drink it. It tastes like lemonade but is sooo good for you – one tablet contains 8 different greens including green tea, broccoli, aloe vera, kale, collard greens, spinach, peppermint, and alfafa. Use my code CAITLIN20 for 20% off!
Lastly, I always bring some essential oils with me on flights. I recently bought this Jet Set kit from Living Libations (one of my absolute favorite clean beauty brands) and it contains several products made from 100% organic essential oils. The picture below absolutely does not do it justice – it's a really cute little set – but the products are completely clean and absolutely essential for a flight.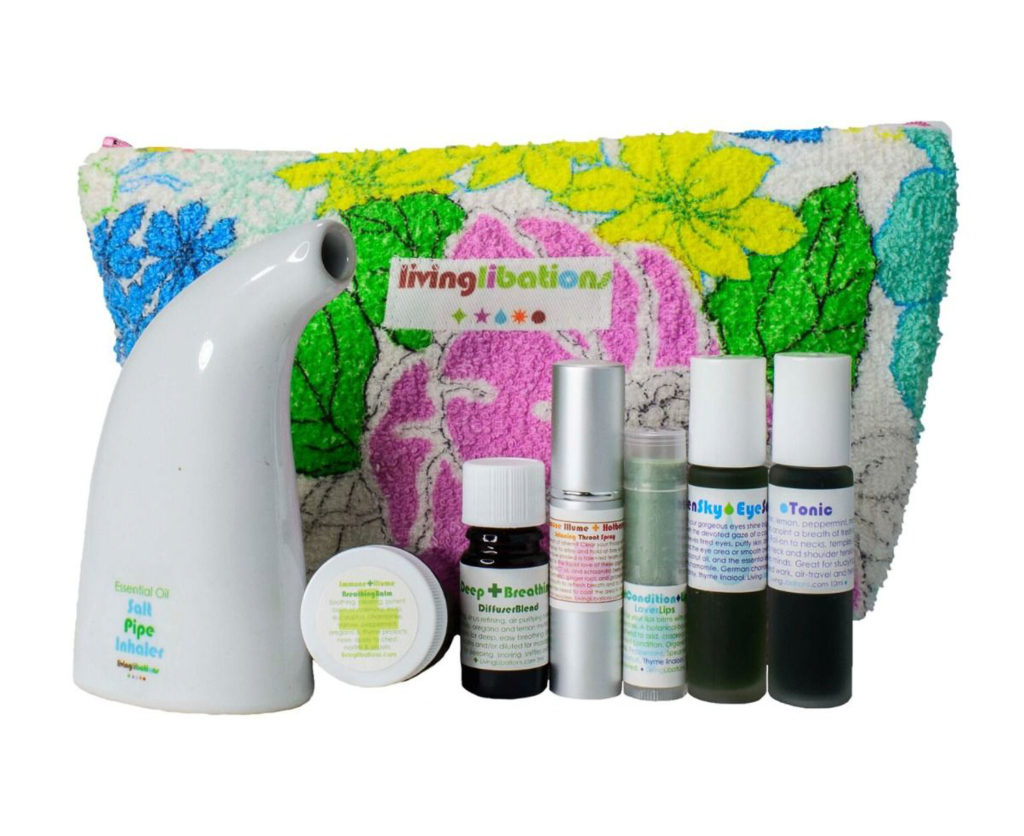 All of the products are made with organic essential oils and have different purposes (i.e. eye cream, lip balm, etc.). I personally love the Camphorous Balm – it's almost like a "clean" Vick's Vapor Rub haha. The specific essential oil blend helps to boost your body's immune system during travel and times of stress – and they're especially great at protecting your body from outside invaders, so you can even apply it to the insides of your nostrils! I also love the "Roll-on Tonic" included in the kit, which is a deeply relaxing blend of blue tansy, lemon, peppermint and lavender that you can apply to your temples and wrists. If I start to feel stressed on a flight, I love applying this and then taking a few deep breaths. It is seriously calming. But really every product is amazing, those are just my two favorites. The only product I don't take with me is the salt inhaler – since it's a bit large to fit in my purse!
I'd love to know what your travel essentials are – especially if they're related to health & wellness! xoxo