Last week I shared all of the non-toxic personal care products that we have switched over to, and this week I wanted to share our cleaning products! This is a BIG topic to cover in one blog post, so hopefully I can do it justice. The thing is, commercial cleaners are not the safest option for your family! The Environmental Working Group's Guide to Healthy Cleaning evaluates 2,500 cleaners for chemical safety, so you can look up your cleaners and make informed decisions. As a general rule, look for plant-based, biodegradable soaps and cleaners. I get all of our cleaning products from Grove Collaborative – all of their products are free of harmful chemicals, and once you find cleaners that you like, you can schedule a shipment to come every month (or more or less often!) depending on how often you go through your supplies! Grove is also offering a free starter set with their first purchase – you can click on any link in this blog post or read on to the end for more details!
I've broken it up into categories… but let's get into the nitty gritty of exactly which products we use.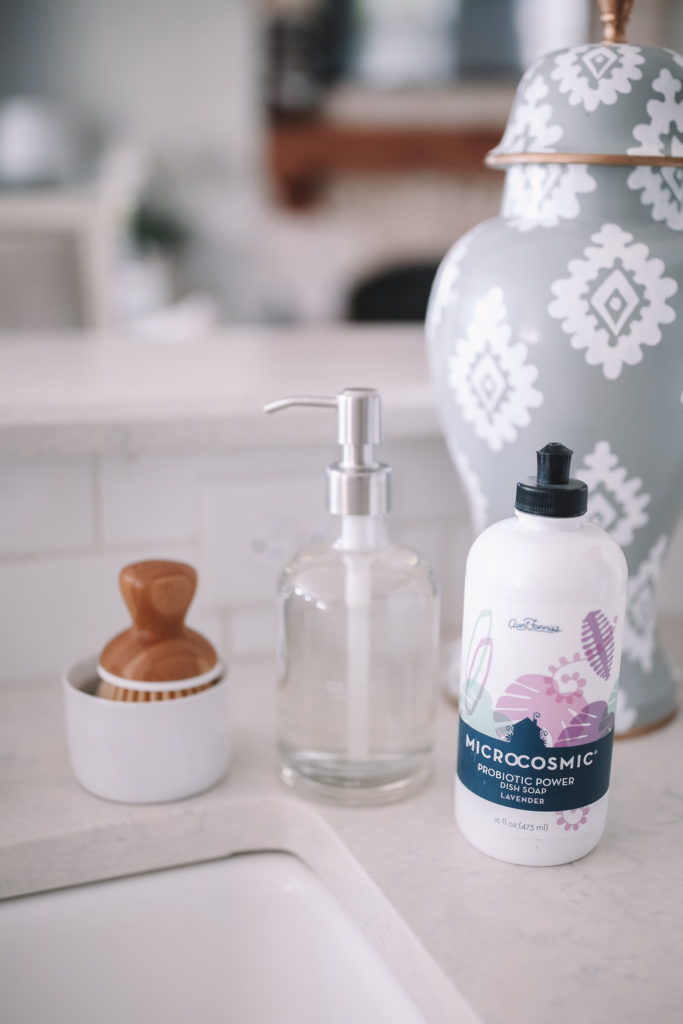 Dish & Hand Soap
Our skin is our biggest organ, absorbing anything we put on it. Traditional hand soaps can contain phthalates, parabens, and sulfates, while cleaning products can contain solvents. It's always important to do your own research and understand what you're putting on your body (you can use the Environmental Working Group's website to check your products). 
For hand soap, we use Grove Gel Hand Soap – I bought this set which includes a glass dispenser – that way you can reduce plastic use and keep filling up the same dispenser (just order the dish soap refill next time). The hand soap does come in a few different scents but we actually get the "free & clear" – it's made with aloe vera and is free of synthetic fragrances and dyes. For dish soap, we love Aunt Fannie's Probiotic-Powered Dish Soap! All of Aunt Fannie's dish soaps received an "A" on the EWG's website because they have such clean ingredients, and they even contain essential oils to soften your hands during dish duty.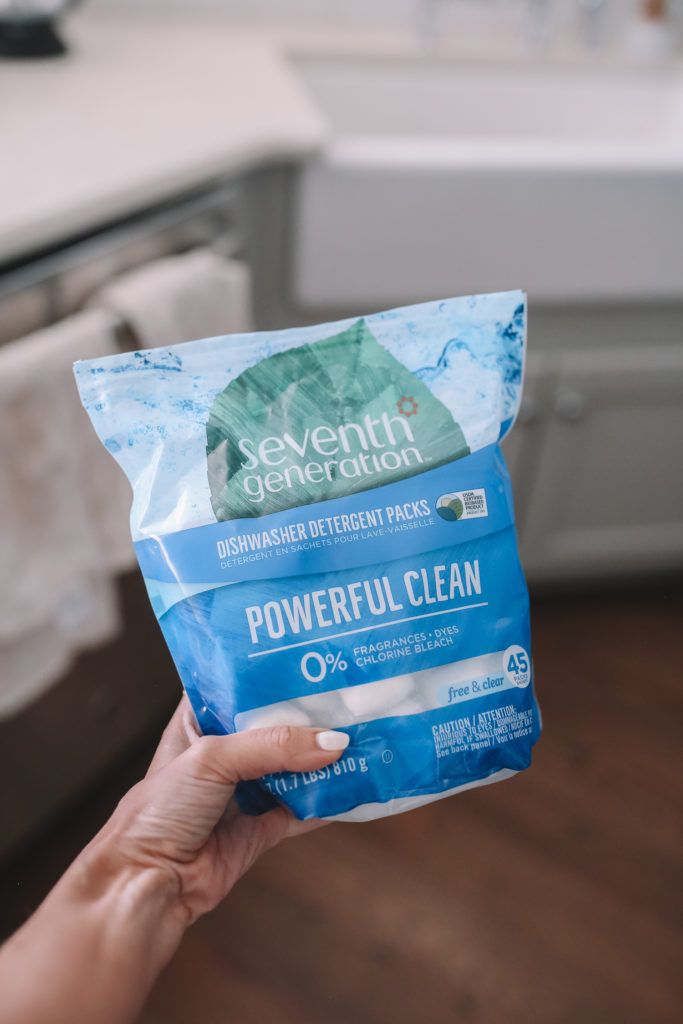 Dishwasher Detergent
We use this detergent for our dishwater – it received an "A" on the EWG's website – which is hard to come by in detergents (which is pretty crazy considering since we EAT OFF THE PLATES afterward!). I'm a big fan of Seventh Generation in general, and this dishwasher detergent is great – it does a great job of cleaning our dishes and it's chlorine-free, phosphate-free, and fragrance-free. And although it might seem counterintuitive, the pods are actually better to use than liquid soaps, since liquid soaps are more likely to contain preservatives.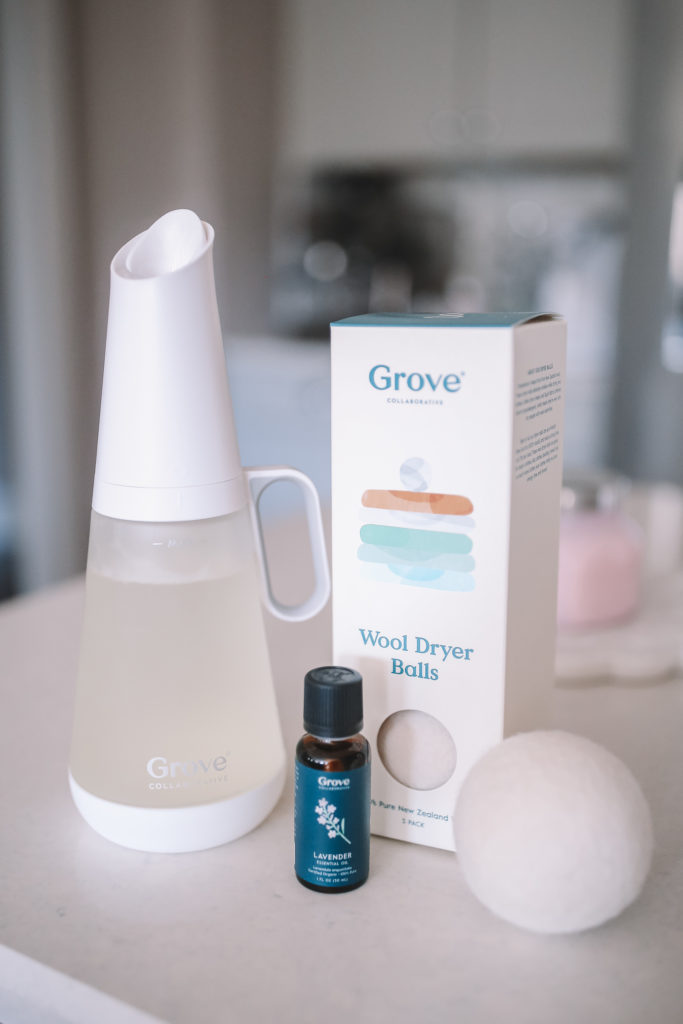 Laundry Detergent
We ditched the conventional scented detergent long ago. Recently we have been using this Laundry Starter Set which includes a dispenser that gives you the right amount of detergent every time (the starter kit is enough for 33 loads of laundry). The actual detergent it comes with is dye-free and more than 96% bio-based – we get the unscented Free & Clear formula to be extra safe. Because the detergent doesn't have a smell, but we still want our clothes to smell good, we use wool dryer balls! Wool dryer balls are an all-natural, chemical-free alternative to dryer sheets – they're even gentle enough to use with baby clothes 🙂 I add a few drops lavender essential oil to the balls before placing in the dryer to make our clothes smell good (by the way, you can choose any essential oil combination you want, it doesn't have to be lavender).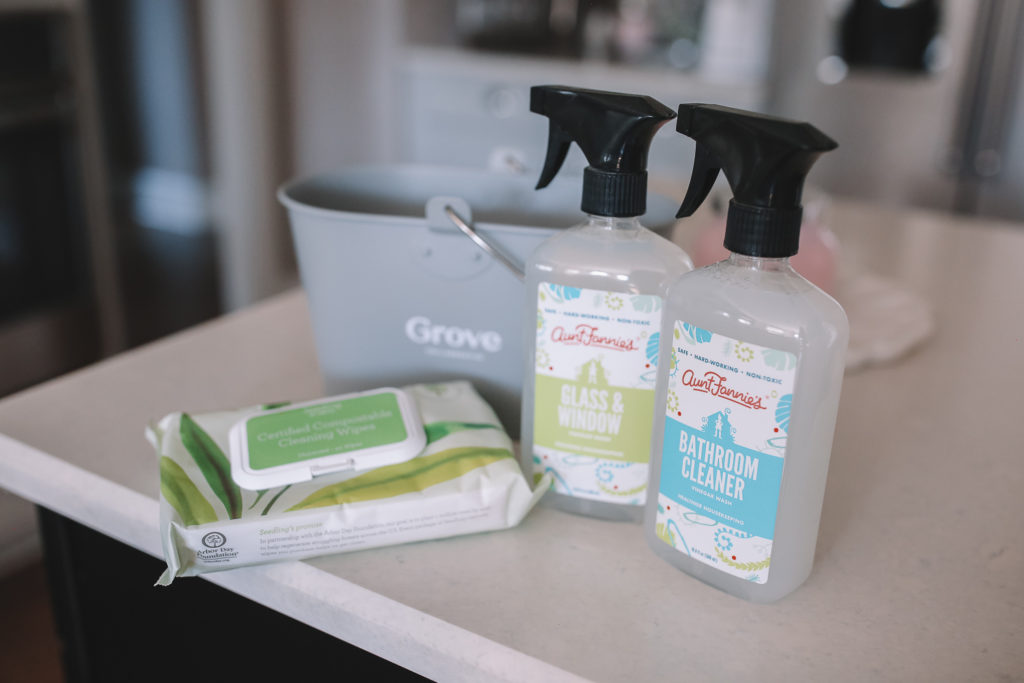 Multi-Surface Cleaners
Cleaning wipes are definitely the most convenient of all cleaners – they're so dang quick and easy to grab (much easier than grabbing your roll of paper towels). I feel good about using these cleaning wipes, since they're compostable and made from 100% bamboo instead of trees. I use them to clean everything – my dining table, stove, stainless steel appliances – and am very impressed that they don't leave a residue behind.
For glass cleaner, we use Aunt Fannie's Glass & Window Vinegar Wash. It does have a strong vinegar smell, but it gets the job done! It's completely plant-based and non-toxic, and it gets smudges, handprints and dust off of your windows and mirrors – I use it on the big mirror in our bedroom constantly before filming Try-On Hauls, lol! It does take a while to wipe off, but the outcome is amazing.
All of these products are available through Grove Collaborative, and they are offering a free gift for first-time customers when you sign up here! I really love the Seedling toilet paper that's apart of the free gift (ESPECIALLY since toilet paper is hard to come by these days, lol!). Seedling paper towels and toilet paper are made from soft and absorbent bamboo fibers instead of trees – bamboo is super sustainable since it only takes three months to grow back after being harvested (whereas trees take 20 years!). I love that I can get all my favorite brands like Mrs. Meyer's and Seventh Generation from Grove… and also discover other amazing and sustainable products like Seedling!
*Thank you to Grove Collaborative for sponsoring this post. As always, all opinions are my own.