Happy Monday, you guys! It looks like most of us will be working from home for the foreseeable future, and I wanted to share a few tips I've learned from over the years (I've been working from home, blogging full-time, for more than SEVEN years now! Crazy.)
What you will soon find (if you haven't already), is that the hardest part about working from home is the distractions. As I sit here and type this from my desk, I look around and think about so many other things I could do instead of working. Did I finish the laundry? I need to empty the dishwasher and reload it. Winnie looks so cute, maybe I should pick her up and cuddle her? Is that the UPS guy that just rang the doorbell? SO MANY distractions! Working from home does take self-discipline, but there are lots of things you can do to help maintain productivity while working from home. Not only can we still be productive, but I'm advocating for the fact that we can all become healthier just by working from home! Now is the time to build in some healthy habits: you can cook up more nutritious meals, meditate and find time for a little movement during your workday.
1. Stick to your Morning Routine
A good morning routine can set your entire day up for success. If you usually have a morning routine before you go into the office, then stick to it! I wake up at the same time every day and have a strict morning routine that I follow, that includes fifteen minutes of either meditation or journaling, making my coffee and enjoying a healthy breakfast. It may help you to sit down and write out exactly what you want your ideal morning to look like. Do you need 30 minutes to cook a healthy breakfast? 10 minutes to go through your morning skincare routine? Be very specific, and then figure out what time you need to wake up to ensure your morning goes to plan.
2. Get Dressed
It's incredibly tempting to work from your pajamas all day, but I've found (the hard way) that that's the quick route for an unproductive day. Taking a shower and getting dressed for the day signals your brain that you have work to do and can put you in the mindset for getting things done.
3. Create a Designated Work Space
Not everyone has a home office, and that's okay! But it's helpful to designate a place in your home as your "office," and it shouldn't be your bed or couch. If you don't have a dedicated work space, your entire house can easily end up becoming the work space (trust me, you'll find yourself digging through the spice drawer for invoices, or find contracts in your couch cushions!). The kitchen table is fine if that's all that you have, but try to find a room where you can actually shut the door when you're done working. When I'm in my home office, I know it's time to be productive. And at 6pm when I'm done working, I shut the door to the office, a great signal to my brain that it's time to turn off work mode and enjoy some time with my husband.
4. Get Rid of Distractions
When my work space is cluttered, so is my mind. Blogging requires me to be creative every single day, and it takes having a clean office space, fully decluttered and empty of distractions for me to be able to concentrate and let my mind open up to ideas. That's why I eliminate all the distractions I can when I'm in my office. I don't watch TV while I'm working, I shut my office door, sometimes I even shut the blinds if looking outside is distracting, and I clean up the office every night so it's decluttered for the next day. Although it may seem "fun" to watch TV while you're working from home, this is a surefire way to let your productivity go down the drain! Watching TV should be a treat, and you can save it for your lunch break or nighttime after you get done with your work.
5. Start with a To Do List
Writing out a To Do List every morning will make the day look less daunting, more manageable and help you stay focused on each task. When I'm done with my morning routine and get to my home office, I start my day by listing out everything I have to do. I then prioritize by most important, and then cross things off as I go along. It is really temping to try to multitask at home, but you're actually more productive if you focus on one thing at a time.
6. Set Ground Rules with People in Your Home
This one only applies to me when both Chris and I are working from home (which isn't that often). But if you have children or roommates, then it definitely applies to you! It's important to set some ground rules with other people who share your space. If you have children, they need clear rules about what they can and cannot do during your work time. Also, just because you're home and can take care of pets or kids, doesn't mean other family members should assume you will always do it. Gently remind them that this is still a work day for you! When Chris is also working from home, we have to be in separate rooms… otherwise it is too temping to talk to each other and get distracted.
7. Take Breaks
Breaks can help IMMENSELY if you work from home! If I need to sit at my computer all afternoon, I try to take a 15 minute break every hour. I'll take my dogs for a short walk, make a snack, or check Instagram. And don't skimp on your lunch break! Give yourself a full hour to eat lunch and whatever else you want to do, even catch up on a Netflix show. That is the beauty of being at home, after all!
8. Get Outside
Not leaving your home all day can be mentally tough. That's why I like to go for a walk outside at least once a day. Studies have shown that being outside can improve memory, fight depression and lower blood pressure (source). I take my dogs on a 30 minute walk every day… and don't use the weather as an excuse! Sometimes it's really cold outside and I have to bundle up with five layers, a hat and gloves. But I promise you will feel refreshed – and it's a great opportunity to get out of your house!
9. Socialize
Whether it's your colleagues, friends or family, it's good to socialize every day, since working from home can be very isolating. The best way (I think!) to socialize is with a Facetime or Skype call so that you can see the person face to face. Try to set up one call every afternoon or at night to catch up with an old friend, your parents or grandparents. It will make you feel a little more human!
10. Set a Strict Schedule
I saved this one for last because I think it's most important. When you work from home, it's important to set a schedule and stick to it. Having clear guidelines for when to work and when to call it a day helps me maintain work-life balance. Otherwise, it's easy to sleep in, keep on my pajamas and work at all hours of the day, and eventually realize at 4pm that I never ate lunch. The goal is to not have your professional life bleed into your personal one. As a blogger, every day looks a little bit different for me, but here's an example of how I usually structure my days: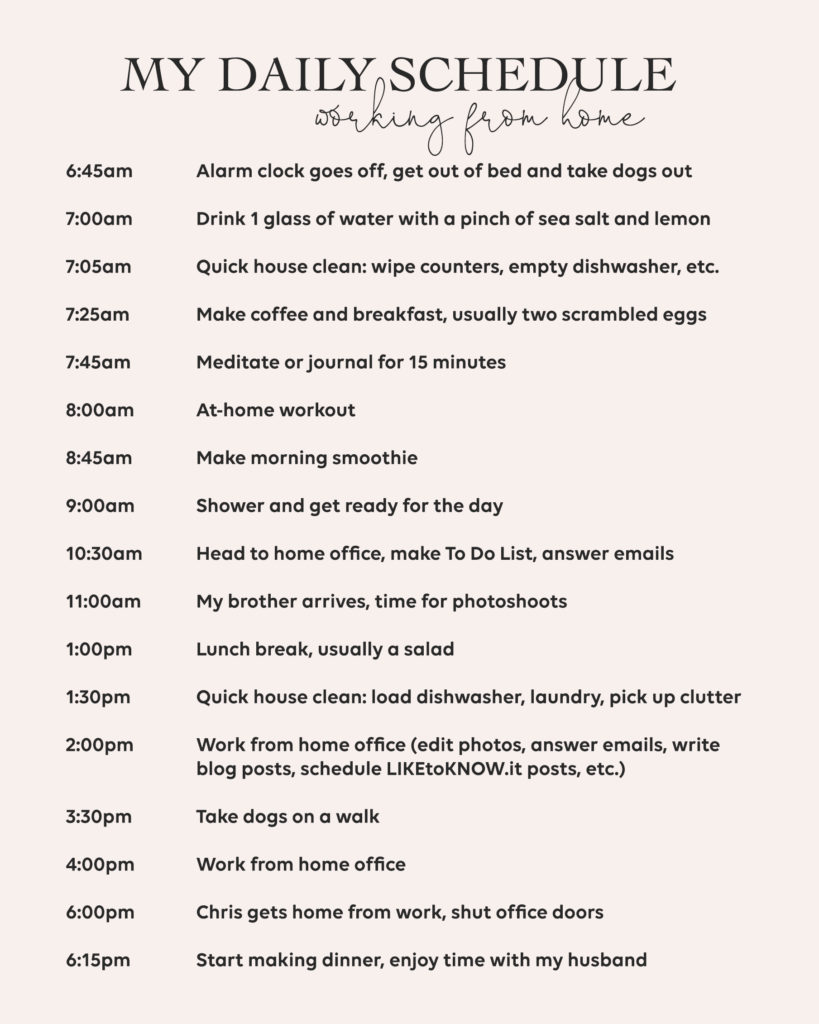 My day might look a little different than yours since blogging is quite unusual – I might have photoshoots at weird times or conference calls in the middle of the day – but hopefully this gives you a little insight into how you can organize your day working from home. It also really helps to schedule in times to clean up your house or do laundry… that way you aren't tempted to do it during your work hours, and there's a dedicated time for it!
If you work from home, I'd love to hear your thoughts and any tips you have for the rest of us! xoxo