Wow… March absolutely flew by! This month's best sellers list was so fun to put together because it was absolutely packed with pretty spring finds! I think being a girl mom has affected my wardrobe – lol – because I've been obsessed with the color pink. If you can't tell from the below photos!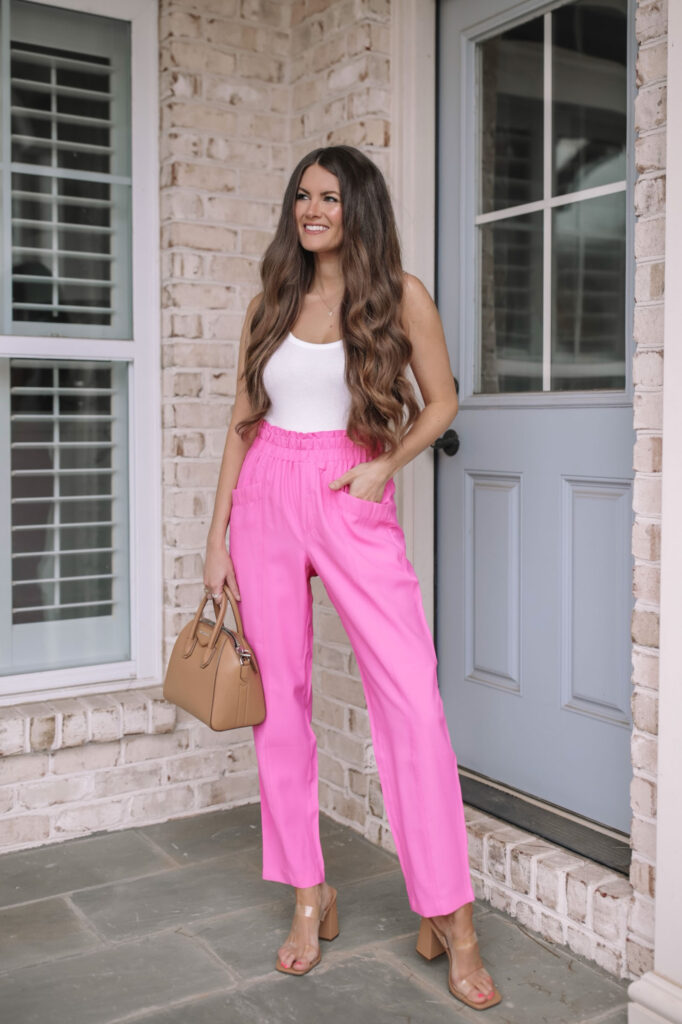 Target's spring fashion game has been on point!! I am obsessed with these pull-on pants – so much so that I have them in pink and cream! They are truly a staple piece that you will wear over and over again this spring, summer and even into early fall, too. They are super cute and so easy to throw on and head out the door. You can easily dress them up or down and they even make great travel day pants. They're only $25 and fully stocked right now!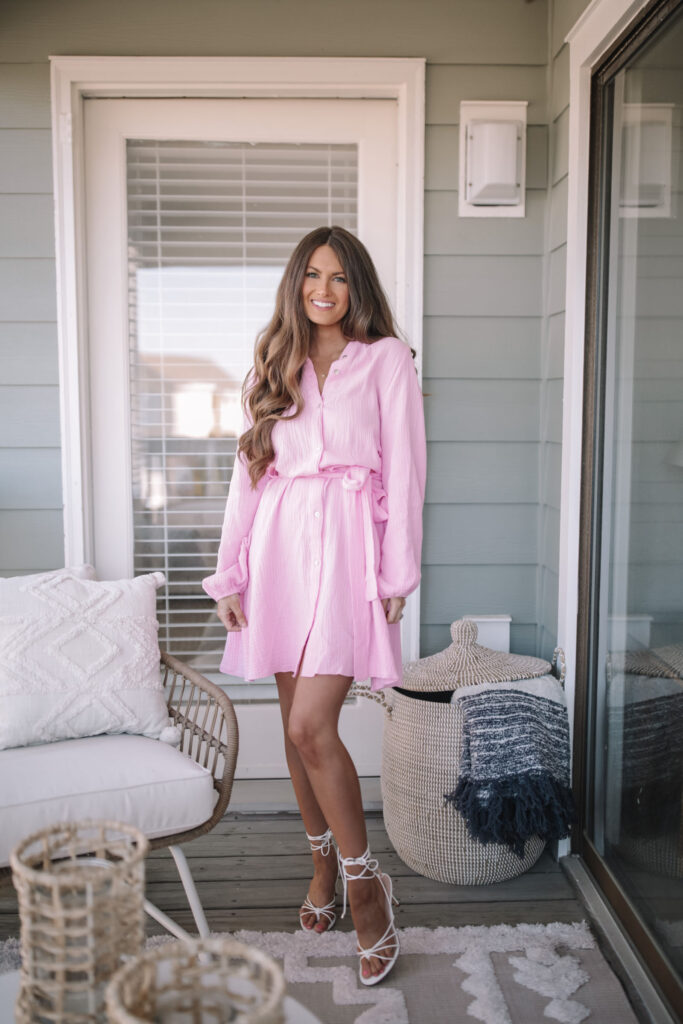 Amazon can be completely hit or miss. I've found quite a few misses, but then I've also found a few of my favorite outfits *of all time* – including this dress. Not only is it affordable, but the quality is amazing – I was (happily) surprised. It can be dress up for date night with some pretty heels (like these from Amazon) or dressed down for running errands with some cute sneakers too. This one is so good that I got it in white too, but it also comes in a billion other colors!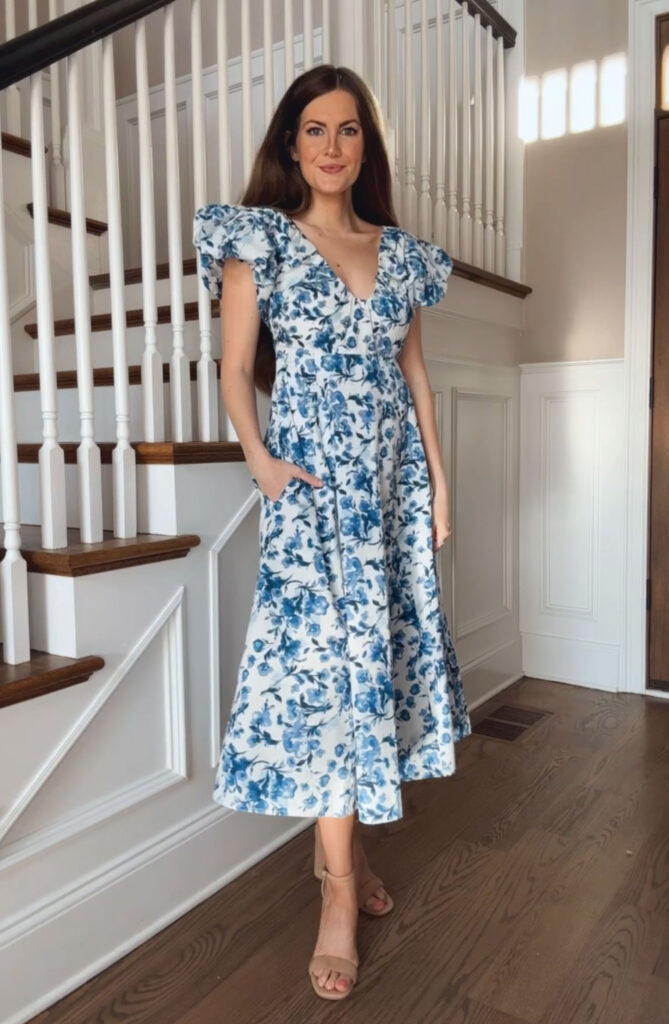 Abercrombie has some great pieces for spring this year! I made a reel on Instagram with some of my favorites and this dress was one of them! The blue and white floral pattern is gorgeous and perfect for spring. I'm loving the puff sleeves and the plunge neckline isn't too revealing. This would be so cute to wear to a baby or bridal shower and it would make a great Easter dress, too. It's also available in classic black and a pretty green color too!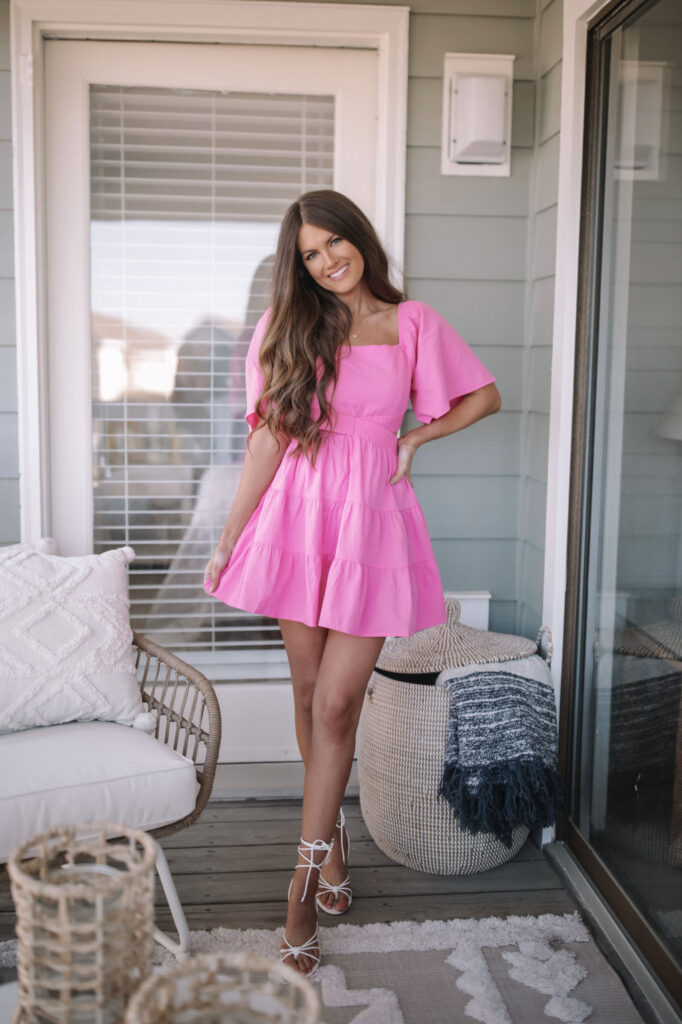 This is another recent Amazon find that I can't get over just how good it is! The crossover waist is so faltering and the cutouts on the sides are so trendy! It's also the perfect length and such a bright and happy shade of pink. This would be such a great choice for date night or for lunch with the girls. I paired it with these white lace up heels, which are also from Amazon. This dress is on sale right now for under $40 and it comes in so many pretty colors.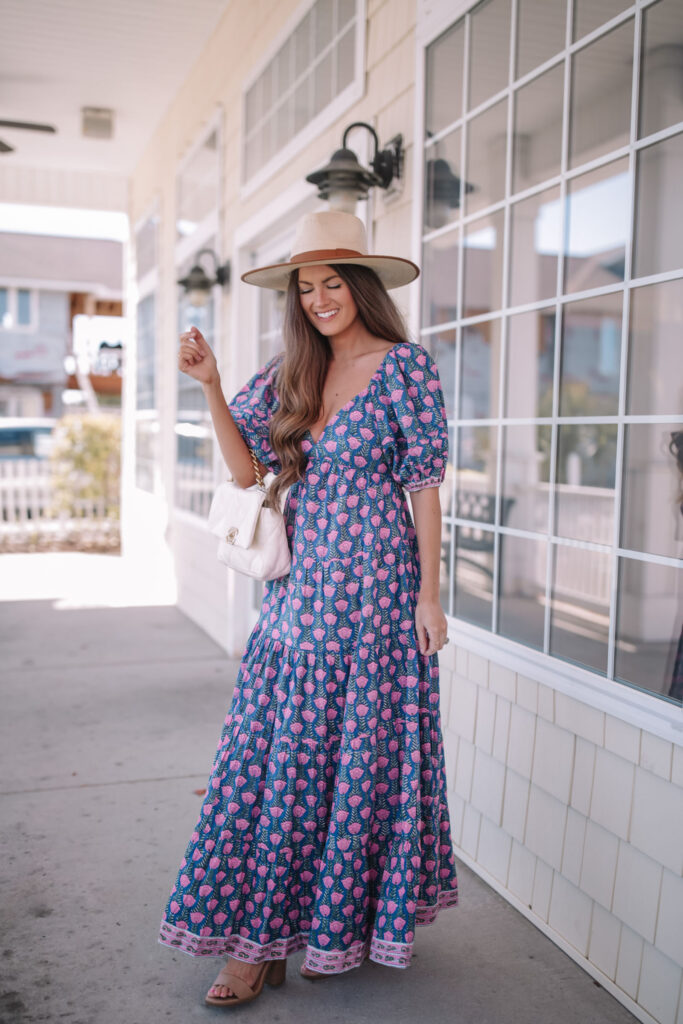 Are you in search for the perfect spring dress?! Well look no further! This floral midi dress is it! The colors and the floral design just screams spring to me. Plus the puff sleeves and the bow tie back make this dress so pretty and feminine. I paired it with this Brixton Jo straw hat for a beachy vibe. This one would also make a great Easter dress. And the best part is – this dress is fully stocked and ON SALE!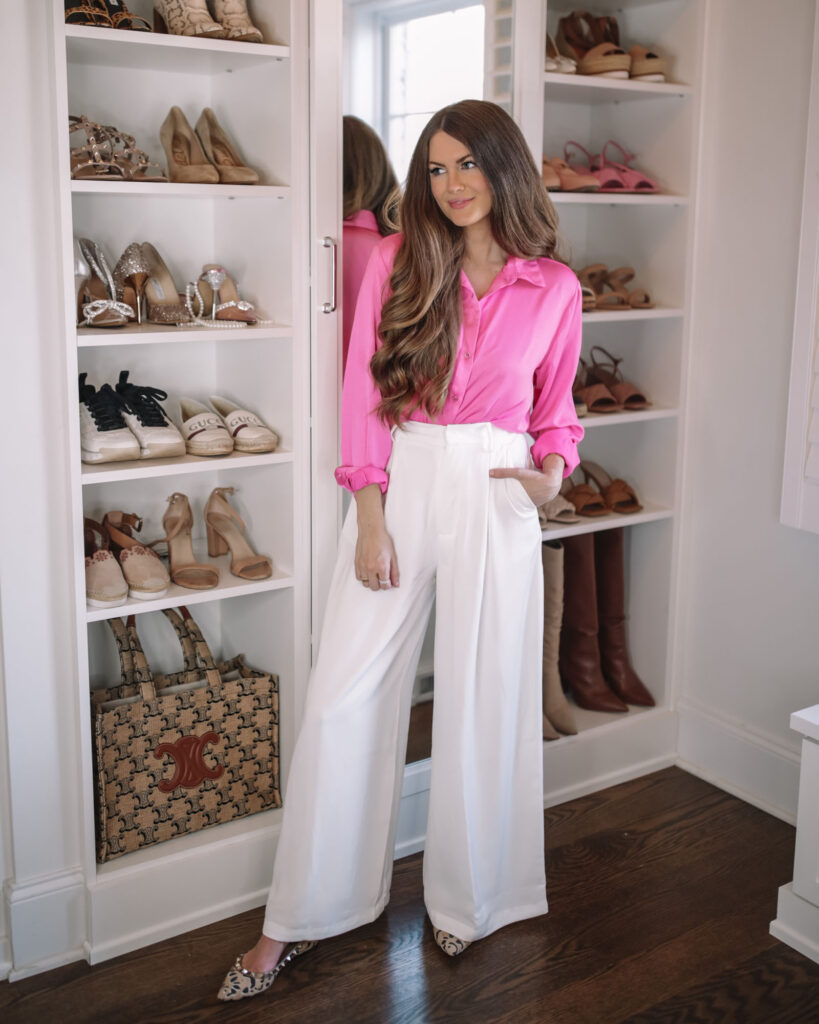 I finally ordered the viral Amazon pants and I am here to tell you – they are are worth the hype. I LOVE them! They feel so high-quality, aren't see-through at all and they come in a billion colors! I'm wearing them with a button-up blouse, but they would also look pretty paired with a cute tank for a summery look or a blazer for a more structured look. I still can't believe that these are under $50!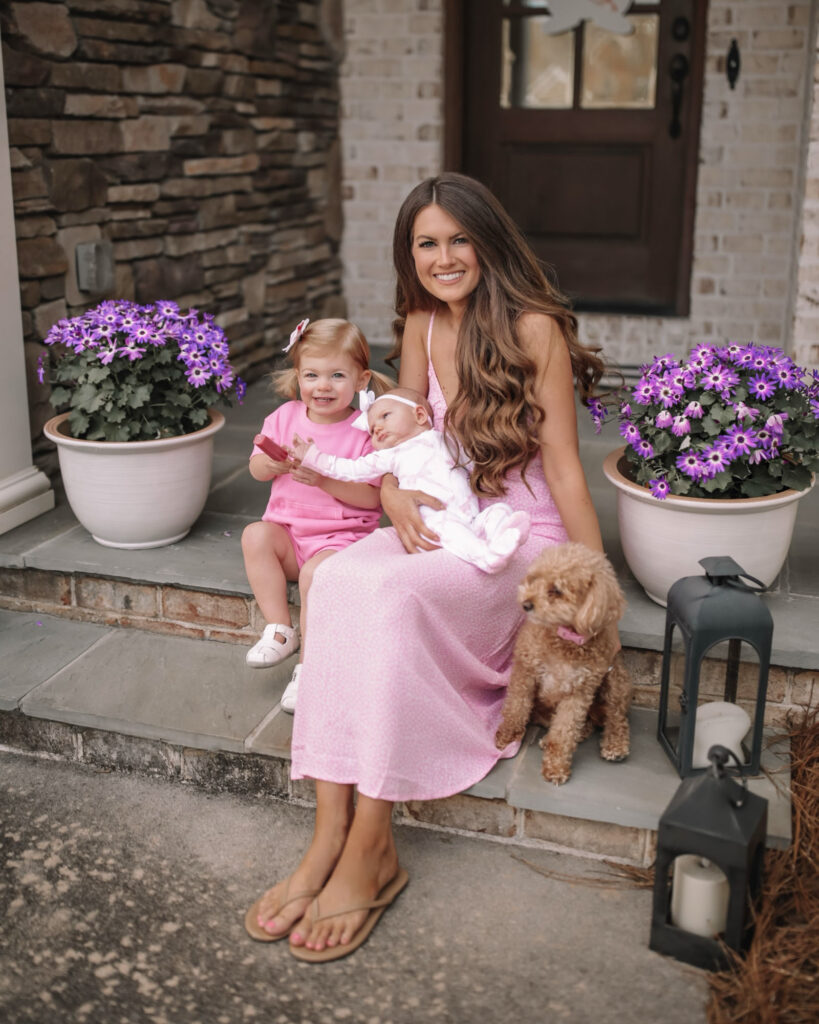 This pretty pink dress is one of my favorite dresses that I've ordered so far for spring. Its simplicity makes it have that effortlessly beautiful look that is so sweet and classic. If you have plans to travel to a coastal location for spring break, this dress would be perfect to add to your packing list. Just add a pair of simple sandals and your ready for dinner by the water. I can also see this dress being super cute paired with a cardigan for your Easter plans as well.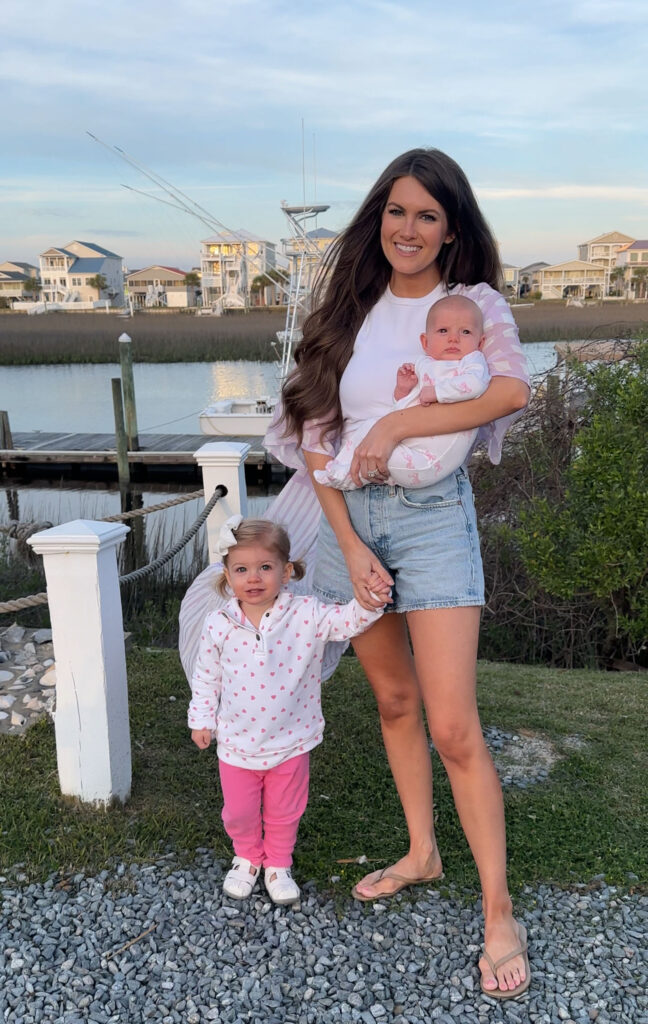 Agolde has been one of my favorite denim brands for years now. I have a few favorite pairs of Agolde shorts that I wear all the time, including this pair and this pair. But I wanted to add a longer pair to my closet, not only because longer denim shorts are trending, but also because wearing longer shorts make it a little easier to chase around a toddler and care for a newborn. This pair is the perfect pair of longer denim shorts. I swear they are the PERFECT length and the perfect shade of blue! Agolde denim is a bit of an investment, but I promise these are worth it. They will last forever and you'll wear them over and over again.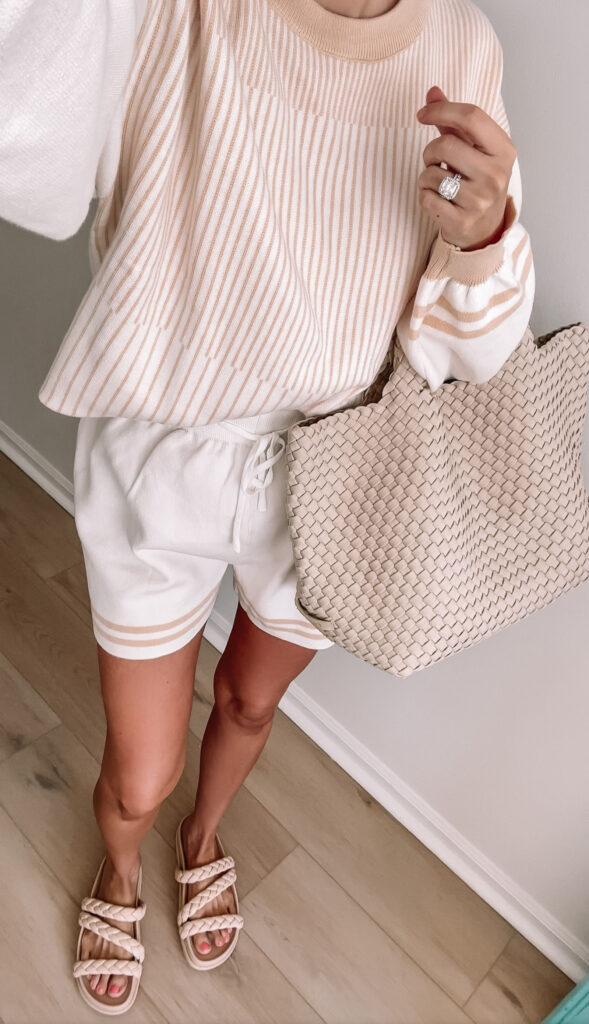 This little knit set from Amazon was made for spring! The material is really high-quality and thick so you stay warm when the spring breeze is a little chilly. I paired it with these sandals to go grab some coffee while we were at the beach, but it would also look super cute with a pair or sneakers. It's really soft and comfortable too, so it would be great to wear on a travel day as well. I got it in the apricot color, but it also comes in five other pretty color options!
I thought these sandals (shown above) would be on the top seller's list this month but was not expecting them to be this month's number one best seller! I just quickly put them in my Nordstrom cart to have to throw on when we went to Ocean Isle this past month. But I ended up wearing them the entire week we were there and now I find myself reaching for them ALL THE TIME!! They are the perfect sandal to slide on before heading out the door to run errands, go to pure barre and even out to lunch with friends! Plus they are so comfortable and go with everything. I just checked and they are fully stocked right now, so go and grab your go-to pair of sandals for this spring and summer!
Which item is your favorite?
xoxo