Good morning friends! Can you believe it's APRIL?!!? I hope you're not playing any April fools jokes on anyone today! I wanted to round up some of March's best sellers, and wow what a fun March we had! Most of these best-selling items ended up being things I wore on our trip to Charleston earlier in the month. Looking at them makes me want to go back!! We don't have another trip planned until the end of April, so I can hardly wait. 🙂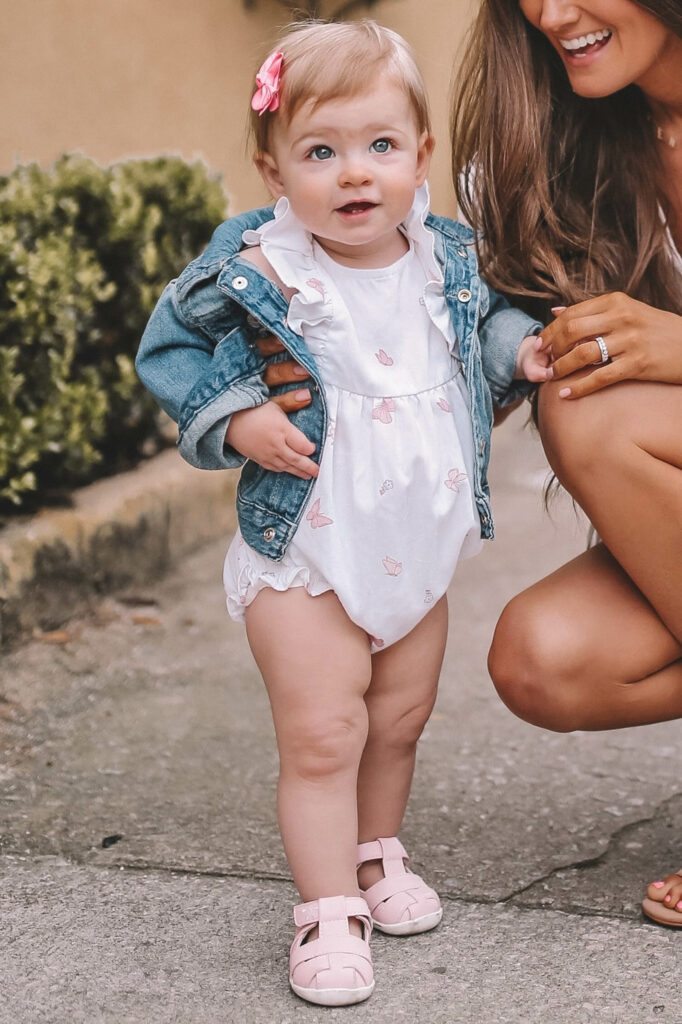 Miss Kennedy loves her cute pink sandals and so do I! She started walking a few months ago and this brand of shoes has been PERFECT for her – the shoes and sandals are specially made for early walkers. The soles are not too flat (which is hard for babies to walk in), they're perfectly rounded. You know a shoe is good when she's not trying to take it off the entire time it's on her – haha. I also found them on Amazon here!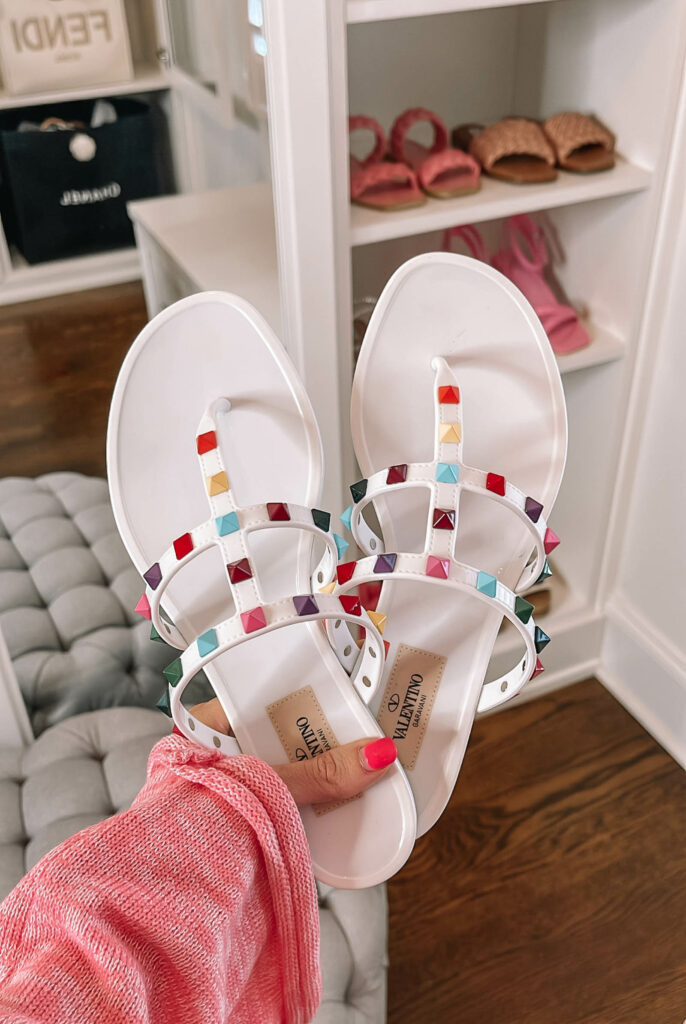 I'm obsessed with these sandals and it looks like y'all might be too because this is the second time they've made the best sellers list and this time their coming in at number one! They're the perfect way to add a little fun to any outfit! The colorful studs are not only super cute, but they make these sandals really versatile. They look great with swimsuits, shorts as well as dresses. And they can be worn to the beach or pool and out to dinner too. Because they're jelly, dirt and sand wipes right off them. They are a bit of an investment, but these sandals last forever and I get a lot of wear out of mine!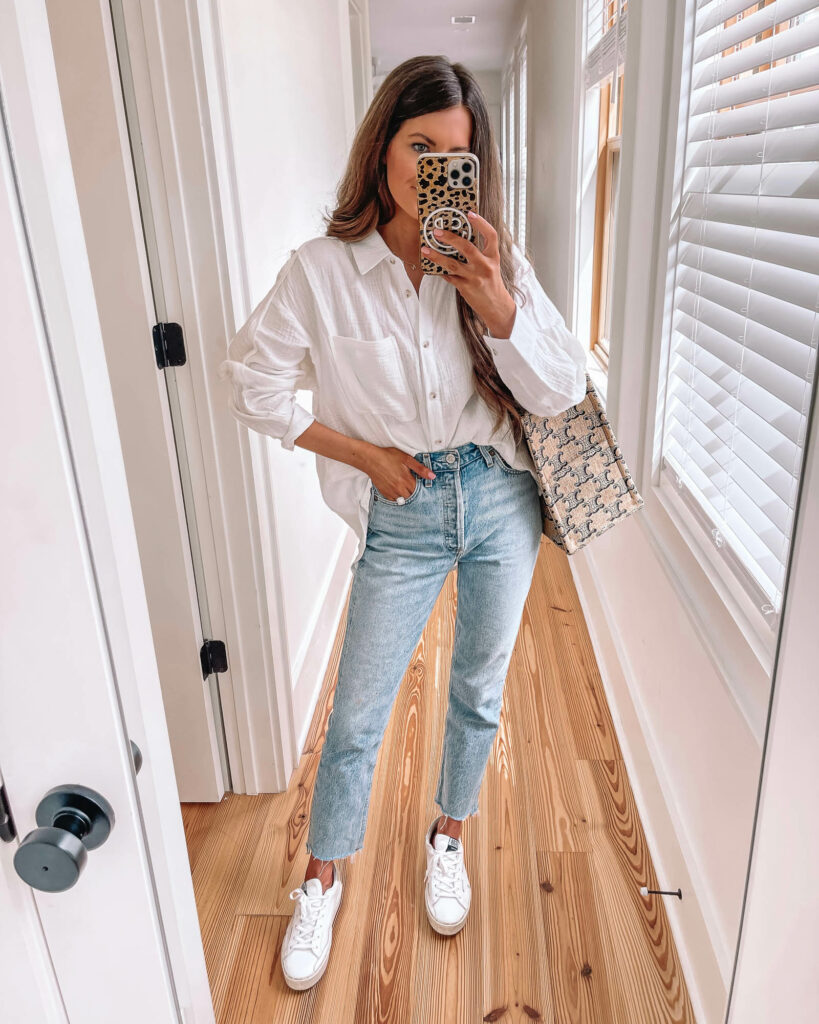 I am in love these Agolde high waist jeans. If you're looking for a new pair of denim, I highly recommend this pair. They are the perfect shade of blue and cropped at the perfect length. Plus, the frayed hem is on trend and really cute. I sized down for a perfect fit (I normally wear a size 25 in jeans, but I sized down to a 24 in these). They're without a doubt my number one pair of jeans recently – they somehow manage to go with EVERYTHING.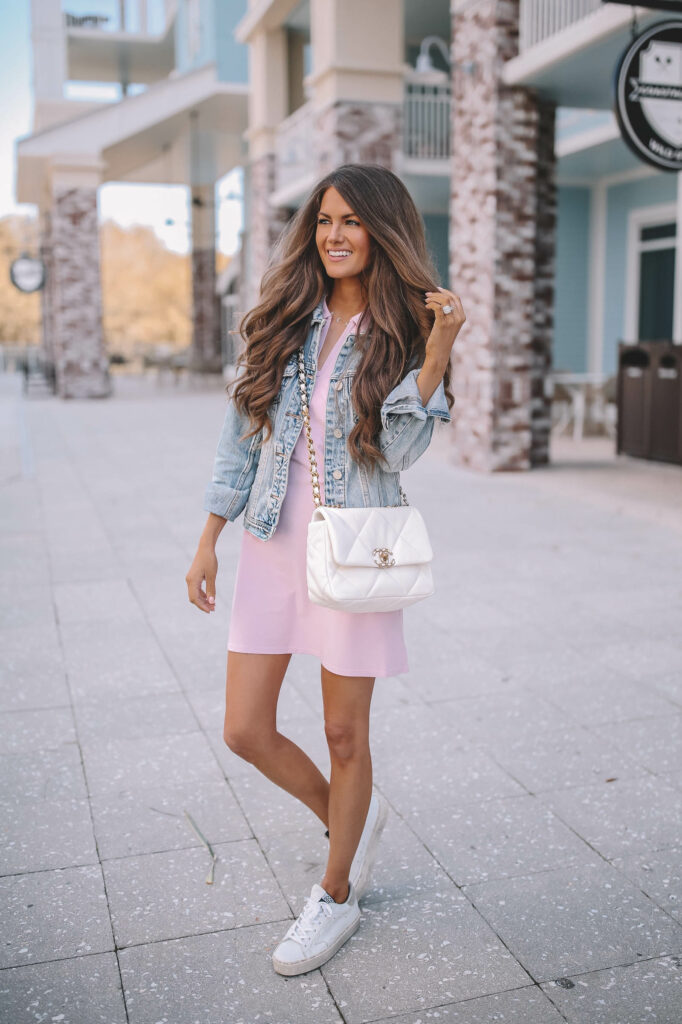 This pink polo dress makes a great travel dress (or tennis dress!). I wore it on a travel day this past month and it was so comfortable, yet really cute at the same time. It comes in several different colors, but I seriously love the pink – it's such a cheerful shade of pink! You could definitely wear it to work out in, but I like it casually dressed with a denim jacket and sneakers. It would also be cute with a white baseball cap.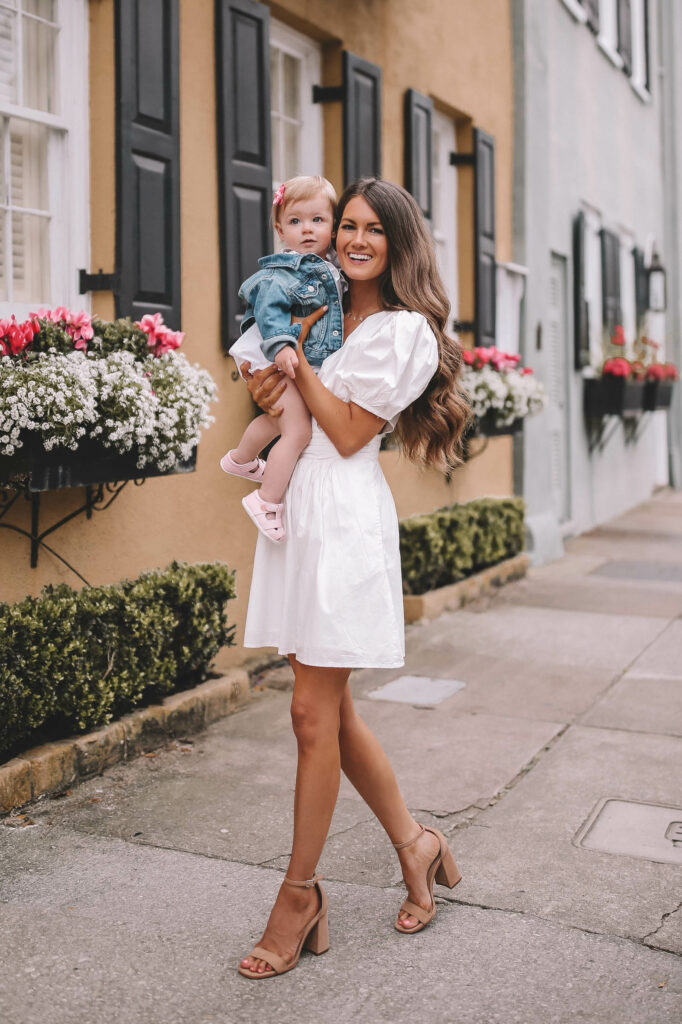 I wore this beautiful puff-sleeve dress to dinner at my favorite restaurant in Charleston a few weeks ago. I must say it fits like a DREAM! It has beautiful, big puffy sleeves and is double lined so that you don't even need to wear a slip. The cutouts on either side are the perfect added detail and it's available in black if you want to wear it to a wedding this spring. Nordstrom is currently sold out of a few sizes, but it's fully stocked here and here.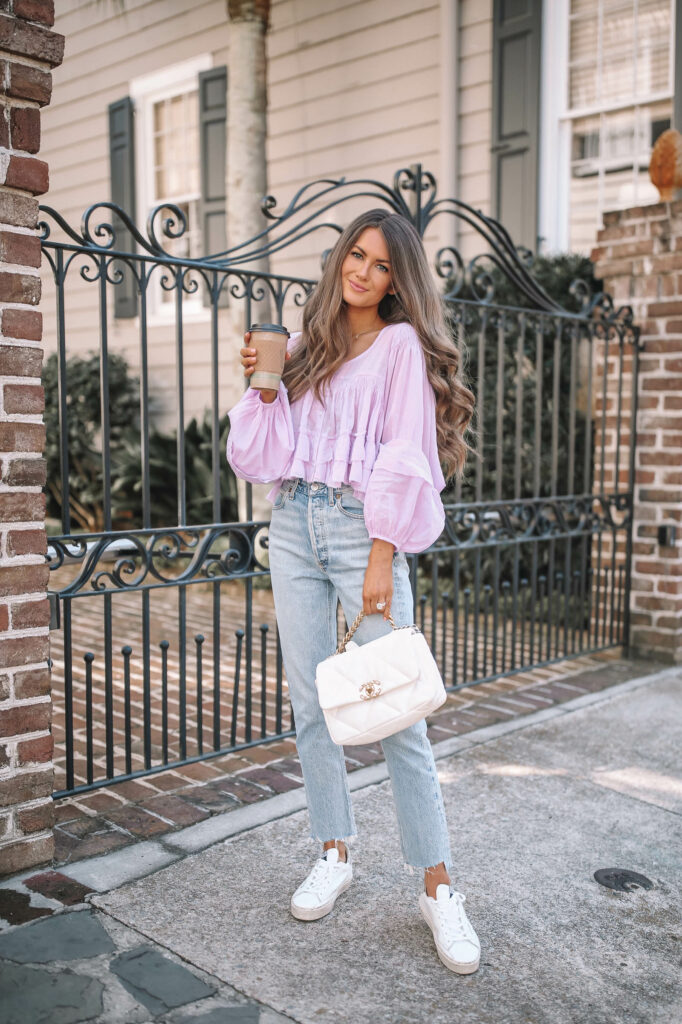 I also wore this pretty blouse on our trip to Charleston to lunch and walk around King Street. I wanted to look casual but still put-together, and this Free People top was perfect for the job! The back of it is so pretty, it has a few layered ruffles and looks super feminine and flowy. I styled it with jeans here because it's still a little chilly here in early spring, but it will also look great paired with high-waisted shorts as the weather starts to warm up. This blouse also available in a pretty ivory color and if you can't find your size at Nordstrom, make sure to check the Free People website, here.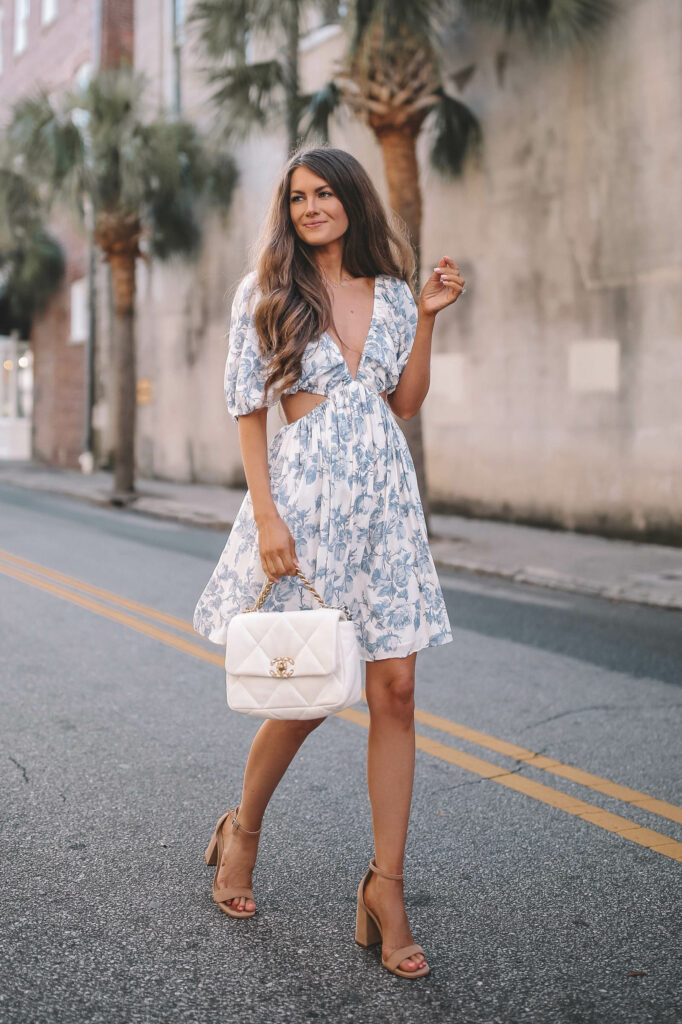 How dreamy is this floral mini dress?! I wore it on a perfect spring evening in Charleston this past month and fell in love with it! The colors are so pretty and the way it drapes couldn't be more flattering. You could definitely wear it as a wedding guest or on a fancy date night! I definitely plan to wear it again soon… I think it's going to be on repeat a lot this spring. I am wearing a size 2, and the back is adjustable for the perfect fit.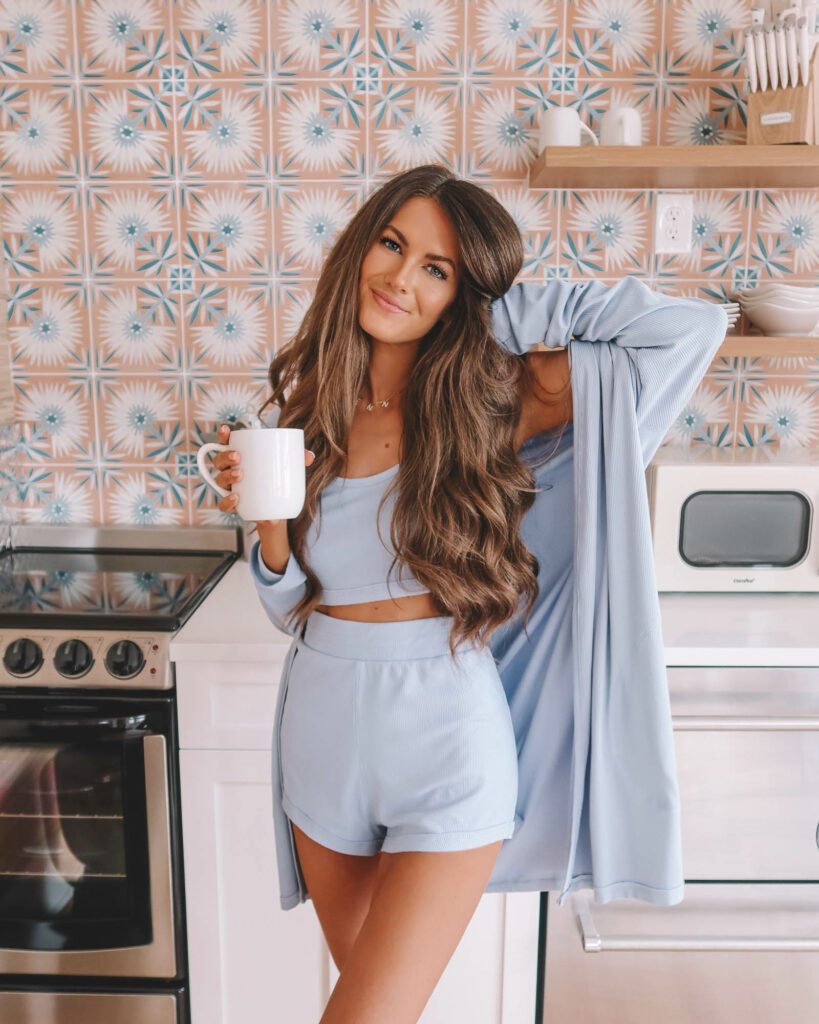 This might be THE CUTEST lounge set ever! It come with three separate pieces- the matching bra, shorts and cardigan. All of which are super and lightweight, so it's the perfect set for spring and summer. The material has a very fine ribbing texture that makes this set look and feel a little more luxurious and this pretty blue color is so pretty. It does run a little big (particularly the shorts), so if you're in between sizes size down one size.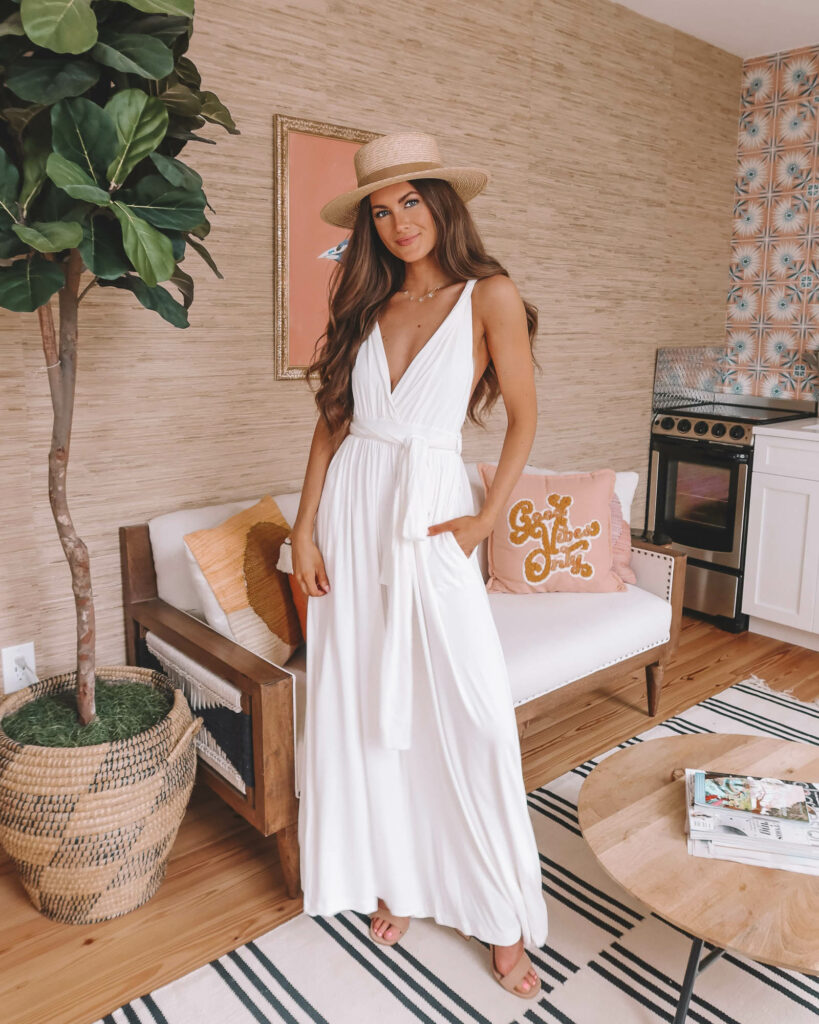 If you buy one jumpsuit this season, make sure it's this one! I love so many things about it. Like the fact that you can easily style it up or down and how the material is soft and comfortable. But my favorite thing about this jumpsuit is all the ways it can be worn! The straps are entirely adjustable, so you can wear it on one shoulder, criss cross in the back, halter style, and even completely unroll the straps for a more covered shoulder look. Seriously the possibilities are endless and they all look gorgeous! I can't believe this jumpsuit is less than $100. Last time I checked, Nordstrom was sold out of a few sizes, but it's fully stocked here. I also found it available in so many beautiful colors here.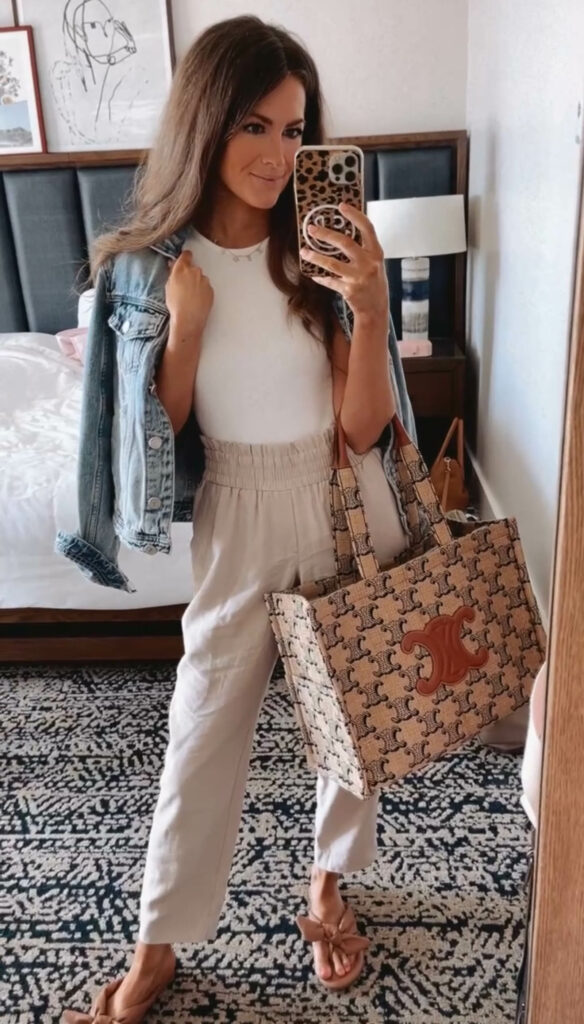 I grabbed these pull-on pants and threw them in the cart really quickly on a recent Target run and I am SO GLAD I did because I love them! They are super cute and so easy to throw on and head out the door. I recently wore them on our travel day back from Charleston and they were comfortable the whole ride home. They would also be cute paired with sandals and a neutral tank while out running errands or out to lunch with friends. They're only $25 and fully stocked right now!
I'd love to know, which item from March is your very favorite?
xoxo!