I wanted to start a new series on the blog where I feature the month's top sellers. A lot of these items never even make it to the blog (they live on Instagram or disappear after 24 hours on Instastories!) and they're tried -and-true favorites. Not only do you guys usually sell out some of these items, but you send me the sweetest messages/emails after you receive them! (Honestly that makes me soo happy when I get one of those messages!) So without further ado, here are June's TOP 10 BEST-SELLERS!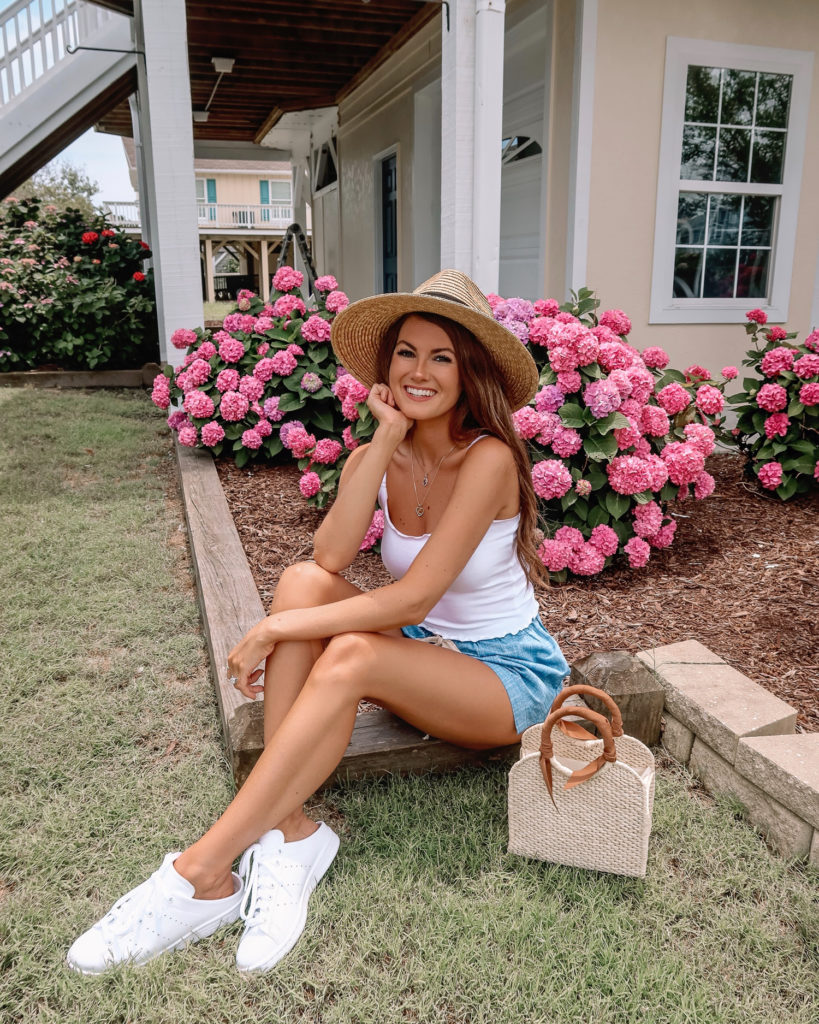 10. Slip-on Sneakers
I love these slip-on sneakers because they require zero effort to put on – no laces involved. The white goes with EVERYTHING. And they're also 25% off with code SUMMER right now!
9. Lettuce Edge Crop Top
This lettuce edge crop top is only $8!!! I've worn it so much already this summer, as it pairs perfectly with shorts and skirts. I'm wearing it in the above photo with chambray shorts.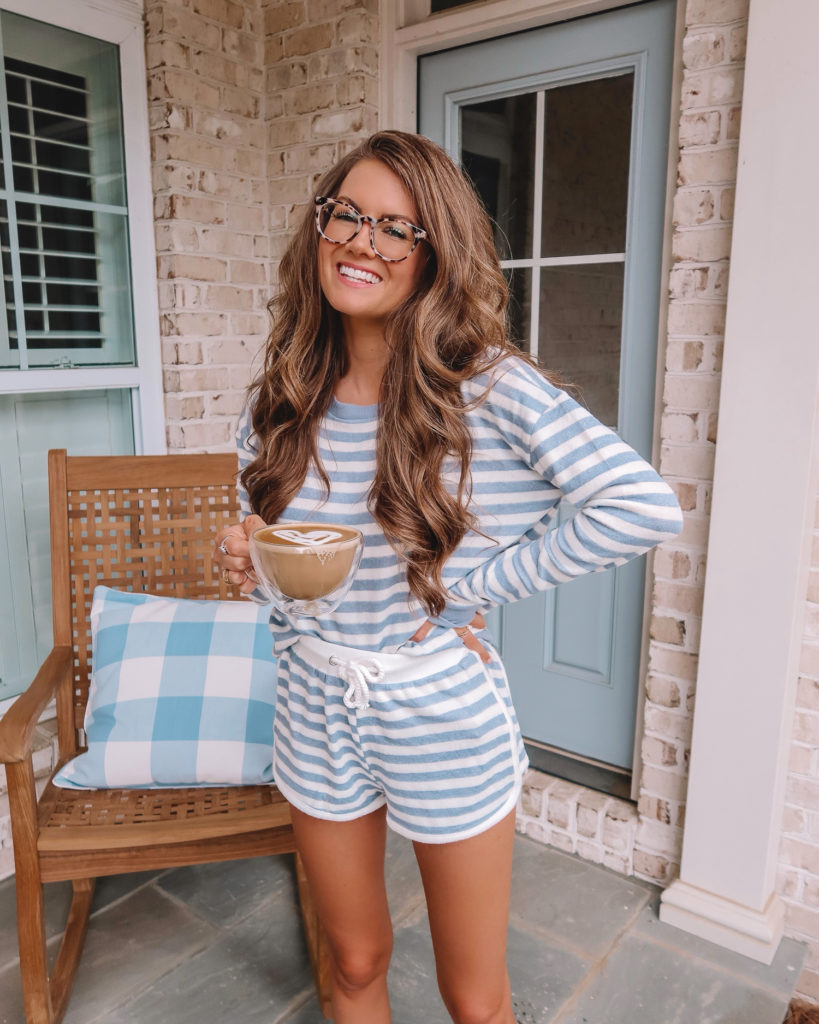 8. Striped Lounge Clothes
This striped lounge set is a must-have for lazy days this summer. It's incredibly soft and can be mixed and matched with other lounge pieces in your wardrobe. I personally love wearing the striped top with denim shorts!
7. AGOLDE Parker denim shorts
You have seen me wear these shorts over… and over… and over. They are the #1 pair of shorts I reach for every singe day! Sometimes I have to force myself to wear another pair of jean shorts cause I just love these so much. They even look good paired with a bathing suit top!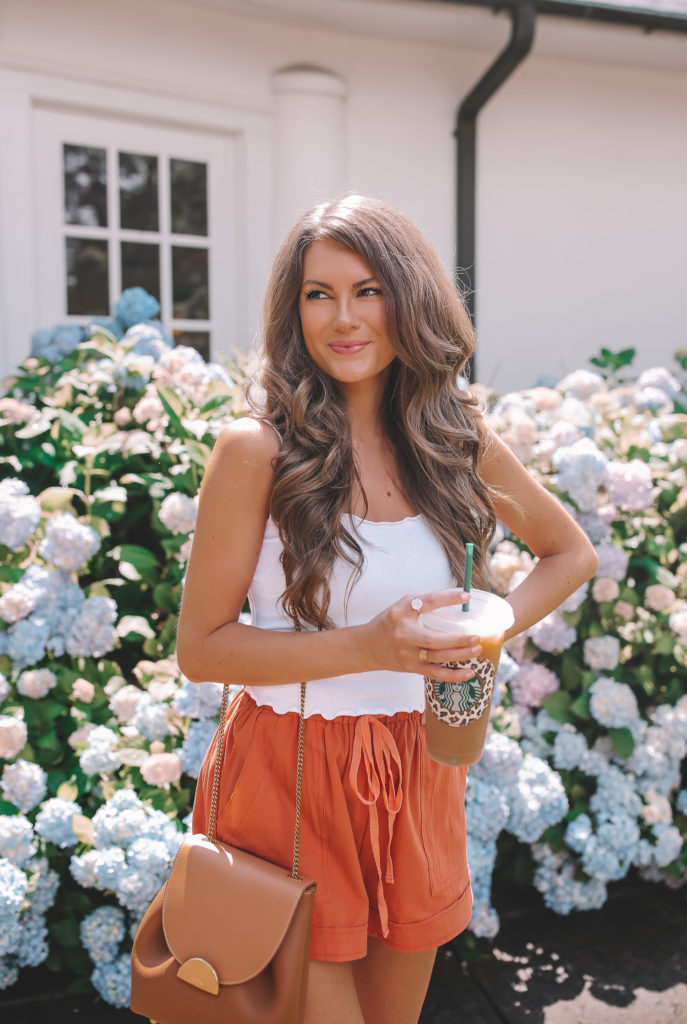 6. Drawstring shorts
These drawstring shorts come in a bunch of colors. I own them in the "orange" color, but I also placed an order for them in the "light green" color as well! They are so comfy and perfect for running errands in.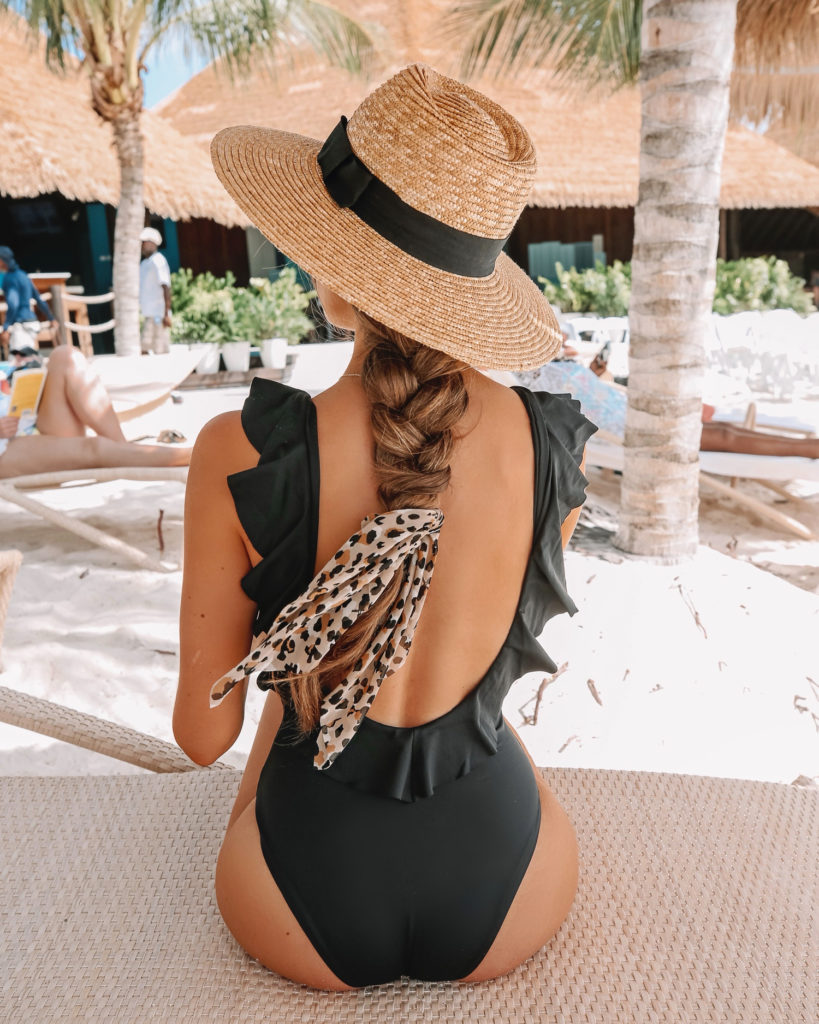 5. Brixton Joanna straw hat
This straw hat has been a wardrobe staple of mine for several years now. I wear it with dresses, shorts, bathing suits… pretty much every outfit imaginable (except for PJs… lol!).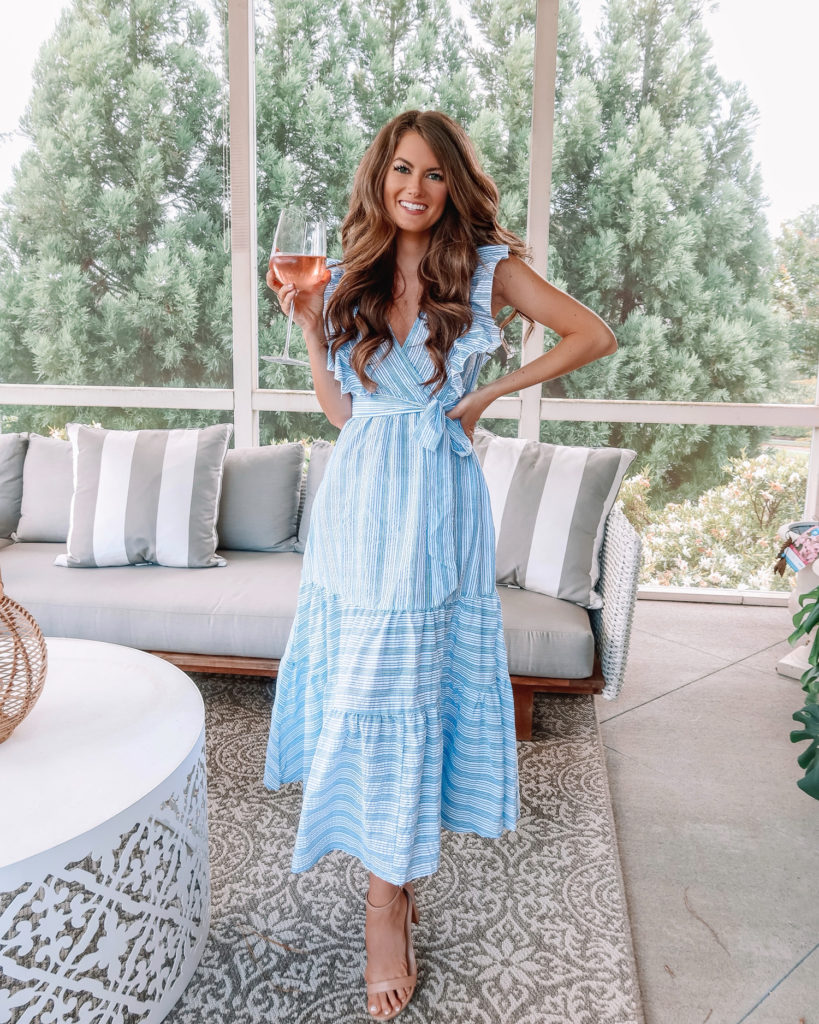 4. Amazon wrap dress
This blue wrap dress is GORG-EOUS and looks so much more expensive than it is! If it's not in stock in your size now, don't fret – it is restocked constantly.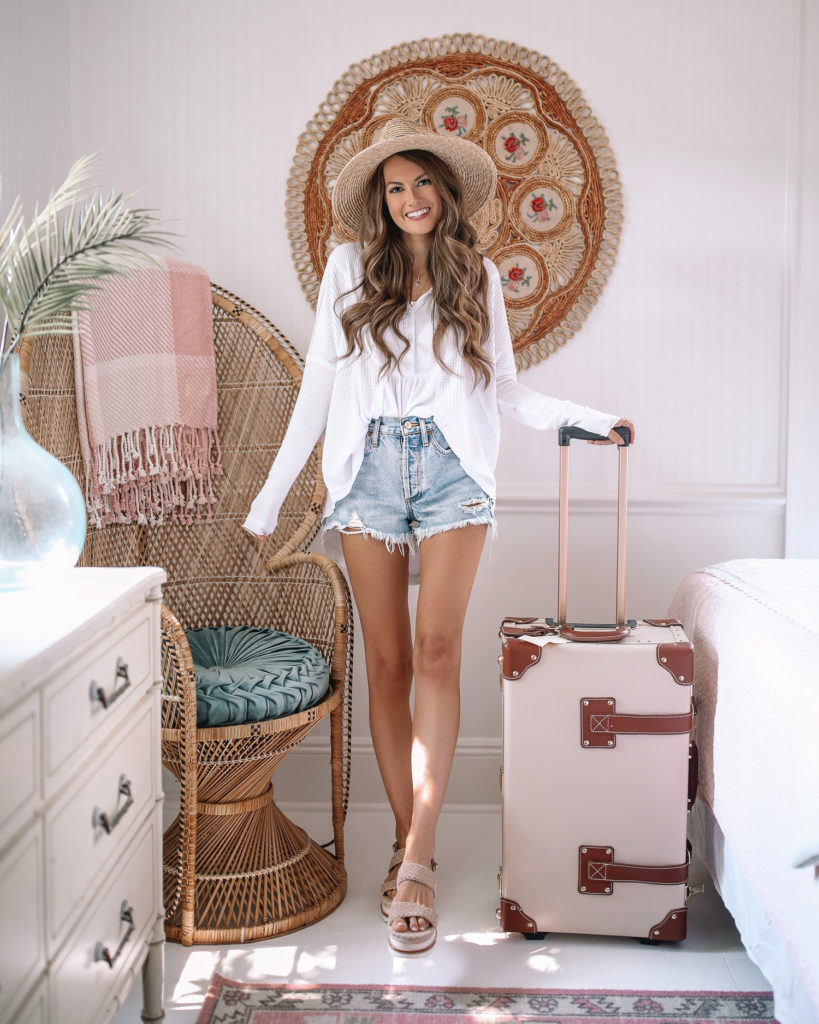 3. Espadrille sandals
These espadrille sandals pass the summer checklist: comfortable, walkable and on sale! I wish I had a better picture of them 'cause they are SO CUTE! Trust me you need these babies.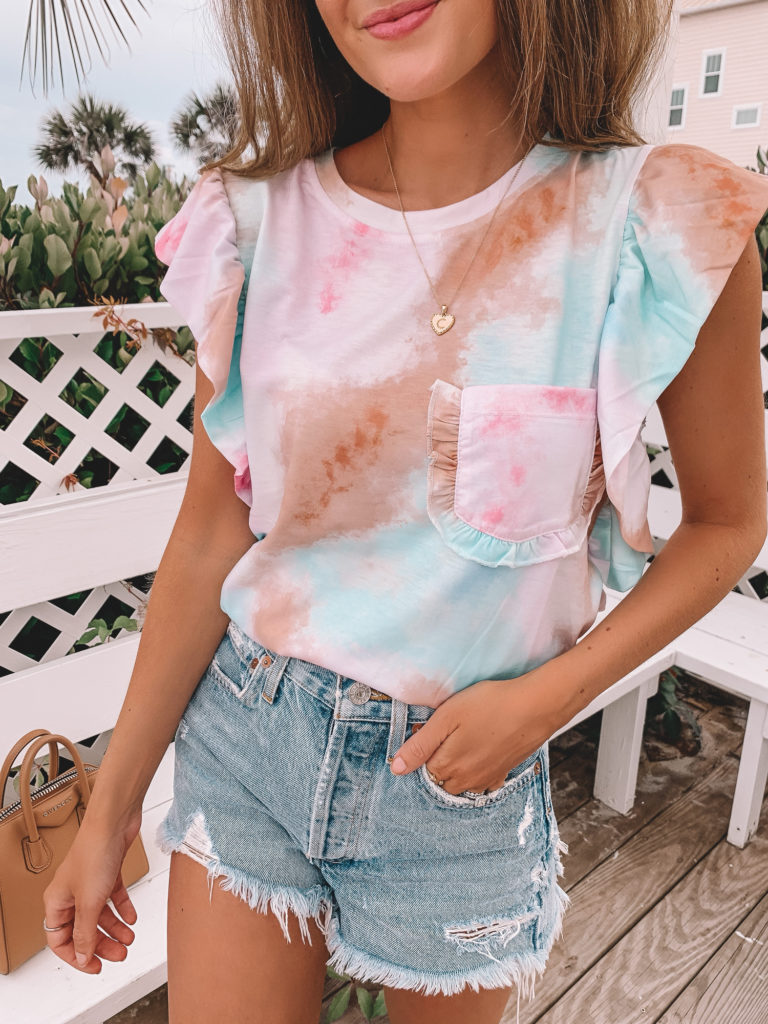 2. Tie-dye Ruffle Sleeve Top
I was surprised to see this Amazon ruffle sleeve top on the list… since I never even posted it to Instagram! I did wear it on Instastories, though 🙂 Tie-dye is so popular right now. I love the color combination in this top AND the cute ruffles on the sleeves!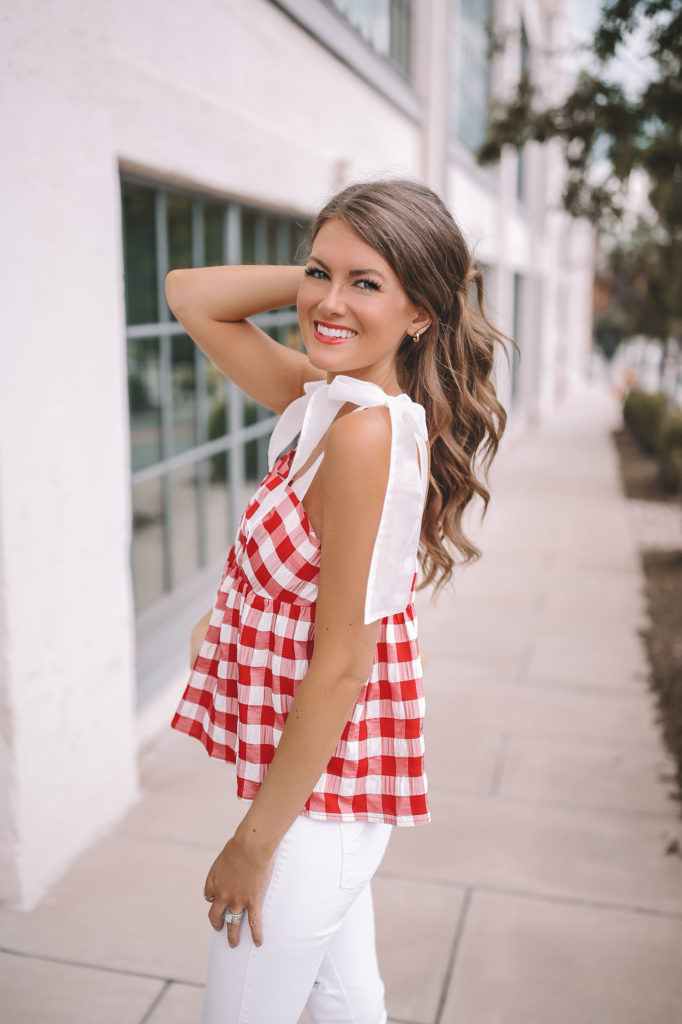 1. Gingham Tie Shoulder Tank Top
This gingham tank top was the #1 seller for June! I bought it for July Fourth, but I plan to wear it all summer long. It looks SO cute with denim shorts. It just makes me happy to look at (and wear!).
If you have any questions about sizing, LMK in the comments and I'll get back to you there! Happy July Fourth weekend, everyone!! xoxo